Can you make money on OfferNation? Yes, you can make some money, but before rushing off to join, I would recommend you to read a bit more about this GPT site (Get paid to).
In this OfferNation review I will give you all the details about what the site has to offer and how good the opportunities are compared to other similar sites. Then you will know what to expect before you decide whether to join or not, which can potentially save you a lot of time.
What is OfferNation and what does the site offer?
OfferNation is owned by 99 Ventures. If you have read other of my reviews, you have maybe seen this name before. It is a company that is behind a couple of other GPT sites (get paid to) as well. It is the same company that owns Superpay.me and RewardingWays that I have previously reviewed.
I think it is fine that a company runs several sites. I would however wish that 99 Ventures had been a little more creative instead of making 3 sites that are more or less the same. There are some differences, but not a lot. But let's now go over what OfferNation has to offer and then you can see for yourself, if it is something for you.
Paid surveys:
OfferNation surveys is one of the main ways to make money on this platform. The site has a good amount of these opportunities. If you click the "make money" tab in the menu, a long list of different portals you can take surveys through will come up. Just be aware that all these a third party providers which means that in many cases, you will have to fill out some basic information about yourself again, the first time you use a portal.
Even though OfferNation is available worldwide, there might be some of these options that is not available in your location. A little funny thing is that when I clicked the tab "worldwide offers" I was told that it was not available for my location:-) But in general there are many options, so there will in most cases be some available to you. In my experience, you do however often not qualify for surveys, and it takes some patience to find the surveys you qualify for. That is very normal for a survey site and I am also ok with this, but it can take a bit more patience than usual on OfferNation.
Sign up for offers:
You will be able to find what is called an offerwall on OfferNation. Here you can earn in several ways. Often there are offers, where you can get a bonus by signing up for free trials for a service. Most of the times offers like this gives very good rewards, but make sure to read the conditions as sometimes you need to provide credit card information.
On the offerwall you can also find more surveys and videos, you can watch to earn a little extra.
Click ads:
There is a small section with PTC ads (paid to click) where you can get paid to click ads. You have to click an ad, and then watch it for a certain amount of seconds. The rewards are very low for this, but you also do not really have to do anything. The PTC section on OfferNation does not have a lot of ads – mostly it is just ads for the other sites owned by the same company.
Download apps:
Sometimes you can find offers where you can get paid to download an app or a game for your phone. These will be in the "offerwall" section. It can be an easy way to make a little extra, but remember to check the conditions before downloading so you know what to expect. Sometimes you need to play a game to a certain level to get the bonus, and other times you just need to open the app to get the reward.
Refer friends:
You can earn a bonus by inviting friends to join OfferNation. OfferNation will pay you 25% of whatever a person you invite earns. It sounds like a lot, but it is not as easy as it sounds, and you need to know a lot of people that you can invite, and that will continuously use the platform for you to make any real money like this.
Welcome bonus:
When you join you get a 25 cent joining bonus. Not a huge bonus, but a good start and it takes you close to the payout threshold, which is very low on OfferNation (will get to that a bit later)
Promo codes:
Sometimes OfferNation post a promo code on its Facebook or Twitter page. However, not very often, so do not expect to make a lot of money like this. For me, the promo codes are the only reason OfferNation would be worth following on social media. The rest of the posts are just a daily reminder about what the site has to offer. And you have to see a lot of these post before you will get a promo code, so in my opinion not something to put too much energy into.
Contest:
As a member of OfferNation you will automatically enter into the quarterly cash contest for $1000. The top 20 earning members will share this prize. The top earner will get $350. So this can give a really nice extra reward, but you have to be very active to get near to that prize.
Member chat area:
Once you are logged in to OfferNation, you will see a chat box in the right side of the screen. You can use this to ask questions to the other members or to the moderators. It is however mostly automatic posts that show every time somebody has earned something. There is some chatting going on, but it can get a bit lost in all the posts about the rewards.
As you can see, OfferNation has a lot of different opportunities. Many of them takes some patience and the site is not as user-friendly as many other sites, but it has some potential with some patience and dedication. Let's now look into how you can then get paid, once you have earned some money.
How do you get paid?
When you do surveys, tasks, downloads etc. on OfferNation, you earn either cash or points. These can be payout in different ways.
Cash can be paid out through PayPal, Payza, Skrill or as Bitcoins. The minimum payout threshold is very good and low compared to most other GPT and survey sites, and this is one of the biggest advantages of OfferNation. To get paid through PayPal and Skrill, you only have to have made $1. For Payza it is $10 and for bitcoins it is a lot higher as you have to make $100, before you can use this option.
The points can be used for Amazon gift cards. The payout threshold is $5 (500 points). You can only use this option after you have received at least one cash payment.
You can convert your points into cash, if you prefer getting all your earnings in cash. You can find this option in the withdraw section. In this section, you will find a "convert" button at the top of the screen. You get 1 cent for 1 point.
How much money can you make?
As with all survey and GPT sites, it is very difficult to say how much you can make as it depends a lot on where you live, and how much time you put in. OfferNation has some potential for some countries. On the site there is a payment proof wall, where you can see all the latest payments. According to this, many people are getting paid every day. And if you look at the contest score board, it seems like some people are making pretty good money.
I do however not know how normal it is to get to the amount the people in the top 20 are earning – I have definitely not been close at all. In general, you should not join GPT or survey sites to become rich, but only if your goal is to make some extra money on the side.
Can you use it on mobile?
OfferNation does not have an app, but you can still use it on mobile devices by going to the website in your browser. It is however not very easy to use on a phone, as the site is not very well optimized for mobile devices. So it is a bit more difficult to use on a phone, and I would suggest to mainly use it on desktop or tablet. If you prefer only doing surveys and tasks on the go, I would suggest to check out sites that has apps.
Who can join OfferNation?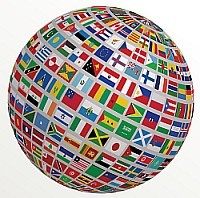 OfferNation is available worldwide and you can join no matter where you are from. Be aware that even though you can join no matter where you are from, there can be differences in the amount of surveys and offers that are available to you.
You have to be 18 years old to join. Be aware that you should not try to enter the site, if you are in another country than where you address is registered. If you try to login from abroad, it will be detected, and your account will probably be marked as cheater, and you can end up getting banned. So do not use the site while traveling.
Can you get support?
If you have any account issues, you can submit a support ticket on OfferNation. You can also use the chat area, if it is more general question and maybe get an even faster reply like this. It is also possible to contact OfferNation through the official Facebook page, but if it is help with your specific account, they will refer you to the support system on the website.
Conclusion – an OK offer!
OfferNation has some potentials, but I am not very impressed. Let's sum up the pros and cons to get a better overview.

Pros:
Low payout threshold
Pays out through PayPal
Avaible worldwide

Cons:
More or less a copy of the company's other sites
Can take a bit of patience to qualify for tasks
Not mobile friendly
If it is worth joining OfferNation or not really depends. If you are already a member of Superpay.me or RewardingWays, I would say that it does not make sense to also join OfferNation. These 3 sites are more or less identical and owned by the same company, so it is better to join just one of them and focus your earnings one of these sites. It is a mystery to me why they have made 3 sites that are so similar and with the same offers and surveys as well.
In my experience, there are in general many sites that are better to join, because they give better opportunities and are easier to use. But as an extra site and with some patience, it can be worth joining OfferNation (if you are not already a member of one of 99 Ventures other sites).
If you have any questions, comments or have experiences with OfferNation yourself you would like to share, I would love to hear from you in a comment below.
OfferNation
Money/time ratio

Frequency

Usability
Summary
OfferNation has some potential, but not one of my favorite sites. It is more or less identical with Superpay.me and RewardingWays, so it does not make much sense to join, if you are already a member of one if those sites. The biggest advantages of OfferNation is the low payout threshold, but other than that it takes some patience to find good offers and surveys on the site.