Are you frequently dining out? If so, there's a site called OpenTable that claims you can book, eat, and earn rewards at the same time if you use their platform.
It sounds like a pretty good deal, right?
Before you sign up as a member though, I would suggest you read this OpenTable review so you'll know if the site really is legit or if it is just a scam. After all, you want to make sure you will really get to do the things they claim you can do.
Plus, this review will also reveal the full details of what the site has to offer so you know exactly what to expect and can determine if it is a good fit for you or not. So, let's go ahead and examine OpenTable, shall we?
What is OpenTable and what does it offer?
OpenTable is a restaurant booking platform at its core. You can use it to reserve a table at your favorite restaurant.
It has a loyalty program where you can earn points for using the platform to book restaurants. And yes, it is indeed a legit site since it really does what it claims it does.
However, to find out if it is worth using, you must first understand how it works. So, let's take a closer look at the earning opportunity it offers, so you'll know how to earn from this site.
The earning opportunity – Restaurant bookings
OpenTable is really a very straightforward site. All you have to do to earn rewards is to use it to book a table at a restaurant that has partnered with them.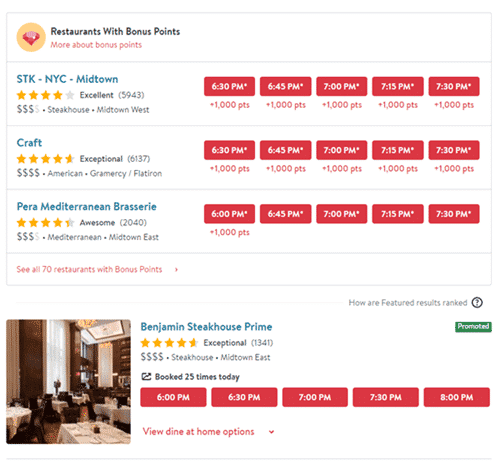 When you become a member of their platform, you can log in to their website or app (I will talk about their app later) and look for restaurants near your location. Once you've found a restaurant you want to dine in, just book the time for your reservation.
As shown in the photo above, the points you will earn will depend on the time of your booking. Also, you can only book restaurants during dinner time (around 6 to 8:30 PM at the latest). That's because booking a table on off-peak hours really doesn't provide any advantage because you won't be competing with other people for a table.
You will earn around 100 to 1,000 points per booking depending on the restaurant you chose. In the photo shown above, the points below the time are actually bonus points you will receive for booking that time. So, aside from the normal reward, you will receive, you will also be rewarded with bonus points for booking that time.
Not all restaurants offer this, so if you see a restaurant that offers bonus points, I would recommend you take advantage of it. Of course, you actually have to like the food they serve. Don't just book a reservation to earn points.
If you fail to honor your reservation, you won't receive the reward points. If you want to cancel a reservation, you can do it online through OpenTable, or you can call the restaurant. Take note though that some restaurants have implemented a 24-48 hour cancellation policy.
If a restaurant requires a credit card in order for you to make a reservation, the restaurant reserves the right to charge a cancellation fee according to its cancellation policy. So, don't be too trigger-happy when booking reservations.
As much as possible, you must honor your reservation. If you can't, make sure to notify the restaurant within its cancellation policy. If you honored your reservation but it was marked as a "no-show", you can notify OpenTable through their support page.
You have up to 30 days after the reservation was honored. Now, if you really didn't honor your reservation and you have done it at least four times, your OpenTable membership will be deactivated and you will lose all the points you've earned.

The OpenTable Reservation Points program is only offered in certain countries (refer to photo above). So, if you don't live in the country mentioned above, don't expect to earn points. You can still use OpenTable to book a table, but you won't get anything out of it aside from the convenience it offers.
As for the points you have earned, I will talk about what you can do with them in the next section.
Recommended: Check Out the Cashback Sites
How do you get paid?
As explained above, you will earn a certain number of points every time you use OpenTable to book a table at a restaurant they have partnered with. It will show up in your OpenTable points balance. But what can you do with the points you've earned?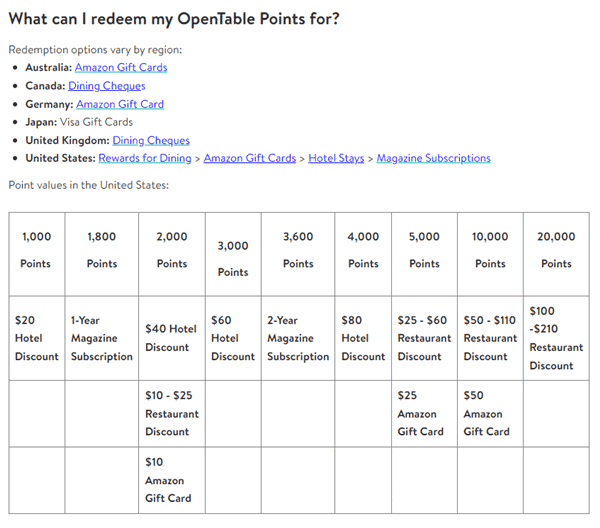 As you can see in the photo above, you can use your points to redeem various rewards depending on the country you live in.
For example, if you live in Australia, you can only redeem Amazon gift cards. The US offers more flexibility in terms of rewards you can redeem.
The number of points required to redeem a reward will depend on the country you live in and the reward you want to redeem. For example, in the US, you can redeem a $20 hotel discount and you only need 1,000 points for this.
If you want to redeem a $50 Amazon gift card though, you will need to earn at least 5,000 points. So, the payout threshold will actually depend on where you live.
Their payment system is fairly easy to understand, but the downside is, it doesn't offer any cash rewards. If you prefer to earn cash, I would recommend you check out the top sites that pay via PayPal instead.
How much money can you make?
The amount you can earn from OpenTable will mostly depend on how often you use it and where you are located. So, if you frequently dine in a restaurant, you stand to benefit the most from this platform.
The most points you can earn for a booking will be 2,000 points. However, don't expect that this will happen frequently. Usually, you will only earn around 100 to 1,000 points if you live in a city with a decent number of restaurants that have partnered with OpenTable.
In big cities like New York, for example, you can find plenty of restaurants that offer bonus booking points. So, these are the kind of cities where you can earn more than 1,000 points per booking.
Overall, I would say the earning potential of OpenTable is decent. But if you live in a metropolitan city, the earning potential will be significantly better.
Can you use it on mobile?
As mentioned earlier, OpenTable has a mobile app you can download so you can book restaurants from your mobile device.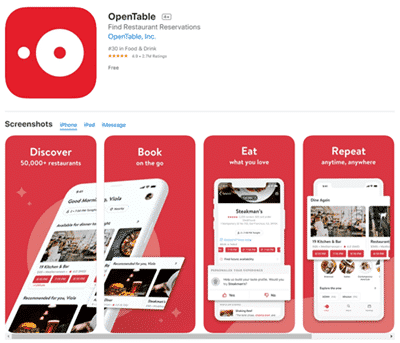 Their app will work with both Android and iOS devices, so compatibility won't be a problem. The app is very easy to use, so you won't have a problem getting used to it.
If you are planning to become a member of OpenTable, I would highly recommend you download their app so you can book restaurants even when you are not in front of your computer. Doing so will also increase your earnings because you don't need to sit in front of a computer to make your bookings.
Who can join OpenTable?
OpenTable is available in several countries. If you scroll down at the bottom of their website, you will also find links to the appropriate OpenTable site you should log in since OpenTable has different versions of the site for different countries.
Here's a list of countries it is available in:
Japan
Germany
Spain
Canada
Hong Kong
Ireland
Singapore
Netherlands
Mexico
United Kingdom
United States
Australia
Thailand
Italy
If you live in any of the countries listed above, you will be able to join OpenTable. But as mentioned before, their reward points program is only available in the US, UK, Northern Ireland, Canada, Germany, Japan, Australia, and New Zealand.
You can still use OpenTable in the other countries listed, but you won't be able to earn points or redeem rewards.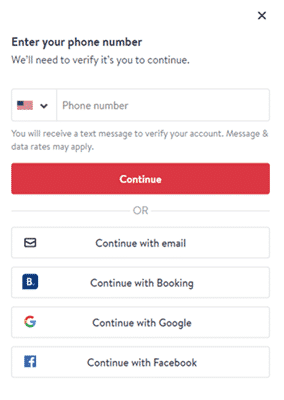 To sign up as a member, you can use your Google, Facebook, or Booking account. You can also provide your own email address for your login details. After you are done with the registration process, you can log in to the site or app immediately and start booking a restaurant.
Can you get support?
If you have any questions about OpenTable or your account, you can check out their support page first. It discusses most of the basic topics you need to know about the platform.
But if you encounter any issues like being marked as a "no-show" even though you showed up or if the points were not credited to your account, you can use the contact form provided on their Contact Us page. Fill out the necessary field and submit your inquiry.
Overall, I would say the site has a great support system in place for its members since they do a good job at discussing the most important topics about the site and they also provide a convenient way for you to get in touch with their support team.
Final Verdict
OpenTable is a legit restaurant booking platform that will allow you to earn rewards when you use their platform. It has a couple of good features, but it also has some limitations you need to consider.
Let me wrap up this review with a summary of its pros and cons to give you an overview of what the site has to offer. Then, you can decide if you should use it or not.

Pros:
Their app and site are user-friendly
They have a lot of partner restaurants

Cons:
Doesn't offer cash rewards
Limited earning opportunities offered
If you frequently dine in a restaurant, I would suggest you join this site. That's because their booking service is actually very useful (provided of course, it is available in your country). You will find a good number of restaurants to choose from.
This is especially true in metropolitan cities where you won't experience any lack of choices. Just think of the reward points as a bonus. The main driving force that should convince you to use this platform is the convenience it offers.
Now, if you are looking for ways to earn extra cash, I would recommend you check out the top survey and GPT sites in your country instead. The sites on this list all have good earning potential and most of them offer cash rewards as well.
Plus, you will definitely find a site you can join regardless of where you live. If you have any comments, questions, or have any experiences with OpenTable yourself, I would love to hear from you in a comment below.