If you like your opinion to be heard, one good way to do that is to join a survey site. Survey sites will reward you for sharing your opinion about certain topics, products, or services.
So, not only will your opinion be heard, but you will also earn a bit of extra cash on the side. That's a win-win situation in my book. Of course, you can only earn if you join a legit site.
A survey site I have tested for quite a while and that I have been asked a lot of questions about here on my website is called Opinion Inn.
So is Opinion Inn legit and really a way to earn some extra cash or is it a scam to stay away from?
Let me just reveal right away that it is legit as you can potentially earn BUT it also has some disadvantages you need to be aware of.
This Opinion Inn review will give you an inside look and show all the details you need to know so you can easily figure out if joining this survey site is a good move or not.
What is Opinion Inn and what does it offer?
Opinion Inn is a fairly straightforward online rewards site. It offers surveys you can answer and in return, you get paid once you complete these surveys.
Now, in order to get a good idea of how well you can earn from this survey site, we have to examine the earning opportunities it offers in more detail. Opinion Inn only offers two earning opportunities.
Let's go ahead and take a look at them.
Option 1 – Paid surveys
Since it is a survey site, the main method of earning rewards is by answering surveys. As mentioned above, this process is fairly straightforward.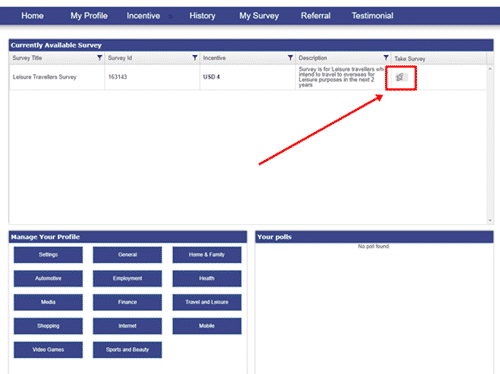 The photo above shows the member dashboard of Opinion Inn even though it looks a bit different now since Opinion Inn has completed updated the look of its site.
The reason I am still showing an older image is because I have actually not been able to find an available survey I could take an image of since the platform was updated (more about this later) and the way you get an overview of the available surveys is still more or less the same.
When you log in to the dashboard, you will quickly see all the available surveys you can take, how much you will earn when you complete it, and the topic of the survey.
All you need to do is click on the Take Survey button of the survey you want to answer and it will open a new window. This new window will be the start of the qualification process of the survey.
Why are you doing this qualification process you ask? Well, usually, a survey is intended for a specific group of people. The qualifying questions are used to determine if you belong to that group. Once you've finished the qualifying questions, Opinion Inn will inform you if you qualify or not.
If you qualify, you will then proceed to answer the real survey. If you don't, then you just have to move on to the next survey available if there's any.
As mentioned above, there will, however, not always be surveys available and how many you will get will depend a lot on the country you live in.
Before you can expect to receive survey invites though, you will need to complete your profile. You will actually have a lot of work ahead of you because you will need to build a complete profile.
Among the survey sites that I've encountered, Opinion Inn has one of the most comprehensive profile building questionnaires.
So, make sure to take the time to complete it because it will increase your chances of receive survey invites.
You will NOT get paid for filling out this profile but you will get a $10 joining bonus which will still give a great start.
Option 2 – Polls
Since Opinion Inn was completed updated, they changed a few things. They cancelled their referral program and introduced polls.
These polls are usually very short but once again I have actually been able to get any of these since the platform was updated so I cannot say more about how exactly they work.
And this is a general issue with Opinion Inn, in my opinion. There is a lot of relevant information that is not easy to find there and not a lot of available opportunities.
But usually, polls are something you can answer in a few seconds so if you manage to get any of these, they can be fun and fast to participate in.
Recommended: Check Out the Top Survey Sites in Your Country
How do you get paid?
Now, let's talk about how you will get paid on this site.
Once you complete a survey (this means you've qualified for the survey and finished answering the actual survey), you will get a reward into your Opinion Inn balance.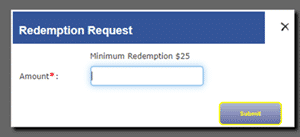 Once you've earned $25, you can then withdraw via PayPal. It's a pretty high threshold to reach, in my opinion. So, you will need to be a bit patient.
If you prefer sites with a low payout threshold, I suggest you check out the fastest paying sites instead.
One thing you need to keep in mind with how you get paid on Opinion Inn is, the timing of crediting incentives depends on the survey. Some surveys will credit the incentives very quickly or within a few days.
While others will only be credited after the survey has closed. Generally, you can expect to wait for six to eight weeks from survey closure for points to be credited to your account. So, if you don't see the reward right away, that's just normal.
That being said, six to eight weeks is actually a long time to wait to receive your incentives. There are some sites that will pay faster. But anyway, they do say that this doesn't happen too often.
How much money can you make?
The amount of money you can make from a survey site can definitely become the deciding factor on whether you should join the site or not. Ideally speaking, you will want a site that will pay well. Not only that, you will want a site that also offers plenty of opportunities to earn.
These are the two main factors that determine how much you can earn. In Opinion Inn's case, they do pay rather decently. They say you can earn between 25 Cents and $20.00 for each survey you complete depending on the length of the survey and even in rare cases they pay up to $100 per survey.
Usually, it will, however, mostly be around $1 to $5 per survey. This is the more realistic range of rewards, in my experience.
You can't really expect to earn $20 or more for a survey. In my experience, it very rarely happens. I'm not saying though that it isn't possible. It's just that it is quite rare.
The availability of surveys, on the other hand, is a different story. There's really no guarantee that you will get a survey regularly. Plus, you will need to qualify to earn the incentive.
How many surveys you will get depends on the country you live in so whether it will be worth it or not will depend a lot on the country you live in (more about which countries you can join from later).
But overall, both in my own experience and according to feedback I have heard from many other members, you should not expect too many surveys from Opinion Inn.
That means that even though you get a great joining bonus, it can take a lot of patience to reach the payout threshold, in many cases.
Can you use it on mobile?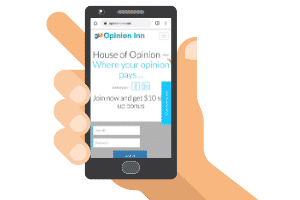 Opinion Inn doesn't have a mobile app you can download but you will be able to access their website from a mobile device using a mobile web browser. And the good thing is, their site is mobile-friendly, so it's fairly easy to navigate through the site.
Plus, the way their user interface is designed, it is certainly doable to answer surveys even on your mobile device. This makes it a lot easier for you to get to surveys as soon as possible.
Once you receive the notification (via email) that there's a survey available, you can quickly answer it even if you are not sitting in front of the computer.
This can be very useful since getting to the survey as quickly as you can, in my opinion, is really the difference-maker when trying to earn from a survey site.
Who can join Opinion Inn?
Opinion Inn is available globally so you will be able to sign up as a member regardless of where you live. You just have to be at least 18 years of age or older to sign up because that is the age requirement of PayPal.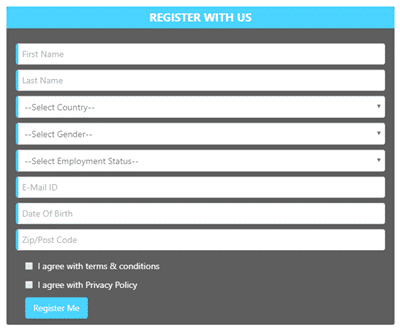 To sign up as a member, you just have to fill out the registration form. Then, Opinion Inn will email you an activation link.
This link will also let you set your password for the site. Once you are done activating your account and you've set up your password, you can then log in to the site and start earning.
You will also receive a $10 bonus upon sign up. This is quite a good head start and will definitely help you reach their relatively high threshold and it is one of the highest joining bonuses I have seen on a survey site.
Just be aware that it will mainly be worth joining if you live in the US, UK, Canada, or Australia.
In most other countries there will be very limited surveys available. And even in those 4 countries, it can take a lot of patience to earn on Opinion Inn.
Can you get support?
Opinion Inn has a FAQ page you can check with if you have any questions about the site. It covers some of the important topics but there is also a lot of important info they have not included there. But you might be able to find the answer you are looking for there.
In case you can't, you can email them at [email protected] for your inquiries.
Overall, I would say that they have a decent way of providing support for their members.
Final Verdict
Opinion Inn is a legit survey site that does pay you for answering surveys. It has a couple of good features to offer and some drawbacks as well.
So, let's conclude this review with a summary of its pros and cons to give you an overview of what the site has to offer. These should help you decide if you should sign up or not.

Pros:
Payment via PayPal is available
Pays rather well per survey you complete
Very high joining bonus

Cons:
Limited earning opportunities offered
High payout threshold
A lot of important info not displayed on the website
Some surveys take a long time to get approved
Opinion Inn is not a bad survey site in my opinion. It pays well for each survey and it has the highest joining bonus I have seen on a survey site. It also offers payment via PayPal, which, in my opinion, is the most convenient payment method available today.
However, it also has some big drawbacks, and especially the limited earning opportunities is something you need to be aware of. In some countries, it has very few surveys available. In the US, UK, Canada, and Australia it has the most opportunities but even here it can take quite a lot of patience to reach the payout threshold.
Overall, Opinion Inn can serve as a decent secondary site to join to boost your earnings from other sites if you do it with the right expectations and are patient.
But you are looking for sites that will allow you to earn on a regular basis, I suggest you check out the top survey sites in your country instead. The sites on this list all have good earning potential and offer more earning opportunities.
Plus, you will be able to find a site you can join regardless of where you live.
If you have any comments, questions, or have any experiences with Opinion Inn yourself, I would love to hear from you in a comment below.