Outschool is a website that claims you can earn money by teaching online classes. If you are looking for ways to earn extra cash, you might wonder if Outschool is worth it.
Well, this Outschool review will help you answer this question and more. It will show you everything you need to know about the site so you can figure out if this opportunity is the right fit for you or not.
So, let's get down to business, shall we?
What is Outschool, and what does it offer?
Outschool is an online teaching platform that will let you earn by teaching classes online. It is indeed a legit site since you will really be able to earn money from the classes you teach. However, this doesn't automatically mean Outschool is worth it.
To find out if you should go for this opportunity, you must first understand how it works. The only way to do that is to take a look at the earning opportunities it offers. That way, you'll have a clear idea of how much time and effort is needed to earn from it.
So, here's how to earn from Outschool.
Option 1 – Teaching Online Classes
The only way to earn from Outschool is to teach a class online. Your students will be aged 3 to 18 years old, so your potential clients will be quite diverse.
Since you will be teaching an online class, you'll need a computer, video camera, a microphone, a quiet room, and a stable internet connection to hold your classes.
You can choose the type of classes you can teach. Just take note that your students will be kids who will need help with their schooling. So, the subjects you can teach will mostly be math, science, language, or art classes (and many more).
You don't need to be a licensed teacher to teach at Outschool. All you need is expertise in one (or more) of the topics you will teach.

Once you are accepted as an Outschool educator, you'll have to list the classes you are willing to teach. You need to indicate the subject matter, as well as the type of class (1-on-1 or group).
Then, you'll have to set the schedule of the class, how long the class will be (up to 60 minutes), as well as your rate, which will be on a per-class basis.
You'll also have to indicate if it is a fixed-duration or ongoing class. After you've completed the details, your class will be listed, and all you must do is wait for a student to enroll.
This is the downside of this opportunity, in my opinion, because there's no guarantee you'll earn from it. It is especially hard for new educators because they aren't rated yet, and parents tend to go for educators with high ratings.
That is why you'll have to be extra patient when starting.      
If a student enrolls in your class, you'll receive a notification from Outschool. You'll also receive a notification email, so you can just check your email inbox regularly.
The class will start when the number of required students is reached if it is a group class (according to the schedule you've set, of course). If it is a 1-on-1 class, you can start immediately according to the schedule you've set.
As for how you will get paid, I will discuss that later. So, that's how teaching classes at Outschool works. As I've mentioned, you need to be patient with this opportunity because it can take some time before someone enrolls in your class.
Option 2 – Referral Program
Another way you can earn from Outschool is through its referral program. It has two types of referral programs – for teachers and parents.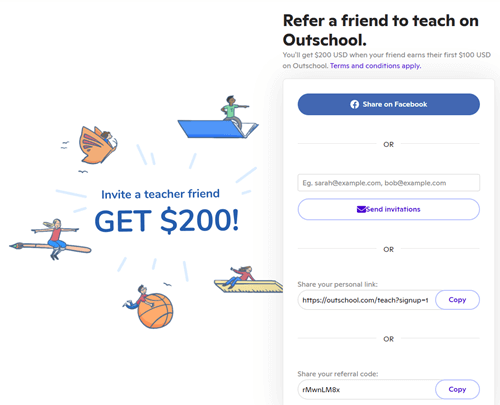 You can invite people to teach at Outschool by sharing your invite link or referral code. Then, when they apply as a teacher and get accepted, they will become your referral. But for you to receive the referral reward, they must earn at least $100 from teaching classes.
When this target is reached, you'll receive $200 as a reward. This is a very generous reward, in my opinion, but it is a one-time reward.
The most important thing you need to keep in mind is that you should invite people who are really interested in earning from Outschool.
The other type of referral is inviting parents to join Outschool. You have to share your referral link or code with the parent who is interested in joining the platform. When they sign up, they will immediately receive a $20 credit that they can use for enrolling their child in their first class.
You, on the other hand, will receive a $20 reward when the parent enrolls their child in their first class (it doesn't have to be your class).
In my opinion, Outschool's referral program is quite generous, but the downside is that you'll only receive a one-time reward.
Recommended: Check Out the Best Freelance Sites
How do you get paid?
Outschool uses PayPal as its payment method for educators, so you'll need to have a PayPal account if you are interested in teaching at Outschool.
As for how its payment system works, it will depend on the type of classes you teach. For fixed-duration classes, you'll receive the payment after 7 to 8 working days past the date of the class. For ongoing classes, you will be paid in a batch payout on a Sunday, 7-13 days after weekly meetings have occurred.
For 1-on-1 classes, you'll receive payment on a Sunday, 7-13 days after the week's meetings have occurred. For group classes, families pay on a monthly subscription basis. Monthly batched payments are sent on the 15th of the following month.
As for the amount you will receive, Outschool will take a 30% cut from your earnings, so don't expect to receive the full amount. This is to be expected since Outschool is offering this service for free to you. If there was a membership fee, then you can expect to receive the full amount.
Overall, I would say the payment system of Outschool is relatively simple once you get used to the payment schedules of the types of classes. I like the fact that it offers a convenient payment method like PayPal.
If you are interested in more sites that offer a convenient payment method, I recommend you check out the top sites that pay via PayPal.
How much money can you make?
As explained earlier, you get to set how much you will earn from the classes you teach. But this can be a bit tricky because you need to do some research to find out the correct pricing for the classes you teach. You need to find the right balance between being affordable and not getting underpaid.  
Now, as I've explained earlier, when starting as an Outschool teacher, you need to be very patient because it can take quite some time before someone enrolls in your class since most parents prefer the more experienced teachers.
But if you always make it a point that you are giving quality education, you will eventually be able to earn decent money from Outschool. It won't be an amount that can be considered a full-time income, but it's a decent amount, nevertheless, in my opinion.
Overall, I would say the earning potential of Outschool is relatively decent if you are patient enough.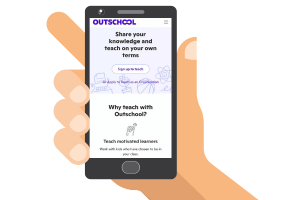 Can you use it on mobile?
As explained earlier, you'll need to use a computer when teaching a class. So, the answer to the question above is NO. However, you will be able to access the member dashboard of Outschool using your mobile device since the site is mobile-friendly.
You will be able to check if there are enrollments in your classes even when you are not in front of the computer. But as for the work that needs to be done, you'll definitely need to use a computer.
Who can join Outschool?
Outschool is only available for people who live in any of the 50 states of the US, Canada, Australia, New Zealand, England, and Wales. If you live somewhere else, then this is not for you.
The application process for becoming an Outschool educator is quite long. You'll need to submit your application, which will include a written and video sample explaining your expertise and class topics you're passionate about.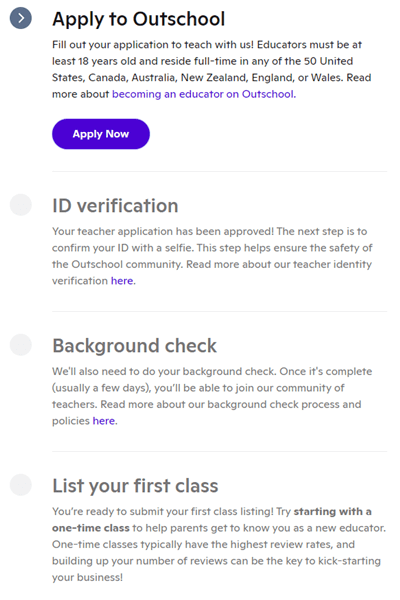 Once submitted, you'll hear back from Outschool within three business days. If your application is accepted, you will need to verify your identity by going through a background check. You can read the full details of the background check here.
After the background check is completed, you will need to complete the required professional learning modules on your educator dashboard. When all of these steps are completed, you can list the classes you want to teach so you can start earning.
As you can see, it's quite a long process, so you will need to be very patient. If you are looking for a site to immediately earn from, then this is not the right opportunity for you.
Can you get support?
If you have any questions about the site or your account, you can check out the Support page of Outschool first. It discusses all of the important topics you need to know.
If you can't find the answers you are looking for, you can submit your inquiry to the support team instead. You can do so by clicking the message icon found at the bottom right of the Support page. You'll be guided by the support bot of the website.
Overall, I would say Outschool provides decent support to its members since it offers a convenient method for you to ask for assistance.
Final Verdict
Outschool is a legit online teaching site that will let you earn by teaching online courses to kids aged 3 to 18 years old. It has a couple of good features, but it also has some limitations you need to consider.
Let me finish this review by summarizing its pros and cons to give you an overview of what it has to offer. Then, you can decide if this opportunity is the right fit for you or not.

Pros:
You can set the rate of the classes you teach
Offers flexible schedules
Offers payment via PayPal
No payout threshold

Cons:
Doesn't offer guaranteed earnings
Relatively high service fee
Requires a certain level of commitment and patience to earn
In my opinion, Outschool is not for everyone. Teaching online classes to kids requires a certain degree of patience and dedication (not to mention you must have the knowledge to teach your students). Plus, this opportunity is not something you can immediately earn from because it takes quite a while before you can establish yourself as a trusted and excellent educator.
When that happens, you'll be able to earn a decent amount from this site. But if you want to earn extra cash immediately, I suggest you check out the top survey and GPT sites in your country instead. The sites on this list all have good earning potential, so you can earn a decent amount in no time.
Plus, you will definitely find a site you can join regardless of where you live.
If you have any comments, questions, or experiences with Outschool, I would love to hear from you in a comment below.