PerkWiz claims you can take on freelance jobs using the app to earn extra money. So, if you are looking to earn extra cash, this might be a viable option.
But before you download this app, you have to examine it first. You need to make sure if it is really legit or if it is just a scam. After all, you don't want to waste your time on an app that, in the end, won't pay you.
This PerkWiz app review will help you find out if it really is legit, and will then take a look at whether it's really worth it or not. This review will basically give you the lowdown on everything the app has to offer so you know exactly what to expect.
So, let's go ahead and take a closer look at PerkWiz.
What is PerkWiz and what does it offer?
PerkWiz is a Get-Paid-To (GPT) app that will pay you for doing freelance jobs and completing paid offers. It is definitely a legit app since it will really pay you for doing the earning opportunities it offers.
And speaking of earning opportunities, in order to understand what this app is all about, we have to examine how you can earn from it. This will also give you an idea of how well you can earn from it.
I have, therefore, made a video that gives you an inside look and shows exactly how you can earn from Perkwiz. You can also read all the details below the video.
Option 1 – Freelance jobs
The main earning opportunity of PerkWiz is freelance jobs. But, the way their freelance jobs work is a bit different than other micro-job sites and apps out there. Let me explain why.
Most of the micro-job sites and apps I've joined will usually allow you to earn by logging in to the site/app and look for jobs you can take on. But with PerkWiz, it's actually the other way around. Instead of you looking for jobs, it will actually be employers who will look for freelancers.
This kind of system might be more convenient for you, but it also brings a few drawbacks.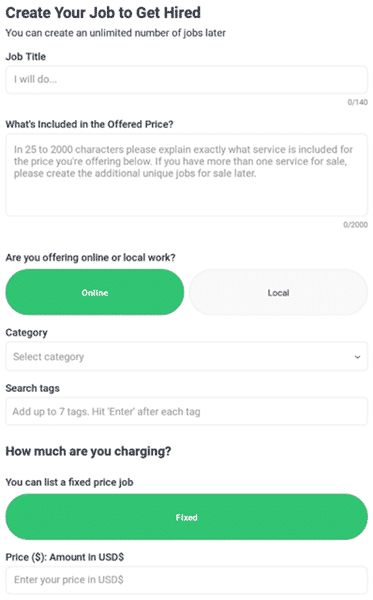 To start the process of earning, you will actually have to create a job ad (refer to the photo above). And yes, you can set up as many jobs you want.
As shown in the photo above, you can indicate the type of job you can take on by setting the category of the job. There are several categories to choose from like Accounting & Consulting, Sales & Marketing, Data Science & Analytics, and more.
Once you've chosen a main category for the job, you also have to set the sub-category. The sub-category can help explain what the job covers. Aside from the categories, you can dictate the amount of money you will charge for completing the job.
There aren't a lot of apps that offer this kind of feature. It has both pros and cons, in my opinion.
Obviously, the good thing about this is, it ensures that you are not underpaid for the job. The downside is, it takes a bit of research to figure out the right amount for the job you post.
If you set it too high, no one will be employing you since it's expensive. If you set it too low, you will be underpaid. So, you have to find the proper balance and that can take time.
Once you've set the amount for the compensation, you will also have to set the delivery time in days. You also have to be careful when setting this because if you fail to deliver on time, you will not get paid. So, it also needs careful consideration.
Then, you will also have to provide a detailed description of the services you will render. Plus, you will have to make a short video explaining what the job is all about and why employers should hire you.
It's a fairly long process, in my opinion, and it must be done with plenty of consideration. You have to make sure you get the proper balance of value provided and received, which can be a tough thing to achieve in the beginning.
When an employer decides to avail of your services, the app will notify you. You can then start the process of doing the job. I personally never got to this part because the job I posted wasn't taken even after several days. So, I'm not sure exactly how this works.
But based on experience, you will have to talk to the employer and settle things first and make sure you both agree to the terms. When the job is completed, you will receive the payment through the app (I will talk about their payment system later).
Option 2 – Paid offers
While waiting for your jobs to be chosen by employers, you can earn small rewards by completing their paid offers. This kind of opportunity is pretty common with GPT apps and sites.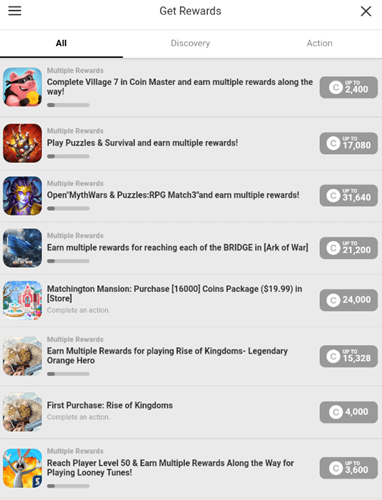 In case you don't know what paid offers are, they are basically just short tasks you can do to earn rewards. Usually, these tasks will ask you to answer surveys, download mobile apps, play games, watch videos, register to websites, and more.
During my testing, the most common type of paid offers were playing mobile games. To complete an offer, just press it and it will show you the steps you need to follow to complete it. Make sure to take note of the steps because if you miss one, you won't complete the offer.
Once you successfully finish the offer, you will receive the reward promised (for paid offers, you will earn coins instead of US dollars). I will discuss later how you can redeem the rewards you've earned from this opportunity.
Option 3 – Local deals
Technically speaking, these local deals aren't really earning opportunities. Instead, it's just a way to save some money. You see, these local deals are just discounts from some of the local stores available in your area (or those that are closest to you).
To avail of these deals, you just have to shop from the local store that offered the deal. I personally wasn't able to test it since there weren't really any local deals in my area that were worth it. So, I can't really elaborate much on how it works.
The app also doesn't explain how it works.
Option 4 – PerkWiz rewards
This opportunity is actually a bit unique. It's a pay-to-earn opportunity where you will have to purchase a PerkWiz Rewards plan to earn additional rewards.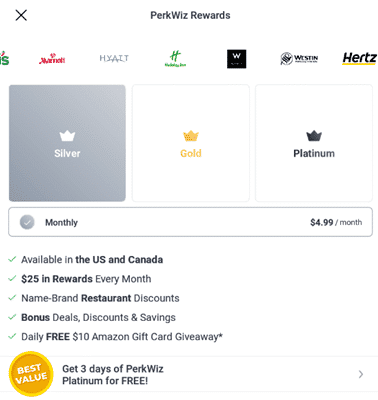 You just have to choose between the Silver, Gold, and Platinum plan and purchase it. Once you've bought the plan, you will receive several perks, including restaurant discounts, additional local deals, and gift card rewards.
The Silver plan costs, $4.99 per month, while Gold costs $8.99. The Platinum plan is the most expensive at $12.99 per month or $99.99 per year. The more expensive the plan, the more perks and additional rewards you will receive.
If you like to get gift cards from your favorite stores, this can be a good way to do so. The value you will get will be significantly higher than the money you spent to buy the plan.
Option 5 – Referral program
Their referral program is also quite unique. You see, when you invite a person to join the app, you will actually be giving them a $25 reward, but there's a catch.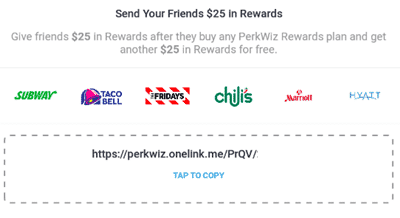 To invite a person, you just have to share your invite link with them. Once they click the link and register to the app, they will become your referral. As mentioned, your referral will receive a $25 bonus reward. This reward will be different from the earnings you will get from jobs (I will explain the difference in the next section).
Now, in order for your referral to earn the reward, he/she referral must actually avail of any of their PerkWiz Rewards plan. Once they do that, you will also receive a $25 reward bonus. That's how their referral system works.
In my opinion, it isn't really very profitable unless you really find people that are interested in earning from this app and don't mind spending a bit of money for the PerkWiz Rewards plan.
Recommended: Check Out the Top Survey Apps
How do you get paid?
As explained earlier, you will earn a certain amount in US dollars for every job you successfully complete. You can then withdraw your earnings from this opportunity any time you want through Payoneer.

This is the only payment gateway they use for payouts, so you'll have to make sure you create an account for Payoneer before you even join this app. While your payout options are pretty limited, the good thing is, you don't have to wait to reach a threshold to withdraw your earnings.
So essentially, you can withdraw your earnings as soon as you complete a job.
As for their paid offers, here's where it's a bit different. As mentioned earlier, you will earn a certain number of coins for every paid offer you complete. You can then exchange the coins you've earned for various gift cards.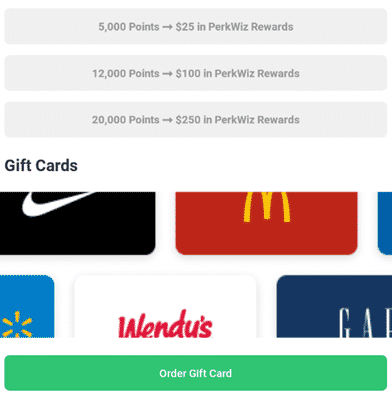 You will need to earn at least 5,000 coins (that will be worth $25) before you can redeem any of the gift cards available. There are various gift cards you can redeem (Walmart, Nike, McDonald's, GAP, etc). There are only three amounts you can choose from, $25, $100, and $250.
A $100 gift card will cost 12,000 points, while a $250 gift card will cost 20,000 points. So, if you want to maximize the value of your points, you can opt for the higher values.
This is also where the PerkWiz rewards will come into play. The free monthly reward you will get from your PerkWiz plan will be from any of the gift cards listed in this section. So, you could say that the free reward you will get from their PerkWiz rewards are actually just free gift cards.
The payment system for their jobs is actually very straightforward and I like the fact that you don't need to reach a threshold to withdraw your earnings. But I do wish they offered more payout options for this like PayPal or even Bitcoin.
If you are interested in sites or apps that offer convenient payout methods, I would recommend you check out the top sites that pay via PayPal.
How much money can you make?
As I've discussed earlier, the amount of money you can earn from this app will entirely depend on you since you'll be the one to set the compensation you will get for the jobs you post. It's a double-edged sword, in my opinion.
The positive is, you won't be at the mercy of the employers who post jobs since you'll be the one to dictate how much you will earn. But at the same time, it's hard to find the right balance of setting a competitive price.
If you set your compensation too low, the time-to-money ratio of the job will suffer. If you set the compensation too high, the chances of employers choosing your service will be significantly decreased. It will take a lot of patience and experimenting to find the proper balance, in my opinion.
In the meantime, while you are waiting for employers, you can work on their paid offers to earn rewards. That's usually the strategy taken by the members of this app. Their paid offers don't pay that much but they still pay decently. The rewards offered are somewhere in the middle.
So, I would say the earning potential of this app isn't that good. But if you somehow manage to get the right balance of offering affordable and attractive jobs, you can earn a decent amount from this app.
Can you use it on a desktop?
PerkWiz is a mobile-only platform. So, you'll definitely need to use a mobile device to work on it. But as far as the work that need to be done for the jobs you offer is concerned, you can do it on a laptop or desktop. It really doesn't matter. As long as you are able to provide the deliverables to your client, you can use any device you want.
But for their paid offers, you will definitely need to use a mobile device.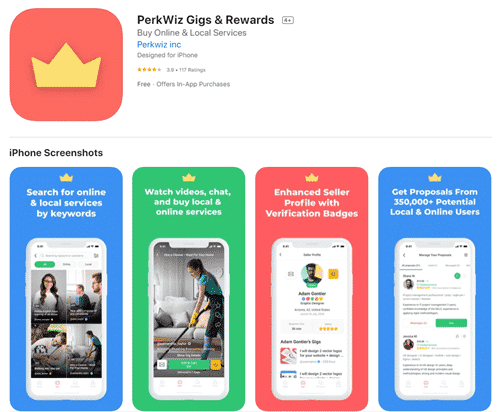 As for their app, it is available for both Android and iOS devices. So, compatibility won't be an issue. The app is relatively user-friendly, so you'll easily get used to how it works. The only thing I can comment on is that it lacks some relevant information explaining what the features of the app offers.
During my testing, there were a lot of guess-work involved. So, I would understand if a beginner will have a hard time using this app since there aren't enough information displayed inside the app to learn more about their features.
But that's just me nitpicking. Overall, their app is fairly user-friendly, in my opinion.
Who can join PerkWiz?
PerkWiz is available globally. So, you can sign up as a member regardless of where you live. But you do have to be at least 18 years of age to register as a member.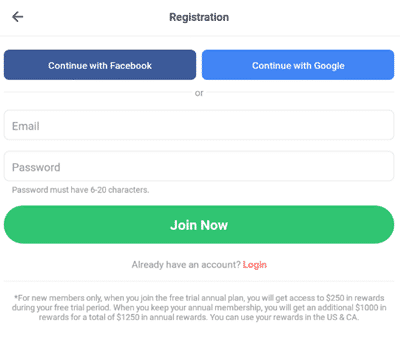 To sign up as a member, you have to first install the app. Once it is installed, you will have to fill out their sign-up form the first time you run the app. You also have the option to sign-up using your Google or Facebook account.
Once you are done with the sign-up process, you can log in to the app and start setting up the jobs you want to offer and you can also start working on paid offers.
Can you get support?
As mentioned earlier, their app does lack a bit of information explaining some of the features of the app. So, chances are, you will have questions pertaining some of its features. Their app does have a FAQ page you can refer to for your questions.
Just click the "Contact Us" link under your profile settings and you will be redirected to their FAQ page. If you can't find the answers you are looking for, you can chat with a support representative to resolve your questions or concerns.
They don't reply right away though, but you can leave your email address so you can continue your conversation via email. Overall, I would say they have a decent support system in place for their members.
I like the fact that you can chat with a support representative. If you are willing to wait, you can resolve your questions and issues easily. But I do wish their app provided more information about its features for better user-experience.
Final Verdict
PerkWiz is a legit micro-job/GPT app that will pay you for doing freelance jobs and completing paid offers. It has a couple of interesting features but it also has a few limitations you need to be aware of.
Let me end this review with a summary of its pros and cons to give you an overview of what the app has to offer. Then, you can decide if this is really an app worth using or not.

Pros:
You can set the amount you want to earn for the jobs you are offering
You can withdraw your earnings from jobs without having to reach a threshold

Cons:
It takes some time to start earning cash from this app
High payout threshold for gift card rewards
Their app lacks important information about some of its features
Limited payout options offered
If you are looking to earn quickly, this app is not an ideal option, in my opinion. It has a fairly steep learning curve in terms of how to earn from their jobs. You have to get the proper balance of how to attract employers and getting paid a decent amount.
Yes, you can earn rewards from their paid offer while waiting, but the problem is, you can only earn gift cards from this opportunity. So, if you want to earn cash, you really need to master how to get jobs from potential employers.
If that's fine with you and you don't mind taking time to learn how to work their job market, then this can be a good app to earn extra cash. But if you are looking to earn quickly, I would suggest you check out the top survey and GPT sites in your country instead.
The sites and apps on this list all have good earning potential and you can start earning cash right away.
If you have any comments, questions, or have any experiences with PerkWiz yourself, I would love to hear from you in a comment below.