Permission.io is a platform that claims you can earn just by watching videos and ads.
It's a very simple way to earn, so I understand if you are interested in joining it. But if you are reading this article, you are probably looking for additional information about the platform to find out if it really is legit or a scam.
That is a smart move. It is best to learn more about a platform before you even consider joining it. This is what this Premission.io review is for.
It will reveal the full truth about everything Permission.io has to offer so you will know exactly what to expect if you sign up. That way, you can easily determine if it is really worth it or not.
Disclosure: Some articles on this website contain affiliate/sponsored links. Click for more info.
What is Permission.io and what does it offer?
Permission.io is a Get-Paid-To (GPT) site that will pay you for viewing ads and videos. It is indeed a legit platform since you will really get paid if you participate in the earning opportunities it offers.
And speaking of earning opportunities, in order for you to understand how Permission.io works, we have to first take a closer look at how you can earn from it.
I have, therefore, made a video that gives you an inside look and shows exactly how you can earn from Permission. You can also read all the details below the video.
Start Earning On Permission.io
Option 1 – Browser extension
The main way to earn from Permission is to use their browser extension.
When you log in to the member dashboard, the first thing the site will ask you to do is download their browser extension. But what does this extension do exactly?
What the browser extension does is show you a video ad of a related product/service you are searching for. When the extension is installed on your browser, all you have to do is provide your login credentials.
Then, every time you do a web search, a small pop-up notification will appear in the upper right-hand corner of the browser. Just click the pop-up and a small window will appear. Just hit the play button and let the video finish. While the video is playing, you will see the reward you will earn for watching it.
You actually have to watch the video. If you open a different tab or window, the video will stop playing. But the good thing is, their video ads aren't really that long, so it doesn't eat up a lot of your time.
It has an unlimited number of video ads you can watch (more or less), so you won't actually run out of ads to watch.
Option 2 – Daily Earn
Another way to earn is by logging in to their member dashboard and going to the section that says "Daily Earn".
This opportunity is really pretty much just watching videos. However, the videos you will be watching are more informative rather than advertisements and they are usually also longer (but also pay more).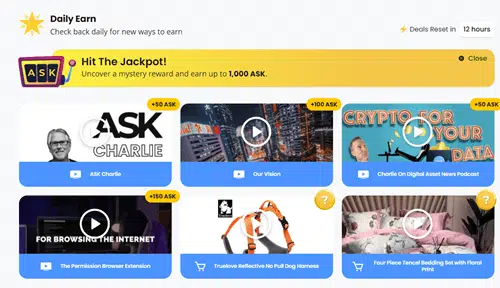 Aside from the videos, you can also play their slot machine game from time to time to get a chance at winning the jackpot prize. When you've run out of videos to watch on Daily Earn, you can just check back the next day for new videos to watch.
It's really that simple. Just don't be alarmed if there aren't any available videos sometimes. That's just normal.
Option 3 – Referral program
Lastly, you can also earn additional rewards through their referral program. If you've been a member of other GPT sites before, then this opportunity will be very familiar.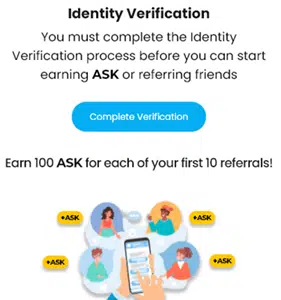 All you have to do is invite other people to join Permission.io by sharing your invite link or referral code. When they register to the site using your link or code, they will become your referral. And then, you will receive 100 ASK (which is the currency they are using).
However, before you can invite people, you will have to complete the account verification process. Later, I will discuss how you can do this.
Before you can receive your reward though, your referral must also complete the verification process. So, make sure to remind them to do that immediately when they sign up.
Recommended: Check Out the Top GPT Sites
How do you get paid?
All the earning opportunities Permission offers will reward you with a cryptocurrency called ASK (Permission Coins).
Since it is a cryptocurrency, the value of it can change and go up or down, so if you want to know the value of it, it is best to click the link right above here to see the current value.

So, what can you do with the ASK you've earned? Well, you have two choices: you can withdraw it to your crypto wallet or you can use it in their shop to buy products (refer to photo above).
The first thing you need to do if you want to withdraw or use the ASK you've earned is, you have to transfer it from your pending balance to your wallet balance. From there, it's up to you if you want to transfer it to another crypto wallet or use it to buy products from their shop.
Before you can do that though, you will have to first earn 25,000 ASK. That's quite a lot of ASK to earn. And if you convert that to actual money, that will be equivalent to around $50 more or less (depending on the exchange rate).
When you've transferred your earnings to your wallet balance, you can then send it to any valid Permission wallet.
Since I first tested Permission, the Permission Coin has been listed on Gate.io, which is one of the big and popular exchanges, and this definitely makes the coin more useful and great to see it has been listed there.
But if you choose to use your ASK to buy products in their shop, all you have to do is go to their ASK store and find products you want to buy. Their products can be bought either by using the ASK you've earned or by using real money.
Aside from merchandise, you can also convert your ASK to various gift cards that are available in the ASK store. There's a whole section in the ASK store for gift cards.
Overall, their payment system is relatively simple, but the threshold is actually quite high (around $50 depending on the exchange rate). So, it can take quite some time before you will be able to withdraw or use your earnings in the ASK store.
If you prefer sites that will allow you to withdraw your earnings quickly, I would recommend you check out the fastest paying sites instead.
How much money can you make?
The amount you can earn from Permission will mostly depend on how often you browse the internet. However, let me just say that you can't really expect to earn a significant amount quickly. Let me explain why.
For the video ads that you can watch using their browser extension, you will usually earn around 10 ASK. If you convert that to real-world money, it will only be equivalent to $0.02. So, you will literally have to do a hundred web searches just to earn a couple of dollars.
And if you don't participate in the other earning opportunities it offers, you will have to do thousands of web searches before you can hope to reach their payout threshold.
However, compared to most other sites where you can earn by watching videos, this is actually a quite high rate per video. But overall, say the earning potential of Permission.io is quite low.
That being said, it has potential since earning will require little effort. Plus, in the future, the value of 1 ASK may increase. I can't really say for sure, but that's really the nature of cryptocurrencies. There's a high ceiling. So, it can still serve as a nice time investment if you aren't really in rush to earn due to its potential.
Can you use it on mobile?
Their browser extension is only available for computer browsers and not mobile browsers. But, you can still log in to their member dashboard from your mobile device by using a mobile web browser.
Their site is mobile-friendly, so you shouldn't have a hard time getting used to how it works. So, you can just do their "Daily Earn" earning opportunity from your mobile device. That can help you increase your earnings slightly since you don't have to be in front of a computer to do it.
You can just work on it while standing in line in a bank, while on break at work, or basically when you aren't doing anything.
Who can join Permission.io?
The good thing about Permission is, it is available more or less worldwide. So, you can register as a member regardless of where you live. You just have to be at least 13 years of age or older. If you are a minor, you will have to get the approval of your parents or legal guardian.
To register, you just have to fill out their sign-up form and submit it. Then, Permission will send an email containing the verification link. Just click the link to complete the registration process.
But as I've mentioned earlier, in order to fully utilize the platform, you need to complete the KYC (Know Your Customer) verification process. Here's a video of how to do this.
I highly suggest you watch the video first before you do anything else on Permission. When you've finished the KYC verification process, you can now start earning from the platform.
I would also recommend you share the video with the people you want to invite since this will be included in the requirement for you to receive your referral reward.
Can you get support?
If you have any questions about the platform or you've encountered a technical issue, you can first check out their FAQ page. It discusses most of the basic topics you need to know about the platform.
But if you encounter any technical issues with your account or even their browser extension, I would recommend you contact their support team immediately. You can contact their support team by clicking the Support link at the bottom of their website.
Just click on the appropriate category (Account Support, KYC Support, or just Contact Us for general inquiries) and fill out the necessary information.
Overall, I would say the platform has a decent support system in place for their members since they offer a convenient way for you to get in touch with their support team.
And in my experience, the support team also gets back to you fairly quickly if you contact them.
Final Verdict
Permission.io is a legit GPT site that will reward you for watching video ads and for participating in the other earning opportunities it offers. It has a couple of good features, but it also has some disadvantages you need to consider.
Let me finish this review by summarizing its pros and cons to give you an overview of what Permission.io has to offer. Then, you can decide if you should go for it or not.

Pros:
Offers an effortless way of earning
Has the potential to a good source of extra income if the real world value of their cryptocurrency significantly increases
Pays higher than most other video earning options

Cons:
Low rewards
Limited earning opportunities offered
Limited payment methods offered
In my opinion, Permission.io is a good option if you aren't really in a hurry to earn a significant amount. What I like about this platform is, it requires little effort to earn rewards. The major drawbacks are, it's not very flexible in terms of the payment methods it offers and the rewards are quite low.
But the latter can change if the value of their cryptocurrency will increase significantly which can be a possibility. This is the potential that cryptocurrency can offer. I'm not saying it will increase right away, but at least, there's a chance.
And if you are looking for a new investment, that's all you really need, in my opinion.
But if you are looking for a reliable way to earn extra cash, I would instead suggest you check out the top survey and GPT sites in your country. The sites on this list all have good earning potential and most of them offer convenient payment methods as well.
How to join Permission.io?
If you are interested in joining this platform, just click the join button below and it will take you to their registration page.
Just fill out the form and follow the rest of the instructions. It doesn't take more than a minute to complete and you can be well on your way to earning ASK.
If you have any comments, questions, or have any experiences with Permission yourself, I would love to hear from you in a comment below.