PointClub claims to be the best online survey site.
But is PointClub a scam or is it really legit and one of the best opportunities out there, when it comes to paid surveys?
I decided to put it to the test and joined it to test it thoroughly myself and have now been a member for quite a while.
This PointClub review will give you an inside look and all the details about what you can expect from this site, how much money you can earn as a member, and if it is even legit, so you can easily find out if it is the right option for you or not.
Disclosure: Some articles on this website contain affiliate/sponsored links. Click for more info.
What is PointClub and what does the site offer?
PointClub is located at pointclub.com and it has existed since 2012, so it has been around for a while.
It has in a sense been around for even longer, as the site Focusline has partnered with PointClub. Focusline used to be its own survey site and has existed since 1996. Now it is, however, a part of PointClub, and not its own site anymore. So in that sense, PointClub is a survey site with a very long history.
Let me reveal right away that PointClub is a legit survey site. That it is legit does however not necessarily mean it is the right site for you to join. Below I will therefore go over what it has to offer, so you can see, if it is for you or not.
PointClub is also called PointClub Surveys, and as the name suggests, it is a site where the main way to earn money is by taking online surveys. It does however also offer a other ways to boost your earnings and it has been updated with more options several times since I first joined it a few years ago.
So let's go over all the opportunities you have as a member so you can see if it will be worth it for you or not.
I have made a small video tutorial of PointClub, so you can get an inside look and see exactly how it work. You can also read all the details below if you prefer reading:
Option 1 – PointClub Surveys:
PointClub started as a pure online survey site, which means surveys is the main way to earn here and the earning method with the biggest earning potential.
Overall, the site is user-friendly and has a fun and updated design and it is clear they are trying to make it a fun experience to take surveys.
Once you are a member of PointClub and are logged in, you can right away easily see, if there are any available surveys for you. So it will not take you any time to figure out how to find the surveys.
Just be aware that the surveys are found under the "Missions" tab.

Here you can then see the currently available surveys.
How many PointClub surveys you will get depends on many things – among others where you live, but also how your demographic profile fits the surveys that PointClub has at that moment. But if you live in one of the countries, where it is available (see more about this later in this review), it should usually give you a good amount.
Be aware that PointClub makes a big effort to make sure the answers they get are of high quality. So if you for example in your profile say you are having a certain income, but then in a specific survey say something else, you risk getting kicked out of that particular survey, as you are not consistent/honest.
So the best way to make sure to qualify for as many surveys as possible on PointClub is to be honest.
Also, there is a great way to potentially double your earnings on each survey – I will explain more about this in the section about the daily streak later.
Option 2 – Offer board
PointClub has a section called "Offer Board" – it is equivalent to what on Get-Paid-To sites is mostly just called offer walls.

It has a few boards you can choose from here and you can find quite a lot of offers on each of these boards. It can be more surveys, you can earn by downloading apps, watching videos, signing up for free trials, and more.
Some of the offes can really boost your earnings but some of them are really not worth it. So just make sure to read the conditions carefully before taking any offers here.
Overall, the offer board is especially great if you have a hard time finding available surveys. The rewards for the offers are not quite as good as on some other sites, in my experience, but it can still be a nice supplement to your earnings.
But no doubt the paid surveys are the best paying option on PointClub compared to the offer boards.
Option 3 – Joining bonus:
A great extra thing PointClub offers is a high joining bonus you get just for joining and filling out your profile info. You get 2000 points ($2) just for signing up, and then you can earn extra joining bonus by filling out some basic information about yourself and confirming your email.

In total, you will get a joining bonus of 5000 points ($5), which is a very high joining bonus and very few survey sites offer this kind of bonus. Swagbucks is one of the few other sites that offers this, so it is a great offer and a great way to kickstart your earnings on PointClub.
In total, it will take less than 5 minutes from you first join until you have the first $5 in your account.
Option 4 – Daily free contests:
As a member of PointClub, you have the chance to participate in the daily free contest. It is a contest that is only available on Facebook.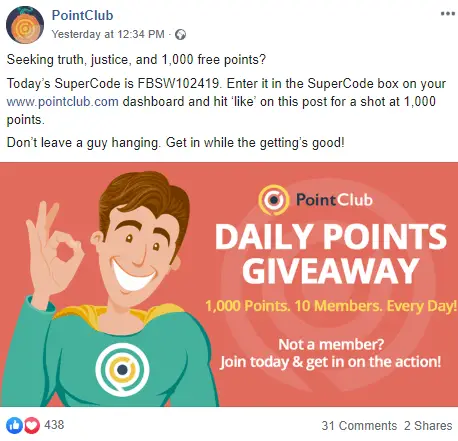 Every day there will be a posted what is called a SuperCode on PointClub's Facebook page. You can see an exmple of this in the image above.
You then take this code and paste it into a box on your PointClub account.

This will enter you into the sweep, and every day 10 winners are picked randomly. The winners will receive 1,000 points into their account. To participate you also have to like the Facebook post that announces the code.
It is not a huge reward, but it is still nice as it takes very little effort to participate in, so still worth considering to check out the code and use it, if you are on Facebook anyway.
Option 5 – Points when you do not qualify for a survey:
PointClub offers something very few survey sites offer. You will get points even when you are screened out or disqualified from a survey.
Whenever this happens (and it will happen once in a while on all survey sites) you get 12 points into your account just for trying.
It is not a huge reward, but still something I think is great and appreciate, as it is nice you get something just for trying, and it takes away some of the frustration there can be, if you do not qualify for a survey.
Option 6 – Daily streak bonus:
If you are logging into your Point Club account every day, you will be able to get an extra bonus. This is called the daily streak bonus.

You start at level 1. At level 1 you will get a 10% bonus on all the surveys you complete. If you login every day for 5 days, you will get to level 2, where you will get 20% bonus on all the surveys you complete. There are 10 levels in total, so if you login 100 days in a row, you will get a bonus of 100% on every survey you take.
So if you are a member, it can be a good idea to make sure to log in daily, as it can give a nice extra bonus. If you miss one day, you will go back one whole level, so if you are starting to get to the higher levels, make sure to remember to log in every day to keep your bonus level.
In addition to getting extra bonus for the surveys you take, you will also get extra point bonuses, as you get to higher levels. I, for example, received a 1000 point bonus for reaching level 3. So keeping the streak going can definitely be worth it.
You do also not need to take any surveys to keep the streak going. You just need to login, so if there is a day you do not have time to take any surveys, or if there are no available surveys on a particular day, you can still continue your streak just by quickly logging in, so it is very easy to keep it going.
Just make sure to go to the "Daily Streak" section on your dashboard to check the login for the day has been counted to make sure.
Option 7 – Media lab (review content):
On PointClub you can find what they call a "Media Lab".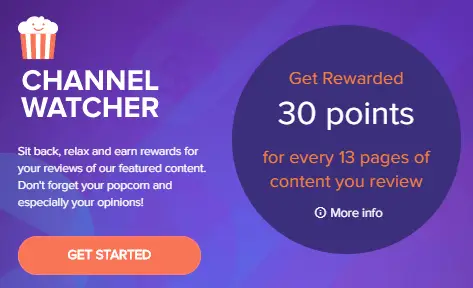 Here you can get paid to review different content like videos, offers, ads, and more. After every piece of content, you will be asked to give feedback by simply clicking a red, yellow, or green smiley.
It is an easy way to earn and can be fun – BUT it does not pay well. You have to watch 13 pieces of content to earn 30 points (that is worth $0.03) so you need to watch a lot of content to really earn.
It is, therefore, not the most effective way to earn on PointClub but if you have extra time and find the content entertaining, then why not earn a bit while watching it.
Option 8 – Invite friends to join
One of the newest earning options on PointClub.com is the referral zone – here you can earn by inviting friends to join the platform.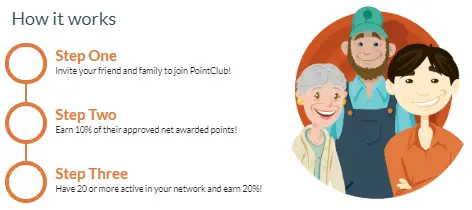 As a member, you get a referral link you can share – if your friends join through this link, they will be considered as your referral.
Every time they earn, you will then also earn. At first, you will get a 10% commission of their earnings. Your friend will earn the same as this bonus is paid by PointClub.
If you have a lot of friends that remain active on the platform, you can also get a higher bonus. Once you have 20 active referrals, your bonus will be 20%.
It is not a way to make huge money for most people, but if you know people that might be interested in using PointClub actively, it can give some nice extra cash.
Also, you just need to be aware that at the time of updating this review, the referral program is only available if you live in the US.
So if you live in other countries, you can currently not get paid by inviting others to join PointClub.
How do you get paid?
When you complete a survey on PointClub you get points into your account. 1,000 points is worth $1 so it is farily easy to calculate how much you get for each survey and offer you complete.
The points can be exchanged into a number of different rewards.
You can, for example, get paid through PayPal, prepaid Visa, get gift cards for Walmart, Uber, Target, TGI Friday's, Sephora, and many more. In total there are more than 80 different gift cards to choose from, which is a very big amount compared to other survey sites.
Personally, I prefer survey sites that have PayPal as a payout option, as this is a great and easy way to get paid in cash, so great PointClub has this option. But it also has many other great rewards, and it is always nice when a survey site offers many options, so it is always possible to find something that fits your preferences.
When you get your points, be aware that there are what is called pending funds and approved funds.

The pending funds are points you have made, but that have not yet been approved by the company who ordered the survey. Therefore, you cannot cash these points out until theý have been approved. Approved funds are however funds that have been approved and that you can cash out.
You have to earn $25 before you can claim your rewards. This is a little high compared to some other survey sites.
However, as PointClub has a high joining bonus of $5, you will still not be too far from reaching the payout threshold after you join.
I have also made a short video where I show PointCkub payment proof so you can see it actually does pay and so you can see exactly how to redeeem your earnings.
How much money can you make on PointClub?
It is very difficult to say exactly how much money you can earn on PointClub. It depends very much on your specific demographic profile, the country you live in, and of course on how active you are and how many surveys you take.
One thing I can say for sure is that no matter where you live and who you are, you will not be able to make a full-time income on PointClub or on any other survey site for that matter.
But PointClub has some good options and a good amount of surveys, so you will be able to make some nice extra money on the side, and at the same time have your opinion heard.
So if you want to make some extra money online, this is a great and easy way to do it, but you should know that it will not make you a full-time income.
Can you use it on mobile?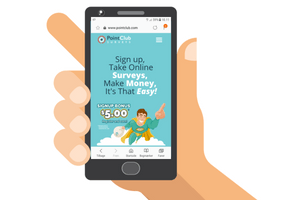 Personally, I like the option to take surveys on my mobile, as it is a great and easy way to earn a little extra on the go and whenever I have a small break throughout the day.
Point Club does not have an app, but you can still easily use it on your mobile devices, as it is fully optimized for this.
You just go to the website on your mobile device and login from there.
It is very easy to use on mobile phones as well, and as PointClub, in general, is easy to use and easy to navigate, it is also not a problem to use it on smaller screens.
Who can join PointClub?
In theory, you can join PointClub no matter where you live. However, it is only worth joining, if you live in certain countries, as the amount of opportunities varies from country to country. In some countries, you will not have any available surveys at all, and therefore it would not be worth joining in these cases.
PointClub, in general, has the most opportunities for people living in the US, but it also has good opportunities for UK, Canada, France, Brazil, Mexico, Germany, and the Netherlands, among some others.
Especially the paid surveys are mainly for the US – but in some of the countries mentioned above, you can still find surveys once in a while.
So if you live in one of these countries, it is definitely worth checking out PointClub. If you live in other countries, it might still have some opportunities, but in some countries, it will be very limited.
However, PointClub is expanding and are getting surveys in more countries continuously, so if it does not give you a lot of opportunities now, it might offer more at a later time.
Can you get support?
If you need support, you can contact PointClub through a contact form on their website. It is always good to know that it is possible to get in contact with support, if you need it.
As an alternative to the contact form, you can also contact PointClub on their Facebook page. They are using their Facebook page a lot and posting more or less every day, and you can send a direct message there as well.
From what I can see, they are however not very good at getting back to people who leave comments on the Facebook posts, so if you need to get in touch with support, you should probably not do it by leaving a comment there, but instead by sending them a direct message or use the contact form on their website.
I have myself been in contact with PointClub several times, and they have always been fast at getting back and given good and useful answers, and it is one of the best services I have experienced from a survey site, which is a big plus.
Final verdict
PointClub is without a doubt a legit survey site.
But it is not a site with good opportunities for all.
So let's finish this review by summing up the pros and cons, so you can get a better overview before deciding whether it is the right site for you or not.

Pros:
High joining bonus ($5)
Good survey opportunities
Easy to use
Great reward options
Excellent customer service

Cons:
Payout threshold a little too high
Offers on the offer boards are not the best
In general, I mostly have positive things to say about PointClub. The only not so positive thing is that the payout threshold is a little high compared to other survey sites – and if you like taking offers from the offer board, you need to look carefully to find the once that are worth it.
But the pros make up for this, as you get a high joining bonus, it has a good amount of surveys with pretty high rewards (especially if you get the daily streak bonuses), and it is, in general, an easy-to-use survey site with an interactive and fun design. It also offers great reward options, so there will be good options no matter your preferences.
Overall definitely a site worth considering, if you live in one of the countries, where it has good opportunities. If you do not live in one of these (or if you want to join more great survey sites) you can check out my lists of the best survey sites in select countries.
How to join PointClub?
It is super easy to join PointClub. Just click the link below, and you will be taken to a sign-up form. It only takes a minute to join, and after you fill out a bit of info (takes in total around 3 minutes), you will have a total of $5 in joining bonus in your account.
If you have any comments, questions, or have any experiences with PointClub yourself, I would love to hear from you in a comment below.