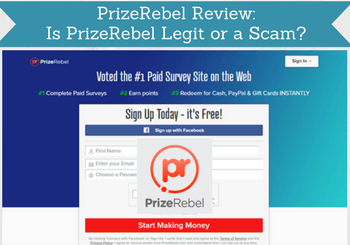 PrizeRebel is one of the big online rewards and survey sites. But is PrizeRebel legit and a site worth joining, or is it a scam that will not make you any money?
In this PrizeRebel review 2018, you will get all the details about what PrizeRebel is, what it has to offer, and what it does not offer, so you will know whether it will be worth it for YOU, before you decide to join or not.
The review is a bit long as PrizeRebel has a lot to offer, and I want to cover as much as possible. But if you are not interested in all the details, you can just scroll down to the conclusion:-)
Disclosure: This article may contain affiliate/sponsored links. Click for more info.
What is PrizeRebel and what does the site offer?
PrizeRebel is one of the big players within online paid surveys and online rewards. It has existed since 2007 and according to their own numbers, it has more than 7 million users and has paid out over $11 million in rewards. In general, it is a good sign when survey site has existed for this long and is still going strong. But that in itself is not enough to decide for sure how good a survey site is. So let's look into what the site is offering.
PrizeRebel is offering a number of different ways you can earn rewards. Below I will go into more details about the all different options.
Paid surveys:
If you have visited my website before, you will know that I am a big fan of doing paid surveys, and my whole website is about everything related to paid surveys. And PrizeRebel is also offering paid surveys. And a good amount of paid surveys as well and this is one of the main ways to make money here.
Once you have logged in, you can go to the "earn" tab and choose surveys or offers. You will then get a list of different survey providers that PrizeRebel is cooperating with and that you can take surveys through. There are quite a few different survey providers and therefore also often many daily chances for doing surveys. So you choose the surveys you think sound interesting and answer the questions. Once you have done the surveys, you will get the reward into your PrizeRebel account.
You can always see the reward you will get before you start a survey. There will also be a time estimate, that tell you how much time you can expect to spend on the survey. This is just an estimate and depends on how fast you are at reading and answering questions. In my case the estimate for most surveys fits pretty well, and often I am also doing it quite a bit faster than the estimate. But I am also used to doing online surveys, so in the beginning you should expect to have to spend at least the estimated time.
Be aware that the exact number of survey providers and available surveys depends on where you live and your profile. So some places you will see more opportunities than others, but I will get more into this later.
Below you can see an official PrizeRebel video about how the survey side of the platform works:
Offers:
Offers is some kind of activity you have to complete to get a reward. It is simply said a kind of advertisement by one of PrizeRebel's partners you have to interact with, and then you will get a reward and are therefore called paid offers.
This can be a great and easy way to earn good rewards. Most of the offers requires you to register for something like for example a website, and in some cases it also requires that you will pay an amount – for example for buying a certain product or for a trial of a certain service. Even though this might at first sound annoying and scary, it can really be worth considering. Let me give you a few examples:
You can for example earn a reward by downloading and opening an app, you can earn a reward by registering for a free trial at a website or play a Facebook game. A concrete example for me was that there was an offer where I could get $15 reward to sign up for an online betting platform. I had to register at the betting platform and pay a deposit there, but that was only $12 I had to deposit. So for doing that, I would get a profit of $3 into my PrizeRebel account + I got a joining bonus at the betting platform, so I had $25 to bet for there and had the chance to win a lot more – in this case I did not win extra, as my betting skills are not the best, but the option is there:-). So that is a really good deal, and the offers can therefore be a great way to really boost your earnings and at the same time also get some good deals.
Be sure to read the details about each offer before signing up, so you know what the demands are for you to get your reward.
Get paid to play games: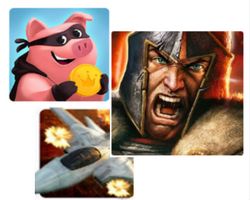 As a part of the offers you can also often find games you can download and play. I just wanted to give an example of this as well, as this can give you some great extra rewards as well, if you like to play games anyways. There are often small games you can download and just open and play very shortly and you will get a small reward for this. And then there are also some where you are requires to play them to a certain level before you will get the rewards, but these rewards can then also be really good. I have for example seen games where you will get $5-6 for installing it and playing it up to a certain level. That is pretty good, if you like to play anyway.
Also in these cases be sure to check the exact terms on PrizeRebel's site before you use the offers, so you know what you need to fulfill to get your rewards. For many of the games, you for example have to open them latest 15 minutes after you have clicked the offer button for it to be registered. This is quite important to know, so read the requirements before signing up.
Paid tasks:
PrizeRebel also offers you to do what is called tasks. It is small online jobs you can do for a reward. The tasks are done through a platform called Crowdflower. You can find the task by going to the "earn" tab and then choose "tasks". It can be a number of different little tasks like for example checking a website for links that does not work, checking a website for certain errors, checking citations and much more.
The tasks will not give huge rewards – especially not in the beginning. As you do more, you will start being offered tasks that pay a little better. Be aware that it is important to be accurate and do the tasks correctly if you decide to use this option. If not, you will not get the reward after you finish.
Watch videos:
PrizeRebel has a big section with videos you can watch and get paid for it. You usually get paid for every 3 videos/ads you watch. There are a lot of different topics you can choose from, so you can definitely find a topic that will be interesting for you. Examples are viral videos, travel videos, science & tech, sport, and health.
There is no limit to how many videos you can watch, which  is really great. You will however not get paid a lot for watching them, so you have to go through a lot to earn any real money. However, there is of course the option to let the videos run, when you are not using the computer. Many of the videos are actually also pretty interesting to watch, so you might also find them entertaining. But you should not expect to make a big deal of money by watching them.
Daily challenges:
Every day you can see a daily challenge when you log in. It is a challenge to reach a certain amount of points that day, and then you will get an extra bonus. Great way to make a little extra the days you use PrizeRebel.
Raffles:
You can use some of your earnings to enter raffles. PrizeRebel has new raffles every week, and usually the prizes are gift cards for $5-10. It only costs 10 cents per ticket, so it can be a way to multiply your earnings, if you are lucky.
Lucky numbers:
Lucky numbers is another way to try to win extra rewards at PrizeRebel. You will buy a lottery ticket and pick 4 numbers. If your numbers match once the draw is made, you will win the jackpot. There is usually a new lottery every week.
Contests:
PrizeRebel has a number of different contests you can participate in for free and get the chance to win extra rewards. Some contests you will automatically participate in by having activity on the platform. There is usually every two weeks a contest where the members who are doing the most surveys, the most tasks, and the most offers will win extra rewards. Under the "win" tab, you can see the current standing and where you are on the list.
Other contests you have to actively participate in. There are quite regularly new contests announced on PrizeRebel's Facebook and Twitter account. They are very easy to participate in and often you just have to like and comment on Facebook for a chance to win a gift card of for somewhere between $5-25.
In general, I find these free contests and the chance to win extra with a certain amount of activity very nice and a good chance to get some extra money with little effort.
As you can see, PrizeRebel offers a lot of different opportunities, and I must say the opportunities are in general pretty good compared to many other similar websites.
Like any other legit survey site, PrizeRebel is free to join and use.
==>Click to visit PrizeRebel<==
PrizeRebel promo codes – get free points
An extra thing worth knowing about PrizeRebel is that it often has promo codes. These are codes that will be announced and then you can use this code once you are logged in, and this will give you some free points.
It is very easy to do and only takes a few seconds. You just need to know where to find these promo codes. Just keep an eye on the Facebook or Twitter page, and the codes will be announced here regularly. Usually a code is only valid for the same day it is posted, so you have to check the social media regularly, if you want to use this option. But if you are regularly checking your social media anyways, it does not take long to check if there is a new promo come. Then when you see a code published, you just copy it, and put it into the required field on your account, and then you will get the free points. A new code is published several times a week (usually 2-3 times), so there are good chances to use this to earn a bit extra.
PrizeRebel levels
An important aspect to understand about PrizeRebel is that it has levels. That means that you as a user starts at the lowest level, and with activity and earnings, you will be able to get to a higher level, and this will give you more benefits.
There are 5 levels starting from bronze (you will start here when you join), silver, gold, platinum, and finally diamond. You will move to silver level already when you have earned 1000 points. And then you can continue up the ladder (see image below).
The advantages it will give are that once you reach gold level, your preferred reward will automatically be processed when you have made enough to claim it, and the higher you go, the more bonuses you will get.
You will get a higher bonus for inviting friends to join PrizeRebel as you move up through the levels, and will start receiving special bonuses at the end of every month, which will be a percentage of all your earnings. You will also start to get a discount on the rewards you claim. You can see the below image for details about what bonuses you will get at the different levels.
I have reached the Diamond level myself (see proof of this later in the article), so I know from experience that you will for sure get these extra bonuses, which are a great way to boost your earnings.
Get notifications in your browser
This is a pretty cool feature that PrizeRebel has to make it easy for you to get updates about new opportunities on the platform. It allows you to install an add-on in your browser, that will give you certain notifications and updates about PrizeRebel, so you do not have to login all the time to check. The add-on will for example give you notifications when new surveys are available, and in my opinion the coolest thing about it is that it will let you know when there are new promo codes, and you can redeem them directly in the add-on.
At the moment the add-on is available for Chrome and Firefox. So if you are using one of these browsers, this can be a great and easy way to stay updated and for example make sure not to miss any of the promo codes and free points you can get this way.
How do you get paid?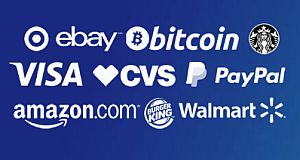 The opportunities and ways to earn is an important aspect of any survey site and reward portal. But another very important aspect is how you will then be able to get your rewards paid out.
PrizeRebel has some really good options. First of all, you have the option to get paid through PayPal, which I really like when a survey site offers, as it is a great way to get paid in cash. If you like getting paid in cash, you can also in a few countries get paid through Dwolla, which means you can get your earnings transferred directly into your bank account.
It further offers a number of different electronic or physical gift cards to for example Amazon, Skype, Visa, Debenhams, Facebook, and many more. You can also use your rewards to online games like Minecraft or League of Legends. So there are really good options no matter what your preferences are.
When you do anything on PrizeRebel, you will earn points that can then be exchanged into one of the rewards mentioned above. 100 points is equivalent of $1.
You can request a PayPal payment already when you have earned 500 points ($5), and some gift cards already when you have earned $2. These are really nice low payout threshold compared to many other survey sites. When you join, you can right away earn 25 points by taking a guided tour and fill out your profile, which is a good start, and it will not take you long to reach the payout threshold.
How much time does it take to make money?
It is really up to you how much time you want to spend. But the more time you use, the more you will of course earn. You can do a few things a day, or you can start doing as much as possible and do all the surveys, tasks and offers you can. Then you will end up spending quite a bit of time, but your earnings will also be higher.
Below, I have made a small video walk-through of PrizeRebel, where I also show proof that it is a site where you can make money:

The size of the rewards you get in relation to the time spent is about the same as the other survey sites on my top 10 list. PrizeRebel does however have some great extra features that makes it easy to make a bit extra like the contests, membership levels and promo codes. And it also has a great referral program, where you can get extra rewards, if you invite friends to join the site.
PrizeRebel is one of the survey sites where I spend most time myself. As you can see below, I have therefore been able to get the Diamond membership, which is the highest level and gives some great extra bonuses, as I have mentioned before. You need to make $225 to get to that level, and it is definitely possible to get there fairly quickly, if you make an effort. So putting in some time on PrizeRebel can definitely be worth it, and it can then make some nice extra money.
Like with any other survey site and online reward portal, it is important to remember that you will not be able to make a full-time income by being a member. You can make some really nice extra money on PrizeRebel, but do not expect it to make you rich, as you will then be disappointed.
What are the best times to earn on PrizeRebel?
In general PrizeRebel has many daily surveys and other opportunities. But one thing I have noticed is that certain times at the week give better opportunities than others.
There are usually less opportunities during the weekends than during the weekdays. That does not mean you will not find any opportunities in the weekends, because there are still some. It just means that there will be less. So be aware of this, if you join PrizeRebel during a weekend – there might be less opportunities, so make sure to check it during weekdays as well to get full benefit of the options. Also, surveys, offers, etc. come and go all the time, so just because there are no options when you login at a certain time, it does not mean there won't be more opportunities later the same day.
I have also noticed that especially around Christmas time or other holiday seasons, PrizeRebel has less opportunities. So if you around those times suddenly feel that there are not as many opportunities as usual – do not worry. More offers will come back shortly after the holiday seasons.
Who can join?
You can join PrizeRebel from most countries. Not all countries do however have the same amount of opportunities. The most opportunities will be for people living in the US, UK, Australia, and Canada. But you will also find really good opportunities in for example Germany, France, and Singapore, and you can also find great ways to earn on PrizeRebel in many other countries.
You can join as long as you are 13 years old. When you are between 13-18 years old, you do however need a consent from your guardians.
Can you get support?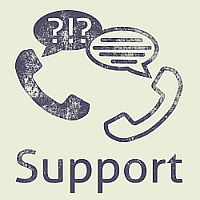 If you run into any issues at a platform you are a member of, it is always nice to be able to have a chance to contact an official support service. Not all survey sites offer a great support.
How good a support function any site has, tells a lot about the overall credibility and quality of the site. And PrizeRebel has excellent support. I have myself contacted them a couple of time, and have gotten a quick and helpful answer very quickly. If you look at the social media channels of PrizeRebel, you can see that the support is also very active here. If you have any questions or concerns, they are very quick to get back to you there as well.
This is a very good quality to have for a survey site, and good to know that you can get support, if you should need it.
Final thoughts
From what you have read above, you can probably figure out that PrizeRebel is a legit site. But let's sum up the pros and cons to give you a better overview of what it offers before you decide to join or not:

Pros:
Free to join.
Big amount of surveys, tasks and offers.
Low payout threshold.
You can get paid in cash.
Great support, if you need it.
A lot of extra ways to earn through levels, referrals, contests, and promo codes.

Cons:
You will not qualify for all surveys (but that goes for any survey site).
In some countries there are not a lot of opportunities.
If you like paid surveys and online rewards portals, PrizeRebel is definitely worth signing up for.
Compared to many other similar sites, it has really great opportunities and earning potentials. The only thing you have to be aware is that it does not offer a huge amount of opportunities is certain parts of the world. But if you live in the US, UK, Canada or Australia, it is definitely a good site to sign up for, but it can also be worth it in other countries. And it is free to sign up for, so it is easy to test it in your own country.
How do I sign up for PrizeRebel?
It is very easy and fast to sign up. Click the link below, and you will be taken to the registration page. There you just have to fill out your email and a few other things. It takes about 10 seconds.
If you have any questions, any experiences with PrizeRebel yourself, or any thoughts you would like to share, I would love to hear from you in a comment below.
PrizeRebel
Money/time ratio

Frequency

Usability

Credibility
Summary
If you like paid surveys and online rewards portals, PrizeRebel is a must to sign up for. It gives a lot of opportunities for earning money, has low payout threshold, you can get paid in cash, and it is a very reliable site that has existed for many years. Just be aware that it has most opportunities, if you live in the US, the UK, Canada or Australia. Other countries will have opportunities as well, but not as many.