There's a site called PrizesDrop that promises to give you free gifts and prizes for becoming a member of their site. Now, if you are looking for sites you can join to earn rewards, you might be considering joining this site.
Before you sign up though, we have to check a few things first. The primary thing we need to verify is if this site is legit or if it's just another scam. Fortunately, you don't have to worry about the legitimacy of this site. It does what it promises to do, which is reward you for participating in the activities they offer.
However, this doesn't really tell if a site offers a good way for you to earn rewards or not. This is the most important thing we need to figure out so you can decide if this site is worth it or not.
And this PrizesDrop review will explain in detail what the site has to offer so you will be able to decide properly if it is a site you should invest your time in or not.
What is PrizesDrop and what does it offer?
PrizesDrop is a Get-Paid-To (GPT) site that will reward you for completing the earning opportunities it offers. Since it is a GPT site, expect to earn by playing games, completing surveys and watching videos.
But that is not all the earning opportunities it offers. Let's take a closer look at all the earning opportunities you can find on PrizesDrop so you will be able to understand the full earning potential of this site.
So, here's how you can earn from this site.
Option 1 – Paid offers
Paid offers are basically just micro-tasks you can do to earn rewards. And in the case of PrizesDrop, you will find the paid offers on their offerwalls.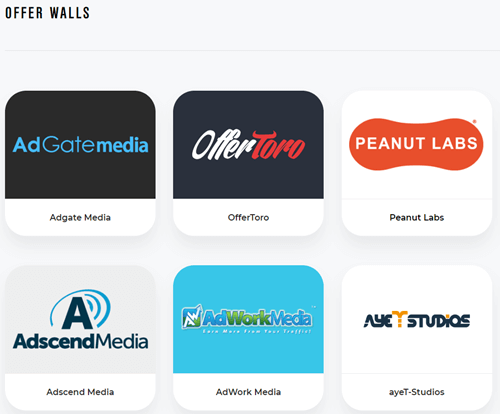 If this is your first time hearing about offerwalls, then let me explain to you what it is. The technical definition of an offerwall is, it is a monetization solution that will on an online rewards site or mobile app. It gives users rewards once they complete offers found on the offerwalls.
So, it's really just a collection of offers that promote certain sites, apps, or games. Offerwalls exist because they are a good way to promote something because participants get rewarded when they complete the offers.
Most offers you will find on PrizesDrop will either ask you to answer surveys, complete quizzes, play new games, or even try new apps, but mostly on the answering surveys part (that's the most common offer you will find on their offerwalls).
Each offer will have a set of instructions you need to follow. It is important to read the instructions carefully because you will wind up not completing the offer if you miss a step.
On the site, you will immediately see the reward for completing offers. So, you will be able to prioritize which offers to take based on the rewards.
Option 2 – Gaming offers
Technically speaking, gaming offers are just part of paid offers. But since PrizesDrop has an exclusive section for gaming offers, I decided to separate it from the normal paid offers you receive.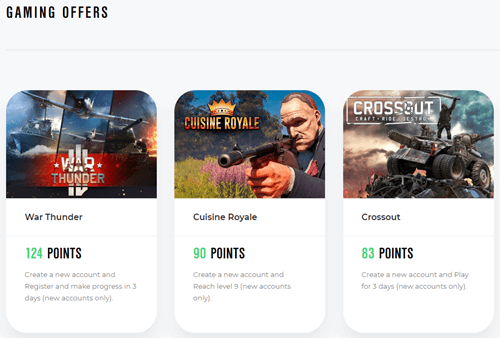 It's a bit self-explanatory. From time to time, there will be offers in this section asking you to play a certain game. The games won't be mobile games, mind you. They are going to be multi-platform games. That means you can either play it on a PC, PS4 or Xbox.
But in order for you to earn from these offers, you have to play it on a PC because that will be the only way PrizesDrop can track your progress. Each game offer will have certain requirements you need to meet before you can claim your reward.
Usually, each offer will ask you to play the game for a certain number of days or play it until you reach a certain level.
Those are the most common conditions you will encounter. Once you've met the condition, just go back to the Gaming offers section and claim your reward.
It can be a fun way to earn if you like to play games. But if you are in it just to earn, it will take quite a lot of effort and time so it is not the most way to earn.
Option 3 – Watch videos
As mentioned earlier, you can also watch videos from YouTube to earn rewards. This is probably the simplest earning opportunity offered on this site.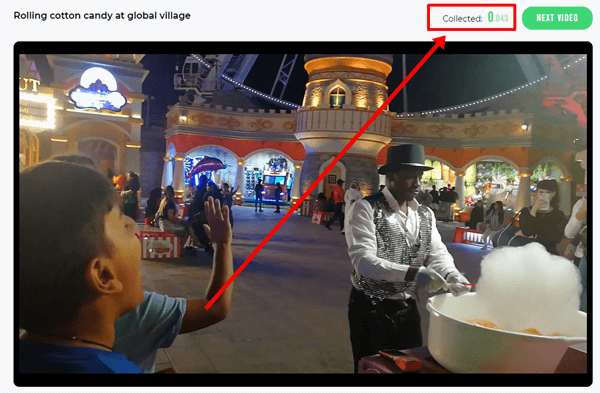 All you have to do is go to the PrizesDrop TV section and you can start watching videos. Every second of video you watch will add to the points you will earn (refer to photo above). However, 1 second will only count as 0.001 points.
So, as you can see, you won't earn much from doing this. That's why I only suggest doing this when there's nothing else you can do on the site because it isn't the most efficient way to earn on this site.
However, compared to other sites that pay you to watch videos online, being able to see random YouTube videos is a unique earning option.
And there will always be videos available – you just need to be patient to earn.
Option 4 – Referral program
Last, but not the least, you can also invite other people to join the platform and in return, you will receive a referral bonus. Of course, just like all referral programs, there will be a condition that has to be met for you to receive the reward.

As shown in the photo above, when the person you invite signs up to the site, they will become your referral. You will then receive a $1 bonus once they have earned 500 points.
It's not an impossible condition to meet but you do have to make sure the person you invite will be active on the site so you can earn from them.
So, the mass invite tactic isn't really very useful in this type of referral program because you have to ensure the people you invite are really interested in earning.
And overall, the earning potential of the referral program is quite limited compared to how it is on, for example, PrizeRebel where you will keep earning as long as your friend stays active on the platform.
How do you get paid?
Every activity you complete on PrizesDrop (apart from the referral program) will earn you a certain number of points. Once you've earned 5,000 points, you can then start redeeming rewards.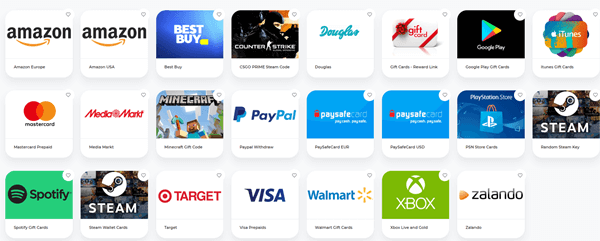 There are several rewards you can choose from. You can opt to redeem gift cards from Amazon, Best Buy, and others. You can also convert your points to cash by withdrawing it via PayPal or converting it to a prepaid Visa or MasterCard card.
To put it into perspective, the 5000 points you earn will be equivalent to $10. So, the threshold isn't really that bad, in my opinion. It's very achievable.
Plus, I like the fact that they offer PayPal as a payment method because it is the most convenient payment gateway today.
If you are looking for more sites that pay via PayPal, I suggest you also check out the top sites that pay via PayPal.
How much money can you make?
One of the main benefits of GPT sites is that you will never run out of things to do. So, you will be able to earn rewards regularly. Now, to gauge the amount you can earn from it, the main factor we need to consider is how well the site pays.
The paid offers on their offerwalls will usually reward you around 10 to 1000 points. But you will also see offers that will reward more from time to time.
I would say the rewards you will earn from this site is well within the industry standard. So, it's not that good but it's not that bad either. If I were to classify it, the earning potential of the site is quite decent.
You still won't be able to earn a lot from it, but you can earn a decent amount over time with some patience.
But they do offer ways for you to earn more. From time to time, they give out coupons that you can redeem to receive rewards.
You can find these coupons on their Facebook or Twitter page. Sometimes, they even post it in Facebook groups. So, if you want to earn more, be on the lookout for PrizesDrop coupons.
Can you use it on mobile?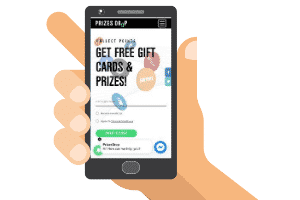 PrizesDrop doesn't have a mobile app, so if you want to use it on a mobile device, you will have to access their site using a mobile web browser.
Fortunately, their site is mobile-friendly. That means you can read all the content properly without zooming or scrolling left to right.
This helps a lot because there are some offers that need to be completed on a mobile device. And from what I've noticed, these offers pay more than the ones you can do on a laptop or desktop.
So, you will definitely need a mobile device if you want to maximize your earnings from this site.
Who can join PrizesDrop?
The good thing about this site is it is available globally. This is the case with many GPT sites. That means you will be able to register as a member regardless of where you live. There isn't even any age requirement.
However, how many opportunities that will be available will vary from country to country.
All you have to do to join is to fill out their registration form and verify your account. Once you've done that, you can log in to the site and start earning.
If you are going to use PayPal as your payment method, make sure to link your PayPal account to your PrizesDrop account.
You can do that by going to the Claim Prizes section and connect your PayPal account from there. Overall, I would say the sign-up process of PrizesDrop is really hassle-free.
Can you get support?
PrizesDrop doesn't have an FAQ section but it does have a Help Center. But if you visit their Help Center, all you really get is a contact form. In my opinion, it would have been better if they also provided an FAQ page in their Help Center.
But I would still say they have a decent support system in place because they provide you with a way to get in touch with their support team.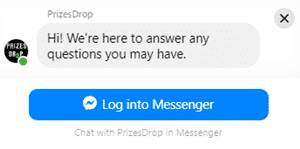 Plus, if you really want to talk to their support staff right away, you can use the chat feature on their website (refer to the photo below). The chat box will connect you to their Facebook messenger account. This will allow you to get real-time assistance. However, don't expect that this will be a 24/7 thing.
In my experience, chat support is usually only available during business hours. But still, it's a nice option to have if you desperately need to talk to their support team.
Final Verdict
PrizesDrop is a legit GPT site that will pay you for participating in the earning opportunities it offers. It has a couple of good qualities to offer but it also has a few limitations.
So let's wrap up this review with a summary of its pros and cons so you can get a full overview before deciding if this is worth investing your time in or not.

Pros:
Relatively low payout threshold
Mobile-friendly site
Offers payment via PayPal

Cons:
Doesn't have an FAQ page
Some earning opportunities have low rewards
In my opinion, PrizesDrop is a decent GPT site. If you are on the lookout for secondary sites to earn from, this can definitely be an option. It offers convenient payment methods and it has a relatively low payout threshold.
The earning opportunities aren't as many as other popular GPT sites but I assure you, you won't run out of things to do on this site. Just temper your expectations in terms of the amount you can earn. Once you've done that, this site won't really be disappointing.
But if you are looking for sites with better earning potential, I recommend you check out the top survey sites in your country instead.
The sites on this list have higher rewards than PrizesDrop. Plus, you will also be able to find a site you can join regardless of where you are in the world.
If you have any comments, questions, or have any experiences with PrizesDrop yourself, I would love to hear from you in a comment below.