Quicktate is a site that claims you'll be able to earn extra cash by becoming one of their transcriptionists.
So, if you have experience being a transcriber, or you are really good at typing what you hear, then this might sound like an interesting option to earn some extra cash.
But the question is, is it worth it? Well, there are several factors to consider to find the answer to that question, and the best way to answer it is to take a closer look at the site as a whole.
That's why I've decided to try out the site, and I will share everything I have learned about it in this Quicktate review. That way, you'll know exactly what to expect and you can properly assess if this site is a good fit for you or not.
What is Quicktate and what does it offer?
Quicktate is a call auditing and transcription site that offers ways for you to earn by transcribing various files. It is indeed a legit site since you will really get paid to write down what you hear from the files they provide.
But, to fully understand how this site works, we must first take a closer look at the earning opportunity it offers. So, here's how to earn from Quicktate.
The earning opportunity – Transcription jobs
The only way to earn from Quicktate is to take on various transcription jobs they offer. Once you become a certified Quicktate transcriptionist, you will gain access to paid transcription jobs.

As you can see in the photo above, there are various types of files you have to transcribe. You can work on legal notes, field notes, letters and memos, and even medical reports. The latter is in a different category though and it pays higher.
The thing you need to remember with Quicktate transcription jobs is that you can't use any special equipment like foot pedals. If you are an experienced transcriptionist, you are already familiar with this device.
If you aren't, then let me explain what this device does. A foot pedal is basically a device that will let you pause an audio or video file by just pressing it with your foot. It makes the transcription job a bit more seamless because you will be able to transcribe with ease since your hands are free to type. It will only work with certain transcription software like Express Scribe.
But since Quicktate won't allow you to use any foot pedals, you'll just have to pause audio and video files like you normally would. When you take on a transcription job, you will get paid a certain amount per word you type.
The number of words you have to type will vary depending on the job you take on. You can also work on jobs that will use different languages.
When I was doing my testing, there were jobs that only required you to type a few words, and there were also jobs that required you to type thousands of words.
As you can probably tell, the more profitable jobs are those where you get to type in a lot of words. But these jobs also take a bit longer to complete depending on how fast you are as a transcriptionist.
Keep in mind though that you won't get paid by the hour, so it really doesn't matter how long it will take you to finish a job. The most important thing you need to remember is to always be accurate when you are transcribing a file.
After you finish the transcription, you will have to submit your work for review. If there are no errors, you will then get paid. If there are errors in your transcription, you will be asked to correct them first and re-submit your work. Hence, it is important to always be accurate so as not to waste a lot of time.
Recommended: Check Out the Top Survey Sites in Your Country
How do you get paid?
As mentioned above, you will get paid per word you transcribe. The rate of pay for general transcriptions will be $0.0025 per word. For medical transcriptions, as mentioned, the rate will be higher ($0.0050 per word).
The payments will be sent to your PayPal account every week. You don't need to earn a certain amount in order to receive the payment. As long as you've earned something within the week, you will receive the payment.
It will be processed every Monday, but if it is a holiday, the payment will be processed the next day. Take note though that there will be a 2-3 week delay from when you start working as a transcriptionist until you receive your first payment.
After you've received your first payment, the payments will be a lot quicker. Overall, the payment system of Quicktate is relatively straightforward. I like the fact that you get paid via PayPal because it is one of the most convenient payment methods available.
If you are interested in more sites that offer a convenient payment method, I would recommend you check out the top sites that pay via PayPal.
How much money can you make?
When you work as a transcriptionist, the amount of money you can earn will mostly depend on your skills. There will always be jobs available you can work on. And as explained above, you get paid a certain amount per word you transcribe.
To put it into perspective, if you get to transcribe a file that has 1,000 words, you will earn $2.50 if it is a general transcription job. If it is a medical transcription job, you will earn $5.
It's not a bad rate, in my opinion, but it's also not that good. But the thing with Quicktate is that it can be a steady source of extra income as long as you have the skills and as long as you get accepted by Quicktate, which can be quite a challenge.
Overall, I would say Quicktate has a decent earning potential because there are a lot of jobs you can work on. But you have to be a skilled transcriptionist in order to work on this site. So, it's not something you can do without any prior experience as a transcriptionist (I will talk more about the requirements to join later).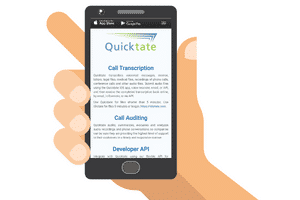 Can you use it on mobile?
When you become a Quicktate transcriptionist or on any transcription site for that matter, expect to only work using a laptop or a desktop. It has no mobile version.
As explained, you will need to type fast when you are doing transcription jobs and that will be quite impossible when done on a mobile device. And to be honest, a site like this doesn't really need a mobile version because everything will have to be done on a computer.
That being said, the site is mobile-friendly. So, you can still visit the site using your mobile device and you will be able to read all the content without zooming in. But as mentioned, all the work has to be done on your computer.
Who can join Quicktate?
So, here's the part where it becomes a bit complicated. Becoming a Quicktate transcriptionist isn't actually an easy thing. There are several requirements you need to meet, but first, let's talk about who can join.
Quicktate is available globally. You can sign up as a member regardless of where you live. You just have to be at least 18 years of age and you also need to have a PayPal account so you can get paid.
To sign up, you need to meet the qualifications. You also have to go through a background check and you also need to provide at least three references (refer to photo below).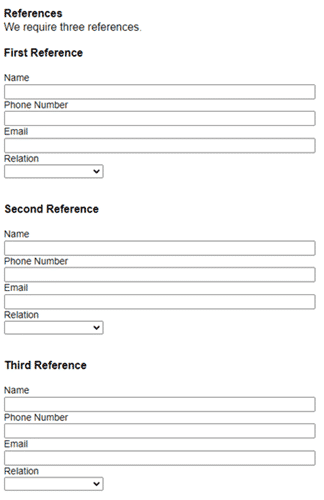 You will need to provide the name, email address, phone number, and your relation to the reference you provide. They can be a friend, a family member, a former employer or client, a business associate, and others.
But most importantly, you have to be an experienced and professional transcriptionist. That's why if you are still a newbie in this field, then don't even bother signing up because they won't accept you. You'll just be wasting your time.
After you have gone through the registration process, you will need to take a few typing tests (one for each language you want to work as a transcriptionist) so that Quicktate can gauge your skills. Depending on how you scored on the tests, you may also be qualified to become an iDictate transcriptionist.
This is Quicktate's sister site and it caters to more skilled transcriptionists. It basically offers the same type of jobs but with higher pay and you can also use a foot pedal, so the job will be a bit easier to do.
Another requirement you need to be aware of is that you should have no convictions of a felony or misdemeanor on your record. This can be validated once you go through the background check. The background check is done after you finish taking the tests.
It will cost $20 and it can be paid via PayPal or credit card. After you have cleared everything, you can now start working as one of their transcriptionists.
So, as you can see, you have to jump through a few hoops before you can start earning from this site, which, in my opinion, is the major drawback of this site.
Can you get support?
If you have any questions about Quicktate or your account, you can check out their Help Desk first. It discusses most (if not all) of the basic topics you need to know about the site. But if you can't find the answers you are looking for, you can always send their support team a message by filling out the contact form provided on the transcriber's login page.
Overall, I would say the site has a decent support system in place for its transcriptionists since they offer a convenient way for you to get in touch with their support team.
Final Verdict
Quicktate is a legit call auditing and transcription site that will allow you to earn extra cash by becoming one of their transcriptionists. It has its advantages, but it also has a few drawbacks you need to consider.
Let me wrap up this review with a summary of its pros and cons to give you an overview of what the site has to offer. Then, you can decide if this site is a good fit for you or not.

Pros:
Has a decent number of jobs available
Offers payment via PayPal
No payout threshold
Processes payments automatically

Cons:
Low rewards
The registration process is quite complicated
Not suitable for people with no prior transcriptionist experience
If you are already an experienced transcriptionist, and you are looking for extra income, this can be a decent site to join since there are a decent number of jobs available on a regular basis.
However, you will have to jump through a few hoops before you can actually start earning, which, in my opinion, is really what makes this site a less-than-ideal option.
In my opinion, it would be easier to find transcriptionist jobs on freelance sites. You can check out the top freelance sites here instead.
Now, if you don't have any prior experience as a transcriptionist but you are looking for a way to earn extra cash easily, I would suggest you check out the top survey and GPT sites in your country instead.
The sites on this list all have good earning potential and you will be able to start earning as soon as you complete the registration process.
If you have any comments, questions, or have any experiences with Quicktate yourself, I would love to hear from you in a comment below.