Are you looking for a good side hustle to earn extra cash? If so, there's an app called Qwick that claims you can do hospitality and food service jobs to earn money.
But is it legit or is it a scam?
I got curious as well, so I decided to check it out to find out if it really is a great way to earn, as I love finding new ways to earn.
In this Qwick review, you will learn exactly what the app has to offer, how you'll get paid, and more so that you can make an informed decision on whether this app is the right fit for you or not. So, let's go ahead and get this review started, shall we?
What is Qwick and what does it offer?
Qwick is a gig economy app that will allow you to earn money by taking on shifts from businesses in the hospitality and food service industry. It is indeed a legit app since you will really be able to earn money when you work these shifts.
But the question is, how will you know if it is worth it?
Well, the first step is to understand how it works. That way, you'll know how much time and effort you have to invest in order to earn. So, here's how to earn from Qwick.
Option 1 – Shifts
The only way to earn from Qwick is to take on shifts from businesses in the food service and hospitality industry. That means you'll have to work in hotels and/or restaurants.
Before we talk about how you can work on shifts, it's important to know that you need to possess the necessary certificates for the position(s) you're applying for. If a shift is looking for a line cook, you need to have the certification that proves you have the skills of a line cook.
That being said, there are plenty of other jobs offered by Qwick that fall in the general services category that will not require any certification from your end. So, you can go for those jobs instead.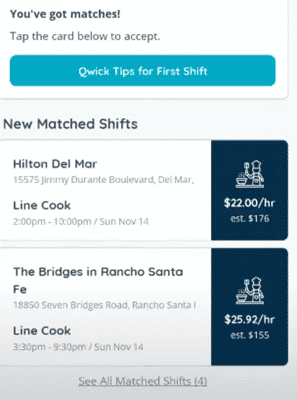 Now, once you complete the registration process (I will discuss how you can sign up later), all you have to do is log in to the app and you will immediately see all the shifts that match your profile (refer to the photo above).
As you can see, every shift offer will tell you immediately how much you will earn per hour and the position they are looking to fill. If you are interested in a shift, just press it to view the additional details.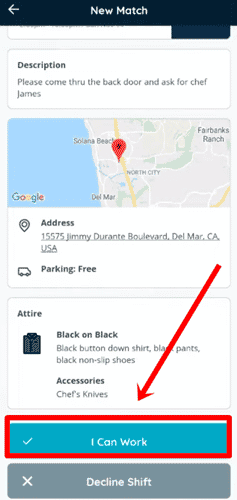 On the shift details page, you'll see the address of the establishment you need to report to, the job description, as well as the attire required.
Make sure to follow all the instructions provided on that page. If the dress code says you need to wear something, you have to wear it. Otherwise, they will reject you right away and you will effectively just be wasting your time.
If you want to work on that shift, all you have to do is press the "I can work" button. When the restaurant or hotel acknowledges your application, you'll receive a notification. Then, all that's left is to show up at the required time and do the work required.
Now, here's the important thing – 30 minutes before your shift start time, you'll have the option to clock in inside your Qwick app. Qwick will also send you an SMS with a link to check in. You can use either one. This is a very important step and you must not forget it. Every time you start working on a shift, you have to clock in.
Then, two hours before the end of your shift, Qwick will text you a clock-out link. When you're done with your shift, you can click that link to check out, or click the link within the shift offer you accepted to clock out. Doing the clock in and out steps will ensure you get paid.
You can also rate the business as well as leave comments after you've completed your shift. Then, once everything checks out, you will receive the compensation promised (I will discuss how you'll get paid in the next section).
It is also important to always do your best when working on shifts because the establishment you worked for will also rate you. While your rating will not impact your payment, it can be a huge factor for businesses to hire you in the future.
If you get a lot of low ratings, chances are, businesses won't hire you and therefore, you'll stop earning from the app. That's how important keeping a good rating is.
Option 2 – Referral program
You can also earn cash through Qwick's referral program. All you have to do is share your referral code with people who are interested in signing up.
Then, when they register and input your referral code, they will become your referral. And when they complete their first shift, you will both receive $100 from Qwick. Aside from that, you can also refer businesses to use Qwick to post their shift vacancies.
The process is the same. You share your referral code and when they sign up and input your code, they will become your referral. If they post a shift that gets completed, you'll receive $100 and if they post another four shifts that get completed (five total completed shifts), you'll receive an additional $400 ($500 total).
It's a very rewarding opportunity, in my opinion, and I like the fact that both you and the person you invited will receive the reward. You just need to make sure that the people you invite are really interested in earning from Qwick.
Recommended: Check Out the Best Gig Job and Where to Find Them
How do you get paid?
As explained above, you will be paid by the hour. And best of all, you don't have to reach a payout threshold to withdraw your earnings.
And speaking of withdrawing your earnings, in order to do so, you must have a Stripe account. If you are not familiar with what Stripe is, just think of it as another payment system that is very similar to PayPal.
So, if you are interested in using this app and you don't have a Stripe account yet, I suggest you sign up for one first before you join Qwick.
Now, as for how you can withdraw your earnings, Qwick offers two options. You can get paid via Stripe the regular way or you can set up Instant Pay. The latter will still involve using Stripe but the difference is that you'll receive your earnings faster with Instant Pay.
You see, when you've set up Instant Pay, you will receive your earnings as quickly as 30 minutes after your shift. If you do it the regular way, it can take up to two business days for the payment to be processed.
Setting up Instant Pay is quite simple and Qwick will walk you through it every step of the way. Once your compensation is credited to your Stripe account, you can then withdraw it to your bank account. That's how you can actually get hold of the money you've earned from the shifts.
So, the bottom line is that you'll get paid via bank transfer. You'll just have to go through Stripe first. If you don't have a Stripe account and you are not willing to create one, I would suggest you check out the top sites that pay via PayPal instead.
How much money can you make?
As with all gig economy sites and apps, the amount you can earn will mostly depend on where you are located and how well businesses pay. If Qwick is available in your city, then you can expect to find a decent number of shifts available at any given time.
However, from what I've observed, most shifts can be found during the weekend. I'm not saying that you won't find any shifts available during weekdays, but the bulk will be offered during the weekends. This is mainly because the hospitality and food service industry are at their peak during the weekends.
As for how well a business pays, during my testing, most of the shifts offered to pay around $20 to $30 per hour, which is actually a decent rate, in my opinion.
Urgent shifts even pay more because they need to be filled immediately. So if you encounter any urgent shifts and you are qualified, I would suggest you take advantage of these opportunities because these are the higher-paying opportunities.
Overall, I would say the earning potential of this app is pretty good. The pay rate is not the best, but it is good enough for a gig job, in my opinion.
Can you use it on mobile?
Qwick is a mobile-only platform if you are looking to earn from it. If you are a business that wants to post shifts, then you'll be able to access their web-based platform. But since this review is about earning from the app, then I'll focus on the mobile app instead.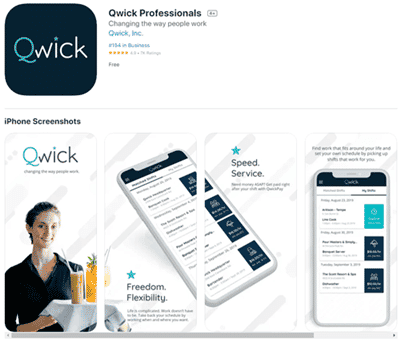 Once you've signed up as a member of Qwick, you'll be asked to download the mobile app to view all the available shifts. The app can be downloaded from both the Android and iOS app stores. So, compatibility won't really be an issue.
The app is relatively easy to use. You'll get used to navigating it in no time. You'll also need to use it to clock in and out of work. So, make sure to install it on your mobile phone since you'll be bringing your mobile phone with you every time.
Who can join Qwick?
Qwick is only available in the US and it is only available in certain cities. You can check out the list of cities it is available here. If you live in a city that is not listed, then this app is not for you.
They do say that Qwick is launching in new cities each month, so you can check this list from time to time to see if it is available in your city.
Aside from that, Qwick also requires that you have at least one year of experience in the hospitality and food service industry. That's one of the requirements they need from you in order for you to start working on shifts.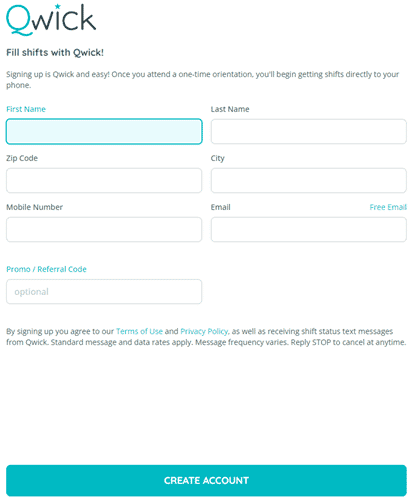 To register, you can use the sign-up form available on the site or you can also do so using the app. Regardless of how you want to do it, the most important thing to remember is that you'll need to provide your mobile number during the registration process.
That's because Qwick will send a verification code to the mobile number you've provided to complete the registration. So, make sure to have your mobile phone with you if you sign up through the website.
After you've finished the registration process, you will have to undergo orientation before you can begin to accept shifts. The orientation will be done online and you'll be able to pick a schedule of when it will be.
Another thing you need to remember is that you need to dress professionally when attending the orientation. You don't need to wear a suit and tie though. A black button-down shirt is enough.
Lastly, some establishments will require you to go through a background check before you can start working. So, don't be alarmed if you have to go through this kind of process when accepting a shift. It's not very common though based on my experience when testing the app.
Can you get support?
If you have any questions about the app or your account, you can check out the FAQ page for professionals. It discusses most of the basic topics you need to know about the app. It can be accessed from the website or the app.
But if you can't find the answers you are looking for, you can email their support team at support@qwick.com. You can also send them an SMS at 794-25.
Overall, I would say Qwick has a good support system in place for its members. I especially like the fact that they have a number you can text if you need any assistance. This will allow you to get the help that you need a lot quicker.
Final Verdict
Qwick is a legit gig economy app that will allow you to earn by working on shifts from establishments in the hospitality and food service industry. It has a few advantages and some limitations as well.
Let me finish this review by summarizing its pros and cons to give you an overview of what the app has to offer. Then, you can decide if Qwick is a good fit for you or not.

Pros:
The app is user-friendly
Offers decent pay rate
No payout threshold

Cons:
Limited earning opportunities offered
Requires a bit of time and a certain level of commitment to earn
Requires prior experience to earn
In my opinion, Qwick is a good option if you have the skills and experience required to work in the hospitality and food service industry. You get paid a decent amount and the payment method offered is convenient.
It's not suitable if you don't have any prior experience working in the hospitality and food service industry though. That's why this opportunity isn't for everyone. But if you qualify and you are looking for a side hustle, you can definitely go for this app.
But if you are just looking to earn extra cash easily, there are better ways to do it. You can check out the top survey and GPT sites in your country instead. The sites on this list all have good earning potential and you will be able to earn a decent amount in the comfort of your home.
Plus, you will definitely find a site you can join regardless of where you live.
If you have any comments, questions, or have any experiences with Qwick yourself, I would love to hear from you in a comment below.