RandomWorkers is a site that claims you will be able to earn by doing small jobs. If you are looking for ways to earn extra cash online, then you might be thinking about joining this site.
But is RandomWorkers legit and even a way to earn or just a scam?
Let me address this right away so we can move on to the other important things we need to discuss about RandomWorkers.
Yes, RandomWorkers is a legit site that will pay you for doing small jobs. But it also has some disadvantages you need to be aware of so in order to determine if this site is worth your time or not, we have to consider several other things aside from its legitimacy.
This RandomWorkers review will show you exactly how it works and what you can expect. That way, you can get a clear picture of whether this site is a good fit for you or not.
What is RandomWorkers and what does it offer?
RandomWorkers is a micro job site that will pay you for completing small jobs. It's a relatively straightforward site that offers a simple way for you to earn.
But it also has some disadvantages you need to be aware of.
So, let's take a closer look at the earning opportunities it offers so you can understand how the site works and what its earning potential is.
I have made a video that gives you an inside look so you can see exactly how it works. You can also read all the details below the video:
Option 1 – Jobs
The primary earning opportunity on RandomWorkers.com is the jobs it offers.
When you become a RandomWorkers freelancer (I will discuss later how you can do this), you will gain access to the jobs. All you have to do is log in to the site and you will immediately see all the jobs you can work on.

As you can see in the photo above, at first glance, you will immediately see which countries the job is available in. You will also see how much you will earn for completing the job and how many slots are still available for the job.
Yes, you read that right. Every job has a limited number of slots offered. When that number is reached, no one else will be able to apply for that job and it will be taken off the list of available jobs.
Most of the jobs you will find will ask you to visit websites, view YouTube videos, download mobile apps, and sign up for certain websites and it is in many ways similar to RapidWorkers (just with fewer jobs).
When you see a job you are interested in doing, simply click it to see the job details. On this page, you will see the steps you need to do to complete the job.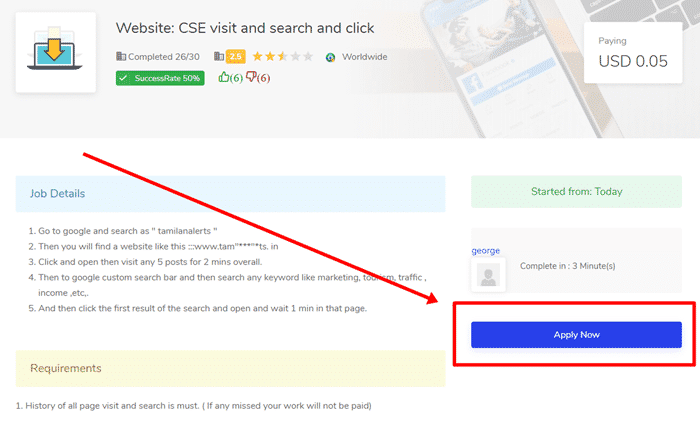 If you are ready to take on the job, just click the "Apply Now" button. Once you've done everything the job is asking you to do, you will have to submit all the requirements on the same page. After you've submitted everything, the employer who posted the job will review your work.
If everything is in order, the employer will mark your work "Satisfied" and you will receive the promised compensation. The waiting time to get your work approved is 7 days. If, for some reason, the employer fails to review your work within that amount of time, it will automatically be marked as complete and "Satisfied".
If the employer is not satisfied on the other hand, he/she will give you details of the reason and you can then re-submit the proof of work. After the correction, if the employer is still not satisfied, you will be paid and but you can't do this task again.
While you will still receive the payment, doing jobs where the employer is not satisfied will affect your success rate. You must maintain a success rate of above 60% and later on I will explain why.
But you have to choose the tasks you do wisely, in my opinion, as some of them require you to do quite a lot of work for tiny rewards.
That is, unfortunately, often the case with sites that offer the same type of jobs as RandomWorkers as most of the jobs are posted by other members and in many cases, they really try to underpay you and are not always completely transparent about how much time is required to complete the jobs.
And some of the jobs are even unethical or in some cases unsafe to do.
Also, the language on the website is quite poor English in many cases which gives a bad user-experience and can make it harder to understand exactly what you need to do.
Option 2 – Referral program
Another way you can earn is by inviting other people to join the site through their referral program. To invite a person, you have to create your referral link on their Referral page.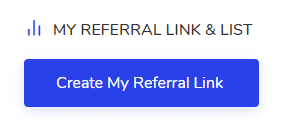 You then have to share the link with the person you want to invite. Once they sign up as a member using your link, they will become your referral. You will receive $0.50 bonus and your referral will receive $5 once they complete their first job.
Just remind them to complete a job within 30 days of signing up because if they don't, they won't become your referral and you will not receive the reward and they will also not receive the bonus.
Now, aside from the $0.5 bonus you will receive, when your referral earns $0.10, you will also receive a $0.01 commission. All of your earnings from their referral program will be tracked in a separate balance called "Referral Balance".
Every time your referral balance reaches $5, you will receive an additional $0.50 as a bonus. In my opinion, their referral program is designed to be a long-term commitment since you don't exactly receive a significant reward.
But if you invest enough time and a bit of effort, it can become a decent source of passive income. Just make sure to invite people who are really interested in earning from RandomWorkers.
Another thing about their referral program is, when you've gotten five referrals, your membership level will be upgraded to Silver (from Basic), and you will not be charged when you withdraw your earnings (which I will talk about next).
If you manage to get 20 referrals, your membership level will then be upgraded to Gold and you will receive free gifts like vouchers and campaigns which will allow you to create your own jobs to offer.
Recommended: Check Out the Top GPT Sites
How do you get paid?
For every job you complete, you will earn a certain amount and it will be credited to your RandomWorkers account balance.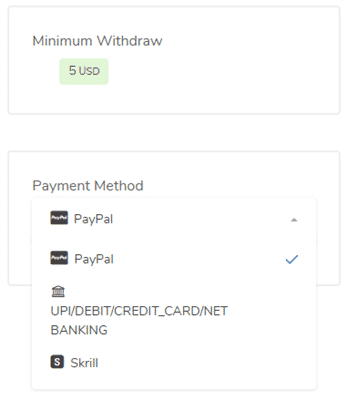 Once you have at least $5 in your overall earnings, you can then withdraw either via PayPal, Skrill, or direct bank transfer. However, there's also one condition you need to meet before you can withdraw your earnings.
Your success rate must be above 60% before you can withdraw your earnings. So, it's important to only do jobs that you know you can complete. Because if your success rate ever falls below 60%, it can take some time before you will be able to withdraw your earnings again.
Their payment system, in my opinion, is relatively straightforward. I like the fact that they have a low payout threshold and they offer convenient payment methods like PayPal and direct bank transfer.
If you are looking for more sites that offer convenient payment methods, I suggest you also check out the top sites that pay via direct bank transfer.
How much money can you make?
The amount you will be able to earn from this site will depend on how many jobs you complete as well as how well the site pays. Unfortunately, in terms of how well they pay, most of their jobs will only pay you around $0.1 to $0.2.
As for how many jobs you can complete, it will all depend on how many jobs will be made available for you. And unfortunately, you really can't control how many jobs will be offered to you.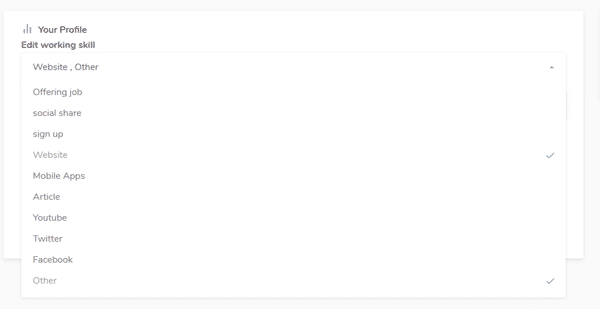 The best thing you can do is to edit your working skills according to your preference. Doing so will potentially give you access to more job offers. However, I would recommend you exercise caution when setting your working skills.
Just make sure the skills you choose are really something you can do. Because as explained earlier, failing to satisfy your employer will decrease your success rate which is very important.
Overall, I would say the earning potential of RandomWorkers isn't really that good. There are a few jobs that pay well. And there aren't really that many jobs to do. So, even though they have a low payout threshold, it can take quite some time to reach it.
Can you use it on mobile?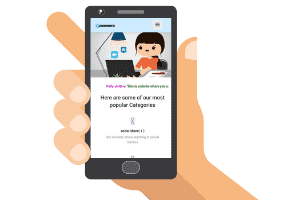 RandomWorkers doesn't have a mobile app you can download, but you will be able to access their site from your mobile device using a web browser. And the good thing is, their site is mobile-friendly. So, you will be able to easily navigate through the site and read all the content without zooming in.
This can be very useful especially when you want to complete jobs that will require you to download apps. At least, you can conveniently work on jobs that will require the use of a mobile device. It also helps you become a more efficient earner because you don't have to sit in front of a computer to earn.
Who can join RandomWorkers?
RandomWorkers is available worldwide. So, you will be able to register as a member regardless of where you live. Just make sure you register as a freelancer if you want to earn (refer to photo below).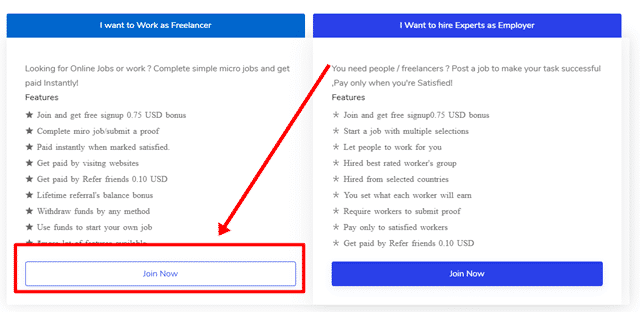 During the registration process, you will only have to provide your full name, email address, and password. Once you are done with that, RandomWorkers will send you a confirmation email. Simply click the link in the email to complete the registration.
You can then log in to the site and start earning. You will also receive $0.75 sign-up bonus, which is a decent head start in reaching their threshold.
Can you get support?
If you have any questions about the site or your account, you can refer to their FAQ page first. It discusses most of the basic topics you need to know.
The language on the FAQ page is, however, not easy to read as it is poor English as most other content on RandomWorkers which makes it more difficult to understand the questions they answer there.
If you can't find the answers you are looking for or if you want to contest an employer's rating on your work, you can submit a support ticket.
You can submit a ticket by clicking the Support menu in their dashboard and clicking "Submit ticket". Just fill out the form with the necessary info and hit submit. The good thing about this system is, you can see the status of your inquiry on the same page which can come in handy when you have multiple inquiries.
Overall, I would say they have a decent support system in place because they offer a convenient way for you to get in touch with their support team.
Final Verdict
RandomWorkers is a micro job site that will pay you for doing small jobs. It has a couple of good features but it also has a few drawbacks you need to consider.
To wrap up this review, let me summarize its pros and cons to give you an overview of what RandomWorkers has to offer so you can decide if it is a good fit for you or not.

Pros:
Available worldwide
Offers convenient payment methods

Cons:
Limited earning opportunities offered
Low rewards
Explanations of jobs are often unclear
If RandomWorkers offered better pay and had a quality control to make sure only worthwhile and transparent jobs were posted, it could be a good site to join.
However, as it is now, I don't really recommend you join this site.
You simply won't earn a lot from this site because the rewards are quite low and there aren't a lot of jobs available. So, even though they have a low payout threshold, it will take a long time before you will be able to withdraw your earnings.
That's why I would recommend you check out the top survey and GPT sites in your country instead. The sites on this list offer plenty of earning opportunities that will allow you to earn a decent amount on a regular basis.
If you have any comments, questions, or have any experiences with RandomWorkers yourself, I would love to hear from you in a comment below.