If you are looking for a fun way to earn free gift cards online, there's an app called Rewarded Play that promises you will be able to do so simply by playing games you love at home.
It sounds like a pretty fun way to earn, right?
But is Rewarded Play legit and really a way to earn or a scam to stay away from?
It is important to make sure any app like this you join really will reward you. Otherwise, you will just be wasting your time playing games and not getting rewarded for it.
This Rewarded Play app review will check whether the app is really legit or not and it will also show you the full details, as well as my rating so you can figure out if it is truly worth using or not. So, let's get this review started, shall we?
What is Rewarded Play and what does it offer?
Rewarded Play is a Get-Paid-To (GPT) app that will reward you for playing games and using the other earning opportunities it offers. It's a lot like another app called Mistplay, which I have also reviewed.
And yes, it is a legit app that will really reward you for doing so. Here's a short video explaining what the app does.
Now, to fully understand how the app works, we have to take a closer look at the earning opportunities it offers in detail. So, here's how you can earn from Rewarded Play.
Option 1 – Playing games
The fastest way to earn rewards on this app is by playing games. When you log in to the app, you will immediately see all the mobile games you can play.
Every game available in Rewarded Play has certain requirements you need to meet before you will earn the rewards promised. So, before you play a game, make sure you know what you need to do to earn the rewards.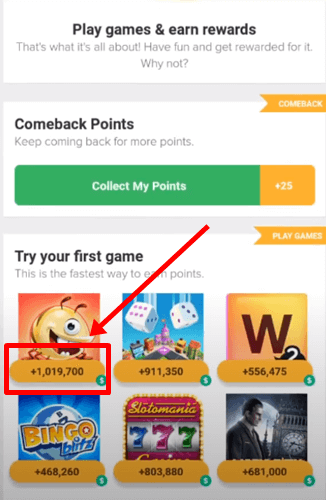 Just a heads up though, the number of coins (the currency they are using) shown under the game (refer to the photo above) isn't really the number of coins you will earn for playing that game. So, it's a bit confusing, in my opinion.
It is instead the total number of coins you can possibly earn from this game. Once you've earned that, you will not be able to earn from that game anymore. After that, playing it for rewards will be useless.
To start earning, simply choose a game you want to play. Now, these games are mobile apps as well. So, when you choose a game, if it isn't installed on your device, the first thing it will ask you to do is to download the game and install it.
Once it is installed, before you start playing, I suggest you go to the My Apps section of Rewarded Play and press the game. You will then see all the challenges for the game with the corresponding reward. These challenges can serve as your guide so you can be more efficient when playing the game.
When you want to start playing the game, the most important thing to do is to go back to Rewarded Play and access the app through their link. This will allow Rewarded Play to track your progress and award you the coins when you complete a challenge.
While you are playing, you will hear a notification sound if you've completed a challenge/requirement. That's your cue that you've earned something while playing the game.
Option 2 – Comeback points
You can also earn additional coins by claiming their Comeback Points. This opportunity will basically allow you to claim free coins a few times a day.

As shown in the photo above, you just have to press the "Collect My Points" button to claim your free coins. Once you've done that, a countdown timer will then appear showing when you will be able to claim your next free coins.
Aside from that, you can also claim free coins when you first log in to the app. You can only claim this bonus once per day for the first 5 days of being a member.
The number of coins you can claim will be quite small, but still, it's nice that they give you free coins from time to time.
Recommended: Check Out the Best Sites To Earn Money By Playing Games Online
How do you get paid?
As explained above, you will earn coins when playing games. This is the currency Rewarded Play is using. You will be able to use these coins to redeem rewards.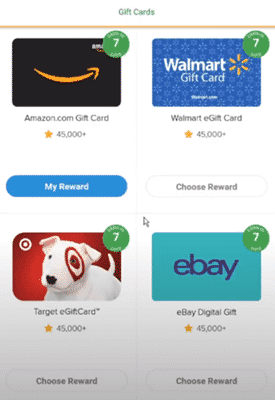 And as mentioned earlier in this review, you will only be able to redeem gift cards. So, if you are looking to earn cash instead, this app is not for you.
As shown in the photo above, you can redeem gift cards from popular retailers like Amazon, Walmart, and Target. But overall, they do have a wide variety of gift cards you can choose from.
Once you redeem a card, you will typically receive it within 48 hours. The code will be sent to your email address (yes, it's an e-gift card, so you can only use it for online purchases).
The smallest amount you can redeem is $5, which will cost 45,000 coins. It's a relatively low threshold, so it shouldn't take that long for you to reach it.
But if you are looking to earn cash instead, I would recommend you check out the top sites that pay via PayPal.
How much money can you make?
The amount of money you can earn with this app will mostly depend on how much time you will spend using it.
Since they do have a lot of games available, you will never really run out of ways to earn coins. Plus, you do get free coins every day.
That being said, the earning potential of Rewarded Play isn't really that good, in my opinion. Most of the game challenges will reward you around 100 to 500 coins. These are the challenges you can complete in a matter of minutes.
Of course, there are challenges that will reward you thousands of coins, but these will take a significant amount of time to complete. So, in terms of time-to-money ratio, Rewarded Play's score in this category is really low.
You will have to invest a lot of time to earn a decent amount. If you are quite active, you will typically be able to reach their payout threshold in around two weeks. That's quite a long time to earn only $5 considering how much time you would also need to invest.
In my opinion, the real value this app offers is that it offers plenty of fun games you can play.
So, if you are just looking for fun games you can play to pass the time, why not just play the games Rewarded Play offers? That way, you get something out of it.
Can you use it on a desktop?
Rewarded Play is a mobile-only platform. That means you can only use it on a mobile device.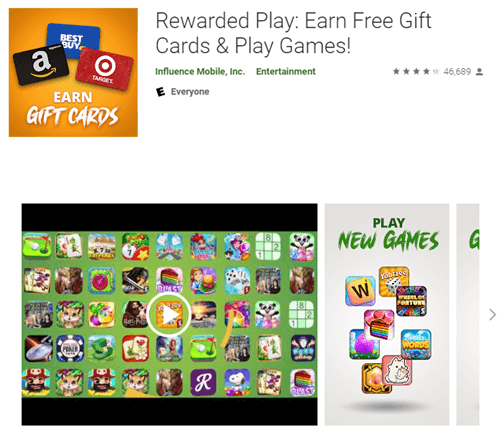 As for their app, it is only available for Android devices. So, if you are using an iOS device, then you are fresh out of luck.
To install the app, just search for it on the Android app store and install it. It will only appear though if the app is available in your country (I will talk about this next).
Their app is fairly user-friendly, so you shouldn't have any trouble getting used to how it works.
Who can join Rewarded Play?
Rewarded Play doesn't have a website, so there's really no exact information about which countries it is available in. The best way to find out for sure if it is available in your country is to search for it on Google Play. If you see the app among the results, then you will be able to install it and register.
However, one thing you need to take note of, most of the gift cards available on Rewarded Play are for stores in the US. So, if you live in the US, you stand to benefit more from this app compared to other countries.
When you've installed the app, the first time you open it, you will have to go through the registration process. Simply complete the form. Once you are done, you can log in to the app and start earning.
Can you get support?
Since Rewarded Play doesn't really have a website, the only way for you to get support is to install the app on your device first. Then, you can log in to the app and go the menu option and click "Support".
They seem to have a decent support system in place since they reply to your inquiries relatively quickly according to feedback from many other long-term members.
And if you look through the reviews of the app on Google Play, you will notice that the parent company of Rewarded Play does reply to most of the inquires posted on that page.
Final Verdict
Rewarded Play is a legit GPT app that will reward you for simply playing games. It has a couple of good features, but it also has some limitations you need to be aware of.
So, let me conclude this review with a summary of its pros and cons to give you an outline of what the app has to offer. That way, you can better decide if this is really an app worth using or not.

Pros:
Offers a fun way to earn rewards
Their app is user-friendly
Has a relatively low payout threshold

Cons:
Low rewards
Their app is only available for Android devices
Doesn't offer cash rewards
If your intention is just to find mobile games you can play to pass the time, Rewarded Play can be a good gateway app. You will be introduced to a good number of fun games to play. And while you are at it, you will be able to earn rewards.
But if you are just looking for apps to earn from, then this app is not really the most ideal option. Their rewards are pretty low. So, you'll have to invest a significant amount of time just to earn a bit of extra money. And to top it off, they only offer gift cards as a reward.
So, if you are looking to earn cash, you are better off joining a survey or GPT site. And speaking of survey and GPT sites, I would suggest you check out the top survey and GPT sites in your country instead. The sites on this list all have good earning potential and most of them offer cash rewards.
Plus, you will definitely find a site you can join regardless of where you live.
If you have any comments, questions, or have any experiences with Rewarded Play yourself, I would love to hear from you in a comment below.