Are you looking for a simple app that will let you earn easily?
If so, there's an app called Rewardy that claims you can earn cash just by answering surveys and doing other small tasks. It doesn't get any easier than that, in my opinion.
But the question is, is this app really legit or is it just a scam to stay away from?
I've decided to test out the app and see for myself if it really does what it claims to do. In this Rewardy app review, you will learn exactly what the app has to offer so you will know if it is really worth it or not.
So, let's go ahead and examine in detail everything this app has to offer, shall we?
What is Rewardy and what does it offer?
Rewardy is a Get-Paid-To (GPT) app that will reward you for answering surveys and completing other short tasks. It is indeed a legit app since you will really earn rewards for participating in the earning opportunities it offers.
However, that's not the real indication of whether this app is really worth it or not.
To find out if it is worth using, you first have to understand how it works and the best way to do that is to examine the earning opportunities it offers. So, here's how to earn from Rewardy.
Option 1 – Missions
Missions are short tasks you can do to earn rewards. There are two types of missions – surveys and paid offers.
The survey missions will ask you to answer surveys while the paid offers will usually ask you to download a mobile app, play a game, or register to a certain website.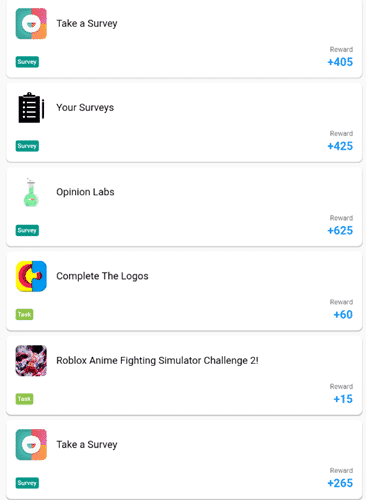 Heading into this app, I was thinking that the surveys it offers would really come from them. But, what they really do is just partner with other survey providers. That's how they are able to supply their members with survey offers.
The process for answering the surveys is still pretty much the same as any survey offered on other survey sites and apps.
You go through a qualifying process first. If you qualify, you get to answer the actual survey. If you don't, you just move on to the next survey or offer. After you complete the survey, you will receive the promised reward which is displayed in the survey offer.
As for the other offers, when you tap it, you will immediately see the instructions you need to follow to complete it. Make sure you follow every step down to the letter because if you miss even one step, you will not be able to complete the mission and you won't receive the reward. So, you'll wind up just wasting your time.
That is why it is important to make it a habit to understand what the mission is asking you to do before you actually start working on it. The reward you will receive for completing a mission regardless of whether you have to answer a survey or do something else will be credits.
Later on, I will discuss what you can do with the credits you've earned.
Option 2 – Daily rewards
The good thing about Rewardy is it will reward you simply for logging in to the app. Every day, you can claim free credits once when you log in.

You can only get 20 credits which is really just a small amount, but at least, you don't have to do anything special to get it. All you have to do is tap the Daily Rewards link and the credits will be credited to your account immediately.
After you've done that, you will then see a 24-hour countdown timer indicating when you can claim your next free reward.
Option 3 – Referral program
Lastly, you can earn credits by participating in their referral program. All you have to do is invite other people to use the app.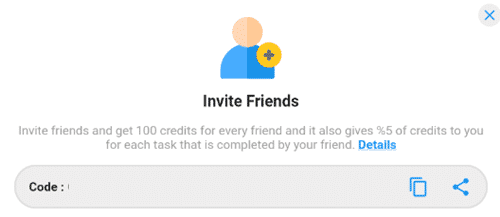 To invite a person, you have to share your referral code with them. Then, remind them to input the code when they sign up for. Once they've provided your referral code, they will become your referral.
You will then receive 100 credits as a reward. Plus, you will receive a 5% commission every time they complete a mission. The commission will be shouldered by Rewardy, so it will not be deducted from your referral's earnings.
Rewardy's referral program is really simple to understand and I like the fact that you will receive a reward right away once they sign up and enter your code.
However, the reward is quite low, so you can't really expect to earn a lot from this opportunity unless you manage to invite hundreds of people.
Recommended: Check Out the Top Survey Apps
How do you get paid?
As explained above, you will earn credits from every earning opportunity offered by Rewardy. The question is, what can you do with the credits you've earned?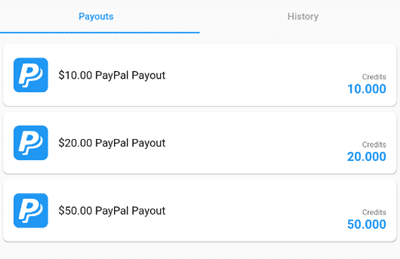 Well, you can convert them to cash via PayPal. As you can see in the photo above, the minimum amount you can withdraw via PayPal will be $10. To do so, you will need to earn at least 10,000 credits, which is actually a lot.
So, while the amount of their payout threshold is relatively low, the number of credits required to redeem that amount will be quite high. That is why I can't really consider this app as having a low payout threshold.
But I do like the fact that they offer payment via PayPal since it is one of the most convenient payment methods available today. If you are interested in more sites/apps that pay via PayPal, I would recommend you also check out the top sites that pay via PayPal.
How much money can you make?
Now, let's talk about the earning potential of Rewardy. Normally, with a GPT app like this, the amount you can earn will depend on how much time you are willing to spend on the app.
But you see, when I was using the app, there weren't really a lot of opportunities to earn compared to other popular GPT apps. I would say they have a decent number, but not enough to compete with the top GPT apps and sites.
So, you will most likely run out of opportunities to earn in a few days or so. As for the amount you can earn, from what I observed, the most you can earn from a mission was around 650 credits. This was for answering a survey. This can, however, vary from country to country.
Most of the other missions were only worth around 10 to 60 credits, which is really quite low. To put it into perspective, 650 credits is only equivalent to $0.65. You also have to take into consideration that the 650-credit mission was for answering a survey.
So, there's no guarantee you will earn that kind of amount when accepting the mission because you still have to go through the qualifying process. And based on my experience, the qualifying rate is actually quite low.
Therefore, it will take a lot of time before you can earn a significant amount from this app since the only guaranteed opportunities pay a very small amount. That is why I would say the earning potential of Rewardy is really very low.
You will need to invest a lot of time before you can earn a significant amount.
Can you use it on a desktop?
Rewardy is a mobile-only platform, so if you want to earn from it, you will need to use a mobile device. The good thing is, the app is very easy to use. You will not have a hard time getting used to how it works.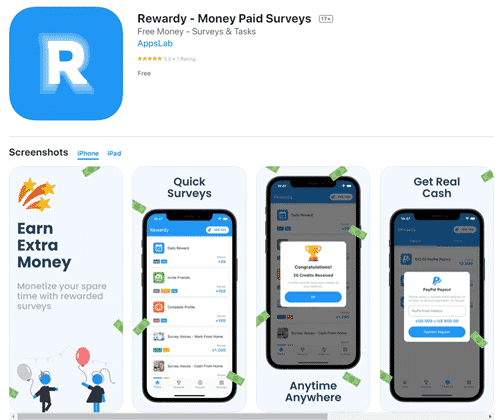 Just go to the Android or iOS app store and search for it to download the app. You can also find the download link on Rewardy's website, but it will only be for the Android version of the app. If are an iOS user, you will have to go to the app store and search for it.
Who can join Rewardy?
Rewardy is available worldwide, so registering won't be a problem. The one weird thing I noticed about the app is, there isn't really any actual sign-up form you can fill up. After you've installed the app, you can immediately log in to the app and start earning.
Typically, in other apps, you have to go through a sign-up process before you can start earning. While the absence of a sign-up form makes it easier for you, the issues it presents are you can't transfer your account to a different device and if you uninstall the app, you will lose all your earnings.
So, it's actually not a good thing that you can't sign up as a member technically. You have to stick to the device you installed it on, which really affects its versatility, in my opinion. If they would just allow you to sign up, you can use your account on multiple devices.
Another thing is that it is just a bit suspicious when an app like this will not let you sign up, and after having tested hundreds of apps, I have not found any worthwhile earning app that will just let you earn right away without actually registering.
Can you get support?
The app has a FAQ page you can check out if you have any questions. It discusses some of the basic topics you need to know about the app. But it's not as comprehensive as you might have hoped.
The good thing is, if you can't find the answers you are looking for, you can still get in touch with their support team by using the contact form provided inside the app. You can also just email them directly at support@rewardy.net.
Overall, I would say the app has a decent support system in place since they offer a convenient way for you to communicate with their support team. But I do wish they would put more effort into their FAQ page to lessen the need to talk to their support.
Final Verdict
Rewardy is a legit GPT app that will pay you for answering surveys and completing other tasks. It has a couple of good features, but it also has some disadvantages you need to be aware of.
Let me finish this review with a summary of its pros and cons to give you an overview of what the app has to offer. Then, you can decide if you should use it or not.

Pros:
Available worldwide
The app is user-friendly
Offers payment via PayPal

Cons:
Limited earning opportunities for a GPT app
Low rewards
Strange sign-up process
The main reason why I don't recommend you use this app is the low rewards it offers. It will really take a lot of time before you can earn a decent amount from this app. Rewardy really just pales in comparison to the top GPT apps and sites.
The only good thing about this app, in my opinion, is that it offers PayPal as a payment method. But other than that, there's really little or no reason to use it. I would only recommend you use it if you are in desperate need of an additional app to earn from.
Otherwise, I would recommend you check out the top survey and GPT sites in your country instead. The sites on this list all have way better earning potential than Rewardy, so it won't take you a lot of time to earn a decent amount.
If you have any comments, questions, or have any experiences with Rewardy yourself, I would love to hear from you in a comment below.