Is Rumble a scam or is it legit? This is a legit concern and the right question you should be asking if you are interested in joining this site.
Rumble is a site that claims you can earn extra cash by uploading videos. It is a simple enough premise, but the question is, is it worth it?
I decided to see for myself and examine everything the site offers. That way, you don't have to waste time testing it out to determine if it is a site that is worth your time or not.
I will include my recommendations and rating of this site at the end of this Rumble review to help you with your decision. So, let's go ahead and take a closer look at Rumble, shall we?
What is Rumble and what does it offer?
Rumble is a video hosting platform that has been around since 2013. It's a lot like YouTube but with a few differences. And yes, it is indeed a legit site. You will really be able to earn extra cash.
The question is how and if it will be worth it. That's what you are about to find out in this review below.
However, before starting, I just want to make it clear that I focus on it from an earning perspective as that is what my website is about. Rumble has other potential benefits you also need to consider, but more about that later.
But let's start by going over how to earn from Rumble and how it works.
Option 1 – Uploading videos
The primary way to earn from Rumble is to upload videos on the platform. The good thing about this opportunity is, the video you upload doesn't have to be an original video.
But if you choose to upload a non-original video, you have to make some edits to ensure it is not the same exact copy.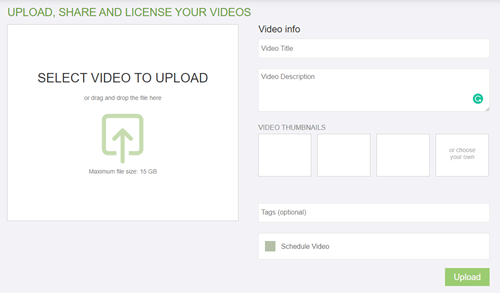 The upload process is very easy. Once you have a video you can upload, you just have to log in to the site and click the camera icon in the upper right-hand corner of your screen. Then, you see something similar to the photo above.
This is important. One of the best ways to earn from Rumble is to make sure your video has a good title and description. This will help attract potential viewers to your video.
After you've uploaded the video, you have to set the license. There are 4 types of licenses you can choose from Exclusive Video Management, Video Management (excluding YouTube), Rumble Player, and Personal Use.
How you will earn from the video you upload will depend on the license you will choose. If you choose the Exclusive Video Management license, Rumble will take care of the distribution of the video across all their networks. This includes YouTube, Rumble's own website, as well as their 3rd party partners like MSN, Yahoo, AOL, and others.
If you pick this option, you are giving Rumble the exclusive rights to represent your video and help promote it to as many broadcasters and websites as possible. The more Rumble promotes and licenses the video, the more popular it becomes and the more you can earn. I would suggest you choose this option if you want to maximize your earnings and you don't really care about the rights to your work.
If you choose the Video Management (excluding YouTube) license, Rumble will still be in charge of the full distribution, but only through their platform and across their networks. It will not be distributed to YouTube.
The third option which is the Rumble Player license excludes YouTube and all 3rd party partners outside Rumble's platform. That means your video will only show up on Rumble and nowhere else.
Lastly, the Personal Use license lets you retain full control and all rights. Rumble will not partake in any monetization relating to your content. If you want to earn from your videos, don't choose this option.
Now, here's the important part you need to remember. If you upload a video to Rumble, it doesn't automatically mean you will earn from it. Rumble will still have to decide if the video you uploaded is really worth monetizing.
These are the important factors you need to keep in mind to increase the chances of your video getting monetized:
high-quality filming
engaging content
a title and description that work well to engage viewership
There's no exact timetable on how long you have to wait before you hear back from Rumble regarding your video monetization. Sometimes, it will get monetized a day after the upload, or sometimes, it will take weeks. It really all depends on Rumble.
When your video gets monetized, there will be ads placed at certain times, just like what you would see when watching videos on YouTube. The video ad will be inserted in your video at random times.
You can also see the status of your video monetization by clicking your username in the upper right-hand corner of the dashboard and hitting My Content. There you will see all the videos you've uploaded and their monetization status.
Option 2 – Referral program
Another way to earn from Rumble is to invite other video creators to join the platform.
All you have to do is share your invite link with them or your invite code which will be your username, and once they click the link and sign up or provide your code during registration, they will become your referral.
You will then receive a 5% commission every time they earn on Rumble. It's a great way to earn passively, but you do have to make sure the people you invite are really interested in earning from this site, and they also have to be good video creators.
Recommended: Check Out the Top Sites to Earn Money While Watching Videos
How do you get paid?
Once your videos are approved for monetization, you will start to earn every time a person watches them. You see, Rumble collects ad revenue from its various partners and ad networks at varying times.
Then, they deposit these payments in your account as they become available. There is no set formula for how your earnings will be calculated, but you can easily keep track of how much you've earned from each video because the estimated earnings will be displayed when you check the My Content page.
Just note that the estimated earnings take between 30 to 60 days to become ready to withdraw, so you can't withdraw your earnings immediately. Also, you must earn at least $50 before requesting payment.

When you reach the threshold, you can withdraw your earnings through the payment method you selected (refer to the photo above). You can get paid via PayPal or Payoneer.
Overall, the payment system of Rumble is relatively easy to understand. But it does have quite a high payout threshold of $50, so you'll have to wait a bit before you can withdraw your earnings, if you are a brand new creator.
If you are looking for sites with a lower payout threshold, I would recommend you check out the fastest paying sites instead.
How much money can you make?
It's quite hard to place an exact value of how much you can earn from this kind of site. It will really all depend on how good of a video creator you are.
The one thing I can say though, is that it is a lot easier to earn from Rumble rather than YouTube. You see, with YouTube, you will need 1,000 subscribers and 4,000 hours of watch time before you start making money from your videos.
But with Rumble, you can start earning immediately after Rumble approves your video for monetization.
But, there's one thing you need to consider. While it might be a faster way to earn, the long-term earning potential will still be lower than what you can earn if you upload your videos on YouTube directly and do the necessary work to promote your channel and videos.
At least that is how it is at the time of writing this review but this might change as Rumble is growing, which it seems to be doing constantly.
But if you already have an established audience, you will earn more from YouTube since it is the more popular site. You can just post your videos on Rumble to earn additional income and set the license to Video Management (excluding YouTube).
Can you use it on mobile?
Rumble has a mobile app you can download to upload videos even when you are not in front of your computer.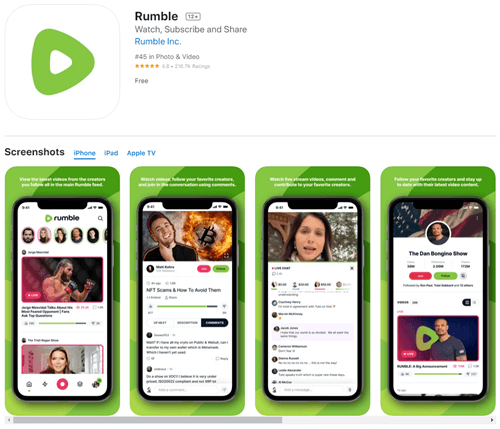 The Rumble app can be downloaded from the Android and iOS app stores. It's the best way to upload videos you've taken using your mobile device. And best of all, the app is very easy to use. The user interface is very intuitive. You will easily get used to navigating it.
Who can join Rumble?
Just like with YouTube, you can register as a member of Rumble anywhere in the world. All you have to do is fill out their registration form.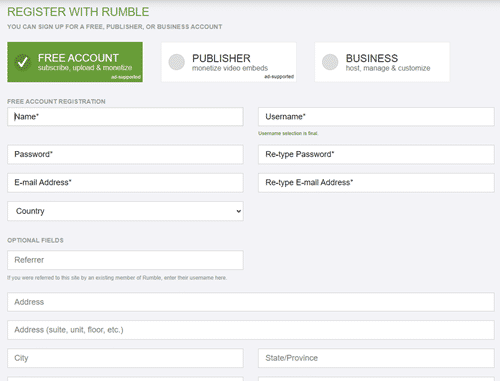 When you register as a member, you have to choose the "Free Account" if you want to earn by uploading videos to the platform. If you choose the "Publisher" option, you will only earn if your video is embedded on other websites. If you want to open an account for a business, you should choose the "Business" account.
For all intents and purposes, we will only focus on the "Free Account" because that is what regular users will have to choose if they want to earn from the videos they upload.
So, when you sign up, make sure to choose the "Free Account" and then fill out all the necessary fields. Then, once you submit the form, Rumble will send a confirmation email. Simply click the link to verify your registration to complete the sign-up process.
Once you've done that, you can log in to the site and start uploading videos.
Can you get support?
If you have any questions about the site or your account, you can check out the help section of Rumble, which can be accessed by logging in to the dashboard. Then, go to your account settings, and you will see a message icon on the lower right-hand corner of the page.
Just click the icon, and you will see all the frequently asked questions. If you can't find the answers you are looking for, there is an option in the same section that will allow you to send an email to their support department. Just click it and fill out the form, and hit submit.
Overall, I would say the site has a decent support system for its members since you can get in touch with their support team easily. I just wish their help section would be accessible without logging in to the
Unique Rumble benefits?
Before finishing this review, I just want to go over some aspects of Rumble I think can be the reason it might keep growing over the next few years.
It does not have the same kind of censorship as some other video hosting platforms do, which means that it so far has attracted some huge creators like Russel Brand and many others.
Therefore, it seems some creators that might sometimes talk about controversial topics are starting to move more and more to Rumble, which will in general also attract more creators.
And even if you do not talk about controversial topics, YouTube sometimes do talk videos down without much warning, which means many are looking for several places to post their content.
This means that the general Rumble audience will likely also grow, which will give you opportunities as a creator also.
This is just something to consider before making your decision about whether Rumble is for you or not.
Final Verdict
Rumble is a legit video hosting platform that will allow you to earn from the videos you make. It has a couple of good features, but it also has some drawbacks you need to consider.
Let me finish this review by summarizing its pros and cons to give you an overview of what Rumble has to offer. Then, you can decide if you should sign up or not.

Pros:
Offers payment via PayPal
Easier to earn from this site compared to other video hosting platforms
Available worldwide
Not big risk of getting your account closed

Cons:
There is no guarantee you will earn from every video you upload
You need to wait a month or more before you will be able to withdraw your earnings
If you are just starting as a video creator, then Rumble can be a decent secondary option for you because it offers an easier path for you to monetize the videos you upload. But, you have to be careful about the licenses you choose.
In my opinion, it will still be best if you have full ownership of your videos and upload it separately on YouTube since it is currently still by far the most popular video hosting platform. You just have to be prepared to do the work needed to promote your YouTube videos and channel.
Now, if you are not a video creator and you are looking for ways to earn extra money, I would recommend you check out the top survey and GPT sites in your country instead. The sites on this list all have good earning potential and they all offer simpler ways for you to earn.
If you have any comments, questions, or have experiences with Rumble yourself, I would love to hear from you in a comment below.