Are you a freelancer looking for an extra source of income?
If so, I recently encountered a site called ServiceScape that claims they connect freelancers with potential clients so they can earn extra money.
Now, the question is, is ServiceScape a scam or is it legit? This is a good question to ask and I will address it later.
I have checked out what ServiceScape has to offer, and I will share everything I have learned about the site in this ServiceScape review. That way, you'll exactly know what to expect from it, so you don't have to go and sign up to see for yourself if it is really worth joining.
So, let's go ahead and take a closer look at what ServiceScape is, shall we?
What is ServiceScape and what does it offer?
ServiceScape is a freelance site that offers freelancers various opportunities to earn. It is indeed a legit site since you will really get paid to work on the projects that their clients offer.
So, how does this site work exactly? Well, the best way to figure this out is to take a look at the earning opportunity it offers. By doing so, you can get an idea of how easy or hard it is to earn from this site. So, here's how you can earn from ServiceScape.
The earning opportunity – Projects
Once you become a ServiceScape freelancer, you'll automatically be included in their freelance directory, and clients can hire you to work on projects. Here's how the process works.
When a client wants a project to be completed, they log in to the ServiceScape dashboard and check the freelance directory to see who they want to hire.
Now you, as a freelancer, must build your profile because clients will use it to evaluate if you are the right freelancer for the job. In your profile, you'll have to include your rate and the schedule you want to work.
If the client is interested in hiring you, you will receive a notification via email and you'll also receive a message in the inbox of the ServiceScape dashboard saying that you got chosen by a potential client.
Getting chosen to work on a project doesn't automatically mean you get to work on it. Most of the time, a client will ask for a sample project. This sample project will not be paid, so it's up to you if you want to accept it or not.
But, if you are aiming to become an elite ServiceScape freelancer, you will have to accept at least 50% of the sample projects requested from you. Becoming an elite freelancer can mean higher earnings, so it's in your best interest to accept the sample project (that is if you want to maximize your earnings).
Also, the important thing about accepting sample projects is you can potentially build a long-term relationship with the client, and as a freelancer that is one of the ultimate goals because it can lead to full-time opportunities.
Once you've decided to accept the project, all that's left is to deliver. Obviously, you'll have to submit your work before the deadline. After you've submitted your work, the client will review it, and if they are satisfied with your work, you will receive compensation. In the next section, I will discuss how you will get paid.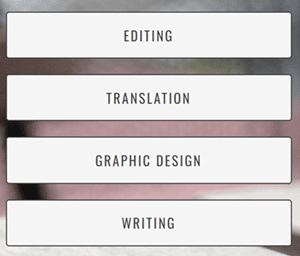 As a ServiceScape freelancer, there are four types of projects you can work on. You can work on editing, translation, graphic design, and writing projects. It will be up to you which field you want to specialize in, and you can do that during sign-up (I will explain later how their sign-up process works).
The earning method of ServiceScape, in my opinion, is a double-edged sword. You can potentially earn a significant amount from it, or you will earn nothing at all.
As explained above, you'll have to wait for a client to be interested in the services you are offering. So, your chances of getting hired will mostly rely on the information you share in your profile.
A few things can factor into getting hired: your rate, experience, and your rating as a freelancer.
Every time you complete a project, your client will rate you. So, it is important always to do your best, so you'll get a high rating.
Recommended: Check Out the Best Freelance Sites You Can Join
How do you get paid?
Once you complete a project, you will have to create an invoice and send it to the client. When the client is satisfied with your work, they will send the compensation to ServiceScape. Then, you can withdraw your earnings from ServiceScape via PayPal or check.
If you live in the US, you can also get paid via direct bank transfer. If you are a US taxpayer and you currently live in the US, you'll have to submit a W-9 Form/W-8BEN Form first for the site to declare your tax status. You can submit these documents via mail or you can send them via fax.
Once they receive the documents, you will now be included in the earnings distribution schedule.
Earnings are calculated during the 1st to 7th day of the month if you earned anything in the previous month. On the 8th day of the month, ServiceScape will stop accepting new W-9 Forms/W-8BEN Forms.
They will then calculate your earnings from the previous month. From the 15th to the 25th day of the month, they will transfer all your earnings from the previous month.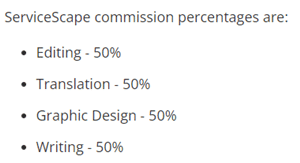 The one thing you need to remember is that ServiceScape will take a 50% commission from your earnings. So, don't expect to receive the full amount. It's a very steep commission, in my opinion. That's why when setting your rate as a freelancer, you always have to consider ServiceScape's commission.
Overall, the payment system of ServiceScape is relatively simple as long as you don't live in the US. If you are a US resident, you'll have to conform to the tax laws, which can get a bit complicated.
But I do like that they offer a convenient payment method like PayPal. If you are interested in more sites that offer a convenient payment method, I would recommend you check out the top sites that pay via PayPal.
How much money can you make?
As explained earlier, you will be deciding your rate for the services you offer. So, to answer the question above, it will all be up to you. But of course, no matter what rate you set, it will still all boil down to whether you get hired or not.
And that is something that is not guaranteed. The best thing you can do to increase your chances of earning will be to ensure you complete your profile and get high ratings from previous clients. You see, in the freelancing world, your reputation as a freelancer is the key factor that will determine how much you can earn.
If you receive high ratings from your clients and you reach the elite status, you can potentially receive more projects and therefore earn more. Overall, the earning potential of ServiceScape is pretty decent as long as you can establish your reputation as a great freelancer.
The one thing that does limit your earnings from this site is the very high commission. But as I've mentioned earlier, you can offset that by factoring it in when you set your rate.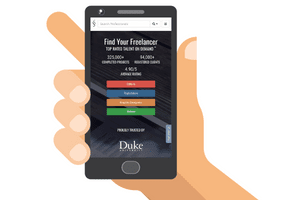 Can you use it on mobile?
ServiceScape doesn't have a mobile app you can download, and that is understandable, in my opinion. The work you need to do to earn can't be done on a mobile device, so there's really no reason for them to make an app.
That being said, you can still access the member dashboard from a mobile device since the site is mobile-friendly. You can easily navigate the dashboard to check and see if there are any clients interested in your services.
That's about the only time you can use the site on a mobile device. For the work that needs to be done, you'll have to use a laptop or a desktop.
Who can join ServiceScape?
The good thing about ServiceScape is that it is available more or less worldwide. You can sign up as a freelancer as long as you are at least 18 years of age.
To sign up, you just have to choose the field you want to work on (editing, translation, graphic design, and writing). Then, you'll have to fill out your profile and login information.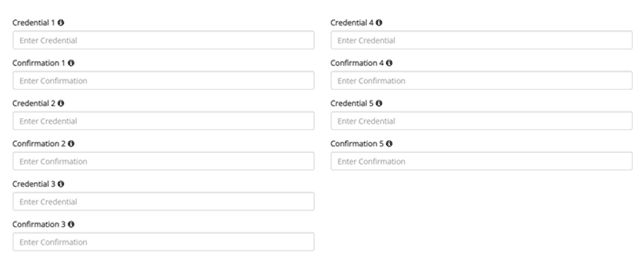 However, you need to be aware that to register as a freelancer, you will need to provide credentials as well as the contact information of the credentials you provide. That's because ServiceScape is very particular with the freelancers they accept.
They need to make sure that you have prior experience with the specialty you've chosen and the only way to do that is if they get in touch with your previous clients. That is why this site isn't really a viable option for beginners.
If you plan to go for more than one specialty, you'll have to go through the registration process for each of your chosen specialties. Once you've completed the registration form, you'll have to wait for approval from ServiceScape.
How long you have to wait depends on whether there are a lot of applicants when you sign up. If you get accepted as a freelancer, you'll receive an email from them, so make sure to check your inbox regularly.
Can you get support?
If you have any questions about the site or your account, you can refer to the FAQ page for professionals. It discusses most of the basic topics you need to know. But if you can't find the answers you are looking for, you can just get in touch with their support team.
You can use the contact form provided on the site to submit your inquiry. Overall, I would say the site has a decent support system for its freelancers since they provide a convenient way for you to communicate with their support department.
Final Verdict
ServiceScape is a legit freelancing site that will allow you to earn by working on projects. It has a couple of good features, but it also has a few drawbacks you need to consider.
Let me wrap up this review with a summary of its pros and cons to give you an overview of what the site offers. Then, you can decide if this site is truly worth it or not.

Pros:
No payout threshold
Offers payment via PayPal
Available worldwide

Cons:
Doesn't offer guaranteed earnings
Not an ideal site for beginner freelancers
Very high commission rate
Requires credentials to join
If you are an experienced freelancer and are looking for extra work, then ServiceScape is a decent option, in my opinion. Even though it has a very high commission, the good thing is they are upfront with it. You can just adjust your rate accordingly.
But if you are new to the world of freelancing, then this is not the site for you. You are better off joining beginner-friendly freelancing sites. I would suggest you check out the best easy freelance jobs for beginners instead
The options provided in this list will not require you to provide credentials, so you can start earning even if you are just starting out as a freelancer.
But if you are looking for a way to potentially build a full-time income from home completely on your own terms, then you can check out the simplest and safest way for a beginner to build a profit-ready online business.
If you have any comments, questions, or have experience with ServiceScape yourself, I would love to hear from you in a comment below.