If you are looking for interesting and fun ways to earn extra money, there are plenty of websites and platforms that will allow you to do this for free.
One of the more unique ways to earn is mystery shopping.
One site that offers mystery shopping as an earning opportunity is called Sinclair Customer Metrics. This site promises to reward you for doing some shopping for them. Yes, you read that right. Essentially, you will get paid to shop.
But is Sinclair Customer Metrics legit, or is it just another scam?
Let me answer this question right away so we can move forward and discuss other aspects of the site. Yes, Sinclair Customer Metrics is a legit mystery shopping site that does reward you for being one of their mystery shoppers.
Now, the big question is, does this site offer an effective and worthwhile way for you to earn extra cash?
To answer this question, we have to take a couple of things into account. This Sinclair Customer Metrics review will show you the details plus a rating so you know exactly what to expect and can decide if it is worth your time or not.
What is Sinclair Customer Metrics and what does it offer?
As explained above, Sinclair Customer Metrics is primarily a market mystery shopping site. It offers you a way to earn extra cash by doing some shopping and providing feedback about your shopping experience.
It has been around since 1987 and has rewarded thousands of mystery shoppers over the years.
The website itself looks like it has not really been updated since it was created, to be honest. But that does not necessarily mean it is not a good option.
To completely understand how well you can earn from this site and if it will be worth it, we have to take a closer look at the earning opportunities it offers.
So, here's how you can earn from Sinclair Customer Metrics.
Option 1 – Mystery shopping
Since it is a mystery shopping site, then naturally, you will be able to earn by becoming a mystery shopper. Once you finish the sign-up process (which I will discuss later), you can log in to the site to check out available stores you can shop from.
If you are new to this type of process, then let me explain to you what it entails. Becoming a mystery shopper means you will not be assigned a store to shop from automatically. You have to apply for a "shopping job".
You can do that by logging in to their site and clicking the "Available Shops" tab.
However, before you can see any shops listed on that page, you have to first complete your Availability Profile. Sinclair needs it to determine which shops will be listed down for you.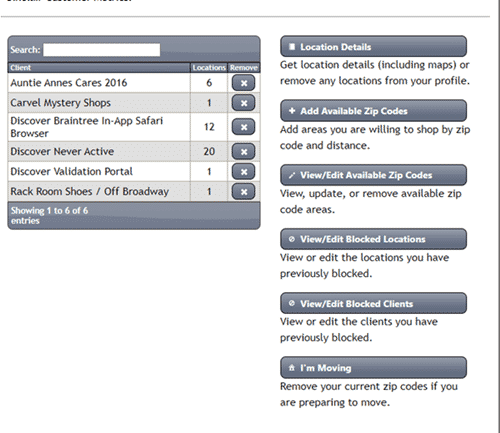 To create your Availability Profile, just add areas you are willing to shop by zip code and distance. Once you've done that, Sinclair will now know which shops to list down.
When there are shops listed, you can now choose which ones to shop from. Sinclair Customer Metrics will then confirm your application. As soon as you are done with that, you can now schedule the time you will visit the shop. Think of it as setting an appointment.
This is very important because this informs their SCM representative so they'll know when to expect you. That's why you need to make sure the schedule you will set will be your most preferred time, and you need to adhere to that schedule.
You do have the option to cancel the schedule, but you have to inform them of any change to shopping status (i.e., canceling the appointment) at least a couple of hours before you're supposed to be there.
Now, during the actual shopping process, usually, you will be asked to buy a certain product or avail of a certain service. You will then be asked to evaluate the whole experience. You will be given a questionnaire to fill out, so you don't have to worry. Everything you need will be provided to you before you start.
Once you've completed the purchase, you will then have to submit your report to the on-site representative for checking. When everything checks out, you will then be eligible for compensation, which I will talk about later.
Option 2 – Referral program
Sinclair Customer Metrics also has a referral program you can take advantage of, but it's not like most referral programs you will encounter on online rewards sites.
With Sinclair, you will only be able to receive a referral bonus if you can refer shoppers to stores that are looking for shoppers.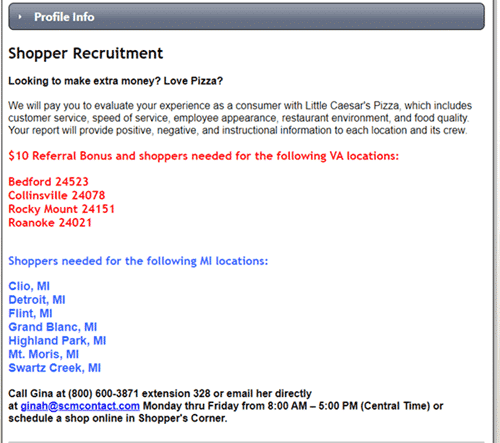 So, it's a bit more specific. You can't just invite people to become a mystery shopper. They have to be near the area of the store offering the referral bonus. That's why, in my opinion, it's a bit harder to take advantage of their referral program.
To refer a person, you simply have to give them your shopper's ID (which you will find on the email they will send) and remind them to input it on the sign-up form.
The referral bonus you will receive will depend on the offer of the store looking for shoppers. So, there's no specific rate for it.
Recommended: Check Out the Top GPT Sites
How do you get paid?
You will be paid once per month, and the payment will be mailed out in the form of a check the last week of the following month in which your completed jobs took place.
For example, you will receive a check on the last week of June for jobs completed within the month of May.
Remember, you will be paid for the shop only if it is done according to guidelines, which they will provide you. So, make sure you make it a habit to double-check everything before you submit your work.
The compensation requires a bit of a long wait, so you'll have to be extra patient. Plus, their payment option isn't very flexible since they only offer payment via check. It's a bit more time-consuming and less convenient, in my opinion.
However, I do like the fact that they don't have a threshold you need to reach. This makes it faster for you to withdraw your earnings.
If you are interested in sites that will allow you to withdraw your earnings quickly, I recommend you also check out the fastest paying sites.
How much money can you make?
The compensation you will receive from Sinclair Customer Metrics will vary according to the store and assignment.
Usually, the payment ranges between $5.00 and $20.00, and these rates are not negotiable. This will be on top of the reimbursement you will receive for what you've spent during the shopping. So, make sure to always keep your receipt for the purchase.
It's a pretty decent rate, in my opinion, well within the industry standards. So, if I were to say, you will be able to earn a decent amount from this site. That is, of course, if you are able to do several jobs successfully.
And in my experience, the availability of jobs usually depends on your location. Metropolitan areas usually have more jobs compared to less populated areas. So, the earning potential of this site will really be dependent on where you live.
And you also have to choose your tasks carefully. If you have to spend too much time and money on transportation to and from the shops, it will not be very profitable.
Can you use it on mobile?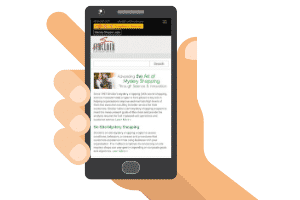 Due to the nature of the earning opportunities offered by Sinclair Customer Metrics, there's no need to use it on a mobile device.
Every mystery shopping job you have to do will be done in-store. One of the few times I can think of that you will need the use of a mobile device is if you decide to check if there are new stores available.
Fortunately, you will be able to do that on a mobile device since you can log in to their website quite easily because their site is mobile-friendly. So, you will be able to read all the content clearly without zooming in. This, at least, makes it more convenient.
Who can join Sinclair Customer Metrics?
They don't specifically mention this on their website, but Sinclair Customer Metrics is only available in select countries. You will only encounter this during registration.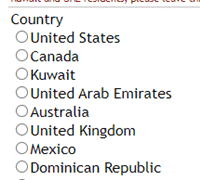 As shown in the photo above, Sinclair Customer Metrics is only available in the US, UK, UAE, Kuwait, Australia, Mexico, and the Dominican Republic. And from what I can tell, these are the countries where they have offices.
One thing to note during the registration process is that it asks about one very important piece of information you need to provide. Specifically, it will ask you to provide your Social Security Number (refer to photo below).

In fact, this is the first time I've encountered a site that will ask for your Social Security Number.
If this makes you think twice, I definitely understand. It's not something a site always asks for. In my opinion, if they wanted to verify your identity, they could just have asked for a photo of any valid identification (i.e., driver's license).
Anyway, once you are done with that part, you will have to take a short test to determine how well you can follow instructions.
They don't really elaborate on the score you need to get to be able to proceed, but for your reference, the score I got when I took it was 75, and they accepted my application.
Can you get support?
The site has a FAQ page you can refer to if you want to know more about how the site works. It discusses most of the basic topics you need to know about the site.
In fact, I highly suggest you read it thoroughly since their site doesn't elaborate that much on what it means to be a mystery shopper.
If, after reading their FAQ page, you still have questions about the site, you can direct your inquiry to their support team. You can email them at ShopperSupport@EmailSinclair.com or call the toll-free number provided on the contact page of their member dashboard.
Overall, I would say they provide decent support for their members. The toll-free number is a nice guarantee that you will be able to receive support from them. Just make sure to call during office hours.
Final Verdict
Sinclair Customer Metrics is a legit mystery shopping site that will pay you for being a mystery shopper. It has a couple of good qualities, but it also has certain limitations you need to consider.
So, let me conclude this review with a summary of its pros and cons to help you decide whether you should join this platform or not.

Pros:
Decent rewards
Processes payments automatically
No payout threshold
Cons:

Limited earning opportunities offered
Takes quite a bit of time to receive payment
Only pays via check
Will ask you to provide sensitive information during sign-up
In my opinion, Sinclair Customer Metrics is not a bad mystery shopping site. It pays rather decently plus it processes the payments automatically so you don't have to keep requesting payment.
However, its lack of payment options and long wait time to receive compensation is really what makes this site a less than ideal choice, in my opinion.
So, if you must join a mystery shopping site, I would suggest you check out the best mystery shopping sites here.
But if you are looking to earn extra cash without having to spend anything, I would recommend you check out the top survey sites in your country instead.
The sites on this list all have good earning potential and offer different payment options as well. Plus, you will be able to find a site you can join regardless of where you live.
If you have any comments, questions, or have any experiences with Sinclair Customer Metrics yourself, I would love to hear from you in a comment below.