Skillshare is an online learning platform that claims you'll be able to earn good money by holding online classes. So, if you are good at teaching or you consider yourself an expert in a specific field, then this might be a site worth considering.
I'm always on the lookout for great ways to earn extra cash online, so I decided to check this site out to see if it is really worth joining or not. In this Skillshare review, I will give you an in-depth inside look so you'll know how it works and exactly what you can expect from it.
Then, you can decide if you should pursue this opportunity or not. So, without further ado, here's everything about Skillshare.
What is Skillshare and what does it offer?
As mentioned above, Skillshare is an online learning platform that will allow you to earn by creating online learning programs. It's a legit site since you will get paid to create these online learning programs.
Now, to get a clear understanding of how you are able to earn from this platform, we have to take a closer look at the earning opportunities it offers. So, here's how to earn from Skillshare.
Option 1 – Online programs
The only way to earn from Skillshare is to become a teacher and create your own online program on Skillshare. This means you'll have to go through a lot of prep time first, so if you don't have the time to do this, then this opportunity is not for you.
Let me break down what an online program of Skillshare consists of so you'll have an idea of what you need to prepare.
First, your "class" must teach in-demand creative and entrepreneurial skills. Some of the popular topics found on Skillshare are design, illustration, writing, photography, productivity, freelancing, and much more.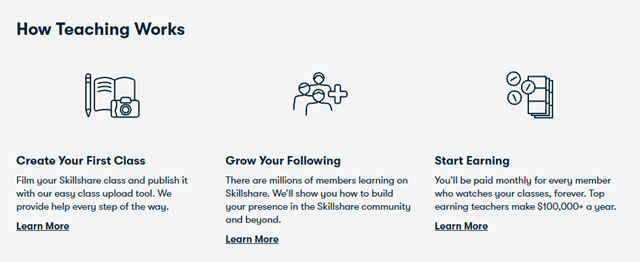 So, if you are an expert in any of those fields, then you'll be able to hold a "class" on Skillshare. Next, you'll have to include 20-60 minute pre-recorded video content that will be broken down into a series of short, 2- to 8-minute videos.
Skillshare doesn't want you to teach a broad, sweeping skill set and emphasizes more on honing one specific concept or skill (hence the name Skillshare). After you've created your video content, you'll have to design a project that will allow your students to practice what they've learned.
After you've designed your project, you'll now have to upload your program on Skillshare. Then, you just have to sit and wait for students to sign up for your program.
As for how you'll get paid, it's a bit complicated, so I will discuss that in the next section.
But basically, this is how the earning opportunity of Skillshare works. You create a class that will involve making a video and designing a project. While Skillshare doesn't mention anything about the quality of the video you will be making, it goes without saying that the video quality must be good so that it will provide a good learning experience for students.
That's why you will need to have a good video camera as well as the proper video editing skills because remember, you'll have to break down your video content into smaller bits so that students will be able to digest them easily. You also have to make a trailer for the "class" you are offering to give students a snapshot of what you are teaching.
It takes a lot of work on your end and will require a lot of planning. But once it is executed properly, you can actually earn a decent amount passively.
Option 2 – Referral program
Skillshare also has a referral program you can participate in to earn more royalties. Every new class you publish on Skillshare has a unique class referral link you can share with your followers outside of Skillshare.
Also, when you become a teacher, you are also automatically granted a channel referral link, which gives you the benefit of being able to market all of your classes at once through your profile page. You will earn every time someone signs up for Skillshare through your referral link.
The amount you earn will be equal to 60% of that student's first subscription payment for a Skillshare membership. The exact amount is calculated based on the membership fees Skillshare receives from a user who becomes a paid subscriber through your referral link. Your referral earnings can be tracked in the Teacher's Stats section.
While you may be able to earn a significant amount from this opportunity, you still have to make sure the people you invite are really interested in becoming a member. And since it's a paid subscription, getting referrals is easier said than done. You'll need to formulate a good plan on how to get referrals.
Recommended: Check Out the Best Freelance Sites You Can Join
How do you get paid?
When students sign up for your online class, you will earn what is called royalties. Skillshare operates under a subscription model. That means students have to pay an annual fee for membership.
This will include unlimited access to Skillshare's entire catalog of classes and other membership features like offline viewing through the mobile app (I will talk more about the app later).
Then, each month, 30% of Skillshare's total membership revenue goes to a royalty pool for teachers. Teachers will then be paid from the royalty pool based on their share of the paid minutes watched by students.
For example, if a teacher receives 5% of the minutes watched by students, that teacher receives 5% of the royalty pool. The amount you will earn will always be parallel to your share of the total minutes on the platform.
But, in order to qualify for the royalty, you must get a minimum total of 75 paid minutes watched across all of your classes within a month in order to receive a payment for that month. If you don't reach the requirement, you won't get paid and your minutes will not be carried over to the next month.
It's a tough threshold to reach especially if you are not an established Skillshare teacher yet. So, there's no guarantee you will get paid every month.
Payments for each month are paid out on the 16th of the following month. For example, if you've earned $50 for the month of June, you'll receive it on the 16th of July (give or take). Skillshare offers different payment methods like PayPal, ACH or e-check, or wire transfer.
Here's a breakdown of when you can expect your earnings:
PayPal: Within 1 business day
ACH (domestic bank transfer): Up to 3 business days
E-Check (international bank transfer): Between 3 and 7 business days
Domestic wire transfer: Up to 1 business day
International wire transfer: Between 1 and 2 business days
The payment system of Skillshare is not as simple compared to other online earning platforms. But eventually, you'll get used to it. I do like that they offer payments via direct bank transfer because that is a very convenient payment option, in my opinion.
If you are looking for more sites that offer a convenient payment method, I would recommend you also check out the top sites that pay via direct bank transfer.
How much money can you make?
The thing with Skillshare is that while it has the potential to earn you a significant amount of money, there's really no guarantee you'll be able to earn from it.
In my opinion, the 75-minute threshold you need to reach to get paid every month is what makes this site not a great option for everybody.
If you manage to get a lot of students to take your Skillshare classes, then you'll be able to earn hundreds of dollars every month. But that takes a lot of time and effort to accomplish. You'll have to have a solid plan of how to promote your classes.
Also, you are basically competing with other teachers to get a part of the royalty pool. This really limits the earning potential, in my opinion.
That's why I would say the time-to-money ratio of this site is not that great. You'll have to invest a lot of time to guarantee your earnings from it. If you don't have the time to spare as well as the skills needed, then this is not for you.
You are better off joining sites that will allow you to earn a decent amount easily.
Can you use it on mobile?
As mentioned earlier, Skillshare has a mobile app you can use. This mobile app is mainly useful for students though and not really very useful for teachers.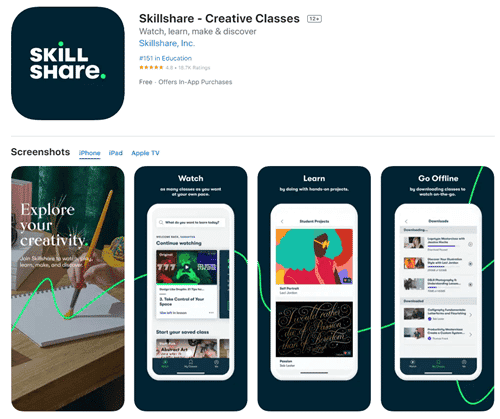 As a teacher, the only useful things you can do will be to check your referral earnings, view the minutes of your classes, and your total earnings. But for all of the work that needs to be done, you'll definitely need a laptop or a desktop.
As for the app, it will work with both Android and iOS devices. It's also very easy to use since the user interface is very intuitive.
Who can join Skillshare?
Skillshare is available globally. You'll be able to apply as a teacher regardless of where you live. But, there's a catch though.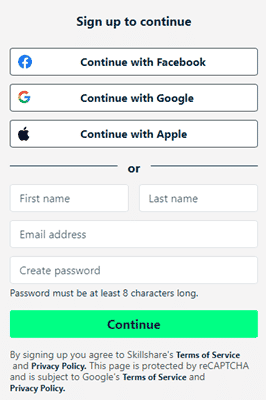 As shown in the photo above, you'll be able to sign up using your Google, Facebook, or Apple account. You can also provide your own login details. But as mentioned earlier, Skillshare is a paid subscription platform.
Sure, they offer a free trial for the first seven days. But if you plan to keep using the platform, which you will definitely have to if you plan to become a teacher, you'll need to pay their subscription fee. This is true for both students and teachers. That's why if you are really interested in earning from this platform, you have to be prepared to shell out a bit of cash.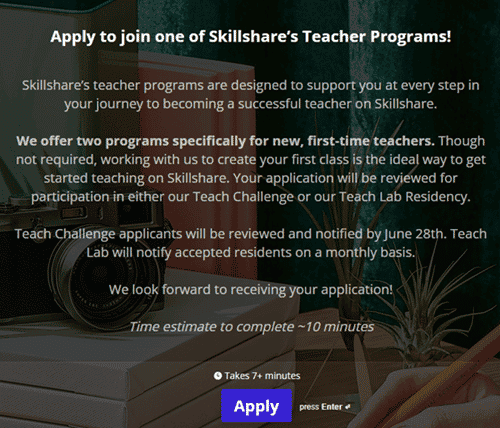 As for applying to become a teacher, the process is free. You just have to answer a few questions (refer to the photo above). Once you've completed the application form, Skillshare will review your application.
There's no exact timetable on how long you need to wait to hear back from them, but you can expect a reply from them within 7 business days. Skillshare will only accept your application if they really see that you have something to offer.
That's why I highly recommend that when you sign up as a member, you take advantage of the free trial first because there's no guarantee that Skillshare will accept your application as a teacher. That way, you won't waste any money if in case your application doesn't pan out.
Can you get support?
If you have any questions about your account or if you encounter any issues while using their platform, you can check out the "Teacher Help Center". This page discusses all the important topics you need to know about the platform.
But if you really need to talk to their support department, there are a few options you can choose from. You can email them at help@skillshare.com, submit a support ticket, or start a live chat.
Overall, I would say Skillshare has a good support system in place for its members since it provides several ways for you to get assistance. Their Help Center is also very useful because it provides all the information you will need to start as a teacher.
Final Verdict
Skillshare is a legit online learning platform that will allow you to earn by providing online classes. It has a couple of great features, but it also has a few considerations you need to keep in mind.
Let me wrap up this review by summarizing its pros and cons to give you an overview of what it has to offer. Then, you can decide if Skillshare is the right fit for you or not.

Pros:
Offers convenient payment methods
Available globally
The app is user-friendly

Cons:
Doesn't offer guaranteed earnings
It requires a lot of time and effort to earn
You need to pay to become a member
In my opinion, Skillshare is only a viable option if you have the skills to become a good teacher. You have to be creative enough to present your classes effectively and this is not an easy thing to do. That is why Skillshare is not for everyone.
You also need to invest a lot of time and effort and you have to be committed to being a Skillshare teacher in order to earn from it. You also have to spend money to use this platform. If you are not prepared to do these things, then this platform is not for you.
Instead, I would recommend you check out the top survey and GPT sites in your country. The sites on this list all have good earning potential and you don't have to invest money and a lot of time to earn a decent amount.
If you have any comments, questions, or have any experience with Skillshare yourself, I would love to hear from you in a comment below.