Slot Rush is a mobile app that claims you can win massive payouts by playing.
But is this app legit or is it just another scam you need to stay away from?
I tested the app to see how it works and have compared it with other mobile apps that offer similar opportunities.
In this Slot Rush app review, I will reveal the full truth of what the app has to offer, so you will know exactly what to expect before you even install it.
And let me just tell you right now that there are a couple of important things you need to know about this app. So, let's not waste any more time and get on with this review, shall we?
What is Slot Rush and what does it offer?
Slot Rush is a mobile game that will supposedly reward you for playing. It's a slot machine game, so the mechanics are relatively easy to understand.
However, there are a few things you need to know about this game.
I have, therefore, made a video that gives you an inside look and shows exactly how Slot Rush works. You can also read all the details below the video.
Recommended: Check Out the Best Ways to Earn Money by Playing Games Online
Option 1 – Playing the game
Slot Rush uses gold coins as its in-game currency. When you start playing the game, you will be given free gold coins (30,000 coins) you can use to place your bets.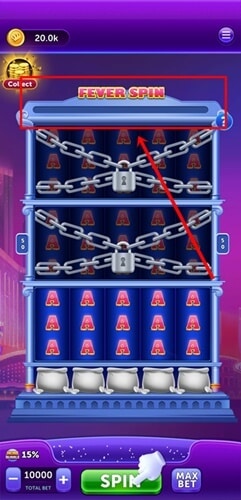 All you need to do is indicate the number of gold coins you want to bet for each spin. The smallest amount you can bet will be 10,000 gold coins. With this amount, you can only play one section of the slot machine (refer to the photo above).
But if you increase your bet, you will be able to unlock more sections of the machine. If you want to unlock all three sections, you will need to bet 45,000 coins which is also the maximum amount you can bet.
Then, when you're ready, you just have to press the "Spin" button, and the machine will start rolling. The bet you place will be deducted from your coin balance, and the result will be shown in a few seconds.
Most of the time, you won't win anything, but sometimes, you will win gold coins or Fever Spin progress points.
The one thing I found weird with their slot machine is that it's kind of hard to figure out the winning combinations. I spent half an hour playing the game, and I still couldn't figure out which combinations would allow me to win the most money.
So, you really just have to play and hope for the best. What you need to look out for is the bar under the Fever Spin (refer to the photo above). If this bar is full, you will be able to play the Fever Spin mini-game, and you can win a lot of gold coins.
The Fever Spin bar will eventually be filled when you keep playing the game. Just make sure you don't run out of coins so you can keep spinning.
Option 2 – Daily Bonus
If you run out of gold coins, you can just wait and claim the Daily Bonus and get free gold coins. By default, you can claim 10,000 coins every three minutes.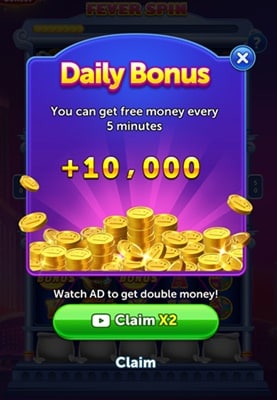 Then, the app will ask you if you want to double the bonus by watching a video ad. You can also just forego the video ad and just claim the bonus right away. You can claim this bonus as many times as you want every day.
If you run out of coins, this is the only way you will be able to get more coins. But when I was testing the game, I never ran out of coins which was actually quite surprising. Normally, in games like this, you will have no choice but to watch the ads, so you can collect more currency to play the game.
I found this a bit odd because you will actually be winning more coins than you can spend, in general. While this may sound good, it's actually a hint that there's something wrong with the app. In the next section, I will explain what that is.
Recommended: Check Out the Best Ways to Earn Money by Playing Games Online
How do you get paid?
Now, let's get on with a very important part of the app.
As explained above, you will win gold coins for playing the game. And as I've mentioned, you will actually win a lot of coins, so you might think that you will earn good money from Slot Rush.
But here's the issue with this app. It does not offer payout options in all countries.
And even in the countries where it offers payout options, you will be in for a surprise once you reach the payout threshold.
After you request a payout, you will be asked to watch a bunch of extra ads to get paid. This is a huge red flag, and in addition to this, you will be told that it will take several days before you will get paid.
But you will just never get paid, so all the gold coins you've won will be worthless because you can't convert them into actual rewards.
This is why you can win many gold coins this fast. In my experience, apps that are very generous with the rewards/prizes they hand out tend to either not pay you or make it almost next to impossible for you to get paid.
And if the apps asks you to pay any fees to get your money, do NOT transfer any money to them. You will then just end up losing money as well.
Another red flag is that the app page says that the app is still in development.
I am not sure how long the app has been in "Early Access." It could be that it has been in "Early Access" for more than a year, and there's still no movement, which is a bad thing, in my opinion.
And in general, it is a red flag when an app is in early access. Usually, it is used by scam apps because people cannot leave reviews for apps in early access, and that way, they can avoid negative feedback.
So, as of the writing of this review, all you can do with the app is play it, which will be quite useless if you are looking to earn. So, if you are looking to earn extra cash, I suggest you check out the top sites that pay via PayPal instead.
Can you use it on a desktop?
Slot Rush is a mobile-only app, so you will need to use a mobile device if you want to play.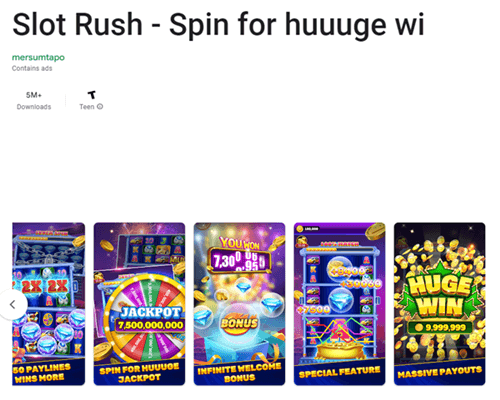 The app is only available for Android devices, so if you are an iOS user, then this app is not for you. I suggest you check out the best money making apps for iOS instead.
The Slot Rush app is relatively user-friendly, and the only time video ads will pop up is if you want to double your daily bonus. I found this quite surprising because apps that are similar to Slot Rush tend to be quite spammy.
So chances are, if the app ever moves past the early access stage, they will add more ads because, based on my experience, that's usually how these kinds of apps operate. They get paid through the ads they show. So, the more apps they show, the more money they will earn.
Final Verdict
Slot Rush is a mobile app that will let you win rewards. However, there are a few disadvantages that you need to know about this app.
Let me conclude this review by summarizing its pros and cons so you can see an overview of what it has to offer. Then, you will understand why this app is not worth it at the time of writing this review.

Pros:

Cons:
Doesn't offer any payout methods
The app is in early access (BIG red flag)
As you can see, Slot Rush, is not an app worth using. You won't earn anything from it because it will not pay you.
I do have to admit that the game is quite addicting, but in my experience, the earning potential of this kind of app is still not worth it. This is based on my years of experience testing apps and sites that offer the same kind of earning opportunity.
It's just not a good way to earn extra cash, in my opinion. That's why if you are looking for great ways to earn extra cash, I suggest you check out the top survey and GPT sites in your country instead.
The sites/apps on this list all have good earning potential, and they all offer guaranteed earnings. So, you will be able to earn a decent amount regularly.
If you have any comments, questions, or have any experience with Slot Rush yourself, I would love to hear from you in a comment below.