Are you looking for a way to earn extra income? If so, there's an app called Steady that claims it will help you find ways to earn more.
But can this app be trusted? In other words, is it legit or is it just a scam?
That is the same question that ran through my mind when I encountered this app. So, I went and downloaded the app to see for myself if it really does what it claims to do.
In this Steady app review, I will share everything I have learned about the app so you will know if it is really worth using or not. That way, all you have to do is go through this review to find out more about this site. Then, you can decide if you should use it or not.
What is Steady and what does it offer?
Steady is technically a gig economy app that also works as a finance assistant app. And yes, it is indeed a legit app since it really does what it claims to do, which is help you earn more. Shaquille O'Neal, a famous retired basketball superstar is among its investors.
Now, if you want to find out if it is worth using or not, the first thing you need to do is understand how the app works. So, let's go ahead and examine the earning opportunities it offers. That way, you can get a good understanding of what you need to do to earn.
So, here's how to earn from the Steady app.
Option 1 – Gig jobs
When you become a member of Steady, you will first have to answer a profile survey. This survey is intended to gather your basic information so the app will know what type of opportunities to send your way.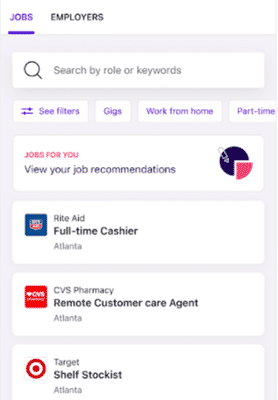 Once you finish the survey, you will see all the jobs you can apply for. These jobs will come from various employers. All you have to do is press the job you are interested in and you will see the details of the job.
A good example of a job you can do on Steady is working as a shelf stockiest in Target. You can even find full-time opportunities like working as a cashier in a pharmacy or store, and many more.
If you are interested in the job, just press the Apply button and it will take you to the website of the company that posted the job.
So, all the app really does is connect you with potential employers. You will still have to go through the application process required by the company that posted the job.
The good thing is, you will be guided on how you can apply for the job. So, it won't really be that hard to apply for one.
If you get accepted, then all you have to do is show up for the job you applied for and actually do the work. Later on, I will discuss how you can get paid.
Option 2 – Income boosters
Income boosters is actually the term the app uses for its paid offers. In case you don't know what a paid offer is, it is a short task you can do to earn a reward.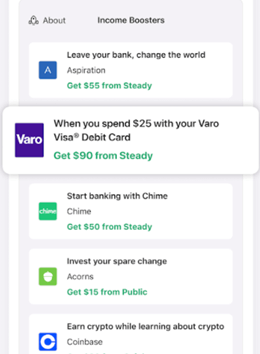 These offers will come from Steady's advertisers. During my testing, most of the income boosters being offered asked me to sign up for a bank account or a website. Some offers also asked me to download a mobile app.
Every booster will have a set of instructions you need to follow. So, make sure to read the instructions before you start working on it. Because if you miss even one step, you will not be able to complete the booster and you won't earn the reward offered for it.
For some boosters, the site/company offering it will be the one to pay you, while for other boosters, it will be Steady that will pay you.
Recommended: Check Out the Top Gig Job Sites
How do you get paid?
As mentioned above, the earnings from gig jobs that you apply for and some of the income boosters offered will be paid by the companies that offered the job or the booster. Typically, for gig jobs, you will be paid in cash, but it is best to always check first how you can get paid before you apply for any job.
From what I encountered, most jobs pay in cash and some will pay you via PayPal. And since most jobs are offered in shifts, you won't need to reach any payout threshold in order to receive your earnings. You will often get paid after the shift is over.
Now, if you participated in an income booster where you will get paid by the app, it will be credited directly to your bank account. That's the only mode of payment they offer. When you become a member of the app, you will be asked to link your bank account to the app.
You will have to do this since this is the only way you will get paid if you work on their income boosters. You also don't need to reach a payout threshold before you can withdraw your earnings to your bank account. It will automatically be deposited into your account.
Overall, their payment system is relatively easy to understand and I like the fact that they offer a convenient payment method. If you are interested in sites that offer a convenient payment method, I would recommend you check out the top sites that pay via direct bank transfer.
How much money can you make?
The amount you can earn from Steady will mostly depend on how many gig jobs you take on and how many income boosters you complete. However, let me tell you right now, the availability of jobs you can apply for will mostly depend on the city you live in.
In my experience, metropolitan cities tend to offer more job opportunities while you will seldom find opportunities in small cities. As for how much you can earn from each job, the hourly rate will range from $10 to $20.
So, the pay is actually quite decent. But again, everything will depend on which city you live in. So, if you live in a big city, then chances are, the earning potential will be quite good since you will be able to find plenty of work.
As for their income boosters, it's really hard to earn a stable income from this opportunity. You should just consider it as a bonus. That's why the earning potential of Steady will mostly rely on the availability of jobs because that's where the bulk of your earnings will come from.
Can you use it on a desktop?
Steady is a mobile-only platform, so you will really need to use a mobile device in order to earn. Plus, the fact that it is only available on mobile actually makes it a more usable platform, in my opinion, because you can easily just find jobs on the go. You don't have to sit in front of a computer to find a job you can apply for.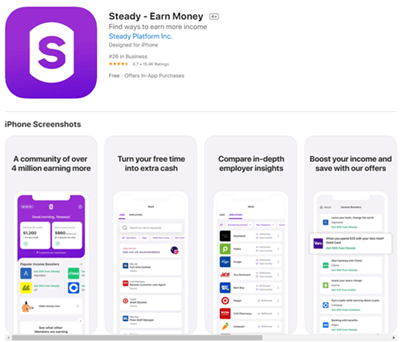 You can download the app from the Android or iOS app store. And the good thing about the Steady app is, it is very user-friendly. You will easily understand how to use it since the user interface is very intuitive.
Who can join Steady?
Steady's site doesn't exactly tell you which countries it is available in, but it is only really available in the US since the job opportunities being listed are only for jobs in US cities. You won't really find any jobs in cities in other countries.
To sign up as a member, you have to be at least 18 years of age first. Then, you have to download the app and go through the registration process.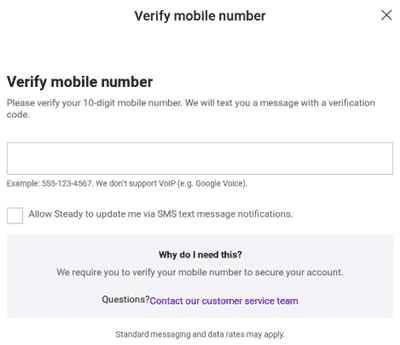 Then, the app will ask you to provide your mobile number because they will send you a verification code to complete the sign-up process. There's no way around it, so if you are not comfortable providing your mobile number, then this app is not for you.
Once you are done with the registration process, you will have to answer a short survey to build your profile. Then, I would recommend you link your bank account so you can get paid.
Can you get support?
If you have any questions about the app or your account, you can go to the support section of Steady and check out the FAQ page. You will most likely find the answers you are looking for because it discusses most of the basic topics you need to know about the app.
But if your question wasn't answered by the FAQ page, you can send your inquiry through the contact form provided inside the app or on the website. Or you can email them at help@steadyapp.com.
You can also go to their Google Play page and post your question or feedback. They're quite responsive on that platform too from what I've observed.
Overall, I would say they have a decent support system in place for their members since they offer convenient ways for you to get in touch with their support team.
Final Verdict
Steady is a legit gig economy app that will help you find ways to earn extra cash. It definitely has a few good features but it also has some limitations you need to be aware of.
Let me end this review by summarizing its pros and cons to give you an overview of what the app has to offer. Then, you can decide if you should give this app a try or not.

Pros:
Offers decent paying jobs
No payout threshold
App is user-friendly

Cons:
Limited earning opportunities offered
Earning opportunities will take time and a lot of effort to do
In my opinion, Steady is a good app to use if you live in a big city. That's because there will be ample opportunities to earn. You will definitely earn a decent amount from this app on a regular basis if that is the case.
But if you live in a small town, this app will not be as beneficial for you. You are better off joining a survey or Get-Paid-To (GPT) site or app if you are looking to earn extra cash.
And speaking of survey and GPT sites, if you are looking for ways to earn extra cash without having to put in a lot of effort and time, I would recommend you check out the top survey and GPT sites in your country instead.
The sites on this list all have good earning potential and you won't have to leave your home to earn. Plus, you will definitely find a site you can join regardless of where you live.
If you have any comments, questions, or have any experiences with the Steady app yourself, I would love to hear from you in a comment below.