Did you know you can earn extra cash using your car? No, I'm not talking about becoming an Uber driver. What I'm referring to are the ad placement services some apps offer.
One such app that claims to pay you for placing an advertisement wrap on your car is called StickerRide.
Now, the question is, is their claim legit or a scam? Let me answer this question right away because it is very important we address this immediately. Yes, StickerRide is indeed a legit app that will pay you for letting them place an advertisement wrap on your car.
So now, the next thing you need to know is, is it worth it? To answer that question, we have to consider several factors. And this StickerRide review will reveal the full truth of what this app has to offer so you can determine if this is something you should go for or not.
What is StickerRide and what does it offer?
StickerRide is an advertising platform that will let you earn money by making your car a moving billboard. It's pretty similar to Wrapify, which is another advertising platform that offers the same kind of earning opportunity. Here's a short video explaining what StickerRide has to offer.
So, how will you know if it is worth it or not? Well, we first have to examine the earning opportunities it offers so you can get a clear understanding of how you can earn from it. Then, we'll talk about the other aspects of the app which will give you a full overview so you will know if it is the right option for you or not.
So, here's how to earn from StickerRide.
Option 1 – Ad campaigns
The main way to earn from StickerRide is to allow them to place ad stickers/decals on your vehicle. You can do this through their ad campaigns.
When you become a member of StickerRide, you can apply for the ad campaigns located in your member area. To check for ad campaigns, you just have to log in to their app and you will immediately see all the ad campaigns available in your area.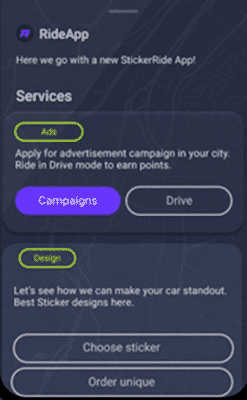 When you see an ad campaign you are interested in, just apply for a slot. If you get accepted, you will receive a message from one of the StickerRide operators instructing you when and where to bring your vehicle to have the ad sticker/decal installed.
Simply go to the location at the designated time and have the sticker/ad installed.
You don't have to worry about the sticker/decal damaging your vehicle's paint because they guarantee your vehicle won't be damaged as long as you will have it removed at one of their partner shops.
After the sticker has been installed, all you have to do is take a photo of your vehicle with the sticker on and submit it inside the app. Then, the app will turn into mapping mode once they've confirmed that the sticker is installed. When that happens, all you have to do is drive like you normally would earn until the campaign ends (campaigns usually last between 1 to 6 months).
Just make sure to open the app and go to the campaign section and hit the "Start" button when you drive. Otherwise, the app will not be able to track the miles and areas you've driven and you won't earn any rewards.
While you are driving, the app will actually track your journey using your mobile phone's GPS system. Then, the app calculates your driven miles, the time you were driving, and the city zones you were driving in and awards you with the corresponding points.
So, it's actually not as simple as just driving anywhere. For example, you will earn more points driving in a crowded zone during peak hours than driving in suburban areas during midnight. While you will still earn points if you do the latter, don't expect to earn a lot.
StickerRide does this because they want to make sure the ad they placed on your vehicle gets the most visibility. That's why they pay more to drivers who drive during peak hours because that's the best time to get the most visibility for the ad.
Another thing you need to remember is after you are done driving for the day, you have to make sure your points are verified by submitting a photo of your car showing the sticker is still installed.
Option 2 – Ad campaign quests
From time to time, ad campaigns also offer quests you can do to earn additional points. This is a great way to earn more from the ad campaign you accepted. This isn't very common, so if ever it pops up, I would highly recommend you complete the quest so you can earn more.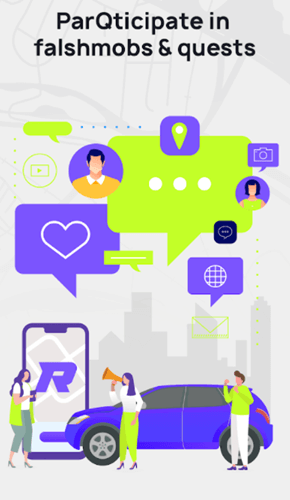 These quests will usually just ask you to drive to a certain location at a certain time or it will ask you to participate in flash mobs. These quests are relatively easy to complete. When you've completed the quest, you will receive the appropriate number of points.
Recommended: Check Out the Top GPT Sites
How do you get paid?
As explained above, you will receive points every time you drive your vehicle with the sticker installed. That is, of course, if you pressed the "Start" button inside the app before you start driving.
Now, there are two types of points in StickerRide – earned points and verified points. The earned points are what you earn from driving. The verified points are the points that StickerRide has verified. These are the points you can actually withdraw.
To verify your points, you should click on them in the app and the system will prompt you to take a photo of your car. After you've submitted the photo, StickerRide will then verify your points and you will be able to use them. So, make it a habit to have your points verified at the end of the day.
Now, for each verified point, you will receive $0.1 or £0.1 if you live in the UK. The threshold you need to reach before you can withdraw your earnings is 1,000 verified points ($100).
They don't specifically mention this on their website but based on feedback from members, this is the number of verified points you need to reach before you can withdraw your earnings. When you hit the threshold, you can then withdraw your earnings via direct bank transfer.
This is the only payment option they offer, so if you are not comfortable sharing your banking details with an app, then this app is not for you. But, in my opinion, you don't really need to worry because these kinds of apps really won't use your banking information other than for withdrawal purposes.
I personally don't have a problem sharing my banking information with legit sites and platforms because this is one of the most convenient ways you can withdraw your earnings.
Now, if you are looking for other sites that offer a convenient payment system, I would recommend you also check out the top sites that pay via direct bank transfer.
How much money can you make?
The amount you can earn from StickerRide will mostly depend on where you are located. The reason why I say this is, the number of ad campaigns that will be made available to you will largely depend on where you are.
In my experience, if you live in a city with a huge population like for example Los Angeles or London, then you will most likely find plenty of opportunities to earn. But if you live in a city with a small population or a city that hasn't quite reached the metropolitan status, then don't expect to earn a lot from this app. You'd be lucky to receive one ad campaign a year.
Now, as for how you can maximize your earnings, let me explain how their point system works. Every ad campaign has a tariff (multiplier). The tariff/multiplier depends on 4 parameters – geography, time, car class, and chosen type of stickers.
As explained earlier, StickerRide places more importance on populated zones and the time when you drive your vehicle. So, if your driving habit involves driving in populated areas during peak time, then you will earn more.
But if you typically drive around the earlier part or even late in the evening, you won't receive as many points and therefore not earn a lot. So, the earning potential of StickerRide will mostly depend on your location and driving habits.
But overall, I would say they have a decent earning potential since these ad campaigns typically pay a decent amount.
Can you use it on mobile?
StickerRide is a mobile-only platform. So, to answer the question above, YES, you can use it on mobile. In fact, you will really need your mobile device if you decide to become a member.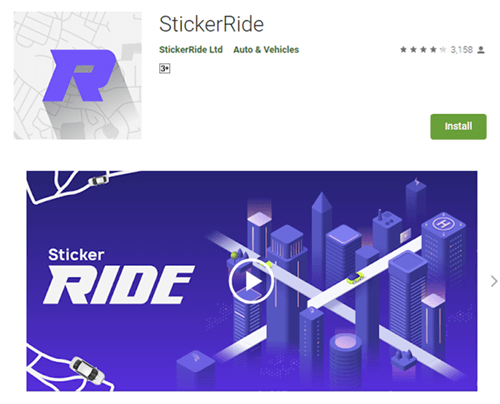 Their app is available for both Android and iOS devices. So, compatibility won't be an issue. Their app is relatively easy to use, but you will have to enable your GPS while using it. So, expect that the battery of your device will be drained quicker than usual.
That's the one downside of using their app. You have to make sure your device has enough battery when you are driving. So, if ever you decide to become a StickerRide driver, you have to make it a habit that your mobile device is fully charged every time you go out to drive to maximize your earnings.
Who can join StickerRide?
As of the writing of this article, StickerRide is only available in 8 countries. These countries are:
United States
United Kingdom
France
Russia
China
South Korea
Brazil
Japan
So, if you live in any of the countries listed above, you can register as a member. But keep in mind that StickerRide is not available in all the cities of these countries. Again, as I've explained earlier, the opportunities will only usually be available in big cities.
If you live in a rural area, then there's really no point registering because there won't be any ad campaigns available in these places.
To register, you just have to download and install their app on your device. Then, you just have to go through their registration process. When you are done with the registration process, you can start looking for ad campaigns in your area.
Can you get support?
If you have any questions about StickerRide, their site and app have a FAQ page you can check out. It discusses some of the basic topics you need to know about the platform. But, in my opinion, they could do better by adding more relevant information on their FAQ page like their payment method, the countries and cities it is available in, and more.
Now, if you can't find the answers you are looking for, you can use the contact form provided inside the app to get in touch with their support team. You can also just email them at info@stickerride.com.
Overall, I would say they have a decent support system in place for their members since they offer a couple of ways for you to get in touch with their support team. But I do wish their site would contain more helpful information.
Final Verdict
StickerRide is a legit advertising platform that will pay you for driving around town with an ad sticker installed on your vehicle. It certainly has some interesting features, but it also has some limitations you need to consider.
Let me wrap up this review by summarizing its pros and cons so you can get an overview of what it has to offer. Then, you can decide if you should go for it or not.

Pros:
Offers an easy way to earn extra cash
Their app is user-friendly

Cons:
Limited earning opportunities offered
Requires a lot of commitment for you to earn
In my opinion, StickerRide is not for everyone. If you don't mind placing ad stickers/decals on your car/vehicle (which can sometimes look ugly), then you can go for this opportunity. But if you really value the aesthetics of your car/vehicle, then this is not for you.
Also, StickerRide requires a lot of commitment on your end if you want to earn a lot from it. As explained earlier, you have to drive in populated zones during peak hours to get the most earnings. So, if this is something you can't do on a regular basis, then don't expect to earn a lot from it.
Now, if you are looking for ways to earn extra cash without "mutilating" your car, I would instead suggest you check out the top survey and GPT sites in your country. The sites on this list all have good earning potential and you can earn at the comfort of your own home.
Plus, you will definitely find a site you can join regardless of where you live.
If you have any comments, questions, or have any experiences with StickerRide yourself, I would love to hear from you in a comment below.