Joining a survey site is a very convenient way of earning extra cash as long as you join a good one, of course. With so many survey sites out there, it's a bit hard to figure out which sites to join without proper research.
Now, if you've been searching for survey sites and you've encountered a site called SurveyPago, then you must be wondering if this site is legit or if it is a scam. So, let me address this concern right away.
SurveyPago is a legit survey site that does what it promises to do which is pay you for answering surveys. It's a fairly simple survey site, so you will be able to get used to how it works pretty quickly.
But before you sign up, you have to first figure out if this site is even worth it. This SurveyPago review will give you the lowdown on what the site has to offer so you can decide if it is worth investing your time in or not.
What is SurveyPago and what does it offer?
As explained above, is a survey site that promises to pay you for answering their surveys. It is powered by Cint AB, a market research company based in Sweden that specializes in gathering insights to help businesses build better products and services.
The first thing you need to know about this survey site is how you can earn from it.
So, I created a video that gives you an inside look and whows exactly how you can earn from SurveyPago. You can also read all the details below the video:
The earning opportunity – Paid surveys
The reason why I consider SurveyPago a simple survey site is it only offers one method of earning, and that is through paid surveys. Having only one earning opportunity is both a good thing and a bad thing, in my opinion.
It's a good thing because it is easier to get used to how it works. It's a bad thing because if there aren't any surveys available, you won't earn anything. So, your overall earnings will really be affected.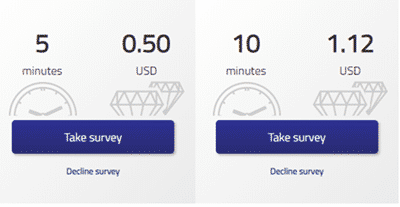 Now, when you become a member of SurveyPago's panel, you will be given access to their member dashboard where you can find the available surveys you can take. Also, if there are any surveys available, you will receive an email notification.
So, you don't actually have to keep logging in to the site to check for surveys. As shown in the photo above, each survey will indicate how long it takes to finish it and how much you will earn once you complete it.
These are important information to know beforehand so you can easily prioritize which ones to take if you are in a hurry. Speaking of taking a survey, when you click on a survey offer, you will actually have to get through the qualification process first.
You will have to answer a set of qualifying questions. This is very common with survey sites because this is how they check if you really belong to the group of people the survey is intended for. If you pass the qualification process, you will then proceed to the actual survey.
If you don't qualify, you just move on to the next survey.
When you complete a survey, you will receive the reward promised (I will talk about the rewards next). The reward will be credited when the number of responses required has been collected.
It can take up to one month from the date of participation. This is quite slow compared to many other survey sites so it is necessary to know, so you don't worry if your reward is not reflected in your account right away.
Recommended: Check Out the Top Survey Sites in Your Country
How do you get paid?
For every survey you complete, you will be rewarded a certain amount. Unlike some other survey sites where you get rewarded with points or some other kind of currency, with SurveyPago, you will just receive money.
This is good because you don't have to keep mentally converting your points to money. You will know right away how much you've already earned.

Once you've earned $10, you can then redeem an Amazon gift card or GCodes. It's a relatively low payout threshold, so it's certainly achievable.
But what if you want to earn cash instead? Well, you also have the option to withdraw your earnings via PayPal but you will need to earn at least $12.50 to do so.
Their reward system is very simple as well and quite convenient, in my opinion, since PayPal is one of the payment options.
If you are interested in more sites that pay via PayPal, I would also recommend you check out the top sites that pay via PayPal.
How much money can you make?
If you want to join a survey site, the most important thing you need to know is if you are able to earn a decent amount from it. So, it's pertinent to know how much money you can make from SurveyPago before you join.
Well, with survey sites, it will mostly rely on the availability of surveys (especially with SurveyPago since it is the only earning opportunity available) and how well SurveyPago pays. Unfortunately, you really can't control how often you will receive surveys from them.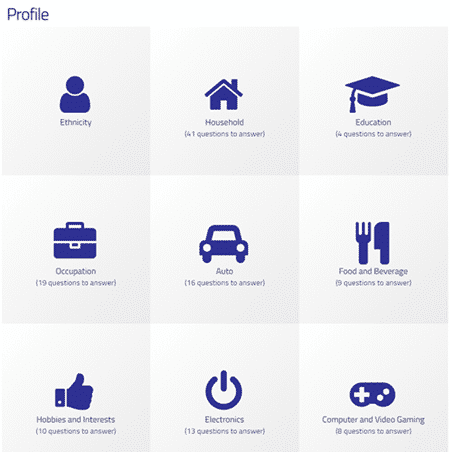 The best thing you can do to improve your chances of receiving surveys is to complete your profile. In fact, that should be the first thing you need to do when you log in to their dashboard. Completing your profile means SurveyPago will have more information about you.
This is important because they can then qualify you for more survey opportunities. And if you receive more invites to answer surveys, then you will have a higher chance of completing more surveys and earning more.
As for how much you can earn per survey, their rate of $0.25 to $5 per survey completed is well within the industry standard. The amount you will earn per survey will be relative to the amount of time it takes to complete.
So, if you receive a survey that takes longer to take, think of it as a way to earn more. So, you should be glad if you receive longer surveys since you have a chance of earning more.
So, I would say SurveyPago has decent earning potential at least. It doesn't have the highest time-to-money ratio but it also isn't bad.
Can you use it on mobile?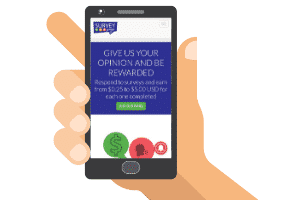 SurveyPago doesn't have a mobile app you can download and install on your mobile device. But if you want to answer surveys on your mobile phone or tablet, you can do so by opening a web browser and logging in to the site that way.
The good news is, you will be able to navigate through the site conveniently since their site is mobile-friendly. That means you don't have to zoom in to read the content clearly. This makes answering surveys from a mobile device a feasible option.
Plus, it also helps you become an efficient earned since you don't need a computer to complete surveys. So, you can do it anytime and anywhere.
Who can join SurveyPago?
SurveyPago is only available in select countries.
You can sign up as a member if you live in the US, Argentina, Mexico, Chile, Colombia, Brazil, Turkey and Indonesia.
So, if you don't live in any of the countries listed above, then this survey site is not for you.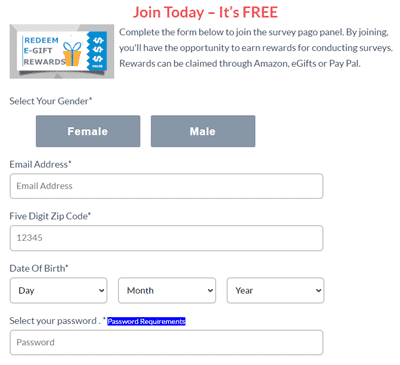 To sign up as a member, all you have to do is to fill out their sign-up form. You also have to be of legal age (this will depend on the country you live in) to be eligible.
Once you've finished the sign-up form, you will receive an email asking you to confirm your membership. Simply click the activation link and you are good to go. You can then log in and start earning.
Can you get support?
If you have any questions about how the site works, you can first check out their FAQ page. It discusses most of the important topics about the site. In fact, I highly suggest you read through it first because you will learn how to work the site.
If you encounter any issues with your account or problems with the site though, you can contact their support team through their contact form. Bear in mind though that your inquiry will only be entertained from 9 am to 5 pm Mondays to Fridays.
So, if you've submitted your inquiry on a weekend, you have to wait for the work week to resume before you can expect that your inquiry will be attended to. It's a minor inconvenience, but, in my opinion, they do have a decent support system in place for their members.
Final Verdict
SurveyPago is a legit survey site that does pay you for answering surveys. It has a couple of good qualities to offer but it also has a few limitations you need to accept.
Let me end this review with a summary of its pros and cons to give you a better idea if joining the site is worth it or not.

Pros:
Low payout threshold
Offers payment via PayPal
Their site is user-friendly
Cons:

Limited earning opportunities available
Can take quite some time before the reward will be credited to your account
In my opinion, it is a decent site to join if you are eligible to be a member. While it won't allow you to earn a significant amount quickly, it can still serve as one of your secondary sites to earn extra cash from.
It offers a convenient payment option (PayPal) and it is very easy to use. Those are its strong points. If it only offered another way for you to earn more, this would have been a better site, in my opinion.
Now, if you are looking for a primary site to earn extra cash, I would suggest you check out the top survey sites in your country instead.
Any of the sites on this list will offer good earning potential. Plus, you will be able to find a site you can join regardless of where you live.
How to join SurveyPago?
It is very easy to join if you want to become a member of SurveyPago. Just click the button below, choose your country, and you will be taken to the sign-up page and you can get started in just a few minutes.
If you have any comments, questions, or have any experiences with SurveyPago yourself, I would love to hear from you in a comment below.