Surveys4Moms may sound like a great way to make some extra money.
But is it really the best place for moms (or anybody else) to get paid to take surveys?
In this Surveys4Moms review, I will give you all the details about this survey site and reveal what you can expect after joining.
Let me reveal right away that you do not actually have to be a mom to join, and you can also join as a man.
Whether it is then worth it or not, I will let you decide after you have read the review and know what the site offers.
In case you decide it is not for you, I will also show you the best alternatives.
What is Surveys4Moms and what does the site offer?
Surveys4Moms was founded in 2014 and has its headquarters in the US.
When you look at the design of the website you might, however, think it is a lot older than it is, as the design does not look very updated – but the design is definitely not everything, so it does not determine whether a survey site is worth joining or not.
So let us take a look at what Surveys4Moms offer:
Option 1 – Paid surveys:
As the name suggests, the main way you can earn on Surveys4Moms is by taking surveys. Sites that have this as the main way of making money are often very easy to use, as there are not many things you need to figure out how to use.
That is also the case for Surveys4Moms – it is very user-friendly in the sense that it is easy to see what you need to do and how to get started.
However, it does not look like there are many surveys available. This does depend on the country you live in, so it might be different for you. But in general, I am not impressed with the survey opportunities I have seen there.
There is a bunch of profile surveys you can fill out when you first join. These are often good to fill out, as they can help the survey companies match surveys for you. Some sites give you a small reward for completing these, but that is not the case on Surveys4Moms. If you fill out all the info, it can take quite a while.
It is usually a good idea to do on survey sites, but in this case, I am not sure it is worth the time. Before doing so, I would suggest you see if there are any surveys available to you.
If there are, it can increase your chances of getting more. If not, it might very well be because you are in the same situation as me and are in a location where there are no surveys, and then you would just be wasting your time by filling out this profile info.
Option 2 – Build your downline:
Surveys4Moms has one other way you can earn, and that is by inviting other people to join. On the website, they really try to make this sound like a good option, and on the front page, you can see how they present this is an exclusive option.
The fact is that referral programs are very normal to have on survey sites, so nothing exclusive about it. Furthermore, the referral program on Surveys4Moms is, in my opinion, not very good.
They try to explain it in a way so it sounds very appealing, but it can be confusing to understand what you actually get for inviting friends.
In the section where you can build your downline, it is explained that they share up to 45% of the revenue with the survey takers. This might sound like a lot, but it does not really say a lot about how much you will get paid.
But if you look further, you can see that it says you get 10% in commission of whatever friends you have invited will earn. This will not be taken from your friend's earnings, but be paid by Surveys4Moms.
It is an ok commission, but 10% is usually the lowest survey sites pay in commission when you invite friends, so it is definitely not an exclusive program.
However, it can be a way to make a bit of extra money, if your friends will be able to find any available surveys on Surveys4Moms, and if they will take them.
How do you get paid?
When you take surveys on Surveys4Moms, you will get paid in dollars no matter which country you live in. These can later be paid out in different ways.
It is difficult to find out exactly what rewards Surveys4Moms are offering, as what it says in the FAQ section on the website is different from what I can see in my account.
One thing that is sure is that you can get paid through PayPal. This is a great payment option, so it is good to know that this is an option. But in the FAQ section, it says that you can also get magazine subscriptions or Facebook credits.
I cannot see these options in my account, but I can, however, see the options to get restaurant gift cards, donate to charity, or get internet services.
None of these options do however have any content in my account, so difficult to say if they are real options, or if it is an error.

But PayPal seems to definitely be an option. You have to earn $20 before you can request a payout. A little too high payout threshold in my opinion, but still reasonable.
Be aware that once you have taken a survey, it will take 4-6 weeks before it will be approved, and before you get the money in your Surveys4Moms account. This is extremely slow.
On most survey sites you will be able to see the amount in your account right away unless it is a particular high reward you are getting and your answers need to be confirmed.
How much money can you make?
Surveys4Moms says itself that it is very much up to you and on how many surveys you qualify for.
From what I have seen, I am however not impressed by the number of opportunities. So if you live in a country where there are surveys available, you will probably be able to make a little extra cash, but do not expect to make a lot more than just a bit of pocket money.
If you want to have more chances of earning, there are definitely survey sites with better opportunities, in my opinion.
Can you use it on mobile?
When reviewing a survey site, I always make sure to check, if it can be used on mobile devices, as it is a great way to be able to take surveys when you have a few minutes extra once in a while during the day.
You can use Surveys4Moms on mobile devices. It does not have an app, but you can use the website itself.
The website is not particularly well optimized for phones, so you might have to zoom in and out a bit, but you can log in to the website from your phone and take surveys there.
Who can join?
You would think that maybe only moms can join this survey platform because of the name. However, I am not a woman, and I was still able to join even though I was honest about me being a man.
So you do not have to be a woman or a mom to join.
Officially Surveys4Moms is, however, only available in the United States, the UK, Canada, and Australia. But you can still join, if you are not from these countries, but you should not expect to get any opportunities if you are from other countries.
Tip if you want to join
If you decide Surveys4Moms is the right survey site for you, I just want to give you a couple of tips for the joining process, as there are a couple of unusual things compared to how it works on most survey sites.
You will, for example, have to go through an initial survey with different offers.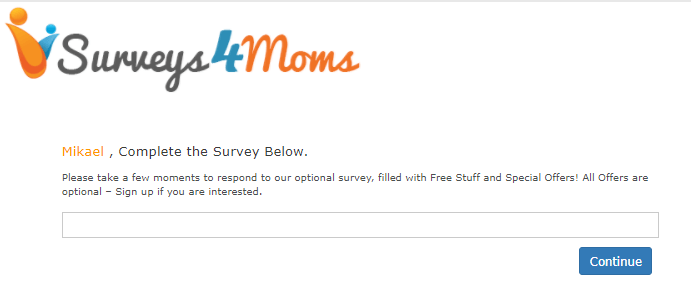 These "special" offers are NOT something you have to sign up for.
You can just ignore them, and in most cases, I would advise you to do this. I have not experienced to have to go through offers like this on many other survey sites, but not a big problem, as long as you are aware that you can just ignore them.
Also, at the end of the sign-up form, you have to describe your dream vacation. This might sound like something that can take a long time to do.
But there is no need to spend too much time doing this, as there is no benefit in it, and you will just be wasting a lot of time, in my opinion. You have to fill it out to be able to register, but you can just write one word – so for example just write the country you would like to go on a vacation in.
Final verdict
Surveys4Moms can potentially give you access to earn a bit extra by taking surveys. But it is not necessarily the best use of time, in my opinion.
But let's finish this review by summing up the pros and cons, so you can get a better overview before deciding whether you want to join or not.

Pros:
Free to join
Legit way to earn a little extra cash

Cons:
Not many earning opportunities
Poor referral program
High payout threshold
Very slow to approve rewards
In general, Surveys4Moms seems like a legit paid survey site, where you can earn some extra cash.
However, whether you are a mom or not, or no matter which country you are from, there are survey sites with a lot more opportunities and better chances of earning.
So unless you just want to join as many survey sites as possible, I would recommend you instead check out the list of survey sites with better opportunities by clicking the link below.
==>Click to See The Best Paid Survey Sites in Your Country<==
If you have any comments, questions, or have any experiences with Surveys4Moms yourself, feel free to leave a comment below.
Would be great to hear about your experiences as well, and I will be more than happy to answer any questions.