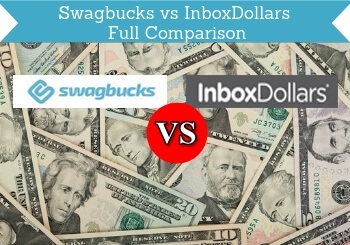 When you search for good online rewards sites, you will most probably encounter Swagbucks and InboxDollars. After all, they are two of the most popular sites today.
When we talk about online rewards sites, in order to get the most rewards, you will have to prioritize which ones to join.
That's because, you can only a lot so much time, that it is practically impossible to join all of them in just one sitting.
So, you have to figure out which one is a better fit for you.
That way, you can maximize the time you spend in earning rewards. In this case, both sites are quite popular and offer good earning potential. So, it's a bit hard to decide which site to join.
I have done a review of Swagbucks and a review of InboxDollars before. This article will compare both get-paid-to (GPT) sites so you can choose which site is a better fit for you.
In order to better understand the opportunities of Swagbucks vs InboxDollars, this comparison will see how both GPT sites measure against each other.
So let's get the ball rolling.
In which countries are Swagbucks & InboxDollars available?
More often than not, the main factor that will help you decide which site to join is the availability of the site in certain regions.
It's pretty logical to join the site that you can register for. But when both sites are available in the region you reside, it can be a difficult choice.
So now, let's take a look at which countries Swagbucks and InboxDollars are available.
Swagbucks availability:
Swagbucks, although not available globally, covers 8 countries in total. If you live in the United States, Canada, United Kingdom, Ireland, Australia, Germany, Spain, or France, you will be able to register as a member as long as you are at least 13 years of age.
Take note, you have to get your parents' or legal guardian's permission to join the site if you are between 13 to 17 years of age.
What's unique about Swagbucks is, it is not limited to one member per household. Usually, for sites like this, they limit it to only one member per household.
So, if you and members of your household plan to join this site, you can do so, as long as you create different accounts.
InboxDollars availability:
InboxDollars, on the other hand, is quite limited. Only residents of the United States can register as a member (as the name suggests). You also have to be at least 18 years of age in order to become a member.
So, if you live outside the US, then this isn't a viable choice for you. It also doesn't allow more than one member of each household to join their site.
If you compare both sites, Swagbucks clearly has the advantage. So, in this round, Swagbucks wins because it covers more ground than InboxDollars.
The opportunities to earn compared
If you qualify for both sites, then the next thing that can help you filter out which site to join is how their earning opportunities stack up against each other.
This is a great point of comparison because you will be able to see which site has better earning potential.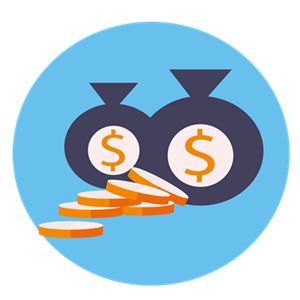 At the end of the day, the GPT site that will allow you to earn more will be the preferred site to join.
If you place them side by side, you will clearly see that Swagbucks provides more earning mechanisms than InboxDollars.
But the comparison doesn't have to stop there. We have to dig deeper to see which one will offer a higher earning potential.
You have also have to take a look at the consistency of the offers both GPT sites provide in order to take full stock of its earning opportunities.
Which site has the best opportunities?
Swagbucks just dwarfs InboxDollars if we talk in terms of earning opportunities. In fact, the opportunities available in Swagbucks is almost double the opportunities that InboxDollars offers.
With InboxDollars, you typically get the standard package you see in most GPT sites. You get to answer surveys, play games, watch videos and join free contests. Swagbucks also offers these opportunities.
But what makes InboxDollars a bit more different than Swagbucks is it offers a premium membership upgrade that will allow you to earn more. The way their upgrade works is, once you receive your first payout, you will automatically become a gold member.
When you become a gold member, your request for payment will be prioritized. That means you will receive your payment faster than a regular member. It's actually not that big of a difference, but it makes for a nice bonus.
The best thing is, you don't actually have to pay to become a gold member. You just need to get your first payout to become one.
Also, Inboxdollars has recently gone through some updates and has introduced more ways of earning so it is catching up.
As for Swagbucks, you also actually get several bonuses like making sure you complete your daily to-do list. Once you complete your daily to-do list, you will receive extra rewards, which will be added to your point balance.
This means, you get to accumulate more rewards a lot faster, especially if you manage to complete your to-do list every day.
If we talk about the availability of the offers, both sites are pretty even in my opinion. This is the beauty of a GPT site. There will always be something to do every day.
But, in terms of earning potential, the fact that Swagbucks offers more ways for you to earn rewards and the bonus will also actually help you get more rewards, is what makes it more ideal than InboxDollars.
If you want to join Swagbucks, you can click here to get the $5 joining bonus for Swagbucks, as you need to join through an invitation link to get this bonus.
You just need to scroll to the bottom until you see the invitation link that will take you to their registration.
In this round, Swagbucks still has the advantage.
Payout methods compared
How you can get paid will also matter when comparing both sites. Ideally, the site that will allow you to receive your payment in a more convenient matter, will have an edge.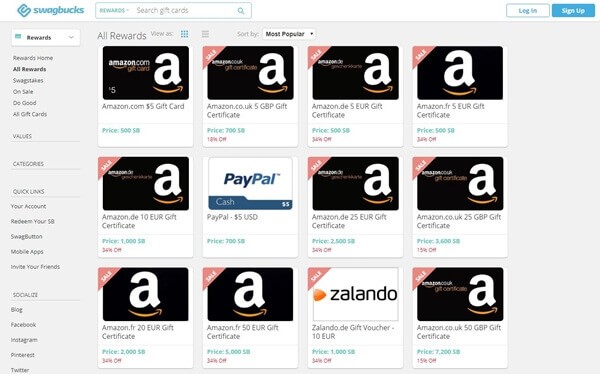 For Swagbucks, they use "Swag Bucks" as their mode of currency. Each offer you complete will earn you a certain amount of "Swag Bucks". You can then use the "Swag Bucks" you've accumulated to redeem a certain reward.
Keep in mind, you have to meet the minimum required number of "Swag Bucks" in order to redeem a reward.
In their case, SB actually has a reward you can get out already when you have earned around $2 worth of Swag Bucks. To put it into context, 100 "Swag Bucks" is worth $1. From time to time, the required amount of "Swag Bucks" needed to redeem a gift card will also be lower because they will hold a sort of sale for their rewards.
As for real money rewards, you will also be able to exchange the "Swag Bucks" you've accumulated into actual money via PayPal. It does require a higher number of "Swag Bucks" though (2,500 Swag Bucks to be exact).
As for InboxDollars, their system isn't the same as Swagbucks. Instead of getting points for completing offers, they will pay you an amount in dollars.
This will then be reflected in your account. As soon as you reach the threshold of $30 (which, in my opinion, is pretty high), you can then request for payment.
The difference though is, they don't offer gift cards as a reward. They do pay via PayPal, and only recently. They can also mail you a check of the requested amount (which will be at least $30). You can also opt to receive a prepaid Visa or an InboxDollars e-card instead.
The problem is, once you request for payment, they will deduct $3 as processing fee from the amount you've requested. So, instead of receiving $30, you will actually only receive $27. This, in my opinion, isn't a good way to request for payment.
First, you'd actually have to wait a long time in order to receive your check or prepaid Visa card. Unless you request for an InboxDollars e-card, you will be stuck waiting for more than a week just to receive your payment.
Unlike Swagbucks, InboxDollars has a less convenient way of handling payments.
So, even though the payment threshold of both sites is relatively high if you want cash ($25 and $30 respectively), the fact that you can request for payment a lot faster and without deductions on Swagbucks makes it the much more convenient choice. So in this round, Swagbucks has the advantage.
Which site is more user-friendly?
Having a user-friendly site can go a long way to enticing members to join your site. A user-friendly site will allow you to earn rewards conveniently.
To gauge how user-friendly a site is, we have to take into consideration factors like the site's user interface, availability in mobile devices and the support provided for members.
In terms of the user interface (which will dictate the outcome of user experience), both sites have a fairly well-designed website and member dashboard.
That means you will be able to easily navigate their sites. This shows they have at least put a lot of thought on how members navigate through their website.
The slight difference though is, you have to do more clicks on Swagbucks simply because it has more offers than InboxDollars. So, it might take a bit of time getting used to their user interface.

As for availability in mobile devices, both Swagbucks and InboxDollars have an app you can download on your mobile device.
This means you will be able to work on offers quite conveniently even when you are not in front of your computer.
This will also allow you to earn more rewards because you won't need a computer to work on their offers.
You just have to make sure your mobile device has an internet connection. Both apps will also work with Android and iOS devices.
As for customer/member support, both sites offer convenient ways to contact their support team.
Swagbucks will allow you to submit a ticket for any issue you are facing. On the other hand, InboxDollars has live chat support that is available 24/7.
This, in my opinion, is what makes InboxDollars better than Swagbucks. The fact that you can get real-time support is really just more convenient because it ensures your issue will be resolved right away.
So in terms of which site is more user-friendly, InboxDollars has a slight advantage because of the type of support they provide.
Should you choose Swagbucks or Survey Junkie?
So, if you were to choose between the two GPT sites, Swagbucks has the upper hand.
But, you have to keep in mind that this will really depend on your preferences (provided that you are eligible to be a member of InboxDollars ) and it does NOT mean InboxDollars isn't also worth considering.
Let me summarize why Swagbucks has the edge over InboxDollars.
Availability:
First up, Swagbucks simply covers more ground because it is available in six different countries. Whereas, InboxDollars is only available in the US. This means more people can join Swagbucks.
Earning Potential:
Second, Swagbucks has a higher earning potential mainly because it has more offers you can do. Plus, you will get bonuses just by doing the things you should be doing on a daily basis. This will allow you to quickly accumulate more rewards.
Rewards:
Swagbucks also has a much more convenient payment method because you can request payment a lot quicker due to the lower payment threshold. Plus, if you prefer gift cards, you can also get that from them.
InboxDollars, on the other hand, has more payment methods because they can pay via PayPal, check, prepaid Visa card or InboxDollars e-card.
Usability:
InboxDollars does have a slight advantage in terms of user-friendliness mainly because it has a better form of support offered. Getting support via live chat can be very useful in terms of quickly resolving issues.
It is clear that Swagbucks has the advantage over InboxDollars. The main deal breakers for InboxDollars are that it is only available in the US and has a pretty high payment threshold.
In my opinion, though, both sites can be a good option for you, as long as you live in the US.
Both will allow you to earn a reasonable amount of money. They can even complement each other and make sure you can earn more, which is really what matters at the end of the day.
If you want to join Swagbucks, then visit my Swagbucks review to get a $5 joining bonus, and if you want to join InboxDollars, you can check out the full InboxDollars review and also get a $5 joining bonus.
If you have any comments, questions, or have any experiences with either Swagbucks or InboxDollars yourself, I would love to hear from you in a comment below.