SweetStudy is a site that claims you can earn extra cash by answering questions from students.
If you are looking for a way to earn extra cash and you are interested in this site, I highly recommend you read this SweetStudy review first.
It will show you all you need to know about SweetStudy so that you will know exactly what to expect before you even apply as a tutor for this site. Then, you can properly evaluate if this is the right opportunity for you or not.
So let's go ahead and take a closer look at SweetStudy, shall we?
What is SweetStudy, and what does it offer?
SweetStudy (formerly known as HomeworkMarket) is a site that will let you earn extra cash by answering the questions students post on the platform. It is indeed a legit site since you can really earn money by answering the questions.
But this doesn't automatically mean this opportunity is the right fit for you. To find out if you should join this site, you must first understand how it works. And the only way to do that is to examine the earning opportunity it offers so you will have a clear understanding of how much time and effort is needed from you to earn.
So here's how to earn from SweetStudy.
The earning opportunity – Questions
Once you get accepted as a tutor, you can log in to the member dashboard to see all the questions you can answer to earn. However, before you can answer questions, there are a few steps you need to go through.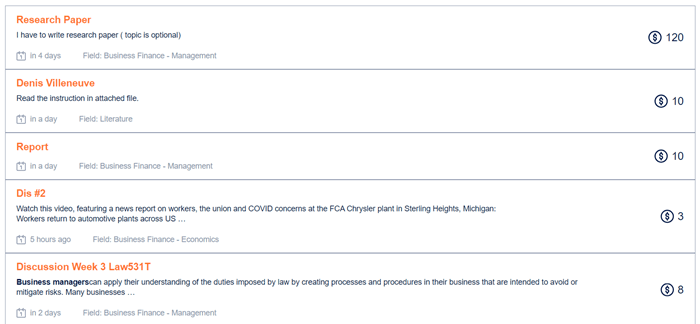 When you see a question you want to answer, you have to click it to see the full details. You need to take note of all the details the student provided because this will be very important in the end.
After you've understood what the question is and what it requires of you, then you must place your bid. The bid will ask you how much you want to get paid to provide the answer to the question. This part is very tricky because you have to figure out the right amount to indicate.
You need to make sure you are not selling yourself short or that you are not setting an overpriced amount. Most of the time, the amount will become the determining factor on whether your bid will be chosen or not. You can use the amount indicated by the student as a basis for your bid.
If your bid is chosen by the student, you will receive a notification on the member dashboard. You will also receive an email if your bid gets chosen, so make sure to check your inbox regularly if you have placed any bids on SweetStudy.
When your bid is chosen, all that's left is to submit the answer to the question before the deadline. If you fail to do so, you will not get paid, and you will receive a bad rating from the student. When submitting answers, the most important aspect you need to consider is quality.
You need to make sure you meet all the requirements of the student because if you fail to do so, you will get a bad rating, which will negatively impact how much you can earn from the site in the future. As for the types of questions you have to answer, they will usually fall into the categories shown in the photo below.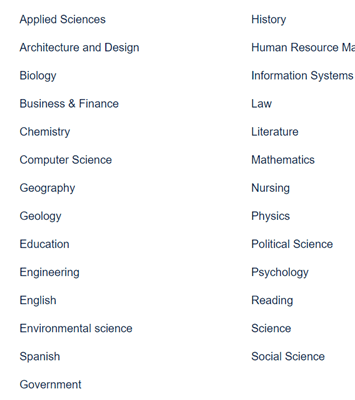 Most of the time, you'll be asked to write a paper about any topic belonging to the categories listed in the photo above, so expect to do writing tasks when you take on questions from SweetStudy. When I was checking out the site, there were a decent number of questions available at any given time.
However, the questions you can answer will only be about the categories you chose during registration. These are the categories you are considered an expert in (more on this later).
Recommended: Check Out the Top Freelance Sites
How do you get paid?
Every time you successfully answer a question, you will earn a certain amount. You'll then get paid only 70% of what the student paid. The 30% (which is relatively high) will serve as SweetStudy's commission.
The payment will be made either via PayPal, which involves a $1 service fee (regardless of amount), or Payoneer (the full list of service fees for Payoneer will be shown to you during registration), depending on which option you choose.
There will also be a handling fee of $0.90 for every payment you receive. Overall, the payment system of SweetStudy is relatively simple. My only complaint is the service fees will eat up a lot of your earnings, so don't expect to receive the full amount when you get paid.
That being said, I do like the fact that it offers payment via PayPal since it is one of the most convenient payment methods available today. If you are interested in more sites that offer a convenient payment system, I recommend you also check out the top sites that pay via PayPal.
How much money can you make?
The amount you can earn from SweetStudy will depend on how good you are at providing answers to the questions students ask. If you provide quality answers, you'll most likely keep getting opportunities to earn since the quality of your work will be reflected in your rating as a tutor.
When students see that you have a high rating as a tutor, the chances of your bid getting chosen will be higher, and therefore, you will earn more. Plus, as mentioned earlier, there are a decent number of opportunities to earn at any given time, so you won't run out of opportunities to earn.
As for the amount you can earn per question, it will usually be in the range of $5 to $20. There are questions that offer higher payment, but they are more complicated to answer. The thing you need to keep in mind is that the payment will usually go hand in hand with the work you need to do.
If you need to do a lot of work, you'll get paid more. If you don't have to do a lot of work, expect to be paid less. Overall, I would say the earning potential of SweetStudy is not that good.
The main reason why I say this is the high service fees involved. As explained earlier, SweetStudy will receive 30% of the amount you will earn per question answered. That's a very significant percentage, so even though you will get paid a decent amount in theory, the actual earnings you will receive will be significantly reduced.
If SweetStudy had lower service fees, then I would say its earning potential was a lot better.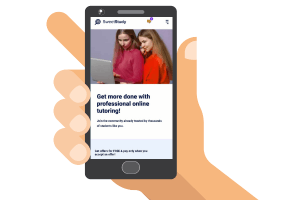 Can you use it on mobile?
SweetStudy doesn't have a mobile app you can download, but you can still access the member dashboard from a mobile device if you use a mobile web browser. However, doing so won't really do you any good because the work that needs to be done will usually require the use of a computer.
All you can do on the dashboard if you log in using a mobile device is to check the status of your bids. So, if you plan to join this site, you'll need a computer.
Who can join SweetStudy?
SweetStudy is available more or less worldwide, so you can attempt to register as a tutor regardless of where you live. However, the registration process for SweetStudy is relatively long.
First, if you hit the sign-up button on the website, what you will be doing is actually applying for a spot as a Tutor. You'll be asked how to sign up. You can sign up using your Google, Facebook, or Twitter account. You can also sign up using your email account.
Then, you'll be asked which categories you are an expert in. This is a very important step that you can't just randomly answer. You need to make sure you are honest when selecting the categories because SweetStudy will definitely find out if you are just faking it. If this happens, you will not be accepted as a tutor, or even if you get past this step but they later find out that you weren't an expert, then they will ban your account, and you will not receive your earnings.

Once you are done with this step, you'll be asked to provide two government-issued IDs. You can either take a photo of your ID, or you can just type in the details. After you submit this, you'll have to wait for confirmation from SweetStudy. This can take up to a week, which is quite a long waiting period.
I personally don't want to wait that long to hear back if I'm qualified to join or not. I would much rather spend the time finding other opportunities to earn.
Now, if everything is in order, you'll hear back from SweetStudy, and you will be asked to perform some tasks. Consider this as your test for becoming a tutor. Normally, the site will ask you to write about something.
After you've completed the task, you'll have to wait for the site to review your work. If you pass their standards, you'll be accepted as a tutor, and you can start answering questions.
Overall, as I've mentioned above, the registration process for SweetStudy is quite long. If you are in a hurry to earn extra cash, then this is not the best option for you.
Can you get support?
If you have any questions about the site or your account, you can check out the FAQ section of the site. However, you must log in to the dashboard to view it. If you are not a member yet, you can't view this page. Plus, this section doesn't really discuss important topics about being a tutor, so you will most likely have to get in touch with the support team if you want your question or issue to be addressed.
To do so, you have to go to the Contact Us page and fill out the form. Overall, even though the site does provide the minimum required support to its members, it would have been better if SweetStudy also had a very useful FAQ or Help page that is easily accessible even to non-members. That would reduce the instances of having to contact support.
Final Verdict
SweetStudy is a legit site that will let you earn by answering the homework of students. It has a couple of decent features, but it also has a few drawbacks you need to consider.
Let me end this review by summarizing its pros and cons to give you an overview of what it has to offer. Then, you can properly evaluate if this opportunity is the right fit for you or not.

Pros:
Offers payment via PayPal
Available more or less worldwide

Cons:
Very high service fees
Very long registration process
In my opinion, SweetStudy is not a site worth joining for all. The main reason for this is because of its very high service fees. You will end up getting underpaid because of this. You are better off doing freelance writing if you want to earn extra cash, in my opinion.
That's why if you are looking to earn extra cash by writing, I suggest you check out the best freelance sites instead to find good writing opportunities.
But if your goal is just to earn extra cash and you don't care how you do it, I recommend you check out the top survey and GPT sites in your country instead. The sites on this list all have good earning potential, so you will be able to earn a decent amount in no time.
Plus, you will be able to start earning from these sites immediately after you sign up.
If you have any comments, questions, or have any experience with SweetStudy yourself, I would love to hear from you in a comment below.