TallyUP is a mobile app that claims you can win free money by competing with other people. So if you are a competitive person and like playing mobile games, you might be tempted to download this app.
However, I urge you to read this TallyUP review before you download the app.
It will give you an honest look at what the app offers so you will know if it is worth using or not. In this review, I will discuss everything about TallyUP, including its earning opportunities and cashout methods, so you will know exactly what to expect from it.
Then you can make an informed decision on whether you should use this app or not. So let's not waste any more time and go ahead and check out TallyUP, shall we?
What is TallyUP, and what does it offer?
As mentioned above, TallyUP is a mobile app that will allow you to earn by competing with other users of the app.
It is a legit app since you can really cash out your earnings from this app. This, however, doesn't necessarily mean the app is worth using.
And, in my experience, there are some very important details you need to consider before joining, and I have had some bad experiences myself that I will share in this review.
But first, you can check out the video below that gives you an inside look and shows exactly how it works. You can also read the full details below the video, and there you can also find info about the bad experiences I have had with the app since recording this video.
Recommended: Check Out the Best Ways to Earn Money by Playing Games Online
Option 1 – Tower Games
The primary way to earn from TallyUP is to play their tower games. These games are quite simple, but they all involve some strategy for you to win (and some luck). I was actually quite impressed with the games the app designed because they are quite addicting and fun.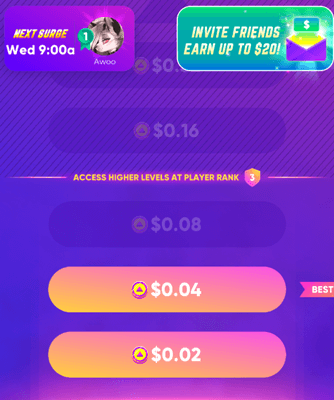 The idea is very simple. You choose a level in their tower game that you want to play. Each level will ask you to bet a certain number of tokens (the higher the level, the more tokens you have to bet). The starting level will allow you to win or lose $0.01, while the highest will reach up to more than $10,000,000.
When starting out, you will only be given one choice. You'll then be matched with another player. Once the matching is completed, the app will determine the game you will have to play. Initially, you can only play one type of game, but as you rank up (which will eventually happen when you keep playing), there will be more games you can possibly play (a maximum of four games).
The idea of the games is to collect more coins than the opponent. When the game ends, whoever was able to collect more coins or collect the target number of coins, will win the pot money. If you lose, the number of tokens you bet will be deducted from your account balance.
If you do win, the winnings will be credited to your account, and the next level will be unlocked if you have accumulated enough earnings for that.
You can bet at your current level, bet at a lower level, or you can move up to the highest unlocked level to play your next game. Every time you play a match, you will also receive ranking points.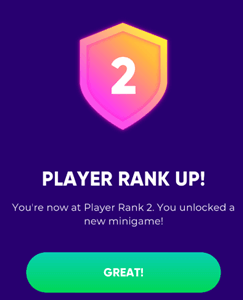 When you rank up to certain levels, a new game will be unlocked. The good thing about these games is that you can actually play a practice game to familiarize yourself and create strategies to win.
If you run out of tokens to bet, you just have to earn them through the other earning opportunities the app offers, which I will discuss next.
Option 2 – Daily Goals
You can also earn various rewards through TallyUP's daily goals. To view the goals you can hit, just go to the "Daily Goals" section.
Most goals will involve playing games for a certain number of time or reaching a certain level. Now there are two types of rewards you can get from Daily Goals, and they are tokens or bananas. In the next section, I will discuss what you can do with the bananas you've collected from your Daily Goals.
Option 3 – Events
You can also potentially earn more rewards through TallyUP's events. These events are contests you can join.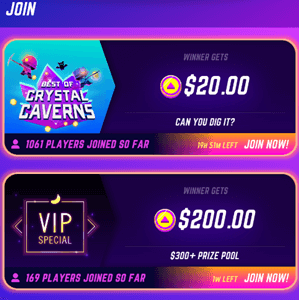 Every event has a duration, and you can join by spending a number of bananas. Each event will also have a certain number of winners (usually around 10 winners). Most events are just contests of one of the six games available, and to win, you have to be among the top scorers.
Once the event ends, the top scorers will receive the promised prize which will be indicated in the "Prizes" section of each event. There's no guarantee you can win prizes from these events, but since there's no other way to spend the bananas you've earned from the Daily Goals, joining these events are kind of a must, in my opinion.
Most events will offer tokens as prizes, but some will also offer cryptocurrencies.
Option 4 – Referral Program
TallyUP has its own referral program where you can potentially win $20 just for inviting a friend to use the app. To do so, all you have to do is share your invite link with the person you want to invite.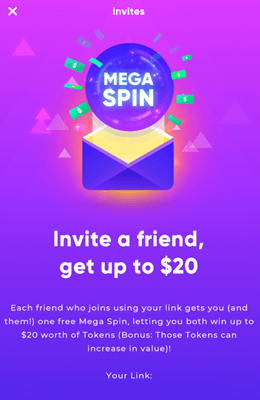 When they click your invite link and download the app, they will become your referral once they've completed the sign-up process (I will discuss later how this process works). Then you'll receive one free spin for their Mega Spin game, where you can potentially win up to $20.
Whatever prize you win from the Mega Spin game will also be awarded to your referral. You can only play the Mega Spin game once every 24 hours, and the prize will be around $0.50 to $20.
The person you invited also gets a free Mega Spin by joining through your link, so they will also get something out of it.
Just to manage your expectations, you will have to be very lucky to win $20 from a Mega Spin. I have used maybe 40 spins at the time of writing this review, and the most I have won is $1, and the majority of the spins have only given me $0.50.
Also, it is a very strange referral program, in my opinion. It is weird that you can only use one Mega Spin per day. I have tested hundreds of GPT sites and have never experienced this kind of limitation before and it makes the referral program quite unattractive, and you just need to be aware of this.
Recommended: Check Out the Best Ways to Earn Money by Playing Games Online
How do you get paid?
As explained above, you will earn tokens from most of the earning opportunities offered by the app. But what can you do with the tokens you've earned?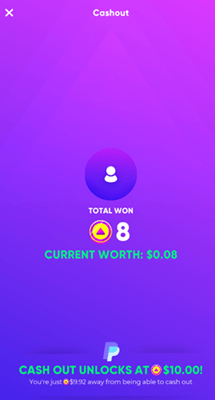 Well, you can convert them to cash using PayPal. As shown in the photo above, you'll need to earn at least $10 before you can make a PayPal withdrawal. It's a relatively low payout threshold, but as you can see, playing the games of TallyUP will have some risks.
Therefore, it can take some time before you are actually able to hit this threshold and withdraw your earnings via PayPal.
You also have the option to just keep your tokens since these TallyUP tokens are actually also their own cryptocurrency. If its monetary value rises in the future, you can potentially exchange them for a significant amount.
But I would only suggest you do this if you believe in the potential of the TallyUP tokens. You can also donate your earnings to charity since TallyUP does support a few charities. In fact, when you cash out, you are forced to donate a minimum of 10% of your earnings to charity.
This is likely not something you will notice until you actually cash out, so I just wanted to point it out so you do not expect to get all your earnings yourself.
I have also recorded a video below where you can see how to withdraw and see TallyUp payment proof, so you can see for yourself:
Overall, I would say the payment system of TallyUP is quite straightforward. I like the fact that you have the option to keep your tokens or convert them to cash via PayPal. If you are interested in more sites that offer PayPal as a payment method, I recommend you also check out the top sites that pay via PayPal.
How much money can you make?
The amount you can earn from TallyUP will depend on how good you are at playing the games it features and how lucky you are.
As explained earlier, if you are able to continuously beat your opponents, you can immediately rise up the Tower Game ladder and potentially earn more.
So having a solid strategy to win the games featured by TallyUP can pay off. But that is easier said than done, in my opinion. You have to keep in mind that there are also other people who are good at these games, and you will possibly lose to them.
In my experience, there will be a lot of back and forth regarding how much you will earn because there's no guarantee you will win every time. That's why it can take a bit of time to hit the threshold and make a withdrawal.
But theoretically, you can win up to $10M if you keep moving up the ladder, BUT I have never seen anyone get even close to this, and it will be very hard and require a lot of luck.
Overall, while there's a potential to win big money from this app, its earning potential is still a bit low, in my opinion. You'll have to spend a lot of time on this app if you want to win the big prizes.
Can you use it on a desktop?
TallyUP is a mobile-only app, so you will need a mobile device if you want to potentially earn from it.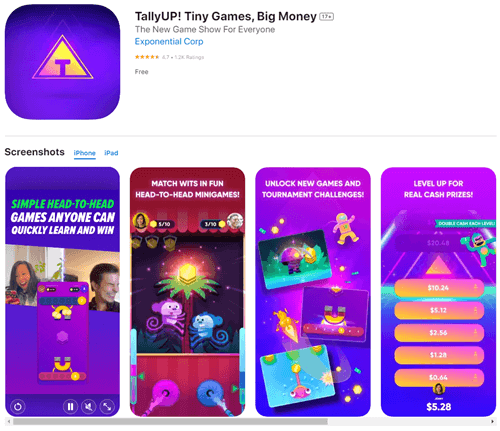 The app will work with both Android and iOS devices, so you won't encounter any compatibility issues when installing it. It is also very easy to use, and you will seldom encounter pop-up ads while using it (there will be pop-up ads that will appear from time to time).
Who can join TallyUP?
TallyUP is available in limited countries, but they do say that they are expanding fast. To figure out if it is available in your country, you can check out your app store to see if you can download it.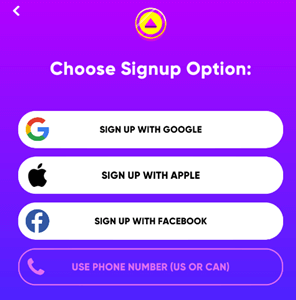 If it is available for download, then that means it is available in your country. If it isn't, then you just have to wait and see if it becomes available in the future. If that happens, just check the app page regularly to see if you can already download it.
When you open the app on your device for the first time, you will be asked how you can register. You have the option to use your Google, Facebook, or Apple account (refer to the photo above) to sign up. You can also use your mobile number to register.
After you are done with the sign-up process, you will have to play a tutorial game where you will win $0.2. This will serve as your starting balance for playing the game.
Can you get support?
If you have questions about your account or the app, you can check out the FAQ section on their website first. It discusses most of the basic topics you need to know.
If you can't find the answers you are looking for, you can submit a support request. The link to submit one can be found on the FAQ page. However, I tried writing them an email several times but never got a reply.
To give them the benefit of the doubt, I decided to then try to contact them via their Discord channel. Here I eventually managed to get in contact with someone from the company.
However, the support I got was very disappointing and one of the worst support experiences I have had out of all the hundreds of sites and apps I have tested.
The person was very rude and unprofessional, and so were some of the other members of their Discord channel. And something like this is a big letdown, in my opinion, and it is one of the reasons it is not really an app I can recommend.
Final Verdict
TallyUP is a legit app where you can potentially win a significant amount by playing games. It has a couple of good features but also some limitations and big disadvantages you need to know.
Let me wrap up this review by summarizing its pros and cons to give you an overview of what the app offers. Then you can decide if you should go for it or not.

Pros:
Fun and interesting games
Offers payment via PayPal

Cons:
Takes a lot of time and luck to win
Doesn't offer guaranteed earnings
Poor support does not answer
10% of your earnings will be deducted when you withdraw
If you are a competitive person and you like fun mobile games, you will likely find this app appealing, in my opinion. You can potentially earn a decent amount from it, BUT you need to also consider the disadvantages of the app before joining.
First of all, it takes a lot of time, patience, and luck to win good money. Secondly, the support is very poor, in my experience, and 10% of your earnings will be deducted when you withdraw. Overall, it is, therefore, not really an app I recommend as there are just more effective ways to earn where you will also get a better overall experience, in my opinion.
If you prefer guaranteed ways to earn by playing games, I recommend you check out the best ways to earn money by playing games online instead.
You can also check out the top survey and GPT sites in your country. The sites on this list all have good earning potential, so you will be able to earn a decent amount in a small amount of time.
If you have any comments, questions, or have any experiences with TallyUP yourself, I would love to hear from you in a comment below.