Tap Money Rain is a mobile app that claims you can earn real money with just one click. Now, if you are looking for ways to earn extra cash, this definitely sounds like a good deal.
However, this kind of claim falls into what I would consider "too good to be true" claims, so I suggest you read this Tap Money Rain review before joining. That way, you'll learn more about the app and you'll know what you can really expect from it.
I've personally tested the app, and I will reveal the full truth to help you decide if it is worth using or not. So, let's go ahead and get this ball rolling, shall we?
What is Tap Money Rain and what does it offer?
Tap Money Rain is an Android mobile game (it doesn't have an iOS version) that claims you'll be able to earn real money by just tapping (hence the name of the app). But is it really worth your time?
Well, the best way to find out is to first understand how you will be able to earn from it. To do that, we have to examine the earning opportunity it offers. So, here's how to earn on Tap Money Rain.
The earning opportunity – Tap game
The premise of the game is really simple. When you open the app, you get to play the game right away.
All you have to do is tap your screen. When you tap your screen, you'll see a bar move every time you tap the screen (refer to photo below).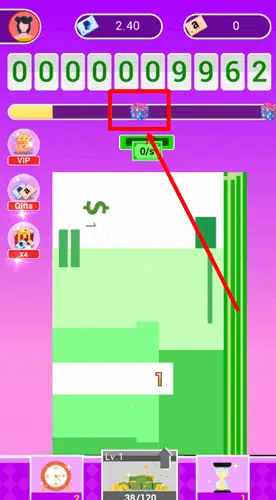 The goal is to let the progress bar reach the gift icon. When that happens, you will be able to claim a reward. But, to claim the reward, you will have to watch a video ad that will usually last for at least 30 seconds to a minute.
And mind you, the ads they will show are all very spammy and also have unrealistic claims. So, as a warning, don't ever believe the claims these ads have.
You need to finish watching the ad to claim the reward. Once the ad is done, you just have to tap the gift icon and it will reveal what you've earned.
You will either earn a certain amount that will be credited as PayPal earnings or a certain amount credited as Amazon gift card earnings (I will explain how you will get paid later). That's about it. That's all you really need to do.
There are other features in the game that will make the playing experience faster like setting it to auto tap or doubling your reward. These features are limited. You will only have a certain number of times you can activate it.
Now, what Tap Money Rain doesn't explain before you start playing the game is, you will only have a maximum of 10,000 taps when you start playing it. Once these taps run out, you won't be able to play the game anymore, and hence, you won't earn anything.
In the next section, I will explain why this matters.
Recommended: Check Out the Best Ways to Earn Money by Playing Games Online
How do you get paid?
As mentioned above, there are two types of rewards you will receive when playing this game – the PayPal reward and the Amazon gift card reward.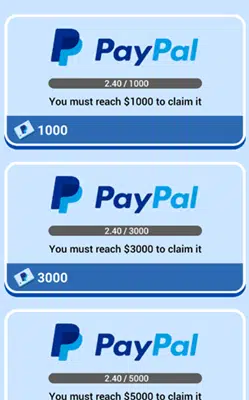 Now, in order to redeem either a PayPal withdrawal or Amazon gift card, you will have to earn at least $1,000. That's a ridiculously high payout threshold, in my opinion, one that will lead you to believe that you don't really have any chance of redeeming it.
Let me explain. As mentioned, you start off with 10,000 taps. To reach any of the gift icons, you more or less have to tap at least 50 times. So, if you calculate the number of times you will earn, the result will be around 200 times (more or less).
Now, you factor in the reward you will receive every time you claim a gift which will be around $1 to $2 from what I've experienced. You multiply that by 200 and at best, you will earn around $400 to $500 give or take. That is a far cry from the $1,000 payout threshold.
That is why I would say that there's really no chance you will be able to get paid for playing this app. If you are really looking for an easier way to earn extra cash, I would recommend you check out the fastest paying sites instead.
Red flags you need to be aware of
As you can probably tell, there are a few suspicious things you need to be aware of with this app.
In this section, I will explain what the red flags are so you'll know what to look out for in the future if you ever encounter a similar app like Tap Money Rain.
Red flag #1 – Unrealistic earning opportunity
If you really think about it, the earning opportunity this app offers is very unrealistic.
Imagine, all you need to do is tap the screen to get paid. If this were true, then what is the point of having a full-time job when you can earn while simply sitting down and tapping your mobile device?
I don't mean to be harsh, but it's a stupid way of earning. Plus, if you examine how the app is able to earn money, you'll see that the way they earn money is to get you to watch video ads. This is the only opportunity the app can earn from.
And if you factor in the reward you will earn from watching this video ad ($1 to $2), then in order for the app to earn, they must be paid at least more than what you will get, which is highly unlikely, in my opinion.
No company in the world will pay you $1 to $2 for every time their ad is viewed. It just doesn't work that way. So, you will come to the conclusion that in order for the app to earn money, they will have to find a way not to pay you, which is where the second red flag comes in.
Red flag #2 – Ridiculously high payout threshold
In all my years of testing sites and apps that will allow you to earn, I have never come across a legit site or app that has a $1,000 payout threshold. It's simply an unrealistic payout threshold, in my opinion.
It's almost like they are saying you have no chance of ever getting paid. Plus, as I've explained earlier, they've designed the game in a way where you will never be able to reach the payout threshold.
Red flag #3 – No support offered
A good way to identify if an app or site is worth using is if it offers support for its member. And from what I can see with Tap Money Rain, there's simply no method for you to get any assistance if you encounter any problems or if you have any questions about the app.
The website is useless because it doesn't really talk about anything. There isn't even any FAQ page you can find either on the website or the app. Plus, you won't find any contact form or even an email address you can send your inquiries to. That's why if you have any questions or if you encounter any issues while using the app, you will be left hanging.
Final Verdict
Tap Money Rain is a mobile game that claims you can earn money by simply tapping your screen. From what I've experienced when I was testing the app, I found no benefits to using it. All I found were drawbacks that you need to be aware of.
So, to conclude this review, let me show you a summary of its pros and cons to give you an overview of what the app has to offer. Then, you can decide if you should still give this a go or not.

Pros:

Cons:
Very high payout threshold
Spammy video ads
No support offered
In my opinion, Tap Money Rain is an app you should stay away from. It doesn't offer a realistic opportunity for you to earn extra cash and you will never get paid. You'll just be wasting your time watching video ads that are very spammy.
I would suggest you check out the top survey and GPT sites in your country instead. The sites and apps on this list all have good earning potential and they all offer realistic earning opportunities where you will definitely get paid.
If you have any comments, questions, or have any experiences with Tap Money Rain yourself, I would love to hear from you in a comment below.