If you are looking to earn extra cash online, one good way to do that is to download a Get-Paid-To (GPT) app. The reason for this is, GPT apps offer a convenient way to earn since you don't have to sit in front of a computer to earn.
You can just earn anytime and anywhere, provided of course your mobile device has an internet connection. However, there are a lot of apps that offer this kind of opportunity so you have to really be selective to maximize your time.
One app is called TaskBucks. This app promises you will be able to earn extra cash by doing simple tasks on your mobile device. But is this app legit or is it a scam though? This is an important question to ask and I will answer it immediately.
Yes, TaskBucks is a legit GPT app that will really pay you for completing the tasks they offer. Now, the next important question to ask is, is it worth your time or not?
This TaskBucks app review will reveal the full details so you will know exactly what the app has to offer so you can decide if you should invest your time in it or not.
So, let's begin.
What is TaskBucks and what does it offer?
As mentioned above, TaskBucks is GPT app that will allow you to earn by doing simple tasks. Let me just tell you right now, this app is only available in India. So, if you live somewhere else, then this is not for you (see apps in other countries).
Now, we have to take a closer look at how you can earn from this app so you can understand how it works and how well you can earn from it. So, here are the earning opportunities TaskBucks offers.
Option 1 – Downloading apps
One way to earn rewards from TaskBucks is by downloading other apps. When you log in to the app, you will immediately see all the apps you can download to earn rewards.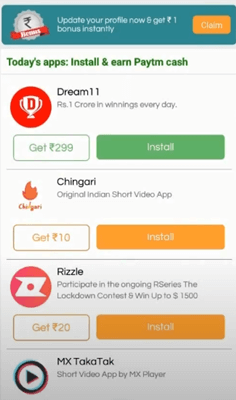 As you can see in the photo above, each offer will indicate what app you will have to download to earn. It will also tell you the general instructions you need to follow. When you press the offer, you will see the full details of the task.
Make sure to take note of all the instructions displayed and follow them down to the letter. If you miss one step, you will not be able to complete the task and you won't earn any rewards.
Once you've completed what the task is asking you to do, you will receive the reward promised and it will be credited into your TaskBucks account balance. (I will explain later how you can withdraw your earnings).
Option 2 – Referral program
Another way to earn from TaskBucks is by participating in their referral program. If this is your first time hearing about the term referral program, then let me explain to you how it works.
A referral program is an opportunity for you to earn by inviting other people to join the app/site. To invite a person, you typically have to share an invite link or code with the person you want to invite. In TaskBucks' case, you will be using an invite link.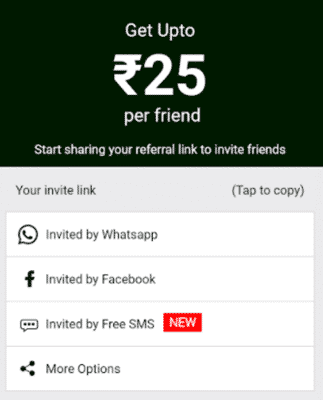 When the person you invited clicks the link and signs up as a member, they will become your referral. And as shown in the photo above, you will earn ₹25 for every referral you get. The reward isn't really that high and you won't get any commission for your referral's earnings like most other GPT apps and sites offer.
So, the earning potential of this opportunity isn't really very rewarding, in my opinion.
Option 3 – Prize draw
There's not much information about the prize draws TaskBucks holds. But they do hold these draws on a regular basis. The prize you can win will mostly be worth more than what you can earn from downloading an app or from their referral program.
Usually though, you can win ₹100 or more if you get lucky. To join their prize draw, you just have to be active on the app. You will earn 1 entry for every app download offer you complete. Aside from that, you will also earn 1 entry for every referral you get.
So, the more active you are on the app, the more entries you will get, and statistically speaking, you will have a higher chance to win the prize. However, there's really no guarantee you can earn from this opportunity. Just think of it as a bonus chance for being an active member of the app.
Recommended: Check Out the Top Survey Apps
How do you get paid?
As explained above, you will earn a certain amount for downloading apps or for getting referrals. You can then withdraw your earnings in two ways.
You can choose to withdraw your earnings via Paytm or use them to recharge your mobile network (only useful if you are using a prepaid sim card).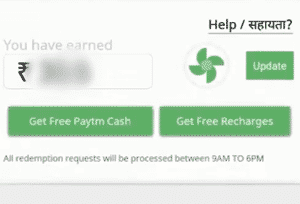 For a mobile recharge, you can do that without reaching a certain threshold. But if you want to earn cash, you will have to earn at least ₹30 first before you can withdraw your earnings.
However, there's a limitation to how you can withdraw your earnings via Paytm. You can only withdraw a maximum of ₹10 per week. And the only amount you can withdraw will either be ₹5 or ₹10 per transaction.
So essentially, you won't be able to withdraw everything you've earned in one week and there will always be a certain amount that will be left in your account balance since the payout threshold is higher than the amount you can withdraw.
This also means you won't be able to withdraw everything you've earned, which makes their payment system very bad, in my opinion. Plus, there will always be a ₹2 transaction fee that will be added to the amount you will withdraw.
If you prefer a better app or site that offers a better way to get paid, I would recommend you check out the top sites that pay via PayPal instead.
How much money can you make?
The amount of money you can earn from TaskBucks will mostly depend on how active you are on the app. You will typically earn around ₹10 to ₹20 per app you download. That's really a very small amount. To put it into perspective, ₹20 is only worth around $0.28 (at the time of writing this review).
And to top it off, there aren't a lot of offers to download apps available. So, the earning potential of this app is really very low. It will take you months just to earn a decent amount. Plus, the fact that the app limits the amount you can withdraw per week really makes it a poor app to use, in my opinion.
You are better off joining other GPT apps or sites that pay better.
Can you use it on a desktop?
TaskBucks is a mobile-only platform, so you will need a mobile device with an internet connection to earn from it. And considering the earning opportunity it offers, if you are using a prepaid mobile device, I would recommend you use a WiFi connection when working on the app since it will consume a lot of data.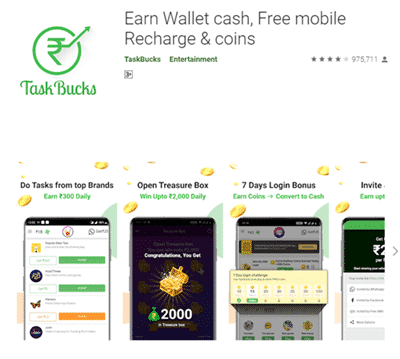 The app only works with an Android device, so if you are an iOS user, then this app is not for you. Their app is also a bit spammy. There will be ads that will pop up from time to time and it can get a bit annoying to keep closing these ads.
Who can join TaskBucks?
As mentioned in the earlier part of this review, TaskBucks is only available in India. It is also quite evident when you look at their app page in the Android app store because they've incorporated the Rupee symbol in their logo.
To become a member, you have to download and install the app on your mobile device first. You will then have to go through the registration process which is pretty straightforward. Once you are done with the registration, you can log in to the app and start earning.
Now, if you are interested in more ways (and better ways) to earn if you live in India, I recommend you also check out the top survey sites in India.
Can you get support?
If you have any questions about the app prior to installing it, you can check out their website but it will be of little use to you since their site really doesn't have a lot of useful information. So, you'll have to send your inquiry to their support team by using the contact form provided on their website. You can also just email them directly at wecare@taskbucks.work.
Overall, I would say they have a decent support system in place for their members since they offer a couple of ways for you to get in touch with their support team. But I do wish their website would provide more useful information about the app. That would make the user experience a bit better.
Final Verdict
TaskBucks is a GPT app that will pay you for downloading other apps and inviting people to join the platform. It doesn't really offer a lot of upsides but let me show you a summary of its pros and cons so you can get an overview of what the app has to offer.
That way, you can decide if this app is really a good fit for you or not.

Pros:
Offers a simple way to earn extra cash

Cons:
Limited earning opportunities offered
Low rewards
The payment system doesn't allow you to withdraw all of your earnings
The app is a bit spammy
Overall, I wouldn't really recommend you invest your time into this app. There are simply far better options out there if you want to earn extra cash from your mobile device. The fact that you can't really withdraw all your earnings is what really makes this app a bad option.
That's why I would suggest you check out the top survey and GPT sites in your country instead. The sites on this list all have good earning potential and best of all, these sites will allow you to withdraw all your earnings conveniently.
Plus, you will definitely find a site you can join regardless of where you live.
If you have any comments, questions, or have any experiences with TaskBucks yourself, I would love to hear from you in a comment below.