TaskRabbit is a popular website that claims to help you find a side hustle so you can earn extra income.
Now, the big question is, is this site legit or is it a scam? That's the first question I asked when I encountered the site.
That's why I decided to sign up as a tasker and test it to find out if it really does what it claims to do.
In this TaskRabbit review, I will share all my experiences so you can find out exactly what to expect and easily see if it is the right opportunity for you or not.
Doing so will save you a lot of time if you are thinking about joining this site. So, let's go ahead and get this review started, shall we?
What is TaskRabbit and what does it offer?
TaskRabbit is technically a gig economy site where you will be able to find part-time jobs so you can earn extra cash. And yes, it is definitely a legit site because you can really earn a decent amount from the jobs posted there.
But to truly find out if it is worth joining or not, you have to first understand how the site works. And the only way to do that is to examine the earning opportunity it offers. So, here's how to earn from TaskRabbit.
The earning opportunity – Jobs
To earn from TaskRabbit, you must take on jobs posted by TaskRabbit clients in your area. That also means you will have to go to the physical location of the client.
To do this, you must download the Tasker app of TaskRabbit. After you've installed the app, you will have to go through a few steps before you can take on any job.
First, you will have to complete your profile. During this process, you will be asked to choose the skills you are willing to provide. Keep in mind that all these things will have to be done inside the Tasker app and not on their website.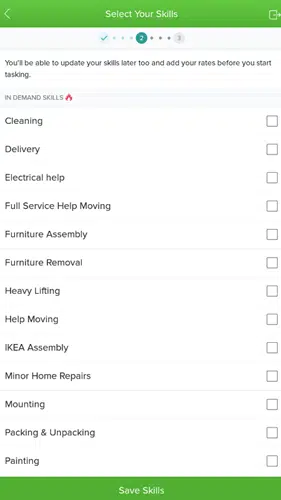 Make sure to choose skills you are really willing and able to do because these will be the types of jobs that will be offered to you. So, choosing randomly will not be beneficial to you.
The usual jobs you will find on Task Rabbit will be furniture assembly, assistance in moving from one house to another, doing home repairs or even cleaning, and similar jobs.
After you've chosen the skills you have, you will have to complete the registration process by undergoing a background check.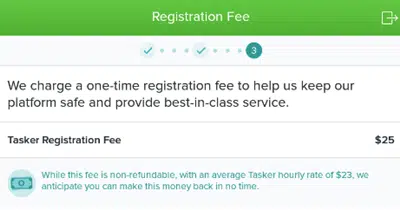 As shown in the photo above, you will have to shell out $25 to become a verified tasker. This is the fee for the background check which you need to undergo so you can take on tasks. Once your background check clears, you can now set up your work schedule and rate.
This is a very important aspect when taking on jobs from TaskRabbit. It is important to strike a balance between earning enough and being affordable. So, it might take some time before you will find the right balance.
What I would recommend when starting out is to simply pick an amount you think is fair. You can then adjust accordingly depending on whether clients will accept your rate or not. Then, you have to chose an area where you are willing to work and the times you will be available.
Once everything is set, you can now find jobs in your area through the Tasker app. If you see a job you are interested in, just apply for it. If the client accepts, you just have to show up at the appointed time and perform the work.
If everything goes well and the client is satisfied, you will receive the payment (I will discuss in the next section how you can get paid). The good thing about the Tasker app is, you can actually communicate with the client prior to showing up for the job. This will lessen (if not eliminate) any miscommunication between both parties.
Recommended: Check Out the Top Gig Job Sites
How do you get paid?
As explained above, you will have to set your hourly rate in the app. But how will you get paid though?
Well, unlike other apps and sites, the requirement to get paid from TaskRabbit is a bit hard to meet. As you can see in the photo above, you will need to have a checking account in order to withdraw your earnings.
A savings or debit account will not be accepted. So, if you are really interested in working on jobs from TaskRabbit, you will need to open a checking account with your bank and link it to your account. That's the only way to receive your earnings.
However, the good thing about TaskRabbit's payment system is, they don't have a payout threshold you need to reach before you can withdraw your earnings to your checking account. It will be credited to your checking account immediately when the client pays.
Plus, the service fee that TaskRabbit will charge won't be deducted from your earnings. Instead, it will be the client paying the service fee. So, you will be guaranteed to receive the full payment.
Their payment system is relatively easy to understand but it's a bit of a hassle since not everyone has a checking account. If you prefer to get paid easily, I would recommend you check out the top sites that pay via PayPal instead.
How much money can you make?
The good thing about TaskRabbit is, it won't allow you to register if you live in a city where they don't offer any work. So, when you become a tasker, you are guaranteed to have a regular supply of jobs you can apply for.
But as explained earlier, you will have to set your own rate and that can take a bit of learning especially if it's your first time working on gig jobs like this. But overall, I would say the earning potential of TaskRabbit is quite good since there are a decent number of jobs available at any given time.
Can you use it on mobile?
As mentioned earlier, TaskRabbit has an app you will need to use to apply for jobs. In fact, you will really need to use this app in order to access the jobs available. The TaskRabbit web-based platform can only be used by its clients.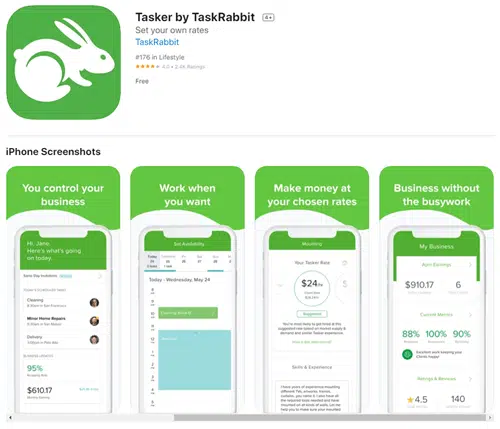 As for the Tasker app, it will work with both Android and iOS devices. So, you shouldn't experience any compatibility issues.
The app is also very user-friendly. You will easily get used to how it works. Plus, you won't encounter any annoying pop-up ads. That's really the best thing, in my opinion, because it can be very annoying to keep closing pop-up ads on mobile apps.
Who can join TaskRabbit?
TaskRabbit is primarily available in the US, but it is also available in other countries like the UK, Canada, France, Germany, Spain, Portugal, and Italy.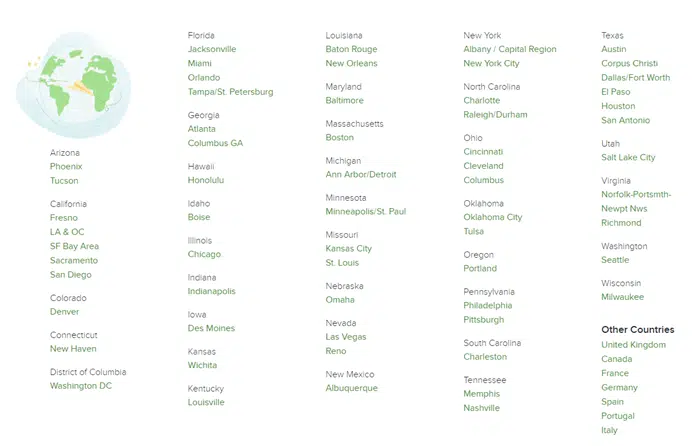 If you live in the US, you can refer to the photo above to see if TaskRabbit is available in the city you live in. As I've explained earlier, you won't really become a verified tasker if you don't live in any of the cities listed above. So, if your city is not shown in the photo above, don't even bother signing up because you won't find any opportunities to earn.
As explained above, the sign-up process can actually take a bit of time. You will first have to download and install the Tasker app, then go through the registration process. And you have to be at least 18 years of age to be eligible.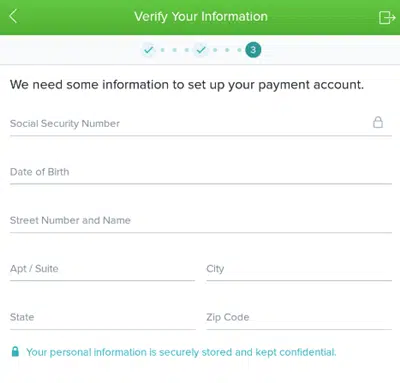 After you've set up your profile, you will be asked to provide your social security number as well. There's no way around this step. But they do guarantee your social security number will not be compromised and I do believe them.
Then, as explained earlier, you will have to go through a background check which will require you to pay $25 as an upfront fee to become a verified tasker. The background check will be completed within four business days.
So, don't expect to become a member right away after you've paid the fee. And you have to keep in mind that your application will only be processed during business days. If you applied on a Friday, expect the completion to be no later than Thursday of next week.
As you can see, there are a few hurdles you need to clear before you can start earning from TaskRabbit, so you will have to be very patient if you decide to push through with registering.
Can you get support?
If you have any questions about the site or your account, you can check out the support page on their website or the Tasker app. It contains most of the important topics you need to know about TaskRabbit. It's pretty comprehensive, so you will most likely find the answers you are looking for.
But if you can't find the answers, you can get in touch with their support team in three ways. You can either call them at this number 1-844-340-8275 if you live in the US. Make sure to call them between 8 am to 7 pm Central Time.
You can also use the chat feature on their Help page so you can immediately communicate with a representative. And lastly, you can just leave them a message using the contact form provided on the site or app.
Overall, I would say the site has a good support system in place for its members because they offer convenient ways for you to get in touch with their support team.
Final Verdict
TaskRabbit is a legit gig economy platform that will allow you to earn extra income by taking on part-time jobs. It has a couple of good features, but it also has a few drawbacks you need to consider.
Let me end this review with a summary of its pros and cons to give you an overview of what TaskRabbit has to offer. Then, you can decide if it is really worth it or not.

Pros:
You can set your own rate for jobs you are willing to do
The app is user-friendly
Has a good support system in place

Cons:
There will be an upfront fee to become a verified tasker
Requires you to have a checking account to get paid
The registration process is quite long
Jobs will require a bit of time and effort
If you live in a city where TaskRabbit is available, then I would say it is a good option to earn extra cash as long as you don't mind doing the jobs offered. It requires a bit of commitment on your end in order to earn a decent amount though. So, if you are not prepared to do that, then don't sign up.
But if you are just looking to earn extra cash in the comfort of your own home, I would suggest you check out the top survey and GPT sites in your country instead. The sites on this list all have good earning potential and you won't have to leave your house to earn.
Plus, you will definitely find a site you can join regardless of where you live.
If you have any comments, questions, or have any experiences with TaskRabbit yourself, I would love to hear from you in a comment below.