I'm always looking for great ways to earn extra cash online, so when I came across a website called TaskVerse, I got curious because it claims you will be able to earn by completing simple tasks.
It sounds like a very simple way to earn, but is TaskVerse a scam, or is it legit? And is it any good?
All of those questions (and more) will be answered in this TaskVerse review. I have tested TaskVerse to see how it works and what features it offers.
Below, you will get a full inside look and see what it is all about and how it stacks up with other sites that offer the same kind of earning opportunity.
Then, you can decide if it is a good fit for you or not. So, let's go ahead and take a closer look at this site, shall we?
What is TaskVerse and what does it offer?
TaskVerse is a Get-Paid-To (GPT) site that will allow you to earn by completing tasks. It is indeed a legit site because you will really get paid when you complete the tasks it offers.
But that doesn't necessarily mean this is a good opportunity to earn extra cash. To determine if it is worth it, you must first understand how it works, so you can gauge the amount of time and effort needed to earn from it. To do that, we need to examine the earning opportunities it offers.
For that, I have made a video explaining exactly how TaskVerse works. You can also read the details below the video.
Recommended: Check Out the Top GPT Sites
Option 1 – Tasks
The primary way to earn from TaskVerse is to complete tasks. When you log in to the member dashboard, you will immediately see all the available tasks for you.
Just keep in mind that there won't always be tasks available. So, if you see any tasks, I suggest you work on them as soon as possible.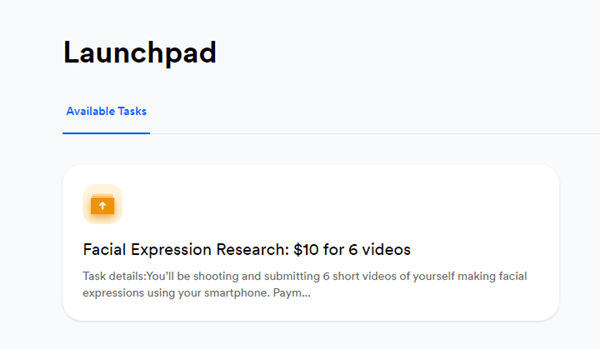 The types of tasks you will be offered will vary but I can tell you that it's not the type of tasks you will typically encounter on other GPT sites. Normally, on other GPT sites, you will be asked to answer surveys, play games, watch videos, and sign up for websites or mobile apps.
But with TaskVerse, it's different. The tasks are a bit more unique but usually, these tasks are used for improving AI (artificial intelligence) performance. For example, in the photo shown above, I was offered a task that asked me to make videos of myself making different facial expressions.
So, to complete this task, I would have to make six short videos of myself making facial expressions and uploading them to the site. Then, they will check the videos you've uploaded and if everything is in order, you will be awarded the compensation promised.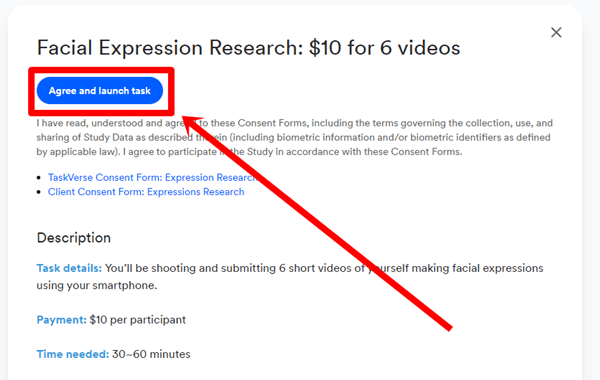 Every task has a set of instructions you need to follow, and you can see them when you click the task. Once you are ready to work on the task, just click the "Agree and launch task" button (refer to the photo above).
After you've submitted all the requirements, you just have to wait for TaskVerse to approve your submission. There's no exact time for how long this will take, but it usually doesn't take more than a couple of days for your submission to be approved or denied.
You will be able to see the status of the tasks you've worked on in the Launchpad section of the member dashboard.
Option 2 – Referral Program
You can also earn additional rewards through TaskVerse's referral program. But, their referral program is a bit different compared to the usual referral programs you will encounter on other GPT sites.
Normally, the referral programs on other GPT sites will just ask you to invite people to join the site by sharing your invite link. Then, when they click the link and sign up as a member, they will immediately become your referral and you will receive a commission every time they earn.
But with TaskVerse, the referral program will depend on the tasks offered. Here's how it works.
Some tasks will give you the opportunity to invite other people to do them. You'll still have to share your invite link and when someone clicks the link and sign up, they will become your referral.
However, to receive the referral reward, your referral must complete the task he/she was invited to. So, it's more of a task-based referral system rather than a regular referral program. The reward will also vary depending on the task.
Recommended: Check Out the Top GPT Sites
How do you get paid?
Every time you complete a task, you will receive a certain amount. But the question is, how you will receive your earnings? Well, it's fairly simple. You get paid via PayPal.

During sign-up, you will be asked to provide your PayPal address. Then, payments are processed once a week on Thursdays (US time) for tasks that have been approved.
You don't have to earn a specific amount to receive your earnings. As long as you've earned something before the payment is processed, you will receive it via PayPal.
It usually takes between 5 to 10 days for the payment to show up in your PayPal account, so don't expect to receive your earnings immediately.
Overall, I would say the payment system of TaskVerse is very straightforward. I like the fact that they process payments automatically, so you can just focus on earning. I also like the fact that they offer a convenient payment method like PayPal and that you don't need to hit a threshold to receive your earnings.
If you are looking for more sites that don't have a payout threshold, I recommend you also check out the fastest paying sites.
How much money can you make?
When I was testing TaskVerse, I was pleasantly surprised about how much you can earn per task. You can actually earn around $10 to $50 per task offered to you. Of course, you can expect that the higher-paying tasks are a bit more complicated and require a bit more effort.
But the amount you will earn is actually quite good, in my opinion. Not a lot of GPT sites or data entry sites offer this kind of amount per task.
However, keep in mind that there aren't many tasks available, so while the pay is good, you can't expect to earn every day.
That being said, I would still say the earning potential of TaskVerse is still pretty good because it pays a good amount per task you manage to complete.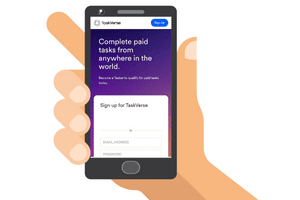 Can you use it on mobile?
TaskVerse doesn't have a mobile app you can download, but you can still access the website from a mobile device using a mobile web browser. And fortunately, the site is optimized for mobile use, so you won't have to zoom in to read the content or click the links.
However, the work that needs to be done to complete a task will usually require a laptop or a desktop. But from time to time, you will encounter tasks that you can do on a mobile device (like the example shown earlier where I have to make short videos). So, it's good that the site is mobile-friendly for this reason.
Who can join TaskVerse?
The great thing about TaskVerse is that it is available more or less worldwide.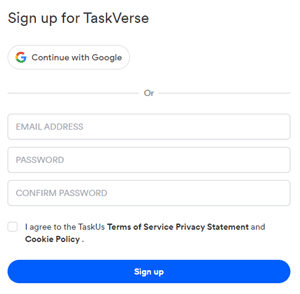 The registration process is also relatively simple. You just have to fill out the registration form, or you can use your Google account to sign up. Then, you'll have to answer a few profile questions.
And as mentioned earlier, you also have to provide your PayPal address during registration. Once you've completed the profile questions, you can log in to the site and start earning.
Can you get support?
If you have any questions about the site or your account, you can check out the FAQ page. It discusses some of the basic topics you need to know, but it is not as comprehensive as you might have hoped.
Fortunately, if you have any inquiries that were not answered by the FAQ page, you can just get in touch with the support team by sending your questions through the contact form provided on the same page.
Overall, I would say the site has a decent support system in place for its members since it offers a convenient way for you to communicate with their support team. But I do wish their FAQ would provide more useful information.
Final Verdict
TaskVerse is a legit GPT and data entry site that will reward you for completing tasks. It has a couple of great features, but it also has some limitations you need to be aware of.
Let me wrap up this review by summarizing its pros and cons to give you an overview of what the site has to offer. Then, you can decide if it is really worth it or not.

Pros:
Offers payment via PayPal
No payout threshold
The site is mobile-friendly
Available worldwide
Offers high rewards

Cons:
Limited earning opportunities offered
In my opinion, TaskVerse is a site worth joining mainly because it pays well. The amount you can earn per task is actually quite good. The only problem is that there aren't always that many tasks available, so it's not something you can necessarily earn from on a regular basis – but this depends a lot on the country you live in.
Now, if you are looking for sites where you can regularly earn extra cash, I would suggest you check out the top survey and GPT sites in your country instead. The sites on this list all have good earning potential and they all offer plenty of earning opportunities so you can earn on a regular basis.
How to join TaskVerse?
If you are interested in joining TaskVerse, just click the join button below. It will take you to the sign-up page and it will only take you a couple of minutes to complete the registration. You'll also receive a bonus reward once you are done registering.
If you have any comments, questions, or have any experience with TaskVerse yourself, I would love to hear from you in a comment below.