Testbirds is a site that claims you can earn decent money in your spare time by becoming one of their testers.
If you've had previous experience as a tester or you are just interested in earning extra cash, you might be considering joining this site.
But the question is, is this site legit or is it a scam? I've decided to register as a tester and find out everything the site has to offer.
In this Testbirds review, you will learn all you need to know about the site so you will know exactly what to expect if you become a tester. Then, you can decide if it is a good fit for you or not.
What is Testbirds and what does it offer?
Testbirds is a user testing site that will pay you for testing websites and mobile apps. It is indeed a legit site since you will really get paid for performing the tests.
But the question is, is it really worth your time?
Well, to answer that, you must first understand how the site works and the best way to do that is to examine the earning opportunity it offers. So, here's how to earn from Testbirds.
The earning opportunity – Testing projects
The only way to earn from Testbirds is to take on testing projects. However, there are a few steps you need to take first before you can start working on testing projects.
The first step is to add devices that you are willing to perform the tests on. I would recommend you add all the devices you are willing to do the tests on as compared to just choosing your preferred device. That way, you gain access to more earning opportunities.
After you've added your devices, you have to complete your profile. To do this, just log in to the site and go to your account settings. There are nine sections in your profile that need to be completed. You will also see a guide bar that will indicate the percentage of your profile that has been completed.
Make sure the bar is full before stopping. When I completed my profile, there was only one field that was left unanswered and the profile bar still got completed. It took me around 10 minutes to complete it.
After you've completed your profile, you have to proceed to the next step and this is an important one.

You have to take and pass the entry test in order to qualify for testing projects. Doing so will also give you an idea of the overall process that needs to be done when testing. Think of it as a preview of what you need to do to earn.
The entry test will also reward you €5 when it is completed. The test will provide a step-by-step guide, so you just have to read the instructions carefully to complete it. The good thing about their test is, even a newcomer will be able to pass it as long as you read and follow the instructions to the letter.
After you've submitted your work for the entry test, Testbirds will review it and if you pass, you will now be qualified to take on testing projects. All you have to do now is wait for Testbirds to invite you to participate in a test.
You will be able to see all the available tests immediately when you log in to the member dashboard. You will also receive an email invite if there is an available test for you.
If you receive an invitation, these are the things you need to remember:
You have to click on the green test name to see the test overview with detailed information (e.g. requirements, payout, deadlines, etc.). You need to read all the tabs of the overview before you can join the test.
Below the description, you'll see the slots available to you. Click on the button next to the device name to sign up for the test. Accepting an invitation makes it binding for you to participate.
If all the regular places for the test have already been taken, you might get a place as a back-up tester.
When you accept a test but somehow can't perform it, you have to notify the "Birdmaster" by clicking "Message to the Birdmaster" on the right side of the test. Make sure to provide a valid explanation if you decide to back out of the test.
If you don't provide a valid reason, you will be temporarily excluded from the invite list of future tests and if you keep doing it, you will be banned from the site. That is why you have to make sure that if you accept a test, you are able to finish it.
After you've finished the test, you have to submit your report for Testbirds to check. If everything is up to par, you will receive the compensation promised. If your work is of low quality, you will not receive any compensation.
The key thing to remember when doing tests is quality. Speed is not very important but it is still encouraged. After you've submitted your report, Testbirds usually take about 1 to 2 days to review your work.
The good thing about Testbirds is, they don't reject your reports immediately. Usually, if there are a few mistakes, they will give you a second chance to revise your report. The only times they decline reports immediately is when you submit it past the deadline or your report is really incomplete.
Once your report is accepted, you will receive the compensation, which will be credited to your Testbirds account.
As for how often you are invited to tests, it really varies as it depends entirely on specific client requirements. Most of the time, testers are invited according to what devices they have registered on the platform and a set of demographics defined by each client individually.
Recommended: Check Out the Top User Testing Sites
How do you get paid?
Every time you complete a test, you will receive compensation when your report is approved. As for the amount you can earn, it will depend on the testing project you accepted.
If you completed a usability test, this usually has a fixed reward of €10 to €50 depending on how complicated the test is. If the test is to find bugs, you will earn €1 per bug you successfully reported.
As for the payment method, if you live in a country that's part of the Single Euro Payment Area (SEPA), Testbirds can pay you directly to your bank account (via IBAN/SWIFT) or PayPal. If you can't receive money via an IBAN, Testbirds will pay you via PayPal.
You can request payment once you've earned at least €6. Payment will be done in the middle and at the end of each month. If you request payment before the 26th of the month, you will usually get it in the first week of the next month latest or even faster.
Bank transfers can take a few days longer than PayPal, so it is not unusual if payments take 20 days.
Testbirds' payment system is relatively simple and I like the fact that you can get paid via direct bank transfer because that is a very convenient way to receive your earnings. If you are interested in more sites that use a convenient payment method, I recommend you also check out the top sites that pay via direct bank transfer.
How much money can you make?
As explained, Testbirds pays a decent amount for every successful test you complete. Now, to answer the question above, the amount you can earn will actually depend on how often you get invited to participate in tests.
And as mentioned earlier, you don't really have any control over how often you get testing invites. The best thing you can do to improve your chances of getting invited is to complete your profile. It only takes around 10 minutes to complete, so it shouldn't take up a lot of your time.
Overall, I would say Testbirds has decent earning potential since it pays well. But don't expect to receive testing invites on a regular basis.
Can you use it on mobile?
Testbirds has a companion app you can download so you can perform tests on your mobile device. The companion app will work with both Android and iOS devices, so compatibility won't be an issue.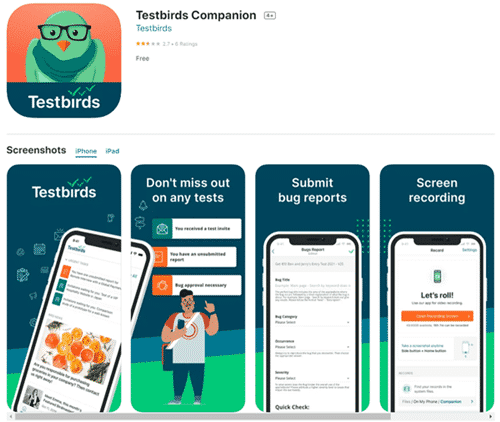 The app is very easy to use, so you won't have a hard time getting used to how it works. This is also to be expected since Testbirds does offer mobile app testing.
The good thing about the Testbirds app is, all the features found on their web-based platform are also available in the app, so you can actually just use it when performing tests for mobile apps. You don't need to transfer to your computer when submitting reports.
It's also a good way to check if there are new testing opportunities available since they will also show up in the app.
Who can join Testbirds?
Testbirds is available more or less globally. You just have to be at least 18 years of age to join.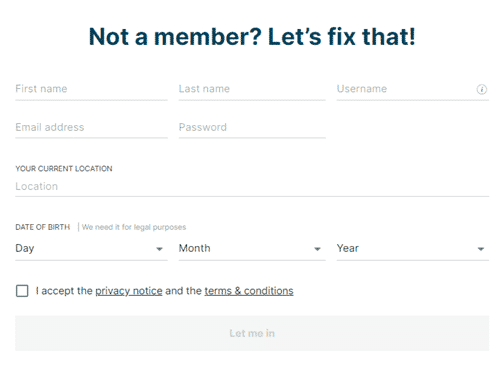 The sign-up process is also relatively simple. You just have to fill out their registration form and then click the confirmation link that will be sent to you via email. After you've done that, you are now a registered tester.
But as explained earlier, you need to complete a few steps first before you can actually start earning.
Can you get support?
If you have any questions about the site or your account, you can check out their Help page first. It discusses most of the important topics you need to know about Testbirds. It also has some video tutorials you can watch which are actually quite a lot of help especially if you are new to user testing.
Now, if you can't find the answers you are looking for, you can use the contact form provided in their Help section to submit your inquiry. Overall, I would say Testbirds has a good support system in place for its members because they provide a convenient way for you to communicate with their support team.
Plus, adding video tutorials to help you was also a nice touch on their end, in my opinion.
Final Verdict
Testbirds is a legit user-testing site that will pay you for completing testing projects. It has a couple of good features to offer, but it also has some limitations you want to consider.
Let me finish this review by summarizing its pros and cons to give you an overview of what it has to offer. Then, you can decide if you should go for it or not.

Pros:
Pays well
Offers payment via PayPal
Relatively low payout threshold

Cons:
Limited earning opportunities offered
Takes a bit of time before you can start earning
In my opinion, Testbirds is a decent user-testing site. If you are into this kind of earning method, I would recommend you join this site. However, you have to temper your expectations once you become a tester.
Don't expect to earn a lot from this site even though it pays well because, in my experience, testing opportunities aren't really that plentiful. Consider yourself lucky if you get invited to test once or twice a month. That being said, it can serve as a nice secondary site to earn from if you have the skills to execute testing projects properly.
But if you are looking for simpler ways to earn, I would recommend you check out the top survey and GPT sites in your country instead. The sites on this list all have good earning potential. Plus, you will be able to earn a decent amount on a regular basis as well.
If you have any comments, questions, or have any experiences with Testbirds yourself, I would love to hear from you in a comment below.