If you have good writing skills and are looking for a way to earn extra cash, there's a site called Textbroker that claims you'll be able to earn money by writing articles.
But is this opportunity legit or a scam? You'll find out in this Textbroker review.
I have examined the site to see how it works and to see how well it compares with other platforms that offer the same earning opportunity. In this review, you will get to know the full details of the site so you can properly assess if it is worth it or not.
So, let's go ahead and take a closer look at Textbroker, shall we?
What is Textbroker and what does it offer?
Textbroker is a website that offers writing services to its clients as well as a way for writers to earn extra cash. But for the purposes of this review, I will be focusing on how you will be able to earn from it.
Textbroker is indeed a legit site because clients will really pay you to write for them. But is it worth it, though?
Well, to figure out if Textbroker is worth your time, you must first understand how to earn from it so you can gauge the amount of time and effort required to earn. And the best way to do this is to examine how you can earn from it.
So, here's how to earn from Textbroker.
The earning opportunity – Writing orders
The only way to earn from Textbroker is to accept writing orders. There are three types of orders you can work on – OpenOrders, DirectOrders, and TeamOrders. Let me explain the difference between these types.
An OpenOrder is available to all Textbroker authors who meet or exceed the quality level chosen by the client. You see, when a client places a writing order for this type, they will have to set the quality of the author that they are willing to hire.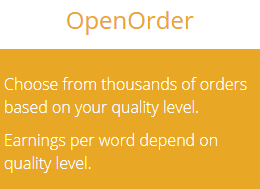 Your quality as an author will be determined by Textbroker during registration (I will discuss how to register later). Your author quality will also dictate how much you will earn from the order. If you qualify for an open order, just click it. This order will then be temporarily made unavailable for other authors.
If you do not accept the order within 10 minutes, it will go back into the pool where other authors can see and accept it. Every OpenOrder has a deadline. If you decide to accept the order (within 10 minutes of viewing the details), you are given until the deadline to submit your work.
You must follow the instructions set by the order to make sure you get paid. Once you've submitted your article, the client will review it and if there are any revisions that need to be done, you have to do it. You are only given 24 hours to complete a revision.
Just keep in mind that a client can order as many revisions as needed until they are satisfied. If you feel that the client is abusing this option, you can get in touch with Textbrokers' support team (I will discuss how to do this later).
Once the client is satisfied, the compensation will be sent to your Textbroker account.
DirectOrders, on the other hand, are writing orders sent to you directly (hence the name). From time to time, Textbroker will match you with certain clients. With this order type, you will be able to set how much you will earn.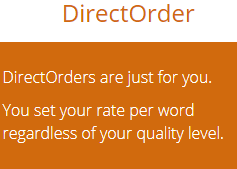 With this order type, you can actually negotiate with the client on how much you will get paid. You can do this through the message function of the platform. You will be able to communicate directly with the client.
If you decide to accept the order, you are given until the deadline to complete it. The deadline will also be indicated in the order details. And just like the OpenOrders, the client can also request as many revisions as they want and you are also given 24 hours to submit the revision.
Once the client is satisfied, the payment will be sent to your Textbroker account. This is a more convenient job order, in my opinion. However, this won't happen often unless you are ranked as a high-quality author (at least 4 or 5 stars).
Lastly, if a client likes your work, they have the option to invite you to their team. If you decide to accept the invitation, you will be able to work on what is called TeamOrders. Just remember that you can only accept one TeamOrder at a time.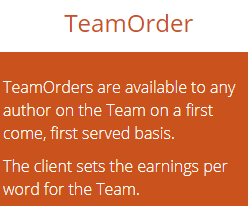 All of the authors on the team have access to the TeamOrders, so you also have to keep that in mind when you decide to accept a TeamOrder. And just like OpenOrders, when a team member accepts a TeamOrder, it will not be available to other team members unless the author who accepted it cancels the order or fails to complete it within the deadline.
If a client has yet to personally invite you to a team, there are many other teams for which you can apply. In your account, you can click on Assignments – TeamOrders and then click on the "Open Casting Call" tab.
This is where you will see a list of all teams that are requesting applications. Application requirements and team conditions will vary, so make sure that you read the requirements carefully before applying.
The rules for working on a TeamOrder are the same as the OpenOrders and DirectOrders. Once a TeamOrder is completed and the client is satisfied, you will receive the compensation and it will be credited to your Textbroker account.
Recommended: Check Out the Best Freelance Sites You Can Join
How do you get paid?
Every time you complete an order, you will receive a certain amount, and it will be credited to your Textbroker account balance. Then, once you've earned at least $10, you will be able to withdraw your earnings via Payoneer.
You can request a payout every week before 11:59 PM (Pacific Time) on Sundays and Wednesdays (as long as you hit the threshold). The payouts are processed on Mondays and Thursdays. It should be credited to your Payoneer account balance within a couple of days.
The payment system of Textbroker is relatively straightforward, and I like the fact that it offers Payoneer as a payment method because it is a convenient option, in my opinion. If you are looking for more sites that offer a convenient payment method, I recommend you also check out the top sites that pay via Payoneer.
How much money can you make?
The amount you can earn from Textbroker will depend on how many orders you can complete and your rating as an author. The photo below shows the payment structure per order type.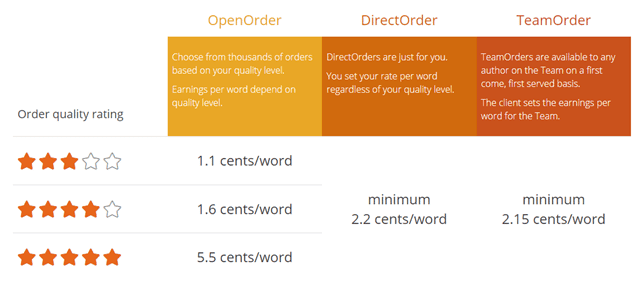 As you can see, you will get paid more if you get a 5-star rating. The minimum pay rate for DirectOrders and TeamOrders isn't significantly higher than OpenOrders, but you can demand more from those order types. Of course, you have to be good at negotiating with clients to get paid more.
In my opinion, it's all about getting a 5-star rating. If you manage to do so, you can potentially earn a decent amount from this site. If you are ranked lower, the earning potential of the site will also be lower.
If you have a low rating, you can improve your writing by watching their videos and tutorials. Once Textbroker recognizes that you've improved, your rating will also increase.
Overall, I would say the earning potential of Textbroker is decent if you manage to get a 5-star rating as an author. Otherwise, it will be significantly lower.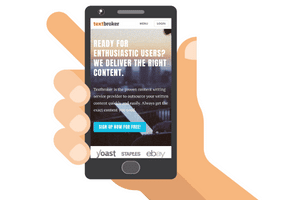 Can you use it on mobile?
Textbroker doesn't have a mobile app you can download, but the site is mobile-friendly, so you can still access the member dashboard using a mobile device. However, the work that needs to be done will require you to use your laptop or desktop.
This is why there's really no point in logging in to the dashboard from a mobile device, in my opinion. That being said, you can log in to the dashboard from a mobile device and accept orders, quite conveniently, which is a good thing, in my opinion.
Who can join Textbroker?
Textbroker actually has two websites. The main website is for US residents only. But if you go to the alternate website, you can apply as an author if you live in the UK, New Zealand, Australia, Canada, and the Republic of Ireland. Both sites will require you to be at least 18 years of age to join.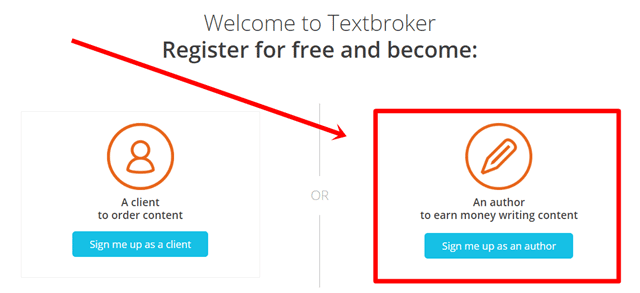 To sign up, just click the "Sign me up as an author" button (refer to the photo above). Then, you will have to fill out the registration form. Then, you'll be asked to provide some basic information as well as proof of residency.
You also need to take a photo of yourself showing your ID. Once you've done that, you will have to provide a writing sample of at least 200 words. Textbroker will use this to assess your initial rating as a writer.
The lowest rating you can get will be two stars and the highest will be five stars. It can take a couple of weeks before you hear back from Textbroker, so don't expect to get accepted right away. Once you get accepted, you'll be asked to complete your profile.
This can take a bit of time but it's an important step because this will be the information that Textbroker will share with clients when they are looking for authors. After you've completed your profile, you can log in to the dashboard and start accepting orders.
Can you get support?
If you have any questions about the site or your account, you can check out the Author FAQs page first. This page discusses a lot of the basic topics you need to know about Textbroker.
Now, if you can't find the answers you are looking for or as I've mentioned earlier, you want to complain about a client who is abusing the revisions feature, you can get in touch with their support team via email. You can email them at support@textbroker.com.
Overall, I would say that Textbroker offers decent support for its members since it provides a convenient way for you to communicate with their support team.
Final Verdict
Textbroker is a legit freelance site for writers. It has a couple of decent features, but it also has some disadvantages you need to consider.
Let me summarize its pros and cons to give you an overview of what the site has to offer. Then, you can decide if you should go for it or not.

Pros:
Relatively low payout threshold
Offers a convenient payment method

Cons:
Low earning potential for low-rated writers
Lengthy sign-up process
Only available in certain countries
In my opinion, Textbroker is not a bad site to earn extra cash from, provided you are a really good writer. If you manage to get a 5-star rating as a writer, you can potentially earn a decent amount from this site. But if you are just starting out as a freelance writer, it's not the most ideal option, in my opinion.
You are better off joining other freelance websites. You can check out the best freelance sites you can join instead. But if you really want to give this site a go, just keep in mind that the registration process is a bit lengthy.
Now, if you are just looking for easier ways to earn extra cash, I would recommend you check out the top survey and GPT sites in your country instead. The sites on this list all have good earning potential, and you will be able to start earning immediately after you sign up.
Plus, you can definitely find a site you can join regardless of where you live.
If you have any comments, questions, or have any experience with Textbroker yourself, I would love to hear from you in a comment below.