TimeStope is an app that claims you can mine time and convert it to money. It sounds like a very unrealistic claim. After all, can you really mine time? Well, what it is actually referring to is the cryptocurrency called TIME.
So, you will essentially be mining a cryptocurrency when you use this app. Now, the real question is, is this app legit or is it a scam?
This TimeStope app review will check the legitimacy of the app and it will give you an inside look and show exactly what you can expect so you can determine if this app is really worth using.
So, let's go ahead and examine everything TimeStope has to offer.
What is TimeStope and what does it offer?
TimeStope is a mining app that introduced a new cryptocurrency called TIME and the symbol it is using is called Tau which is the Greek letter that resembles the letter T. It is indeed legit because it will allow you to mine the cryptocurrency.
However, that isn't really a good indicator of whether the app is worth using or not. In order to determine if you TimeStope is really worth it, we have to first examine the earning opportunities it offers. Doing so will give you a clear understanding of what you can get out of this app.
So, here's how to earn from TimeStope.
Option 1 – Mining
The main way to earn from this app is mining. Like all cryptocurrencies, you will be able to earn TIME by mining. However, their mining process is actually different from Bitcoin and even Ethereum. To mine TIME, you don't actually need to expend resources like you would when mining Bitcoin.
All you have to do is log in to the app daily and it will start mining. It's pretty similar to another cryptocurrency called Pi. So, every day you log in to the app will enable the app to mine TIME for you. If you missed a day and you were not able to log in, the mining will stop until you are able to log in again.
Every day, you will be able to mine 24 TIME. That will be a fixed amount. But, you will not receive the full 24 TIME and I will explain more about this later.
The deadline for logging in daily is 12 AM UTC. That's what you need to keep in mind. For every day you log in, you will also receive 2 attendance points. If you miss a day, your attendance points will be deducted by 3 points. Later on, I will explain what the purpose of attendance points is.
Option 2 – Stamp book
Stamp Book isn't exactly an earning opportunity but it's a way to increase your attendance points. This opportunity will simply ask you to watch video ads until you can collect a stamp.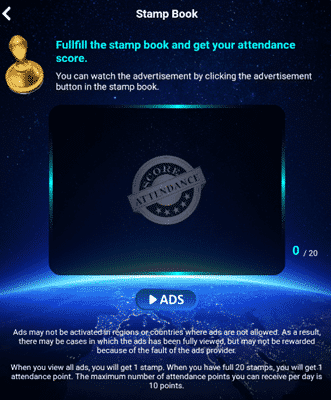 To start watching the video ad, just press the "ADS" button. It will then load the video ad. Wait for the ad to finish and close it. You will then notice that the ad button will show a timer. Once the timer is done, you can click the "ADS" button again and watch the next video ad.
When you've watched all 20 ads, you can claim your stamp and you will receive 1 attendance point. You can only receive a maximum of 10 attendance points per day from their Stamp Book. But getting that will require a lot of time.
Option 3 – Hourly random box
Every hour you are logged in to the app, you will be able to open a box that will contain a random amount of TIME.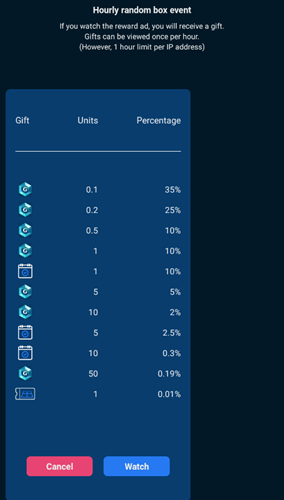 This hourly random box will appear on the main screen of the app. You will easily spot it because it will look like a blue gift box. To claim it, just press the box. It will then ask you to watch a video ad before it will reveal the amount of TIME you will receive.
Once the ad is finished, you will immediately see how much TIME you've earned.
Option 4 – aTime Book
This earning opportunity will allow you to earn additional TIME. All you have to do is watch video ads just like what you are doing with their Stamp Book.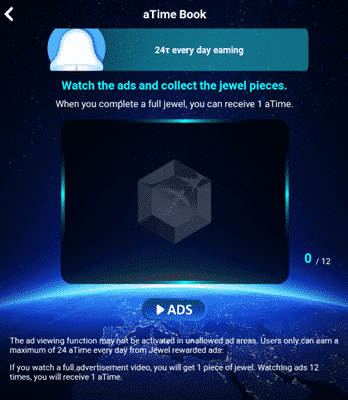 The idea is, you have to collect a jewel that is worth 1 aTime (a smaller denomination of TIME). To collect a jewel, you will have to watch a total of 12 videos. And just like the video ads in Stamp Book, there will be a time interval before you can watch the next video.
When you've watched 12 video ads, all you have to do is press the jewel icon (refer to photo above) to collect it and receive your aTime. You can only earn a total of 24 aTime per day. So, you can't really watch videos all day long. You have to stop when you reach the maximum amount.
Option 5 – Referral program
You can also earn more TIME by inviting other people to join TimeStope. To invite a person, you need to share your Witness ID. They will then have to input your Witness ID during registration (which is also required to complete the registration).
But what will you get for inviting people? Well, remember earlier when I said you will be able to earn 24 TIME per day? Only 60% of that will be credited to your account. The remaining 40% will be credited to the witness (which is the person who invited you).
That's why if you want to maximize your mining of TIME, you will have to work hard to invite other people to join TimeStope. That's why their referral program is really more of a necessity rather than an extra opportunity to earn.
So, you really have to formulate a strategy of how to share your Witness ID so that more people will be using it to register to the platform. And in return, you will earn more TIME.
Recommended: Check Out the Top Survey Sites in Your Country
How do you get paid?
Herein lies the problem of TimeStope. While the idea of what this app is offering is pretty great, right now, you won't get to earn anything from it.
And the reason for that is, TIME doesn't have any monetary value yet. It is not being traded on any cryptocurrency platform. So, you won't get anything out of all the TIME you've mined. While it sounds like a promising cryptocurrency, it is, in the end, still just speculation.
TimeStope is still in its preparation stage where they are trying to mine enough TIME. Eventually, the mining will stop and that's when you will see the real value of this cryptocurrency.
So, if you are looking to earn cash right away, I would recommend you check out the top sites that pay via direct bank transfer instead.
Or if you want to earn by mining the father of all cryptocurrencies Bitcoin, then you can check out CryptoTab where you can do this easily.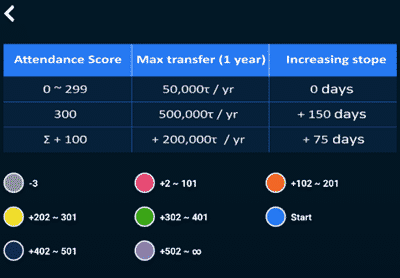 Now, earlier, I mentioned something about attendance points. These points will actually determine how much TIME you can transfer per year. As shown in the photo above, you can only withdraw a certain number of TIME per year if you achieved a certain attendance score.
So in the future, if and when the time comes where you will be able to withdraw the TIME you've earned, your attendance score will play a big part in how much you can cash out. So, it's not something you can really just ignore.
Can you use it on a desktop?
As of the writing of this review, TimeStope is still only available for mobile devices. It doesn't have a web-based member dashboard. So, you will definitely need a mobile device if you plan to join.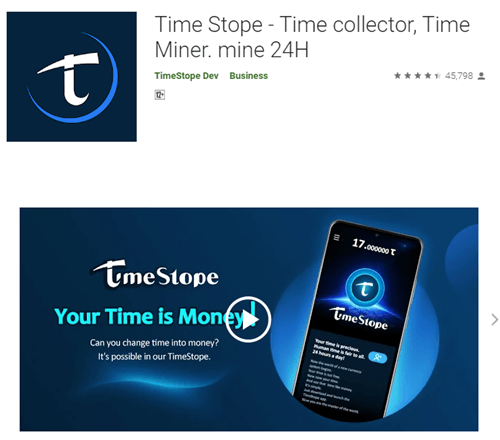 As for their app, it is only available for Android devices. So, if you are an iOS user, then this app is not for you. Their app is relatively easy to use but it lacks a few pieces of relevant information. If you have no prior knowledge of this kind of app, then you will have a hard time understanding what the various features of the app are for.
Who can join TimeStope?
TimeStope is available globally. You can register as a member regardless of where you live. You just have to be at least 18 years of age to join.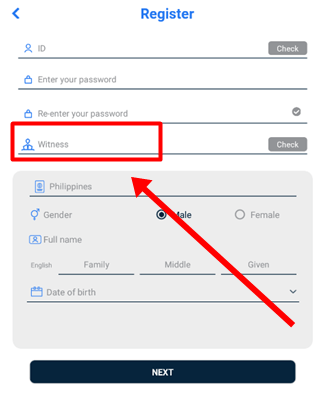 But, in order to complete the registration, you will need to provide a witness ID. And as explained earlier, this ID will be from their referral program. In other words, you will have to be invited in order to sign up as a member.
If you don't know anyone personally that is a member of TimeStope, you can go to their Google Play page and look for witness IDs (that's what I did). There are lots of members posting comments sharing their witness ID on their Google Play page.
Can you get support?
If you have any questions about the app or your account, you can first refer to their FAQ page. It discusses some of the important topics you need to know about TimeStope. Their FAQ page can be accessed from their website or their app.
But if you can't find the answers you are looking for, then you'll have to get in touch with their support team. And the only way to do that is to go to their website and click the "Send Message" link on the lower right-hand corner of their homepage.
Overall, I would say they have a decent support system in place for their members since they offer a way for you to communicate with their support team. But I do wish it was also accessible from their app so you wouldn't have to keep switching back and forth.
Final Verdict
TimeStope is a mining app that will let you mine a new cryptocurrency called TIME. It has its appeal but it also has certain limitations you need to keep in mind.
Let me finish this review by summarizing its pros and cons to give you an overview of what the app has to offer. That way, you can decide if it is really an app you should use or not.

Pros:
assive way of mining cryptocurrency
Mining will not require use of physical resources and it will not drain the battery of your mobile device

Cons:
Their cryptocurrency still doesn't have any monetary value
Their app is only available for Android devices
Their site and app don't do a good job of explaining the features of TimeStope
If you are looking to earn immediately, then TimeStope is not for you. The main drawback of this app is, right now, the cryptocurrency you are mining has no monetary value. So, you are basically speculating. If it does pan out, then you will eventually earn big time since you've started early and you're able to mine a good amount of TIME.
But if it doesn't (which is a real possibility), then you will just be wasting your time. The only consolation is, you won't really be losing any money. So, if you are willing to speculate and hope that their cryptocurrency will be successful, then this can be a good time to join.
But if you are just looking to earn, I would recommend you check out the top survey and GPT sites in your country instead. The sites on this list all have good earning potential and you will be able to earn immediately after you register.
If you have any comments, questions, or have any experiences with TimeStope yourself, I would love to hear from you in a comment below.