Are you looking for ways to earn extra income? If so, one good way to do that is to join a freelancing site. Of course, you have to find a good freelancing site so you can earn a decent amount.
In this article, I'll talk about Truelancer, which is a freelancing site that claims you'll be able to find freelance jobs.
Now, the question is, is this site legit, or is it a scam? Well, that's what you are going to find out if you finish reading this Truelancer review.
I have tested this site thoroughly to see what features it offers. I will share everything the site has to offer to help you gauge if it is worth it or not.
So, without further ado, let's get this review started, shall we?
What is Truelancer and what does it offer?
As mentioned above, Truelancer is a freelancing site that offers earning opportunities to interested freelancers. It is indeed a legit site since you will really get paid for taking on the jobs found on the site.
But before you can figure out if it is worth joining, you must first understand how the site works. And to do that, we must examine the earning opportunities it offers. So, here's how you can earn from Truelancer.
Option 1 – Jobs
The primary way to earn from Truelancer is to work on jobs. Once you become one of their freelancers, you can apply for the jobs found on the site.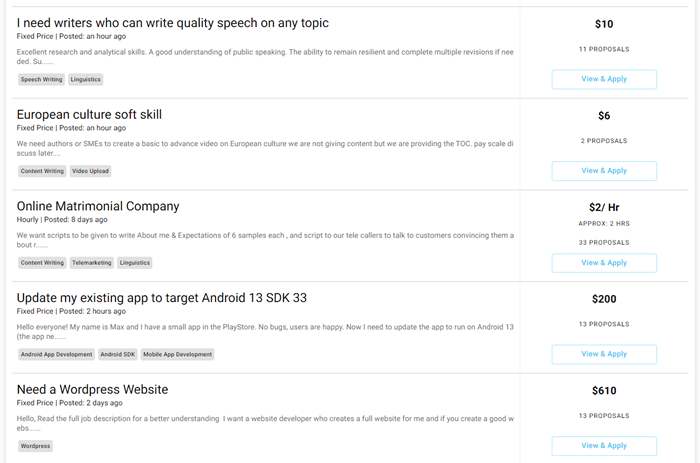 Here's how the application process works. If you see a job you are interested in, just click it, and you will be taken to the details page of the job. On this page, you will see exactly what you need to do.
Then, if you are interested in it, you will have to send a proposal to the person who posted the job. In the proposal, you will have to indicate the budget you are willing to work with. In short, you will be negotiating with the potential employer.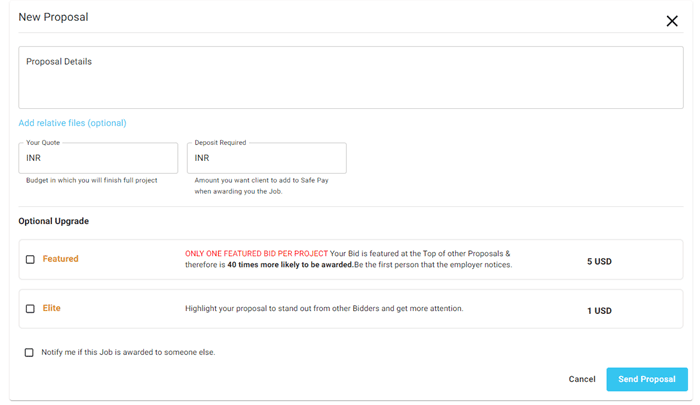 You can also indicate if you want a down payment before you accept the job. Aside from that, you'll have to explain in detail what your proposal is. This is where you can explain what you can bring to the table and why they should hire you.
Then, for an additional fee of $5, your proposal will be featured at the top of the page so that the employer can easily see it. For $1, you can get your proposal highlighted. It's not as obvious as the featured option, but the employer will still be able to see your proposal easily.
Personally, I don't recommend availing of these options because you can potentially end up losing money if your proposal is not accepted. Once you've submitted your proposal, all you have to do is wait for the employer to finish choosing which proposal they will accept.
If you get chosen, you will receive an email as well as a notification on the site that your proposal was accepted. Then, you can start working. Once you finish the work and submit all the necessary deliverables, you'll have to create an invoice for the employer.
Another way to work on jobs is to post the services you are willing to offer. Think of this as a passive way to land jobs. In the method above, you're the one actively looking for a job. But with this method, you can just post the services you can render, including your hourly rate, and if someone is interested in hiring you, you will receive a message from them.
Then, the negotiation can begin, where you can settle on the final rate you are willing to do the job for. Once you reach an agreement, you can start doing the work. And when the work is finished, you can send the invoice to the employer for payment. Later, I will discuss how their payment system works.
But overall, when I was testing the site, there was a good number of jobs you could apply for. So, you will definitely not run out of ways to earn. However, just be aware that there's no guarantee you will land the job when sending your proposal.
Option 2 – Contests
Another way to earn from this site is to join the contests being held on the site. These contests are actually just employers looking for work to be done.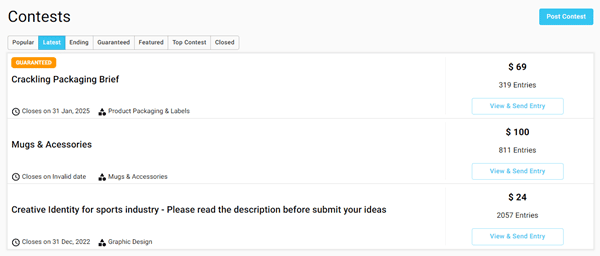 Normally, these contests will involve submitting an entry like a logo, photo, or video. Then, whichever entry is chosen by the individual who started the contest will be awarded the prize. Only one winner will always be chosen.
So again, there's no guarantee you can earn from this opportunity. If you win a contest, the prize will be credited to your Truelancer account balance.
There aren't a lot of contests available, so it's not something you can expect to join regularly.
Recommended: Check Out the Best Freelance Sites You Can Join
How do you get paid?
As explained above, every time you complete a job or win a contest, you will receive the payment that was agreed upon before you started working on the job.

Once the payment has been credited to your account, you can withdraw it via PayPal or Payoneer. You don't need to reach a threshold to withdraw your earnings, so you can withdraw immediately.
The payment system is relatively straightforward, and I like the fact that it offers convenient payment methods like PayPal and Payoneer. I also like the fact that it doesn't have a payout threshold because you can withdraw your earnings immediately.
If you are interested in more sites that will allow you to withdraw your earnings quickly, I would recommend you also check out the fastest paying sites.
How much money can you make?
Now, let's discuss the earning potential of this freelance site. Normally, the amount you can earn from a freelance site will depend on how many jobs you can complete. Since the payment will mostly be decided by you, you have control over how much you make.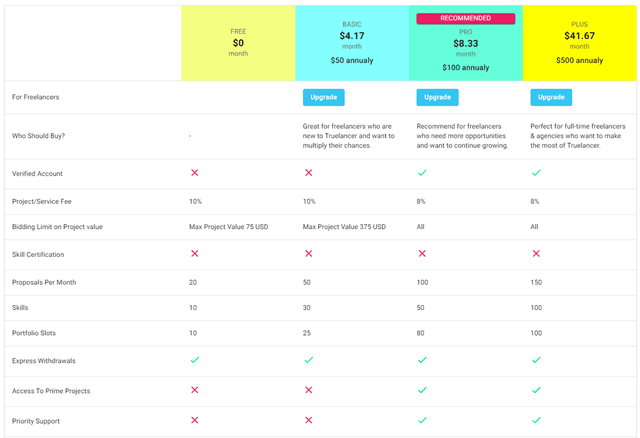 However, with Truelancer, the amount you can earn per month will be limited to the type of membership you want to go for. If you decide to go for the free membership, you can only earn a maximum of $75 per job.
Plus, you can also only send a maximum of 20 proposals per month. If you want to exceed that limit, you'll have to buy proposals or upgrade your membership.
As you can see in the photo above, the paid memberships have a lot of advantages, including higher pay and a higher proposal limit per month. These advantages are designed to convince you to upgrade your membership.
One thing I can say is that before you decide to upgrade your membership, make sure to create a solid plan to earn back your monthly fees. You have to keep in mind that there's no guarantee of earning from this site. It will all depend on how good you are as a freelancer, in my opinion.
The ideal strategy, in my opinion, would be to start as a free member, and then once you've worked on several jobs and gotten favorable ratings from employers, you can risk upgrading your membership because, by then, you'd have gained a good reputation as a freelancer.
Overall, I would say the earning potential of Truelancer is not that bad since you get to decide how much you can earn from every job.
But it has some extra costs many other freelance platforms do not have, and this is something to consider before joining.
Can you use it on mobile?
Truelancer has a mobile app you can download so you can apply for jobs conveniently using your mobile device.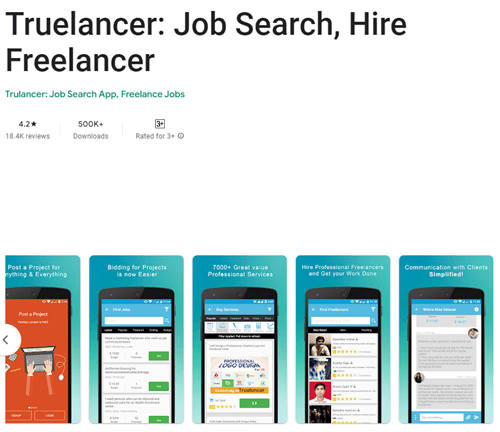 The app can be downloaded from the Android app store, and the site does provide a link to the iOS version of the app. However, when I was testing the app, the link was not working, so I'm not sure if the iOS version is still available or not.
Using the app can help you track the status of the proposals you've submitted. That's mostly what you can use the app for aside from withdrawing your earnings. The work that needs to be done will mostly have to be done on a laptop or desktop, just so you know.
The app is user-friendly and it doesn't have any pop-up ads, which makes the overall user experience a bit pleasant, in my opinion.
Who can join Truelancer?
While you may be able to join the site anywhere in the world, Truelancer is really mainly for people who live in the US, Philippines, the UK, India, Pakistan, and Bangladesh. If you look at their website, you will see that you can view all the available freelancers by country, and the only countries listed are those mentioned above.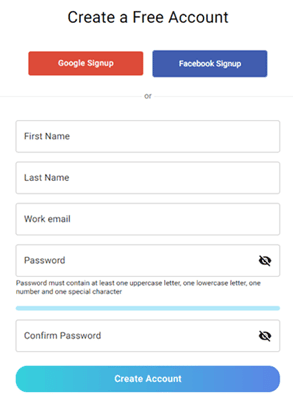 To register as a member, you can fill out the sign-up form or use your Google or Facebook account to log in. During your first login, the site will send you a one-time password (OTP) via SMS. Once you receive the code, you can log in to the site and start the process of earning.
During your first login, I highly recommend setting up your profile, including your skills. I would also recommend you set up the services you can render.
Can you get support?
If you have any questions about the site or your account, you'll have to contact their support team because they don't have a Help page or even a FAQ page you can check out.
Fortunately, they've divided their support department into three departments. If you want to ask for general assistance, you can email them at [email protected]. If your inquiry is about payments, you can email them at [email protected].
You can also reach them through Skype or over the phone if you live in the US. That's why even though the site doesn't have a Help page you can check out like other freelance sites, I would still say the site has a decent support system for its members since it offers multiple ways for you to request assistance.
Final Verdict
Truelancer is a legit freelancing site that will allow you to earn by taking on jobs. It certainly has a few advantages but, in my opinion, it is overshadowed by its limitations.
Let me finish the review with a summary of its pros and cons to give you an overview of what the site offers. Then, you can decide if you should give it a go or not.

Pros:
Offers payment via PayPal
No payout threshold
Has a decent number of jobs available

Cons:
The free membership severely limits the amount you can earn
The site doesn't provide a lot of useful information
More complicated than most other freelance sites
In my opinion, Truelancer is not a bad freelance site. However, it doesn't offer anything special that would qualify it as a good option either. It also doesn't help that a free membership of the site is severely limited by how much they can earn.
On most freelance sites that offer free membership, you usually don't have any limit to how much you can earn. Of course, you have to share your earnings with them since that's how they earn money, but the fact that you can earn any amount per month from those sites makes them more ideal options, in my opinion.
That's why I don't recommend you join this site. Instead, I would suggest you check out the best freelance sites you can join instead. The freelance sites on this list all offer good earning potential, and your earnings will only be limited to how good you are as a freelancer and not some membership type.
Now, if you are looking to earn without working complicated jobs, I would recommend you check out the top survey and GPT sites in your country instead. The sites on this list all have good earning potential, and they all offer simple ways for you to earn.
If you have any comments, questions, or have any experiences with Truelancer yourself, I would love to hear from you in a comment below.