Are you looking for a fun and interesting way to earn extra money?
TV-TWO is an app that promises you'll be able to earn while enjoying your favorite content from thousands of creators. So, if you like watching videos, then you might be thinking about using this app.
But before you hit the sign-up button, there are a few things you have to check. First, you have to find out if this app is legit, or if it is another scam you need to stay away from.
This TV-TWO review will check if this app is really legit or not and it will also give you an inside look so you can decide if it is an app that will be worth your time. I will also give a rating so you can see how it stacks up compared to other ways to earn online for free.
What is TV-TWO and what does it offer?
TV-TWO at its core, is a Get-Paid-To (GPT) app that will pay you for watching videos. It is indeed a legit app that will pay you for watching YouTube videos and more.
Now, in order to fully understand how the app works, we have to take a closer look at the earning opportunities it offers.
I have, therefore, made a short video that gives you an inside look and shows exactly how you can earn from TV-TWO. You can also read all the details below the video:
Recommended: See Best Sites to Earn Money by Watching Videos
Option 1 – Watching videos
As mentioned, you will be able to earn by simply watching YouTube videos. What's unique about this app is, you can actually install it on your smart TV (specifically Samsung and LG smart TVs).
As you can see in the photo above, you can watch videos either on your mobile device or your smart TV. It's actually the first time I've encountered an app that will allow you to watch videos on a smart TV and earn at the same time.
If you want to watch videos on your TV, you have to install the app (I will discuss their app later) on both your mobile device and smart TV. Once you've done that, during the first start of the TV app, you have to scan the QR code from your TV screen to sync it with your smartphone.
If you don't have a smart TV that is compatible with their app, you can just use your mobile device. Now, you just have to choose which video you want to watch by browsing through the app.
Once you see a video you like, hit play and sit back and relax. You will earn 1 Ethereum Token for every second you watch. That's all there is to it. However, you can only earn a maximum of 500 tokens per video.
So that means you can stop watching a video when it hits the 8 minutes and 34 seconds mark if all you are after is maximizing your earnings.
Option 2 – Paid offers
If you somehow run out of videos to watch, you can still earn more Ethereum tokens by completing their paid offers. If you've been a member of GPT sites or apps before, this is a very familiar earning opportunity.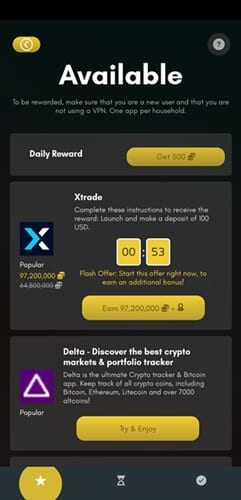 When you log in to the app, if you want to get to the paid offers section, you have to click the "Earn More" button. You will then see something that is similar to the photo above.
As you can see, their paid offers are actually just short tasks you can do to earn more rewards. Most of the offers will ask you to either play a mobile game, register to a site, or answer a survey. When you click an offer, it will show you the instructions you need to follow.
Make sure you don't miss a step because if you do, you will not be able to complete the offer and you will not receive the reward. So, before you start doing the offer, make sure you understand clearly what you need to do. Once you've completed the offer, you will receive the reward promised.
Option 3 – Referral program
Lastly, you can earn additional rewards by participating in their referral program. If you are not familiar with a referral program, it is a program where you can earn bonus rewards by inviting people to join the site/app.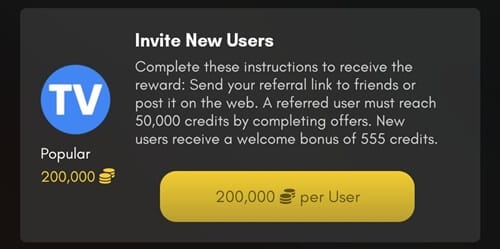 TV-TWO is basically paying you for promoting the app. Simply share your invite link with the people you want to invite. Once they sign up using your link, they will become your referral and they will also receive 555 tokens/credits.
However, before you will receive the referral reward, your referral must earn 50,000 tokens by completing paid offers. Once they do that, you will then receive 200,000 tokens.
So, in order for you to earn, you have to make sure the people you invite are those that are really interested in using the app.
Recommended: Check Out the Top Sites to Earn Money While Watching Videos
How do you get paid?
Every activity you complete inside the TV-TWO app will earn you a certain number of tokens/credits.
Now, the app uses blockchain technology for its payment system. So, in order for you to actually convert your tokens to cash, you will need an Ethereum wallet that supports TTV.
The app recommends you use the Nexo wallet, but there are also other Ethereum wallets out there. Just choose which ones you like.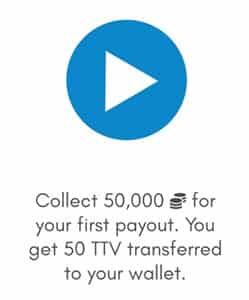 Now, in order to withdraw your earnings, you have to earn a minimum of 50,000 tokens. That will be converted to 50 TTV. To put it into perspective, 1 TTV is worth $0.0015 as of the writing of this review.
The exchange rate between TTV and USD depends on the current market price of the cryptocurrency. So, you have to know when to best withdraw your earnings or when to just keep it.
That's why the payment system this app offers, isn't really as simple as you might hope for. There are a lot of nuances you need to be aware of.
Unfortunately, this is the only payment method they offer. So, if you are not comfortable with this kind of payment system, then I suggest you check out the top sites that pay via PayPal instead.
How much money can you make?
The amount of money you can earn from this app will mostly depend on how active you are on the app. They do have a decent number of earning opportunities, so you will be able to earn rewards fairly regularly.
And it does look like they offer high rewards, but if you really think about it, that is not the case. For example, the 200,000 tokens you receive for your referral bonus is actually only worth $0.3, which is quite low.
That's why I would say the earning potential of this app isn't really that great. You will have to invest a lot of time to earn a significant amount.
The only real value this app provides, in my opinion, is it offers an interesting way to earn because the videos you can watch can be quite informative and even fun.
Can you use it on a desktop?
TV-TWO is a mobile-only platform. So, you will need to have a mobile device if you plan to use this app. And as mentioned, one unique thing about this app is, it works on smart TVs. However, I'm not sure if it only works on Samsung and LG smart TVs.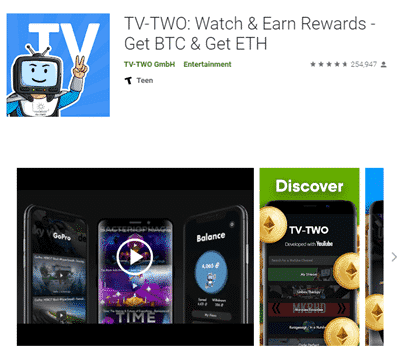 The best way to find out is to just try it, anyway, you can still earn from it with your mobile device. As for their mobile app, it is available for both Android and iOS devices, so compatibility won't really be an issue.
Their app is also very user-friendly, but it does show a few ads from time to time, which can be slightly annoying. But overall, it doesn't really severely affect the usability of the app, in my opinion.
Who can join TV-TWO?
The app is available globally. That means you can join TV-TWO regardless of where you live. It doesn't have the normal registration process you will encounter on other sites where it will ask you for login details.
Once you've installed the app, you can immediately start using it.
Now, as explained earlier, if you are planning to use it on your smart TV too, you have to install it on your mobile device first and then sync the smart TV to your mobile device by scanning the QR code displayed. That's how the process should go.
Also, I would suggest that before you install this app, you first set up an Ethereum wallet that supports TTV since that will be the only way you can receive payment from this app. If you are not willing to do that, then I suggest you skip this app and find some other site or app to earn from.
Can you get support?
The app has a "How To" section you can refer to if you want to learn more about how the app works or if you have any questions about the app. However, if you can't find the answers you are looking for, you can get in touch with their support team.
Simply go to your account settings by clicking the right-most icon at the bottom of the app and click the gear icon on the upper right-hand corner. Then, click the Feedback option. You'll have to write an email.
Overall, I would say they do have a decent support system in place since they give you an option to get help in case you need it.
Final Verdict
TV-TWO is a legit GPT app that will pay you for watching YouTube videos as well as doing paid offers. It has a couple of good features but it also has certain limitations you need to consider.
Let me wrap up this review with a summary of its pros and cons to give you an overview of what the app has to offer so you can decide if it is worth using for you or not.

Pros:
Offers a fun and interesting way to earn
Their app is user-friendly and can be installed on smart TVs
Low payout threshold

Cons:
Low rewards
Limited payment options offered
Very time-consuming to earn
If what you are after is being able to earn a decent amount without having to invest a lot of time, then TV-TWO isn't a great choice. They offer very low rewards even though it may seem like the opposite at first. So, if you want to earn a decent amount, you will have to put in a significant amount of time.
They also don't have a very versatile payment system. You'll have to set up an Ethereum wallet before you can get paid. But if all you are really after is watching videos, then this can be a decent option. Think of the rewards as just a bonus. They have plenty of interesting and fun videos you can watch.
Now, if you are looking for great sites and apps to earn from, I would instead suggest you check out the top survey and GPT sites in your country. The sites and apps on this list all have good earning potential since they offer decent to good rewards.
Plus, you will also find sites and apps that offer multiple payment options.
If you have any comments, questions, or have any experiences with TV-TWO yourself, I would love to hear from you in a comment below.