VeryDice is an app that claims you just have to roll the dice to win tickets and get real stuff for free.
It sounds like a very straightforward way to get free stuff, right? But the question is, is it legit or is it another scam to stay away from?
I took the app for a spin to see what it offers. In this VeryDice app review, I will share everything this app offers, so you can get a clear picture of what to expect from it.
Then, you can decide if it is worth your time or not. So, let's begin.
What is VeryDice and what does it offer?
VeryDice is an app that will allow you to earn rewards by playing their game. It is indeed a legit app because you can really redeem various rewards. But this doesn't necessarily mean VeryDice is worth it.
To figure out if you should invest your time in this app, you must first understand how it works so you can properly gauge how much time and effort is required to earn from it. And the best way to do this is to examine the earning opportunities it offers.
So, here's how to earn from VeryDice.
Option 1 – Playing the game
The guaranteed way to earn rewards from VeryDice is by playing their various dice games. When I was testing the app, there were three modes of dice games: Shooter, Lucky 7s, and Classic Doubles.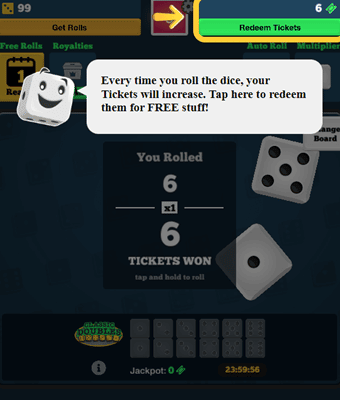 Each mode has its own jackpot prize, but the logic of the game will still be the same. You will roll two six-sided dice, and the result will be the number of tickets you will earn. But for the Shooter mode, if you roll a 2 and 1, you can play the bonus Shooter game and earn additional tickets.
For the Lucky 7s, if you roll all the 7s combinations, you will get a scratch card where you can win additional tickets. For the Classic Doubles, you will win the jackpot prize if you manage to roll all the double combinations.
When you first sign in to the app, you will be given 99 free rolls. You can spend these rolls on any game mode you want. But what happens if you run out of rolls? Well, there are methods to earn free rolls.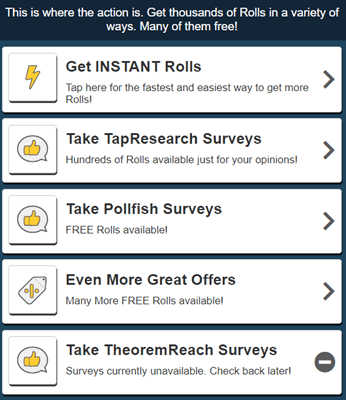 You can complete tasks to earn more rolls. These tasks are similar to what you can find on Get-Paid-To and survey sites. When you complete a task, you will earn the specified number of rolls. Aside from completing tasks, you can also earn more rolls by inviting people to play the app.
You will also receive a random number of rolls every day. When you log in to the app for the first time each day, you will spin the wheel to determine how many free rolls you will get.
Option 2 – Joining a tournament
Another way to earn tickets is to join tournaments. There are various tournaments for each game mode available at any given time. Joining one is also free.
But let me make it clear that this is not a guaranteed way to earn, and I will explain why.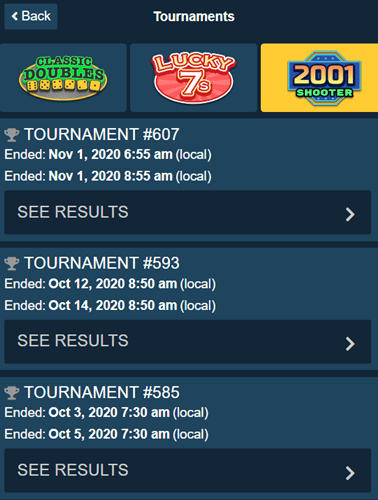 The winners of these tournaments will be based on whoever gets the most special prizes from each game mode. For example, in the Classic Double mode, whoever gets the most double rolls will win the tournament.
Every tournament will award the top 10 participants with first place, usually winning around 25,000 to 50,000 tickets. It's a pretty significant prize, in my opinion, but it's not a very easy feat to do.
You need to accumulate a lot of rolls to win a tournament, and that means you have to complete a lot of tasks and invite a lot of people to use the app. It's a nice goal to set, but, in my opinion, it's not something you can rely on.
Recommended: Check Out the Best Ways to Earn Money by Playing Games Online
How do you get paid?
As explained above, you will earn tickets every time you roll the dice. Now, the question is, what can you do with the tickets you've earned?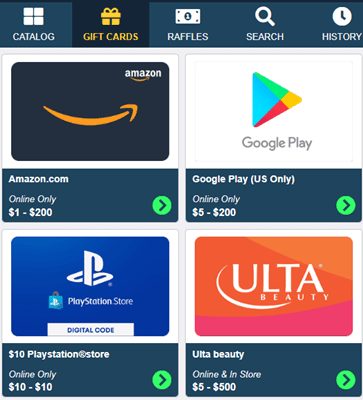 Well, you can exchange them for various gift cards. As shown in the photo above, you can redeem gift cards from Amazon, Google Play, the PlayStation store, and more.
The number of tickets required to redeem a gift card will depend on which gift card you want to redeem. For example, if you want to redeem a $1 Amazon gift card, you will need at least 7,425 tickets.
The minimum amount you can redeem will also depend on the gift card you choose. For example, the minimum amount for a Google Play gift card will be $5, costing 28,350 tickets.
It's a bit hard to determine the exact value of a ticket because the conversion rate will vary greatly depending on the gift card you want to redeem.
The payment system of VeryDice is relatively straightforward. However, the app only offers gift cards as rewards. So, if you are looking to earn cash, then this is not for you. You should check out the top sites that pay via PayPal instead.
How much money can you make?
The thing with VeryDice is that, as you can probably tell, the maximum number of tickets you can win will be 12 (unless you win the special prize per mode).
Even if you roll all 12 from your free 99 rolls (which is highly unlikely, I might add), that will be less than a quarter of the minimum amount of an Amazon gift card.
So, you will definitely have to spend time completing tasks to earn more rolls so that you can earn more tickets. It will take a lot of time to earn a decent amount from this app. That is why I would say the earning potential of VeryDice is very low.
Can you use it on a desktop?
VeryDice has a mobile app for Android devices. If you are an iOS user, you can still play the game, but you will have to use a web browser to access it.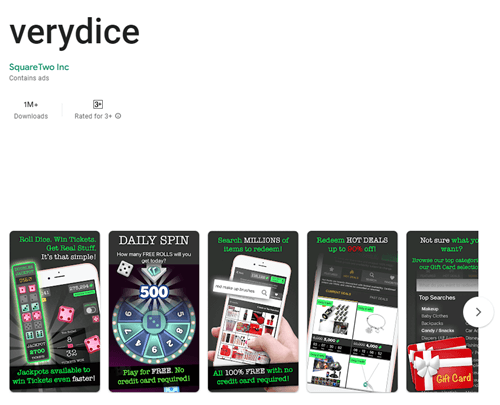 But, you can also access the game from a desktop by also using a browser. Just go to the website and click Play on iPhone or Play on any PC or Tablet and it will open the game on your browser.
It is fairly easy to navigate, and surprisingly, you won't encounter any pop-up ads while using it. I say surprisingly because often, apps that offer this kind of earning opportunity have a lot of ads.
Who can join VeryDice?
The app is only available in the US, so if you live anywhere else, then this app is not for you. You also have to be at least 18 years of age to register as a member.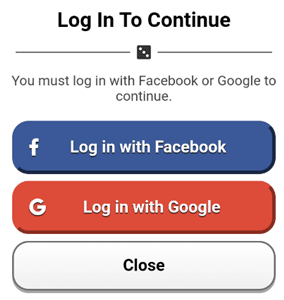 The registration process is fairly straightforward. You just install the app, and when you open it for the first time, you can use your Google or Facebook account to log in.
Once you are done with the registration, you can log in to the app and start playing to earn tickets.
Can you get support?
The app or website doesn't have a FAQ or Help page you can check out if you have any questions. If you encounter any issues while redeeming a reward, you can use the "Redemption Claim" form provided on the website to get in touch with their support team.
For other concerns, you will have to email them at support@verydice.com. Overall, I would say VeryDice has a decent support system because it offers a couple of methods for you to communicate with its support team.
But I do wish they would provide more useful information on their site or app to minimize the instances of you having to contact support.
Final Verdict
VeryDice is a legit mobile app that will allow you to earn rewards for playing their game. It does have a couple of decent features, but it also has a few limitations you need to be aware of.
Let me conclude this review with a summary of its pros and cons to give you an overview of what the app has to offer. Then, you can decide if it is really worth it or not.

Pros:
Offers an easy way to earn rewards

Cons:
Limited earning opportunities offered
Low rewards
Does not offer cash rewards
If you are looking for a great way to earn gift cards, VeryDice, in my opinion, is not a good option. That's because it will take a long time for you to earn a decent amount from this app.
Your time will be better spent on apps or websites that have a better earning potential, in my opinion. I do admit that the game is a bit addictive and very easy to play, but that's all you will ever get from it.
That's why I would recommend you check out the top survey and GPT sites in your country instead if you are looking for great ways to earn extra cash. The sites on this list all have good earning potential, so you will be able to earn a decent amount relatively quickly.
Plus, you will definitely find a site you can join regardless of where you live.
If you have any comments, questions, or have any experience with VeryDice yourself, I would love to hear from you in a comment below.