Vrbo is a site that claims you can earn by renting out your home to travelers and vacationers. If you are planning to rent out your home that way, I recommend you continue reading this Vrbo review.
It will show you whether this opportunity is legit or just another scam to stay away from. Aside from that, it will also reveal the full details so you will know what to expect from it before you sign up.
Then you can properly decide if this opportunity is the right fit for you or not. So let's go ahead and take a closer look at Vrbo, shall we?
What is Vrbo, and what does it offer?
Vrbo is a site that will allow you to earn by renting out your home to travelers and vacationers. It is indeed a legit site since you can really earn by renting out your home.
But the question now is, is it worth it?
Well, the only way to figure that out is to understand how it works. The best way to do that is to examine the earning opportunity it offers so you will have a clear idea of what you need to do to earn.
So here's how to earn from Vrbo.
The earning opportunity – Renting out your house
The only way to earn from Vrbo is to rent out your house. But let me stress the fact that this opportunity doesn't offer guaranteed earnings because you will only be able to earn if somebody books your house, so it's not something to reliably earn from.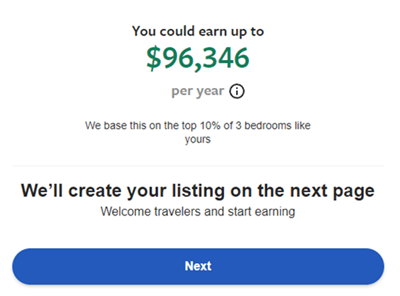 The first step you need to do to earn is to list your property on the website. When listing your property, you'll have to indicate the full details, including how many bedrooms, bathrooms, location, price, cancellation policy, and even additional conditions that need to be met (like cleaning the house after renting, additional fees for use of additional properties like cars, boats, etc.).
Once your listing is up, if a traveler or vacationer is interested in booking your property, you will receive a notification in the member dashboard as well as in your email inbox. That's why you have to make it a habit to check your inbox regularly if you have an active listing on Vrbo.
As the property owner, you have the discretion of how to screen your renters. You can set up an interview, or you can ask for additional requirements like background checks, security deposits, credit score checks, etc.
Once the booking is finalized, the renter will have to follow Vrbo's cancellation policy if they want to cancel the booking. The renter has no choice but to abide by the policy you set in your listing.
As for the payment for the booking, I will discuss it in the next section. If there was damage done to your property during a booking, Vrbo has an insurance policy in place.
Recommended: Check Out the Best Passive Income Apps
How do you get paid?
Once a booking has been confirmed, you can request 100% payment at the time of booking, or you can set up multiple payments that can be scheduled for future dates.
As for the payout, your earnings will be sent to your bank account directly. Your payouts are sent approximately one business day after your guest checks in.
Depending on your bank's policies, the money will be available in your bank account approximately five to seven business days later. If you are a new member and your first booking is less than 30 days away, the payout is sent to your bank account approximately 30 days after the guest's payment.
You do not need to earn a specific amount for the payout to be sent to your bank account. As for the service fees, it will depend on how you set up your account (more on this later). If you choose the pay-per-booking model, there will be a 3% service fee involved, plus a 5% commission fee.
Vrbo also has plenty of security measures that guarantee you will receive the payment once the booking is confirmed. This is why I would say the payment system of the site is reliable and convenient since it offers payment via direct bank transfer.
If you are interested in more sites that use a convenient payment system, I suggest you also check out the top sites that pay via direct bank transfer.
How much money can you make?
Renting a property usually costs quite a bit, so if you get any bookings, you will definitely earn a good amount of money. That being said, it's hard to reliably expect to earn from Vrbo because there's no guarantee you will get any bookings.
There are a lot of factors to be considered in terms of earning potential. You have to think about the appeal of the property you are renting out, as well as its location and price.
If you have no idea about the pricing of your property, you can follow the suggestions of Vrbo since it can serve as a helpful starting point when determining your rates.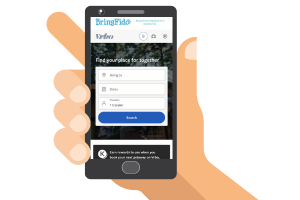 Can you use it on mobile?
Vrbo has a mobile app, but it is only intended for vacationers and travelers. As a property owner, you'll have to use the web-based platform to manage your listing.
The site is optimized for mobile use, so you will be able to navigate it conveniently when you are using a mobile device. This can be very useful because you can instantly see notifications even when you are not in front of your computer.
You will be able to respond to booking inquiries immediately, which can sometimes mean the difference between getting a booking or not.
Who can join Vrbo?
Vrbo is only available in certain countries. The photo below shows which countries it is available in.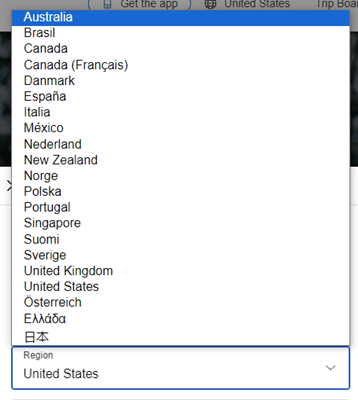 If your country is listed in the photo above, then you are eligible to list your property for rent. All you have to do is sign up as a property owner to create your listing. During the registration process, you will be asked to provide your mobile number because Vrbo will have to send you a verification code to complete your registration.
Once you get past this point, you will be asked which membership model you want. As mentioned earlier, you can opt for the pay-per-booking model, where there will be a service and booking fee involved.
You can also go for the annual subscription model, where you'll have to pay an annual fee (I never got to find out how much the annual fee costs since I never got to that point when I was testing Vrbo) to keep your listing up.
For this model, there won't be any service and commission fees involved. However, this option is a bit risky because, as mentioned earlier, there's no guarantee you will ever get a booking. So, if you want to err on the safe side, pay-per-booking is the best membership option to go for, even though it means reduced earnings.
Can you get support?
If you have any questions about the site or your account, you can check out the Help page. It discusses most of the important topics you need to know about Vrbo.
If you can't find the answers you are looking for, then you can just get in touch with the support team. You can do so by clicking the "Contact Us" link at the bottom of the Help page.
It will guide you on how you can communicate with the support team. You will have the option to chat with a support representative or call their hotline.
Overall, I would say the site does provide decent support to its members since it offers a couple of ways for you to communicate with the support team.
Final Verdict
Vrbo is a legit site that will allow you to earn by renting out your property to vacationers and travelers. It has a couple of advantages, but it also has a few drawbacks you need to consider.
Let me wrap up this review by summarizing its pros and cons to give you an overview of what Vrbo has to offer. Then, you can decide if this opportunity is the right fit for you or not.

Pros:
Offers an opportunity to earn passively
No payout threshold

Cons:
Doesn't offer guaranteed earnings
It can take some time to receive earnings if you are a new member
In my opinion, Vrbo is not for everyone. It is only really fit for people who have an extra house they can rent out or if they travel a lot because that way, they can just rent out their house if they are not at home.
If you fit the bill, then Vrbo is a great option to earn extra income, in my opinion. Just make sure that you set your expectations properly because this opportunity doesn't offer any guaranteed ways to earn.
But if you are looking for guaranteed ways to earn extra cash, I suggest you check out the top survey and GPT sites in your country instead. The sites on this list all have good earning potential, so you will be able to earn a decent amount in a short period of time.
Plus, you will definitely find a site you can join regardless of where you live.
If you have any comments, questions, or have any experience with Vrbo yourself, I would love to hear from you in a comment below.