WAM is a mobile app that claims you can win digital currency and various collectibles by playing games. I have encountered hundreds of apps like this over the years, so I know that not all of them are worth it or even legit.
The question is, is WAM legit or just another scam to stay away from?
If you want to find out the answer to this question, I recommend you read this WAM review.
It will show you the full details of what the app offers, so you will know what to expect from it before you even install it on your mobile device. Then you can make an educated decision on whether WAM is worth your time or not.
So let's go ahead and take a closer look at WAM, shall we?
What is WAM, and what does it offer?
WAM is an app that will let you play to win digital currency. It is indeed a legit app because you can really win digital currency in the form of WAM tokens. But this fact doesn't necessarily mean the app is worth using.
To find out if it is worth your time, you must first understand how it works. And the best way to do that is to take a closer look at the earning opportunity it offers so you can get a clear understanding of how much time and effort is needed to earn from it.
So here's how to earn from WAM.
The earning opportunity – Play-to-Earn Tournaments
The only way to earn from WAM is to participate in its play-to-earn tournaments. When you log in to the app, you will immediately see all the tournaments being held (refer to the photo below).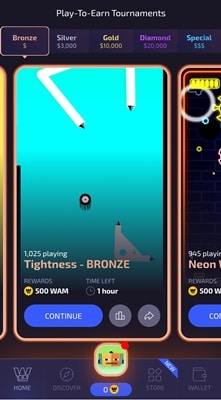 Each tournament will show the duration, so I suggest you pick one that is about to end or is close to ending. Press the game, and it will take you to the game you have to play. Each tournament will feature a different game you have to play.
These are arcade-style games, so they are fairly easy to comprehend. The objective is to get the highest possible score to rank among the top scorers. When the tournament ends and if you are among the ranked players who participated, you will receive a prize in the form of WAM tokens. Later, I will discuss what you can do with the tokens you've won.
The premise is really simple, but actually getting a high rank was quite hard when I was testing the app. Before you join a tournament, I recommend you visit the "Discover" section of the app first and play the games listed. These will be the games that will be used for the tournaments.
It's a good way to familiarize how the games work so that when you join a tournament, you will know what to do. It's also the best way to avoid wasting tries. You see, depending on the game, you'll get free tries or lives, as WAM calls it.
Normally, you get three free tries, and if you use them all up, the only way to get additional "lives" is to watch an ad or buy "lives" using WAM tokens. When I was testing the app, I tried to choose the "watch an ad" option, but it didn't work. I'm not sure if WAM disabled this option or if it was just a bug, but that's what happened.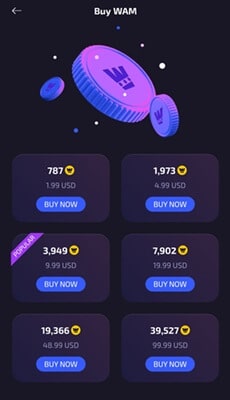 You can use the WAM tokens you've won from previous tournaments, but if you just started, you'll have to spend money to buy WAM tokens that you can use to purchase more lives. This, in my opinion, is where you need to be careful.
Personally, I don't get tempted to spend real money on this kind of earning opportunity because there's no guarantee you'll win it back. You have to be very good (and I mean very good), at this kind of game to win the higher prizes.
The way I see it, you have to spend quite some time practicing the games, so that when you are confident enough, you can join a tournament, and achieve a high score. This is the best strategy I can recommend to maximize your earnings from WAM.
Once the tournament ends, your winnings will be credited to your WAM account balance. Also, there's no limit as to how many tournaments you can participate in.
Recommended: Check Out the Best Ways to Earn Money by Playing Games Online
How do you get paid?
As explained above, your winnings will be paid in the form of WAM tokens. This cryptocurrency is already being traded, which means it has monetary value. At the time of this writing, 1 WAM token is worth very little, so you will have to win thousands to earn a decent amount from this app.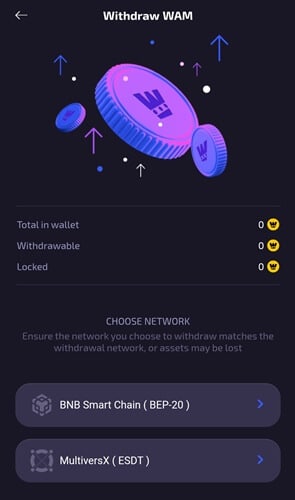 The one good thing about WAM's payment system is that there is no payout threshold you need to reach to withdraw your WAM tokens. You can withdraw them anytime you want. You can do so using the Binance Smart Chain or MultiversX.
If you are new to crypto, this means you'll have to set up a third-party crypto wallet that uses any of the smart chains mentioned above. I recommend you use Binance since it is a user-friendly platform.
Now what you need to keep in mind when withdrawing WAM tokens to your crypto wallet is that there will be a transaction fee involved for every withdrawal. That is why it is recommended you withdraw them when you've accumulated a significant amount to cover the fee and still receive a good amount of WAM tokens.
The app doesn't indicate how much the fee is though, but it will be shown when you attempt to make a withdrawal. I personally wasn't able to test this part, and I will explain why later.
But overall, the payment system of WAM is relatively straightforward if you are already familiar with cryptocurrency transactions. If you are new to crypto, you'll have to do some research on how to withdraw cryptocurrencies to your crypto wallet. Your crypto wallet will usually have a tutorial for this.
Now if you are looking for a platform that offers a simpler payment method, I recommend you check out the top sites that pay via PayPal instead.
How much money can you make?
The problem with WAM, in my opinion, is that there's no guarantee you will be able to earn from the opportunity it offers. As explained earlier, you need to achieve a high ranking when you join a tournament to win a decent amount of WAM tokens.
And to do that, you'll have to spend a lot of time practicing the games to become good at them. This makes the time-to-money ratio of WAM very poor. That is why I would say the earning potential of the app is very low.
In my opinion, this is where WAM fails as a viable app to earn from. Not only is their cryptocurrency not worth much, but it's also very hard to earn rewards regularly. Plus, the games they feature are not that interesting, so there's really little value WAM has to offer to users, in my opinion.
Can you use it on a desktop?
WAM is a mobile-only platform, so you will need to use a mobile device if you want to earn from it. The app is available for both Android and iOS devices so compatibility won't be an issue.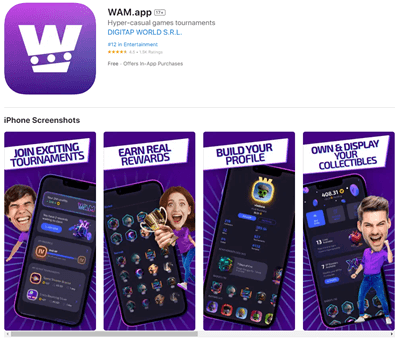 The app is relatively user-friendly, so you will easily get used to navigating it. It's also not very spammy, unlike other apps that offer the same kind of earning opportunity.
Who can join WAM?
There's no information on the website or the app about which countries it is available in. But from what I can see, it is available more or less worldwide, so you should not have a problem joining.
The best way to find out if it is available in your country is to search for it on your app store. If it appears among the results, then you should be able to register as a member.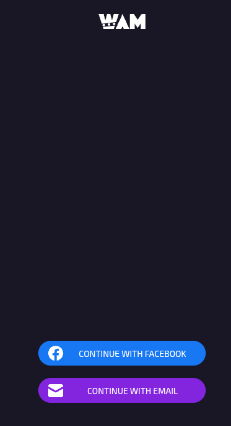 To sign up, you have to install the app first. Then when you open the app for the first time, you'll have to go through the registration process, which is fairly straightforward. You can use your Facebook account or email address to register.
Once you've done that, you can log in to the app immediately. However, WAM will send you a verification email to verify your registration, so make sure to check your email first and click the link in the email to complete your registration.
It will usually show up in the Spam folder, which is what happened when I tested the app, so make sure to check your Spam folder as well if the email doesn't appear in your inbox.
Can you get support?
The site or the app doesn't have a Help page you can check out if you have any questions about your account or the app. If you encounter an issue or you have an inquiry, you'll have to join their Discord channel to speak to a representative since the site, or the app also doesn't have a contact form you can use.
While I don't mind this, it is fairly rare for an app or a website not to have a contact form. Overall, I would say WAM does provide the minimum required support to its members since it offers a way for you to communicate with their support team.
That being said, I wish their app or their website would have a Help page or at least a FAQ page you can check out if you have any questions. That would decrease the chances of having to contact support via Discord, in my opinion.
Final Verdict
WAM is a legit app that offers a chance for you to win digital currency when participating in tournaments for the games it features. It has a couple of decent features, but it has a few limitations that overshadow the good it offers, in my opinion.
Let me summarize its pros and cons to wrap up this review so you can see an overview of what it has to offer. Then you can decide if you should push through with using it or not.

Pros:
No payout threshold
Available more or less worldwide

Cons:
Doesn't offer guaranteed earnings
Doesn't have a Help or FAQ page
Only offers its own cryptocurrency as reward
In my opinion, WAM is not worth your time. The fact that it doesn't offer a guaranteed way to earn is its biggest flaw. You will have to spend hours and hours practicing the games it features just to have a chance at earning a few WAM tokens.
You are better off investing your time in guaranteed ways to earn. The games it features are also not that interesting, so there's really little value to using WAM, in my opinion.
If you want to earn while playing games online, I recommend you check out the best ways to earn money by playing games online instead.
But if all you are after is a more effective way to earn extra cash, I suggest you check out the top survey and GPT sites in your country instead. The sites on this list all have good earning potential, so you don't have to invest a lot of time to earn a decent amount.
If you have any comments, questions, or have any experience with WAM yourself, I would love to hear from you in a comment below.