WePointz is a mobile app that claims you can play mobile games and earn money at the same time.
Over the years, I have seen many apps that make the same claim, so I know not all of these apps are worth it or even legit.
Now the question is, is WePointz legit or just a scam?
This WePointz app review will address that question and more. It will give you a detailed inside look at what the app has to offer so you will know if it is worth using or not.
So let's get on with this review, shall we?
What is WePointz, and what does it offer?
WePointz is a Get-Paid-To (GPT) app that will reward you for playing games and participating in the other earning opportunities it offers.
It is indeed a legit app because you can really earn rewards by playing games and doing other small tasks.
However, this doesn't necessarily mean the app is worth your time. To find out if you should use it, you must first understand how it works, and the best way to do that is to examine the earning opportunities it offers. This is the best way to get a clear picture of how much time and effort is needed to earn from it.
So here's how to earn from WePointz.
Option 1 – Playing games
As mentioned above, you can earn rewards by playing the featured games of WePointz. To start, all you have to do is log in to the app. You will immediately see all the available games you can play. When I was testing the app, there were four available games to play.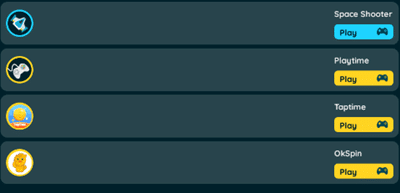 These games are arcade-type games, so if you like this kind of game, you'll enjoy playing the featured games. The idea behind this opportunity is that you'll have to spend a ticket to play any of the featured games.
You'll be given 20 tickets for free at the start, but you can also get free tickets daily by claiming them or by watching a video ad. To start playing, just press which game you want to play. Once you've done that, the app will match you with another player.
The idea is to score more points than the other player after 60 seconds. When the time is up, whoever has the most points will win the prize which will be a certain number of points. The points you will receive will depend on how long you've been playing the game.
The longer you keep playing a certain game, the more points you will receive. You can keep playing until you run out of tickets. Of course, there's no guarantee you will earn points from this opportunity, which is why you always have to do your best when playing to win the prize.
Option 2 – Tasks
If you prefer guaranteed points, you can work on tasks instead. These tasks are just offerwalls you can work on to earn rewards.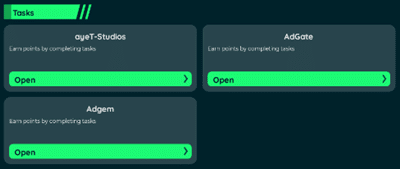 Each offerwall has a set of offers you can complete. Most of the time, these offers will ask you to play other mobile games, answer surveys or quizzes, or sign up for free trials.
What you need to remember when signing up for free trials is that you always have to be careful not to join any of those free trials that will ask for your credit card information.
While these may be free for a certain period, these apps or sites will start charging you once the trial period is over, so you might end up losing money if you forget to cancel after the trial period. Personally, I tend to avoid these kinds of offers for that reason.
Each offer will have a set of instructions you need to follow to complete it. Just make sure to read the instructions carefully before you begin working on the offer. After you've completed the offer, you will receive the number of points promised.
There's a decent number of offers available at any given time, so you will most likely find something to work on to earn points.
Option 3 – Paid surveys
Another way to earn points is to answer paid surveys. WePointz has partnered with a few survey providers to provide its members with paid surveys.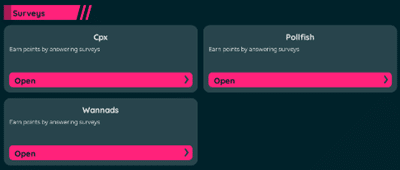 If you are a member of survey sites, this will be very familiar to you. All you have to do is pick a survey provider and press it. You'll be asked to provide your profile information first. Once you've done that, the survey provider will determine if there are available surveys for you.
If there are surveys, just press them to start the process. You'll have to go through a round of qualifying questions first to determine if you are indeed suitable for the survey. If you qualify, you get to answer the actual survey. If you don't qualify, you just have to move on to the next available survey.
There weren't a lot of surveys available when I was testing the app, so it's a bit hard to earn rewards from this opportunity regularly. Plus, there's no guarantee you will qualify for every survey available.
If you manage to complete the survey, you will receive the points promised which is usually higher than most tasks offered.
Option 4 – Referral program
Lastly, you can also earn points through WePointz's referral program. In case you are not familiar with this, it is a form of earning opportunity designed to promote the app.

All you have to do is share your referral code with the person you want to invite. If they download the app and sign up (more on this later), they will have to input your code for you to receive the reward. Make sure to remind them to do this, otherwise, they will not become your referral and you will not earn anything.
Once they become your referral, you will receive 250 points as a reward. Aside from that, you'll also receive a 20% commission every time your referral completes a task. This commission will be shouldered by WePointz, and it will not be deducted from your referral's earnings.
It's a decent way to earn points, but you have to make sure the people you invite are interested in earning from WePointz if you want to maximize your earnings from this opportunity.
Recommended: Check Out the Best Ways to Earn Money by Playing Games Online
How do you get paid?
As explained above, you will earn points for playing games, completing tasks, answering surveys, and from its referral program. But what can you do with the points you've earned?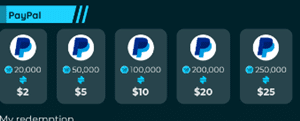 Well, you can use them to redeem various rewards. The rewards you can redeem will depend on your country, but the most common option will be PayPal.
As you can see in the photo above, you can convert your points to cash via PayPal once you've earned at least 20,000 points. That will be equivalent to a $2 PayPal withdrawal.
This threshold will vary depending on your country, and so will the currency that the app will use. It will automatically use your local currency.
Overall, the payment system of WePointz is relatively straightforward. I like the fact that it offers a convenient payment system like PayPal. If you are looking for more apps or sites that offer a convenient payment system, I recommend you check out the top sites that pay via PayPal as well.
How much money can you make?
While WePointz does have a decent number of earning opportunities available, the amount you can earn from it still won't be a lot. The reason for this is that the app doesn't pay that well.
It will take you quite a bit of time to earn enough points to redeem rewards. There are tasks that will reward you with a lot of points, but they usually take a lot of time to complete, so you won't exactly be earning efficiently.
This is why I would say the earning potential of WePointz is not that great. You'll have to be extra patient if you want to earn a decent amount from this app.
Can you use it on a desktop?
WePointz is a mobile-only platform, so you will need to use a mobile device if you want to earn from it.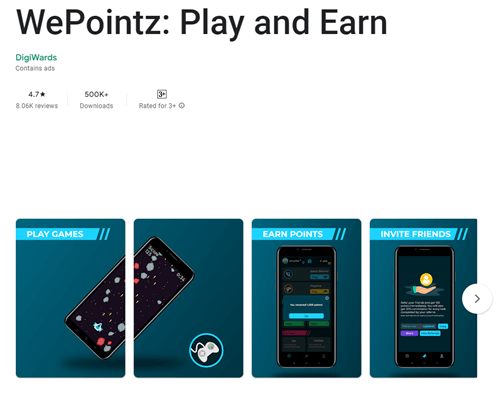 As for the app, it can only be downloaded from the Android app store, so if you are an iOS user, then this is not for you. I recommend you check out the top money making apps for iOS instead.
The app is relatively easy to use, so you will not have a hard time getting used to how it works. Fair warning, though, you will have to deal with several video ads when using this app, which is a bit annoying, but you need to power through them to earn tickets so you can play featured games.
Overall, apart from the video ads you have to deal with, the user experience WePointz offers is relatively better than most play-and-earn apps out there, in my opinion.
Who can join WePointz?
The app doesn't tell you which countries it is available in, but from what I can tell, it is available more or less worldwide. The best way to find out if it is available in your country is to search for it on Google Play.
If it appears among the results, then that means it is available in your country. If it doesn't, then you are out of luck.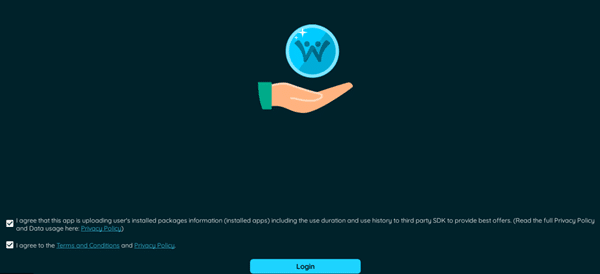 To register, you just have to download and install the app. Then you have to use your Google account to sign in. That's all there is to it.
Keep in mind though that WePointz will not allow you to use the same Google account on multiple devices. If they find out you are doing that, you will lose all the points you've earned, and your account will be terminated.
Can you get support?
If you have any questions about the app, you can check out the "How does it work" section of the app. It will show you the instructions on how to earn. But aside from that, there isn't a lot of useful information found inside the app, so if you experience any issues while using the app, you'll have to get in touch with their support team.
Fortunately, WePointz provides a way for you to do that. You can use the "Contact Us" link inside the app to submit your inquiry. It will open the default email client your mobile device is using. If you haven't installed any email software on your device, you'll have to send your email the old-fashioned way.
You can direct your inquiries to [email protected]. Overall, I would say WePointz does provide the minimum required support since it offers a way for you to communicate with their support team. I just wish the app would provide more useful information to lessen the instances of having to contact support.
Final Verdict
WePointz is a legit GPT app that will reward you for playing games and participating in the other earning opportunities it offers. It does have a couple of good features, but it also has some limitations you may want to consider.
Let me end this review with a summary of its pros and cons to give you an overview of what the app has to offer. Then you can decide if you should use it or not.

Pros:
Offers payment via PayPal
The featured games are fun and exciting

Cons:
Low rewards
The app doesn't provide a lot of useful information
There are quite a lot of video ads you have to watch
In my opinion, WePointz isn't a bad GPT app. That being said, there are better apps or websites to earn extra cash from. It can serve as a decent secondary option to earn extra cash so long as you align your expectations in terms of how much you can earn from it.
It will take quite a bit of time to earn a decent amount from it. The bright side is the games you can play are actually quite fun, in my opinion.
But if your goal is to find primary ways to earn extra cash, I recommend you check out the top survey and GPT sites in your country instead. The sites on this list all have good earning potential so it won't take a lot of time for you to earn a decent amount.
If you have any comments, questions, or have any experiences with WePointz yourself, I would love to hear from you in a comment below.