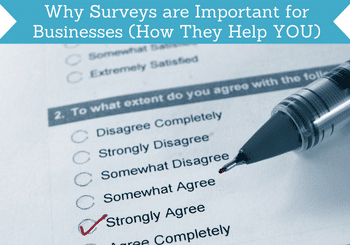 Managing a business is not an easy thing. There are many decisions you need to make. And if you don't have the right information, you can wind up making the wrong decision that will affect your business in a bad way.
It doesn't matter if you own a small business or a huge company. Getting the right information is always a must. And fortunately, there are many tools you can use to get the information you need.
One of the tools that can prove very useful is surveys. In fact, lots of big companies use this tool to get all the information they need to make the appropriate decisions.
In this article, I will talk about why surveys are important for business, so you can understand why you should use them.
Why can Surveys help your business?
As implied above, surveys are a great way to get all the information you need to make business decisions. But why do surveys matter, and how can they help you?
You would think that in this day and age, surveys might seem outdated.
But on the contrary, conducting surveys has become easier than it was a couple of decades ago. With the rise of market research companies, one can simply hire them to conduct the surveys. Businesses don't have to look for personnel to do the surveys. This is especially useful for small businesses that don't have a huge budget to create a market research department.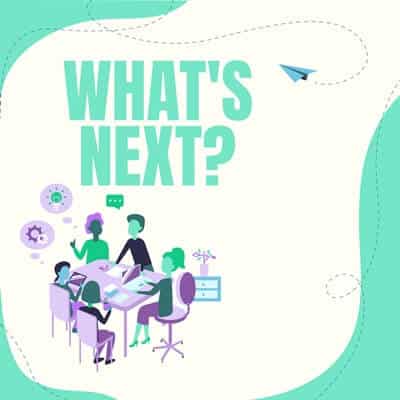 Now, to answer the question above, the reason why surveys still matter is that it's a great way to gather data that can be transformed into information you need to make decisions. Surveys can be used to learn how your target demographic behaves and how they think.
You can use the data gathered from these surveys to fine-tune your products or services. It can also be used to gauge customer and even employee satisfaction. Once the data is gathered, it can be analyzed to provide insight to base your decisions.
In other words, it can lead you to the path of making the right decisions. It's also the reason why survey companies have flourished over the years since it is one of the most important tools that any business (small or large) can use to get to the next level.
And you can use online surveys to quickly gather data from hundreds or even thousands of customers, depending on your needs.
This makes it a very effective and economical way to do market research, and you can get responses from both local and international customers.
It is all about choosing the right types of survey for your company's needs, so let's go over the most common of these types below.
Types of surveys
There are many types of surveys used by market research companies, and each type serves a purpose.
These surveys can be done either in person or online. But the more prevalent type nowadays is online surveys.
It's a much more convenient and cost-effective method. It also has a broader reach and is especially useful for large companies that want to cover a huge part of their demographic. Below, I will discuss the types of surveys used, so you can have an idea of how market research companies gather data and what type of surveys might be best for your business.
#1 – Market Research Surveys
The most common surveys being conducted nowadays are market research surveys. These surveys are intended to collect data from the target market of businesses. Normally, these surveys will ask questions regarding the customer's needs and preferences.
Data collected from these surveys can be used by the business' marketing or product development department to design or improve the products or services they offer. It is also the most used since businesses need to always keep in touch with their customers' needs and wants.
#2 – Customer Feedback Surveys
This type of survey is used to gather data about the business's products or services. While it has similarities with market research surveys, customer feedback surveys are mainly intended to help businesses improve their current products and services.
Questions encountered in these surveys are all about the customer's experience when using the product or service of the business. Usually, it will ask customers if their needs and wants were met while using the product or service.
#3 – Brand Awareness Surveys
Brand awareness surveys are designed to check how well a business' product or service is known by customers.
This is mainly used by the marketing department to check how their marketing strategies are performing.
#4 – Lead Generation Surveys
This type of survey is not as common as the other types of surveys, but it can still be fairly important. The main purpose of this survey is to help businesses connect with potential customers.
The questions that will be asked in these surveys are designed to forge bonds with the respondents so that businesses can potentially grow and expand their reach.
Most of the time, these surveys will just ask for contact information, areas of interest, or if they are willing to try out products for free.
#5 – Employee Satisfaction Surveys
These surveys are conducted in-house to determine if employees are still happy and satisfied while working. It's an important tool that business owners can use to align their policies according to their employees' needs and preferences.
Most of these surveys are conducted anonymously to collect honest answers. The main purpose of this type of survey is to boost the productivity and morale of employees, which, as you probably already know, is an integral part of helping a business flourish.
How surveys help
As you can see above, there are several types of surveys a business can use to gather data. The data collected can be analyzed to provide insight that a business wants to make decisions.
From designing new products and services to improving current ones, these surveys will help businesses get all the information they need. Surveys can also be used to increase the number of potential customers, which is a requirement for a business to meet its goals or achieve the next level they are aiming for.
Lastly, surveys can help a business get the pulse of how their employees feel while working for them. This is a very crucial step in providing the right policies to keep employees happy. Because as you already know, a happy employee can significantly boost their productivity, which will, in turn, lead to more profit for the business.
This is why businesses must not just stick to one type of survey. Instead, they should utilize all types of surveys to collect data that will be useful for them. Having all the right information can mean the difference in whether a business will succeed or fail.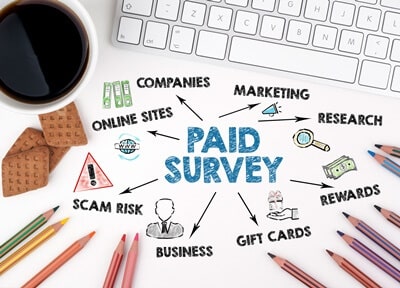 Now, if you are wondering if the data collected by these surveys are really useful, then you don't have to worry. Survey companies provide incentives to respondents to ensure that every survey conducted will reach the number of respondents required. The incentive can also serve as a motivating factor for respondents to take the survey seriously.
Survey companies also have a system in place where they can filter who can take the surveys, and that can spot fraudulent answers. This is to guarantee that the data collected will be relevant to the business requesting the survey.
Of course, as a business owner, choosing the right survey company to conduct your surveys can also make a huge impact. So it's important to do your due diligence when choosing the right survey company.
Popular market research companies you can check out
To get started, you can check out some of these popular market research companies. They specialize in gathering data for any kind of business. Plus, they can tailor their research according to your needs.
#1 – Nielsen
Nielsen is one of the global leaders in data collection, analytics, and audience measurement. It is able to gather data across all platforms and channels, so if you are looking for a market research company with a very wide reach, this is one of the best options, in my opinion.
#2 – IPSOS
IPSOS is another popular market research company that partners with some of the biggest brands and companies today. It prides itself on producing accurate and relevant information and turning it into actionable truth.
#3 – Dynata
Another company that has a global reach in terms of market research is Dynata. It offers all-in-one solutions for insights, activation and measurement, innovative technology, and more than 40 years of experience as a pioneer in consumer and B2B insights.
Final Thoughts
As you can see, surveys are a vital tool your businesses should use, whether you have a small or large business. It can be used to gather all the necessary information to make the right decisions.
Today, market research companies provide incentives to survey respondents to ensure they are gathering useful data. These incentives serve as a motivating factor for respondents to give honest answers and take the time to answer them.
It's the best way for businesses to benefit from the surveys being conducted on their behalf. So if you are a business owner mulling over whether to conduct surveys or not, you should not hesitate to do so.
Surveys are a great tool that is still relevant in this modern era. It will give you everything you need to make the right decisions to take your business to the next level if you do them the right way.
If you have any comments, questions, I would love to hear from you in a comment below.