If you are looking for an easy way to earn extra cash, there's an app called Wonolo that claims you will be able to find work whenever and wherever you want to. It's definitely an appealing claim. But before you do anything, I would suggest you read this Wonolo review first.
This review will verify if the app is a scam or if it is really legit. It will give you an inside look so you will know everything there is to know about the app. That way, you'll know exactly what to expect from it.
Then you can decide if it is really an app worth using or not. So, let's go ahead and get this review started.
What is Wonolo and what does it offer?
Wonolo (short for work now locally), is a micro-jobs app that will pay you for taking on jobs.
It's pretty similar to Gigwalk, another micro-job app that offers the same kind of earning opportunity. Here's a short video explaining what Wonolo is.
Now, to find out exactly how the app works, we have to examine the earning opportunity it offers. By doing so, you'll also get an idea of how well you can earn from this app. So, here's how to earn from Wonolo.
The earning opportunity – Jobs
The only way to earn from this app is by taking on jobs that are posted inside the app. So, you'll have to download and install the app and sign-up as a member first (I will discuss later how you can do this).
Then, you have to log in to the app to view all the jobs available.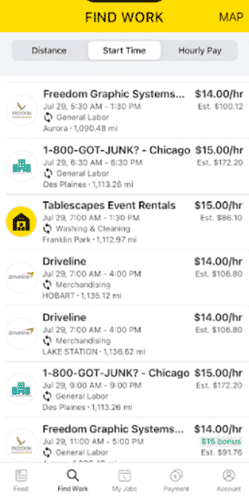 There are two ways you can view all the available jobs. You can view it like the photo shown above where all the jobs will be listed. But you can also view it in map mode so you can easily identify which jobs are closest to your location.
As you can see, you will immediately see how much you will earn for completing a job. That will be able to help you narrow down which jobs you should take on.
As for the jobs you will usually find, it will usually be manual labor jobs like working in warehouses, driving trucks, etc. Here are the job categories available:
Warehouse operations
General labor
Delivery drivers
Food production
Event staffing
Washing & cleaning
Administrative
Merchandising
When you see a job you are interested in doing, just press it and take note of the schedule. When you accept the job, you have to make sure you are there when the shift starts and you have pressed the "started work" on the app.
If by chance, you can't make it to the location or if there's an emergency that is preventing you from doing the work, you have to cancel your application through the app. As much as possible, make sure to cancel your application before the shift starts.
If you fail to do that, the app will limit your access to available jobs if it happens multiple times.
When you finish the job, make sure to complete it in the app so the employer will know you've completed it. Then, all you have to do is wait around 1 to 5 days before the payment will be credited to your account.
However, there will be times where the pay will take longer to be credited. When that happens, just make sure to take note of the job you've done and submit an inquiry to their support team (I will discuss later how you can do this).
Recommended: Check Out the Top Survey Sites in Your Country
How do you get paid?
For every job you complete, you will earn a certain number of US dollars. Every job will have an hourly rate, so the total amount you will receive will depend on how many hours of work you've rendered.
As mentioned earlier, it will take 1 to 5 days (and sometimes even longer) before your salary will be credited to your Wonolo account balance. When it is credited to your account, you then have the option to transfer your earnings to your bank account or debit card.
You don't need to reach a threshold to transfer your earnings to your bank account. You can do it anytime as long as there's money in your Wonolo account balance.
Their payment system is relatively straightforward, and I like the fact that you don't need to reach a threshold to withdraw your earnings. Plus, direct bank transfer is one of the most convenient payment methods available today.
If you are interested in more sites that offer a convenient payment method, I would recommend you check out the top sites that pay via direct bank transfer.
How much money can you make?
The amount you can earn from Wonolo will mostly depend on the availability of jobs in your area and how much time you are willing to spend doing these jobs. The hourly rate of their jobs will usually range from $10 to $15, which isn't that bad, in my opinion.
But as I've said, it will all depend on the availability of jobs. And during my testing, there were a decent number of jobs available in every city the app is available in. So, it has decent earning potential as long as you live in a city where Wonolo is available.
But if you don't, then there won't be any jobs available. That's just how this kind of app works. Your location will be key. Later on, I will discuss which cities it is available in.
Can you use it on a desktop?
Wonolo is a mobile-only platform if you are a worker. There's a web version of their member dashboard but it is only for members who post jobs. So, you can't really use it. You really have to use your mobile device when you want to earn from this app.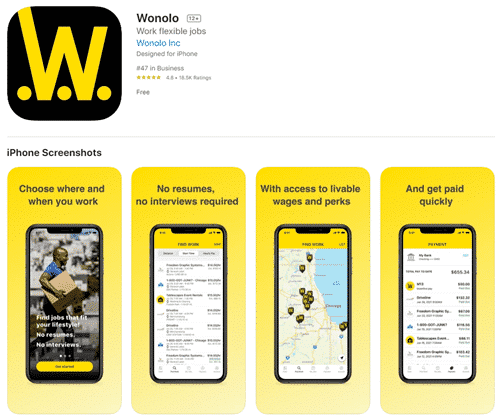 As for their app, it will work with both iOS and Android devices. It is very easy to use. You will immediately get used to how to use the app. Plus, you won't encounter any annoying pop-up ads when using it.
So overall, the user experience it provides is quite good, in my opinion.
Who can join Wonolo?
As of the writing of this review, Wonolo is only available in the US. So, if you live somewhere else, then this app is not for you.
But, Wonolo isn't exactly available in all the cities of the US. It is currently only available in 27 cities. Here's a list of the cities where there will be available jobs.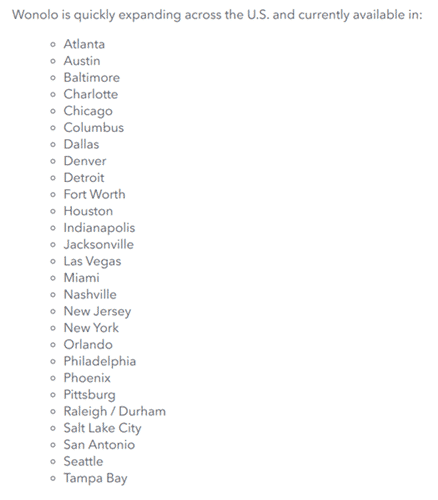 If your city is not listed in the photo above, then Wonolo is still not available in your area. However, they do say they are currently expanding. So, just check their website from time to time to see if your city will be added to the list of cities it is available in.
To register as a member, you will first have to download and install the app on your device. Then, you will have to provide your mobile number to register. There's no way around this, so if you want to become a member, you really have to provide your mobile number.
Then, you just have to proceed with the registration like you normally would. After you are done with the registration process, you can log in to the app and start looking for jobs.
Can you get support?
Wonolo does a good job of explaining what their app does. So, you will learn a lot about the app by just exploring their website. You can also access most of the useful information inside the app. Just go to the "Help" section.
But if you have any questions about your account or if you want to contest or inquire about your earnings, you can access the contact form inside their app. You can also just email their support team directly at support@wonolo.com.
Overall, I would say Wonolo does provide decent support for its members since it offers convenient ways for you to contact support.
Final Verdict
Wonolo is a legit micro-jobs site that will pay you for completing jobs. It has a couple of good features but it also has a few drawbacks you need to know.
Let me end this review with a summary of its pros and cons so you can get an overview of what the app has to offer. Then, you can decide if this app is a good fit for you or not.

Pros:
Their app is user-friendly
Their jobs a decent pay rate
No payout threshold

Cons:
Doesn't offer payment via PayPal
Only available in certain cities in the US
You have to go to specific locations to do the work
In my opinion, Wonolo is a decent app to use if you live in a city where it is available. The reason why I say this is, their jobs pay decently. So, you will at least be guaranteed to earn a decent amount when you manage to complete a job.
The only downside is, it doesn't offer PayPal as a payment option and then you, of course, have to go to specific locations so it is not as convenient as for example using micro-job sites where you can find online tasks.
If Wonolo isn't available in your city or country or if you prefer not having to go to specific locations, I would recommend you check out the top survey and GPT sites in your country instead. The sites and apps on this list all have good earning potential and most of their earning opportunities can be done in the comfort of your own home.
Plus, you will definitely find a site or app you can join regardless of where you live.
If you have any comments, questions, or have any experiences with Wonolo yourself, I would love to hear from you in a comment below.