WriterBay is a website that claims you earn $3,000 per month by writing.
Now, the question is, is this site legit, or is it a scam?
I have tested WriterBay to find out exactly how it works and what it offers.
In this WriterBay review, I will reveal the full details of what the site offers, so you will know exactly what to expect from it.
That should help you make an informed decision on whether WriterBay is the right opportunity for you to earn extra cash or not. So, let's go ahead and take a closer look at this site, shall we?
What is WriterBay, and what does it offer?
WriterBay is a site where freelance writers can take on writing jobs to earn extra cash. It is indeed a legit site because you will really get paid for writing articles.
But this doesn't necessarily mean that WriterBay is worth it. To figure out if you should go for this site, you must first understand how it works, so you can gauge the amount of time and effort required to earn from it.
And the best way to do this is to examine the earning opportunities it offers. The video below will explain how you can earn from WriterBay. You can also read the full details below the video.
Recommended: Check Out the Top Freelance Sites You Can Join
Option 1 – Writing Projects
The primary way to earn from WriterBay is to work on writing projects. When you become a writer for this site, all you have to do is log in to the member dashboard to see the jobs available.
If you see a project you are interested in, then you just have to apply for it. If the client accepts your application, then all that's left to be done is to write the article.
You have to make sure you submit the article before the deadline. If you fail to do so, you won't get paid. Once you've submitted your work, the client will review it, and if there are revisions that need to be done, you will be notified, and you will be given a new deadline.
Keep in mind that there's no limit to how many revisions the client can request. That's why you need to make sure you follow all the instructions given to avoid multiple revisions. Once your work is approved, the compensation will be credited to your account balance.

The type of topics you can write about is shown in the photo above. As you can see, there's a wide variety of topics available, so there's a high chance you can find a topic you are comfortable writing about.
As for their payment structure, you will be paid per page you write. Later, I will discuss how you will get paid.
Option 2 – Referral Program
The other way to earn from WriterBay is through its referral program. If you aren't familiar with referral programs, it's an earning opportunity that will ask you to promote a site/app.
For WriterBay's referral program, what you need to do is share your invite link with people you want to invite to the platform. Then, when they click the link and apply as a writer and get accepted, they will become your referral.
But for you to earn from your referrals, they must complete a writing project. Once they do, you will receive a 3% commission every time they complete one. It's not a very high rate, but it's a passive form of earning, so it's still a good way to earn, in my opinion.
However, I do have to tell you that earning from this opportunity won't be as easy as you might think. I will explain why later.
Recommended: Check Out the Top Freelance Sites You Can Join
How do you get paid?
Every time you complete a writing project, you will earn a certain amount, and it will be credited to your WriterBay account balance. Then, once you've earned at least $100, WriterBay will send your earnings via your preferred payment method.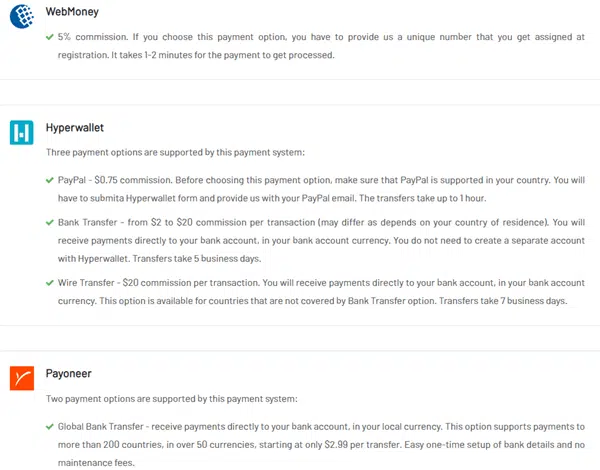 WriterBay offers three payment options – WebMoney, Hyperwallet, and Payoneer.
The site processes payments twice a month (every 1st to 5th and 15th to 20th day of the month). If you fail to reach the threshold of $100 during any payment period, you will have to wait for the next window to receive your earnings.
Overall, the payment system of WriterBay is relatively simple to understand, and I like the fact that it processes payments automatically. However, the payout threshold is, in my opinion, very high. You will have to complete several projects before you can expect to receive your earnings.
If you prefer sites with a low payout threshold, I suggest you check out the fastest paying sites instead.
How much money can you make?
The amount of money you can earn from WriterBay will depend on how many projects you can complete and your level as a writer. If you want to get an idea of how much you can earn, the website has an "Average Payment" calculator you can use to calculate your earnings.

WriterBay classifies its writers into four levels – Regular, Advanced, Pro Light, and Pro. Later, I will discuss how the site will classify you as a writer later.
But the idea behind these ratings is that you will get paid more per page the higher classification you have because you will gain access to more complex jobs which pay well. So, if you are a very skilled writer, you can potentially earn more than $3,000 per month if you work almost every day.
It's a decent amount, but you do have to keep in mind that you will need to spend a lot of time and effort to earn that kind of money in a month. Overall, I would say the earning potential of WriterBay is pretty good as long as you can complete projects regularly.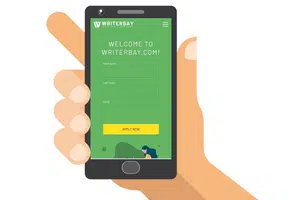 Can you use it on mobile?
WriterBay doesn't have a mobile app you can download, and, in all honesty, you really don't need one. All the work that needs to be done has to be done on a computer.
The only instance where it can be useful to access the site from a mobile device is when you are looking for projects to work on. You can conveniently do so from a mobile device because the website is optimized for mobile use.
But apart from that, you will need to sit in front of your computer to earn.
Who can join WriterBay?
WriterBay is available worldwide. However, I do have to tell you that the site has very strict requirements on who they will accept as a writer.
The application process is also quite long, so you will have to be very patient if you are interested in becoming one of their writers.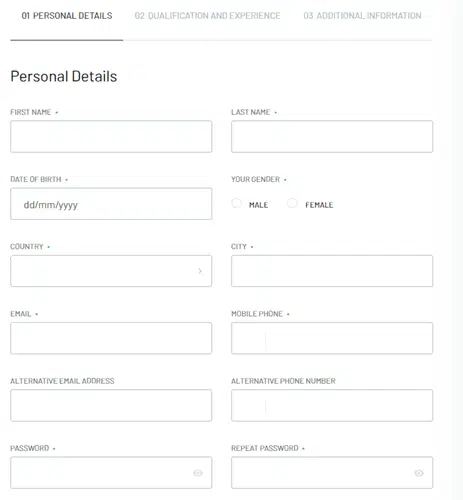 The first thing you need to do is to fill out their sign-up form. Then, you will have to provide your education certificate to prove that you have finished a degree because that is their minimum requirement.
If you have completed an advanced academic level (master's or doctorate degree), you will have access to more complex projects.
Once you've provided all the necessary documents, you will have to read the tutorial and answer a quiz. This is to determine your classification as a writer. After completing this step, you will need to complete a short writing sample.
When you've completed all these steps, WriterBay will review your application. If you get accepted, you will receive an email. It usually takes up to two weeks before you will hear back from the site.
If you get accepted, you will know your classification as a writer. WriterBay will evaluate your classification according to your education level, your answers to the quiz, and your writing sample.
As you can see, the application process is very long, and you will need to provide documents as proof of your education level. This is the reason why I mentioned earlier that it will be hard to earn from their referral program.
Most people will just give up on applying when they see the requirements needed to apply, which, in my opinion, are very steep. There are a lot of other sites where you won't have a hard time applying as a writer.
That's why if you are really intent on joining WriterBay, you will have to be very patient, and you need to make sure you have the required documents on hand.
Can you get support?
WriterBay has a tutorial you can go through, so you can learn how to earn. And if you have any questions, you can check out the FAQ page first. It discusses some of the basic topics you need to know about the site.
If you can't find the answers you are looking for, you can just get in touch with their support team via email (support@writerbay.com). You can also call them directly at +1 (844) 445-14-36 if you desperately need to communicate with a representative immediately.
Overall, I would say WriterBay provides decent support for its members since you can communicate with their support team conveniently.
Final Verdict
WriterBay is a legit site where you can potentially earn decent money by completing writing projects. It has a couple of good features, but it also has some drawbacks you need to know.
Let me finish this review by summarizing its pros and cons so you can see an overview of what WriterBay offers. Then, you can decide if this is the right fit for you or not.

Pros:
Processes payments automatically
Offers decent rates

Cons:
High payout threshold
Very long application process
Very strict requirements to apply as a writer
In my opinion, WriterBay is not for everyone. You should only apply as a writer if you meet all of its requirements. If you don't, then there's a very small chance you will be accepted.
You also need to be very patient because the application process will take a lot of time to complete, so don't expect to earn from it immediately.
Now if you are looking for simpler and easier ways to earn, I suggest you check out the top survey and GPT sites in your country instead. The sites on this list all have good earning potential, so you will be able to earn a decent amount regularly. Plus, you will be able to start earning immediately after sign-up.
But if you are looking to earn a full-time income and don't know where to start, I suggest you check out the best and fastest way to earn a full-time income online instead. This will show you how you can set up your own online business so you can build it up to earn a really great full-time income completely on your own terms.
If you have any comments, questions, or have any experience with WriterBay yourself, I would love to hear from you in a comment below.