If you have a knack for paying attention to details, you can use this skill to earn extra cash online through usability testing sites.
If this is your first time hearing about this opportunity, then let me explain to you what it is.
Basically, you will be asked to test a certain website, app, or program. Then, you will be asked to provide your feedback about it. And in exchange, they will pay you a certain amount once they deem your work meets their standards.
One site that is known for this kind of opportunity is called Analysia. This site promises to pay you for testing websites.
Is it a legit site, though, or is it a scam?
Well, let me just reveal right away that there have been some big changes on the site since I first tested it. It used to offer legit user tests, but it is not really what it offers anymore.
This Analysia review will explain all the details, so you know exactly what to expect.
Important update: Analysia no longer offers paid tests!
If you are new to making money through user tests, you might still think Analysia offers this when you visit the website.
But that is no longer the case. The website stopped offering this option a while ago, and now the domain name seems to have just been taken over by someone making it into a blog where there is not a lot of info.
So you can no longer earn by testing on Analysia.
So if you want to make money testing, you can check out the best user testing sites here instead.
What is Analysia, and what does it offer?
As explained above, Analysia is a usability testing platform that will pay you for testing websites and apps.
So, you will literally get paid to browse websites or use mobile apps. It's a fairly straightforward usability testing site that offers a couple of opportunities for you to earn.
And in order to get a good grip about the site's earning potential, we have to examine the earning opportunities it offers. So, here's how you can earn from Analysia.
Option 1 – Site testing
Before I go ahead and explain what this opportunity is all about, you won't actually get a clear idea on how their site works if you just go through their website since they don't really do a good job explaining how you can earn.
Their site is more for getting potential clients to partner up with them and have their sites tested. That being said, when you become a member of Analysia, you will be eligible to participate in usability tests from time to time.
They will send you an email every time there is an opportunity to take a usability test. Plus, you can also log in to their tester's dashboard to see if there are available tests you can take.
Each test will contain a set of instructions you need to follow. It will first ask you to download a certain program that will record your screen because everything you will be doing will be recorded in a video.
Plus, you are expected to speak out your thoughts while you are doing the test. So, apart from your laptop or desktop, you will also need a microphone so you can record your voice.
So, just to recap, when you take a test, you are expected to start the program you installed to record your screen and record your thoughts about what the test is asking you to do using your microphone.
So, if you aren't really comfortable voicing out your thoughts, then this site is not for you.
Once you have finished with the test, you have to submit the video created by the program you installed to Analysia. They will then review it to see if it meets their standards. If your work passes their standard, you will receive the compensation (which I will talk about later).
In my experience, you have to make sure the audio part of the video you will submit is very clear so they can hear what you are saying without any problems. So, make sure to do the tests in a quiet room. This is the first thing you need to keep in mind when doing the tests.
Next, you have to make sure you follow the instructions given to you down to the last letter. This is to make sure your work gets approved, and you get paid. So, make it a habit to understand what the test is asking you to do before you do it.
The same process applies if you are testing a mobile app instead of a website. The only difference is, you will be doing it on your mobile device, and you will be downloading a screen recorder app instead of the program.
Option 2 – Referral program
Another way you can earn from Analysia is by inviting other people to join the site or by inviting businesses and companies to have their site/app tested.
By inviting other people to become testers, you get to earn 2$ for each test done by the people you've invited. Of course, they have to sign up first to do that.
If you are able to invite businesses or companies, you get to earn 15% of whatever they pay to have their site/app tested, which, in my opinion, is a pretty significant amount. This is also a more unique referral program because usually, you only get to refer members and not actual clients.

However, the process of referring a person or a company is a bit different. Normally, when you log in to a member dashboard, you can go to a page where you can get your referral code/link you can share to the people you want to invite.
But with Analysia, you actually have to request for the code to invite people. So, you can't just invite people or companies right away. You need to get your invite code first.
Recommended: Check Out the Top GPT Sites
How do you get paid?
For every usability test you complete, you will earn a certain amount. To be exact, you will earn $10 per test regardless of how long it will take you to complete it. In my opinion, having a fixed amount for rewards can both be a good thing and a bad thing.
It can be a good thing if you are already used to how the site works because then, you will be able to complete tests quite quickly. So, you will be able to earn efficiently. It's a bad thing only if it will take you more time to complete the test than you are supposed to.
Because then, you won't be as efficient as you should be. But in my experience, after getting a few tests in, you will already be used to the flow of how a test works, and you can finish a lot quicker.
Now, the beauty of the payment system of Analysia is, you won't have to reach a certain threshold to receive payment. You will get paid every time you complete a test, and you will get paid via PayPal. Plus, you don't have to keep requesting payment every time you complete a test.
Analysia will process it automatically for you. So, I would say their payment method is fairly convenient and a bit faster than some other online rewards sites.
If you are interested in more sites that pay quickly, I would suggest you check out the fastest paying sites as well.
How much money can you make?
As explained above, you earn $10 per test you successfully complete. It's a fairly good rate, in my opinion, considering you only need around 15 to 20 minutes to complete it.
Now, it's all a matter of how often you get to do usability tests. And judging from the feedback of long-time members, you normally get invited to do usability tests 1 to 2 times per month. However, the site really doesn't guarantee you get a regular number of tests monthly.
Sometimes, you'll get more than the average, and sometimes, you won't get any. And since this is the only earning opportunity offered on this site (apart from the referral program), I would say the site doesn't have a very high earning potential.
But if you are able to invite businesses or companies to become clients of Analysia, that's where the payout can be quite significant.
Can you use it on mobile?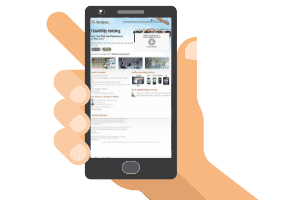 Since you will be asked to test mobile apps from time to time, then you will definitely need to use a mobile device to earn from this site.
But in my experience, usability sites that don't specifically deal with mobile apps tend to offer more tests that will require you to do the work on a desktop or laptop.
And if you visit their website using a mobile web browser, you will notice it isn't very mobile-friendly.
You will need to zoom in a little to read all the content properly. This is to be expected, though, since usability tests are usually intended for desktop and laptop use.
The only time you would really need to use a mobile device is if you are asked to test an app or if you just want to check if there are available tests you can do.
Who can join Analysia?
Analysia is available globally. That means you can sign up as a member regardless of where you live. So, it's pretty easy to sign up as a member.
You just need to be aware that in some countries there will not be many (if any) tests available for you to participate in.
And you need to be very good at the language they ask you to do the test in (usually English) as you have to speak your thoughts out loud and it has to be very easy for them to understand you.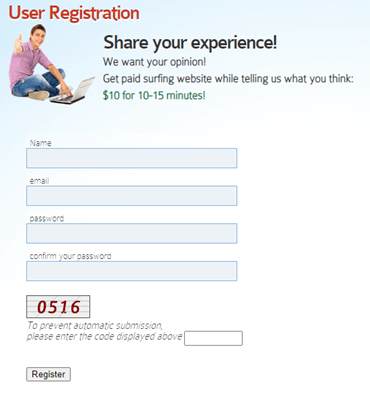 When you complete their registration form, you will then have to answer a short survey to build your profile. You also need to be at least 18 years old to sign up as a member since that is the age requirement for a PayPal account.
Apart from that, the sign-up process is very simple, and you shouldn't have any problems registering.
Can you get support?
As I've mentioned earlier, their site doesn't really do a good job of explaining in detail how their earning opportunities work. So, chances are, you will have some questions you want to ask. You can check out their FAQ page for testers, but it won't really be of much help.
So, if you've got any inquiries, you will have to contact their support team through their contact page.
Although I would say they have a decent way of providing support for their members since you can contact them conveniently, it would still have been better if they did a better job at explaining their earning opportunities.
That way, they could attract more potential testers. But then again, that may be their point. They want to attract more clients rather than testers to ensure there are enough opportunities for their testers, which is fairly reasonable as well.
Final Verdict
Analysia is a legit usability testing site that will pay you for testing websites and mobile apps. It has a couple of good qualities, but it also has a few drawbacks.
Let me conclude this review with a summary of its pros and cons to help you decide if you should sign up to their platform or not.

Pros:
No payout threshold
Pays via PayPal

Cons:
Limited earning opportunities offered
Their site is not very transparent with the earning opportunities offered
In my opinion, Analysia is a decent usability testing site you can join. If you are okay with a fixed reward per test, then this can be a viable option. However, don't expect to earn a lot from this site since tests won't be available that often.
Still, the fact that it pays via PayPal and pays you $10 per test is still a good enough reason to join this site if you are into usability testing. But if you prefer a much easier way of earning extra cash, I would suggest you check out the top GPT sites instead.
The sites on this list all have good earning potential, and you will be able to earn on a regular basis. Plus, you will also find sites you can join regardless of where you live.
If you have any comments, questions, or have any experiences with Analysia yourself, I would love to hear from you in a comment below.