Answeree is a site that claims you will be able to earn money by answering questions posted by their members. So, if you are knowledgeable about certain topics, you might want to consider joining this site.
But before you hit the join button, I would suggest you read this Answeree review first. By doing so, you will find out if this site is legit or just a scam. Not only that, but this review will also reveal the full truth of what the site has to offer so you'll know exactly what the site is all about.
Then you'll know what to expect. That way, you can properly decide if this site is really worth it or not. So, let's get the ball rolling, shall we?
What is Answeree and what does it offer?
Answeree is a Q&A website that will pay you for answering the questions of community members. It is indeed a legit site since it will really pay you if you provide accepted answers.
It is pretty similar to another Q&A site called JustAnswer. The only difference is, Answeree doesn't require you to be an expert in a certain field to answer questions. So, it's easier to earn from Answeree.
However, earning from this site isn't as simple as just answering questions though. There are a few things you need to keep in mind. So, for you to fully understand how this site works and how well you can earn from it, we have to take a closer look at the earning opportunity it offers.
So, here's how to earn from Answeree.
The earning opportunity – Answering questions
The only way to earn rewards from this site is by answering questions. As soon as you are a registered member of the site, you can log in and start answering questions.
I would suggest the first thing you do when you log in to the site is to click on the "Unanswered" option in the menu.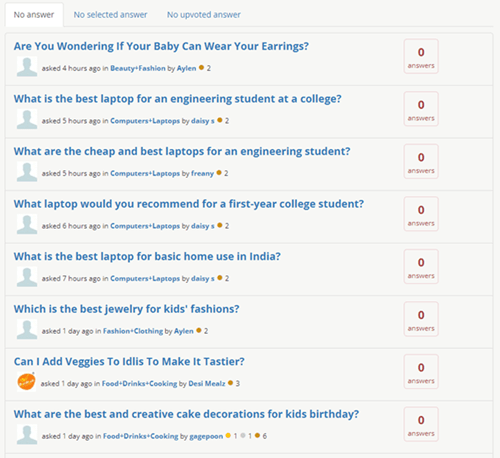 You will then see something like the photo above. Then, just choose which question you want to answer and click it. Then, type in your answer. Now, here's the crucial part. When providing your answer, you have to make sure it does not contain grammatical and punctuation errors.
Your answer must also not be copied from another source (like Wikipedia or Quora). But that doesn't necessarily mean you can't use resources found on the internet. You just need to rewrite it so that it comes as an original response and not just a copied and pasted reply.
That's the most crucial part of providing answers to questions on Answeree.
You also can't provide any spam, affiliate, or irrelevant links in your answer. If you do that and the answer is accepted by the member who posted the question, you still won't get paid.
Another thing you need to remember is, if there are already answers provided in the question, you can't provide the same answer. In other words, don't write an answer unless you have a different answer from any of the previous answers posted.
There are other minor guidelines you need to follow, but the ones mentioned above are the major things you need to keep in mind.
Now, in order for your answer to be considered as the accepted answer, the member who posted the question should thank you by up-voting your answer. Up-votes from other members of Answeree also help.
For every accepted answer your post, you will earn 10 points. If it is not the accepted answer, you will only earn 5 points. So, you will still be rewarded even if you don't provide the accepted answer.
In case your answer has violations, penalties will be applied to the total points you will receive. The penalty will range from 10% to 90% of the total points.
As you can see, it isn't exactly a simple process. It can take quite some time for you to get used to how to provide answers to questions. That's why I would suggest you read the guidelines for posting answers first before answering any questions.
Recommended: Check Out the Top Survey Sites in Your Country
How do you get paid?
As mentioned above, you will earn points for answering questions. You can then exchange your points to cash. 10 points will be equivalent to $0.01.
For your first payout, you will only need to earn at least $2. That means you have to earn 2,000 points. When you've reached that threshold, you can then request for a payout via PayPal by messaging the Answeree private profile.
You can also get paid through Skrill but you have to earn at least $10 to do that. After your first payout via PayPal, the payout threshold you need to reach to withdraw your earnings will be raised to $5. For Skrill payments, the threshold will always be $10.
Their payment system is relatively simple to understand and I do like the fact that they offer a convenient payment method like PayPal.
If you are interested in more sites that offer a convenient payment method, I would recommend you check out the top sites that pay via PayPal.
How much money can you make?
As you can probably guess, the amount you can earn from Answeree won't be a lot. You will have to answer hundreds of questions just to earn a decent amount from it. And the reason behind this is the low pay that the site offers.
Providing the right answer will only net you $0.01, which, in my opinion, is painfully low considering the time and effort you need to spend. So, even though their payout threshold is relatively low, it will still take a lot of time before you are able to withdraw your earnings.
If the pay was better, this site would have decent earning potential, in my opinion. But as it is right now, the site really has very low earning potential.
It also doesn't help that the site only offers one earning opportunity. If the site would have offered a referral program, then there would be another way for you to boost your earnings from this site.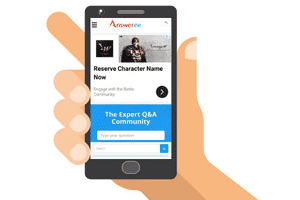 Can you use it on mobile?
The one positive thing I can say about Answeree is, you can use it on a mobile device conveniently even though it doesn't have a mobile app you can download. That's because their site is optimized for mobile use.
You will be able to conveniently navigate the site and you don't have to zoom in just to read the questions and answers. So, if you are dead set on joining this site, being able to answer questions conveniently from your mobile device can help you earn more because you can earn even when you are not in front of your computer.
Who can join Answeree?
Answeree is available globally. So, you can register as a member regardless of where you live. You just have to be at least 18 years of age to register.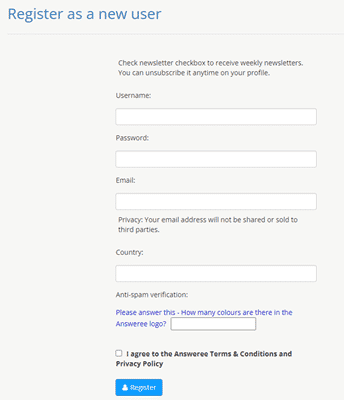 All you have to do to become a member is fill out their registration form. Then, Answeree will send a confirmation email. Simply click the link in the email to complete your registration. Once you've done that, you can log in to the site and start answering questions.
Can you get support?
The site has a FAQ page you can refer to if you have any questions. It also has a page that explains the guidelines you need to follow in order to earn. So, I would suggest you read that first before attempting to answer any questions.
Because remember, you will be penalized for any violations you commit when posting answers and that will lead to fewer points earned. Now, if you can't find the answers you are looking for, you can get in touch with their support team by emailing them at answeree.contact@gmail.com.
Overall, I would say their support is decent. It's not that great, but at least, they provide a way for you to communicate with their support team.
Final Verdict
Answeree is a Q&A site that will pay you for providing answers to questions posted by their members. It has its upside, but it also has a few disadvantages you need to weigh in.
So, let me wrap up this review by summarizing its pros and cons to give you an overview of what the site has to offer. Then, you can decide if you should really join this site or not.

Pros:
Offers a passive way of earning extra cash
PayOffers payment via PayPal
Their site is mobile-friendly

Cons:
Limited earning opportunities offered
Low rewards
In my opinion, Answeree isn't really a site worth joining. The main reason for this is its low rewards. You will literally have to answer hundreds of questions just to earn a few dollars. And that will take a lot of time to do.
You are better off investing your time on sites that pay better so you won't have to invest a lot of time just to earn a decent amount. For a list of these sites, I would recommend you check out the top survey and GPT sites in your country instead.
All the sites on this list have good earning potential because the time-to-money ratio will be pretty good. That means you won't have to invest a lot of time just to earn a decent amount.
If you have any comments, questions, or have any experiences with Answeree yourself, I would love to hear from you in a comment below.