Appdown is a mobile app that promises to pay you for downloading apps on your mobile device.
It sounds like a fun way to earn a bit of money, in my opinion. That is if it is legit. So, the question now is, is Appdown a scam? Or is it a legit mobile app?
Let me just answer that question right away. No, Appdown is not a scam. It is indeed a legit mobile app that will reward you for downloading apps and playing games.
But is it worth your time though? This is where this Appdown review comes in. In this article, we will take a closer look at all the details of the app, so you can decide if it is a good fit for you or not.
So, let's examine what this app has to offer.
What is Appdown and what does it offer?
As mentioned above, Appdown is a mobile app you can download on your mobile device. This app will ask you to download other apps and in return, they will reward you for doing so.
This app was made by former game developers who were frustrated with how things were in terms of User Acquisition.
Earning rewards from this app is pretty easy and fun. Let's take a closer look at how you will be able to earn from this app so you can gauge its earning potential.
Option 1 – Install Apps
One way to earn rewards on Appdown is to install apps.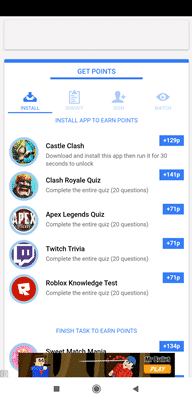 Once you've installed Appdown, you will be able to log in to the app (I will discuss later how you can sign up) and view all the offers to install apps.
As you can see in the photo above, each offer will reward you with a certain number of points. All the offers will have additional requirements that you need to meet to earn the reward.
Some offers will ask you to install an app and play it until you reach a certain level. Other offers will ask you to answer quizzes.
Regardless of what the offer asks you to do, the important thing is, you have to meet the requirements in order to earn the reward promised.
It can be a pretty fun way to earn rewards, in my opinion, because you get to play different games and answer fun trivia questions.
Option 2 – Paid Surveys
You can also answer surveys in order to earn rewards.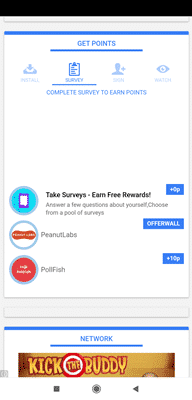 There is a section in the app exclusively for survey offers. The survey offers won't come from Appdown, but from other survey and GPT sites instead.
The process for answering surveys is pretty much the same as what you would expect from sites that also offer paid surveys from other sites.
When you click on a survey offer, it will open up a mobile browser window. This is where you will have to answer the survey. You will have to answer a few qualifying questions before you can proceed to the actual survey.
If you qualify, you get to proceed to the actual survey. Once you complete the survey, you will earn the reward promised.
However, if you don't qualify for the survey, you won't get anything. You simply move on to the next survey offer.
One thing to note with their paid surveys is, there aren't a lot of offers available. So, if there's an offer available, I suggest you take it right away if you like taking paid surveys.
Option 3 – Paid To Sign Up
There are also Paid To Sign Up (PTSU) offers available on Appdown.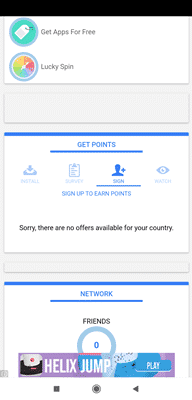 All you have to do is click on a PTSU offer and you will be taken to the site you need to sign up to.
Typically, you will have to complete other requirements in order to receive the reward. Most offers will ask you to do certain activities on the site you signed up to.
The important thing is, you have to follow the instructions of the offer in order to earn the reward. Plus, the availability of the PTSU offers will also depend on which country you live in. Some countries have more offers than others.
Option 4 – Watch Videos
You can also watch videos to earn additional points.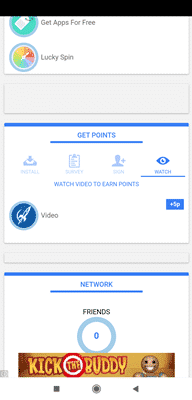 What I like about their video offers is, you won't be taken to another site in order to view the video.
Once you click the offer, the video will pop-up immediately. You just have to wait for the video to finish and then you will earn your reward.
Most of the offers will ask you to install an app, but you don't have to do this. You will still earn the reward.
It is not a way to earn a lot but it does also, not take a lot of effort.
Option 5 – Lucky Spin
Appdown also has a game called Lucky Spin where you are given two free spins. You will then have a chance at winning reward points.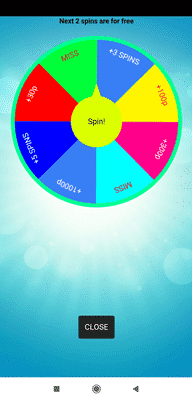 The wheel has 8 sections and two of them are misses. If you land on the miss, you won't earn anything. One section will award you with extra spins and the 5 remaining sections are all for reward points.
Each additional spin after the first two will cost you 30 reward points. So, I urge you not to be carried away when playing this game because you might end up not winning anything.
Option 6 – Daily Gifts
Every day, you will receive a gift from Appdown.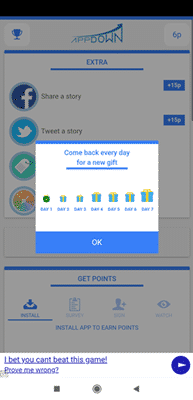 The gift will be random and you will receive it the first time you log in to the app for the day. You can also share a Facebook or Twitter story to earn additional reward points.
In my opinion, these little things you get from the app can go a long way to making your experience with the app a good one.
Even though the bonus you will get won't really be that big, it's always nice to receive something for free.
Option 7 – Referral Program
You can refer friends to join Appdown and in return, you will get a 25% commission of their rewards. The commission will not be deducted from their earnings but will be shouldered by Appdown instead.
To refer friends, all you have to do is give them your unique invitation code. They will have to input that during the sign-up process.
You can also share your invitation link via email, Facebook, Twitter or embed the referral link to your website (if you have one).
How do you get paid?
Appdown uses a point system for its members. Every offer you complete will earn you a certain number of points.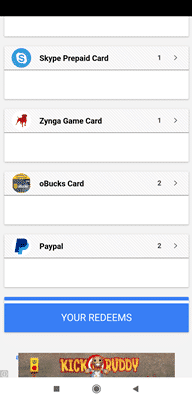 There are plenty of rewards to choose from but this will depend on where you live. You can use your points to redeem gift cards from G2A, Zynga, oBucks or use it to redeem Facebook or Skype credits.
You can also convert the points you've accumulated into cash through GoCash and PayPal. For GoCash, you will need 15000 points to withdraw $5. For PayPal, you will need 6000 points for $2 and 15000 points for a $5 withdrawal.
So the payout threshold depends on the rewards you want.
In my opinion, they have a pretty convenient payment system. Plus, you have plenty of options to choose from. The downside is, most of the rewards will require a significant number of points to get.
Also, the conversion ratio is quite confusing, and it might sometimes seem like you get a lot of points for a task or offer, but when you calculate the value in $, it will really not be worth a lot.
So make sure to calculate this before taking any of the offers so you know if it will really be worth your time.
How much money can you make?
The amount of money you can make from Appdown will all depend on how active you are on the app. It's pretty much like a GPT site, only it is exclusively for mobile users.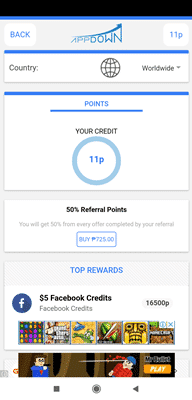 You will be able to boost your earnings by availing of their referral upgrade, which costs around $14. If you avail of the upgrade, instead of earning 25% from your referral's rewards, you will instead earn 50% of their rewards.
It's a significant boost, but it is also a bit expensive. You have to carefully plan out your strategy to earn back the money you've spent for this upgrade.
On an app like FeaturePoints that offer many of the same things you get 50% without having to pay anything – and it is also more user-friendly, in my opinion.
So compared to that, Appdown is not that appealing.
As for the reward points, you will get per offer, they don't reward you a lot. You will have to complete a lot of offers in order to accumulate enough points to redeem rewards.
This is the downside to how their system works, in my opinion.
Can you use it on mobile?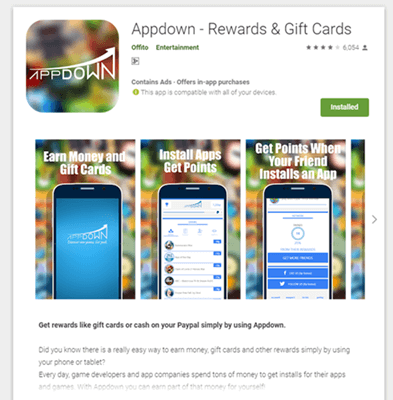 The platform is for mobile users only. You can't complete the offers on a computer. If you prefer working on your computer, this site is not for you.
But, in my opinion, this is what offsets the low rewards per offer completed. Even though you won't get to earn a lot for each offer you complete, you will still be able to accumulate points eventually and redeem rewards you like.
You can work on offers while waiting in line, traveling, or basically just about anywhere you are as long as your mobile device has an internet connection. The accessibility of this app is its main selling point, in my opinion.
However, in my opinion, it does have a bit too many ads. I understand that is a part of how they make money. But compared to other similar apps, it has quite a lot which makes it less user-friendly.
Who can join Appdown?
Appdown is available to anyone who has a mobile device that has an internet connection. As long as you have an Android or iOS mobile device, you will be able to download and install it.
You also have to be at least 13 years of age or older in order to register. When you install the app, you will be able to sign up using your Google or Facebook account. So, the registration process is really very simple.
This is probably what I like best about the app. The sign-up process is pretty straightforward. You do have to take note that you will have to input the unique referral code of the person who invited you to join the app (that is if somebody referred you to their app).
You can join without it, but if you use a referral code you will get 20 free points – it is really not a lot, but a few free points are always nice.
Can you get support?
When you log in to the app, you will be able to access their support section by scrolling all the way down.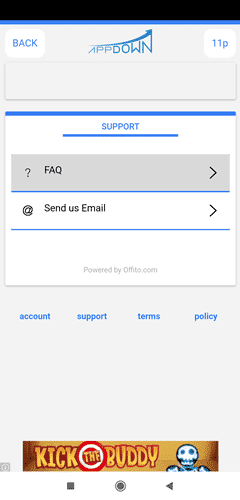 They provide a decent support system for their members. They have an FAQ section that covers some of the basic questions about how the site works.
If you have questions that were not answered by their FAQ section, you can email them using the email link in their support page.
They also have a Facebook page you can visit, but it hasn't been active for quite some time. So, if you have any inquiries, I suggest you send them via their support page and not through Facebook.
Final Verdict
Appdown is a legit mobile rewards platform that will reward you for installing apps, answering surveys and completing other activities.
It does have its own appeal, especially for mobile users. But, it also has its drawbacks.
So let's finish this review with a summary of its pros and cons to help you decide if you should sign up or not.

Pros:
Offers several convenient payment methods
Has several earning opportunities

Cons:
Low rewards for each offer
High point requirement for each reward you want to redeem
Appdown is a fun way to earn rewards. But if you were expecting to earn a lot from it, you will be disappointed.
The main drawback of this app is its low rewards. You will have to complete a lot of offers in order to start redeeming rewards.
But since it is a mobile app, you can simply just work on offers in your free time without having to sit in front of a computer. So, earning is a bit more convenient.
It can be an ok rewards platform to join. Just don't expect to earn much from it and you also have to be patient.
If you are looking for other mobile apps you can earn from that are more user-friendly and with higher rewards, I recommend you check out the best paid survey apps instead.
The survey apps on this list all have decent earning potential. Plus, you will be able to find one you can join regardless of where you live.
If you have any comments, questions, or have any experiences with Appdown yourself, I would love to hear from you in a comment below.