Appjobs is a site that claims you can find flexible jobs that are tailored to your needs. So, if you are looking to earn extra cash, you might be considering joining this site.
However, I would advise you to pause for a bit and read this Appjobs review first. That way, you can verify if this site really is legit or just a scam. It will also reveal the full details of what the site has to offer so you'll know exactly what to expect from it.
Then, you can decide if this site is a good fit for you or not. So, what are we waiting for? Let's go ahead and examine this site called Appjobs.
What is Appjobs and what does it offer?
Here's the thing. Technically speaking, you won't earn anything from Appjobs. This site is really just a resource for people looking for micro-jobs.
Now, as for its legitimacy, it is indeed a legit because it does what it claims it does which is to help you find jobs that are tailored for you.
To determine if Appjobs is worth it or not, we have to take a closer look at what you can do on this site. That way, you can understand how the site works and you can also get a snapshot of its potential.
How to find jobs on Appjobs?
After you become a member, all you have to do is log in to the site. Then, you will have two ways to look for jobs available in your area. The first thing you can do is just check their Gig list. The site will automatically be able to narrow down where your location is.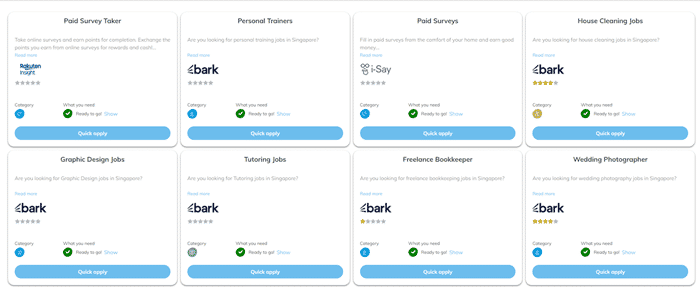 Then, it will be able to show you the jobs nearest to your location. During my testing, it was able to display the jobs of the three closest cities to my location.
When you see a job you are interested in, just click it and it will take you to the site offering the job. You just have to go through the registration process of that site to get to the job.

The other way to find jobs on Appjobs is to first build your profile. You can do this by logging in to the site and clicking on "My Desk".
If you haven't set up your profile yet, you will see something similar to the photo above.
All you have to do is answer the questions to build your Appjobs profile. Once you are done setting up your profile, Appjobs will be able to show you the best jobs according to your preference.
And just like with the first option, if you see a job you are interested in, just click it and it will take you to the page that is actually offering the job. Just proceed with the registration to access the job.
As for the actual jobs available, it will vary. There will be jobs you can do at home and there will be jobs that need to be done at a certain location. During my testing, there were fewer jobs available to do at home.
Most of these jobs usually involved answering surveys or graphics design. The jobs that have to be done outside of your house are usually blue-collar jobs like delivery drivers, babysitters, and more. So, true to their word, you will most likely find a job that will be suitable for you.
Recommended: Check Out the Top Micro Job Sites To Earn Cash
How do you get paid?
As explained earlier, you won't actually earn from this site itself. Instead, Appjobs will just point you in the right direction. That's actually how they earn. They partner with micro-job sites and post their jobs on their platform. In exchange, they get paid for the number of clicks they generate for the job posting.
Now, if you are wondering how you will get paid when you take on a job, it will all depend on which site is offering it. Usually, micro-job sites offer PayPal as a payment option. Other sites will also offer direct bank transfer as a payment method.
Those two options are by far the most common payment options found on micro-job sites. I would suggest you check out the payment method the site is offering before you work on a job to make sure it is something you can use.
Now, if you are interested in more sites that use a convenient payment method, I would recommend you check out the top sites that pay via direct bank transfer.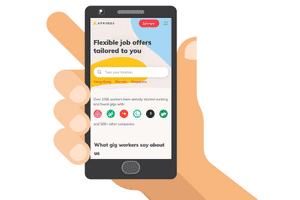 Can you use it on mobile?
While the name of the site suggests it is a mobile app, it actually doesn't have one. However, you will still be able to use it on a mobile device by opening a mobile web browser and going to their website.
Their site is optimized for mobile use, so you will be able to navigate their website easily. Plus, you don't have to zoom in just to read their content properly. This is a good feature because it improves the overall usability of the site since you can still use it conveniently even when you are not in front of a laptop or desktop.
Who can join Appjobs?
Appjobs is available worldwide. You will be able to register as a member regardless of where you live. All you have to do is fill out their registration form. You can also sign up using your Facebook or Google account.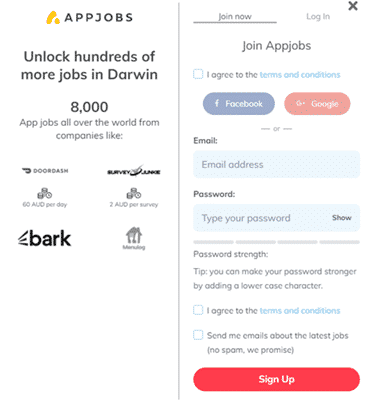 However, here's what you need to keep in mind. While the site is available worldwide, not everybody can benefit from it because it will only display jobs in certain cities. So, before you hit the sign-up button, I would suggest you check out which cities have job postings.
You can do this by clicking the "Cities" link at the bottom of their website. If you can't find your city in the list, I would suggest you don't bother joining because you won't find any jobs close to you.
Can you get support?
Their site has a FAQ page you can check out if you have any questions about the site. Their FAQ page is quite comprehensive, so you should be able to find a lot of useful information.
But if you can't find the answer you are looking for, then you should contact their support team. To do so, you have to email them at help@appjobs.com.
Overall, I would say their site has a decent support system in place for their members since they offer a convenient way for you to get in touch with their support team. Plus, they do a good job at explaining the features of the site on their FAQ page. That should decrease the need to contact their support team.
Final Verdict
Appjobs is a free job search site that will help you find jobs you can earn extra cash from. It has its uses but it also has its limitations.
Here's a summary of its pros and cons to conclude this review. You should be able to get a great overview of what the site has to offer so you can decide if you should register or not.

Pros:
Will help you find jobs you can do to earn extra cash
Their site is optimized for mobile use

Cons:
Doesn't offer any earning opportunities
While it is available worldwide, the cities where there are available jobs are limited
If you are looking for a site to earn from, Appjobs isn't the site for you. It is merely a tool you can use to find jobs you can earn from. That's really all you can get from Appjobs.
It has a decent listing of jobs but there are much better job search sites out there, in my opinion. So, I would only recommend you join this site if you absolutely need another job search website. If not, then don't waste your time signing up.
I would instead suggest you check out the top survey and GPT sites in your country. The sites on this list all have good earning potential and you will definitely be able to find a site you can join where you will be able to earn a decent amount regardless of where you live.
If you have any comments, questions, or have any experiences with Appjobs yourself, I would love to hear from you in a comment below.