Are you looking for a fun and simple way to earn extra cash? If you are, then you might have already encountered an app called Appster and you are wondering if it is legit or just another scam.
That's a valid concern to have. Before you download any app that promises earning opportunities, it is always prudent to verify its legitimacy first. That's why I've decided to make this Appster review to address that concern and more.
Not only will this review check the legitimacy of the app, but it will also reveal the full truth about the app and what it offers so you can determine if it is worth using or not. So, let's go ahead and get this started, shall we?
What is Appster and what does it offer?
Appster is essentially a GPT (Get-Paid-To) app that will reward you for playing their featured games. It's a lot similar to AppStation, another app that offers the same type of earning opportunity.
Now, to fully understand how this app works, we have to examine the earning opportunity it offers. By doing so, you can also get an idea of how well you can earn from this app. So, here's how to earn from Appster.
The earning opportunity – Playing their featured games
The only way to earn from this app is by playing their featured mobile games. When you log in to the app, you will be taken directly to their "Discover" section where you will find all the mobile games you can play to earn rewards.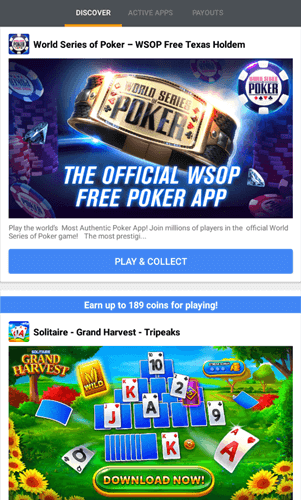 You should be able to find the game you just installed listed in that section. This is the important part you need to remember. You have to open the game you want to play in that section of Appster. Because if you bypass this step and just open the game through your mobile device's menu, Appster won't be able to track your progress and you won't earn anything.
To start the earning process, all you have to do is press the game you want to play. It will then take you to the app page of the game. Just download and install the game. Once it is installed, you need to go back to Appster and open the app by going to the "Active Apps" section of the app.
So, keep that in mind when you start playing their games. Now, if you notice in the photo above, for every featured game, you will immediately see how many coins you will earn for playing the game.
That's actually the number of coins you will earn per minute you play the game.
However, their system is designed to prevent you from earning the same number of coins for every minute you play the game. The truth is, the number of coins you will earn per minute you play their featured game will gradually decrease.
So, there will be diminishing returns for playing a specific game. So, if you want to earn effectively, you can't really play a specific game for as long as you like. This is how they incentivize their members to try out different games because that's how they earn.
You see, Appster earns by getting people to install mobile games and the developers of these games pay Appster for this. I can't really tell you the exact specifics of how their deals are structured, but that's how Appster can afford to reward their members.
But that's not really something you should concern yourself with. All you really need to think about is how to maximize your earnings from this app. Later on, I will tell you how to do that.
Recommended: Check Out the Top Survey Sites in Your Country
How do you get paid?
As explained above, you will earn a certain number of coins per minute you play their featured game. The number of coins you've earned will be displayed in the upper right-hand corner of the app.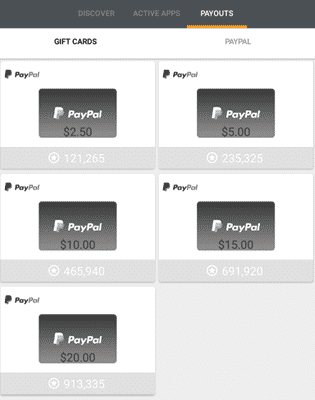 You can then use the coins you've earned to redeem gift cards or convert them to cash via PayPal. The minimum amount you can redeem is $2.50. That's a pretty low threshold, in my opinion.
But, the thing is, in order to redeem a $2.50 gift card or PayPal withdrawal, you will need to earn at least 121,265 coins (the exact threshold and conversion rate can vary from country to country). That's actually quite a lot of coins. And I will explain in the next section what this implies.
Their payment system is relatively straightforward but it's hard to tell how much you've earned by just simply looking at the coins you've earned. You can only get a rough estimate of your earnings if you don't use a calculator.
But I do like the fact that they offer payment via PayPal since that is one of the most convenient payment methods available today, in my opinion. If you are interested in more sites and apps that offer a convenient way to withdraw your earnings, I recommend you also check out the top sites that pay via PayPal.
How much money can you make?
The amount of money you can earn from this app will mostly depend on how much time you are willing to spend on playing their featured games and how many games you can actually play. As I've explained earlier, you will get fewer coins the longer you play a game.
So, in order to maximize your earnings from this app, you will have to eventually switch to a new game when the reward starts to fall off drastically. The thing is, when I was doing my testing, there were really only a couple of games available to play.
So, I would say the earning potential of Appster is really low. It will potentially take you months of playing before you can actually reach their low payout threshold which also makes their low threshold quite pointless. The app would have better earning potential if it featured a ton of games you can play.
That way, you could earn a ton of coins so you could reach their threshold quickly. Unfortunately, that isn't the case with Appster at the moment of writing this review. Plus, their games are mostly casino games. So, there aren't a lot of variations which kind of makes the earning process very boring.
So again, don't expect to earn a lot from this app and don't expect to reach their low payout threshold quickly.
Can you use it on a desktop?
Appster is a mobile-only platform. So, you will really need a mobile device to earn from it. And considering the earning opportunity it offers, you won't really need to use a laptop or desktop to earn from it.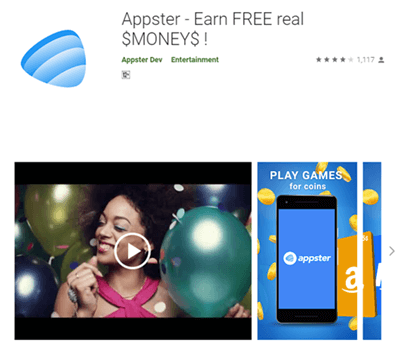 Their app is only available for Android devices. If you are an iOS user, then this app is not for you. As for their app, it is relatively user-friendly. You will easily be able to navigate and get used to the ins and outs of the app.
It is also not spammy. You won't encounter any pop-up ads inside the app itself. However, some of their featured mobile games do contain ads. So, you will still have to close pop-up ads from time to time.
Who can join Appster?
Appster is available globally. So, you will be able to register as a member regardless of where you live. But, you have to be at least 18 years of age to sign up.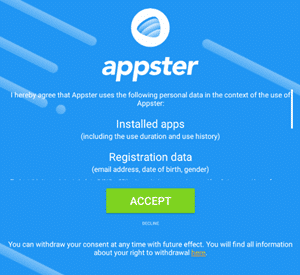 To start the registration process, you have to download and install the app first. Once it is installed, the first time you open the app, it will ask you to register. When you press the "Accept" button (refer to photo above), you will have to choose how you will sign up.
You can use your Facebook or Google account. But you can also sign up using your own email address and password. Once you've chosen how to sign up, the app will ask permission to allow it to track your data usage.
You have to allow it so that Appster will be able to track your progress when playing their featured games. Once you've done that, you will receive a notification saying you've earned 4,499 coins. This will be the sign-up bonus you will receive for becoming a member. It's not much, but at least, you get something right off the bat.
Once you are logged in to the app, you can now start earning.
Can you get support?
If you have any questions about the app or your account, you have to get in touch with their support team since the app doesn't have a website you can refer to or even a FAQ page you can check out. To send in your inquiry, just log in to the app and press the menu button on the upper left-hand corner of the screen.
Then press Contact and you will be redirected to their contact form. Just fill out the form with the necessary information and hit send.
Overall, I would say they have a decent support system in place for their members since they offer a convenient way for you to get in touch with their support team. However, it would have been better, in my opinion, if they at least, had a FAQ page you can refer to for basic questions.
Final Verdict
Appster is a legit GPT app that will reward you for playing their featured games. It has a couple of good features but it is a pretty limited app, in my opinion.
Let me summarize its pros and cons to conclude this review. That way, you can get an overview of what the app has to offer so you can decide if you should really use it or not.

Pros:
Offers a fun way to earn rewards
Offers payment via PayPal

Cons:
Limited earning opportunities offered
Low rewards offered
Only available for Android devices
The games you can play are pretty limited
For an app that offers this kind of earning opportunity, I would say Appster is not that good. There are better apps that offer more games you can play and more types of games too. It also offers low rewards, so it will take a lot of time to withdraw your earnings even though their payout threshold is quite low.
So, there's really little reason to invest your time in this app, in my opinion. That's why I would not recommend you use it. There are simply far better options out there to earn extra cash.
For a list of these options, I would recommend you check out the top survey and GPT sites in your country instead. The sites on this list all have good earning potential and most of them offer multiple ways for you to earn so you will be able to withdraw your earnings relatively quickly.
If you have any comments, questions, or have any experiences with Appster yourself, I would love to hear from you in a comment below.