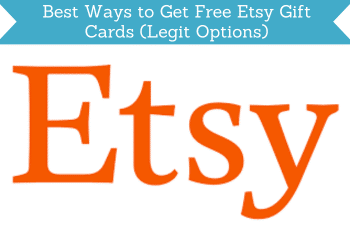 If you frequently shop from Etsy, you will be excited to learn that there are great ways to save money but still be able to shop from your favorite online thrift shop.
I'm here to tell you that the best way to save some cash when shopping on Etsy is to use Etsy gift cards. Now the question is, where can you get said gift cards for free?
This is where this guide will come in handy. It will show you the best ways to get free Etsy gift cards, so you don't have to spend hours scouring the internet on the best site to get these gift cards.
Each option I will include in this guide are legit and free to join, so all you have to invest is a little bit of your time and some effort. I will briefly describe each option, so you can determine which option/s suits you best.
Disclosure: Some articles on this website contain affiliate/sponsored links. Click for more info.
How can you get free Etsy gift cards?
Getting free Etsy gift cards will involve joining Get-Paid-To (GPT) sites. If this is your first time hearing about GPT sites, let me explain what these sites are. They are online rewards platforms that will reward you for doing short tasks.
And as far as I know (and I have tested literally hundreds of online rewards sites over the years), these are the only sites offering this kind of reward. And out of the hundreds of sites I have tested, only a few of them offer Etsy gift cards, but luckily there are some great sites that offer this reward, as you can see on the list below.
As for the tasks you have to do, they are relatively easy to do.
Usually, you'll just have to answer surveys, play browser or mobile games, sign-up for free trials, watch videos, and invite people to join the site. After completing a task, which is called a paid offer, you will receive a reward, which you can use to redeem an Etsy gift card.
The sites I will include in this list also offer other reward options, like cash via PayPal or other gift cards, so if you don't want to redeem a free Etsy gift card every time, you can go for other rewards also.
And to maximize the number of gift cards for Etsy you can redeem, I highly recommend you join all the sites on this list. That would give you access to more opportunities so that you can earn more rewards and hence, redeem more free Etsy gift cards.
4 best ways to get free Etsy gift cards
Now that you know how to get these gift cards, it's time we discuss the actual GPT sites you can join. As mentioned earlier, all the sites on this list are free to join. Plus, after registering, you will be able to start earning rewards, so you can quickly redeem rewards.
I will keep updating this guide if I find more sites that offer this kind of reward, so make sure to bookmark this page and check on it from time to time for new opportunities.