In the hunt for a site that can help you earn extra cash? You can join survey sites or Get-Paid-To (GPT) sites. But if you get easily bored with the tasks these sites will ask you to do, then perhaps a different site will suffice?
There's a type of online reward site called product testing site that will allow you to earn by testing products or services in exchange for a bit of cash or other rewards. One such site is called Betabound.
This product testing site promises to pay you for testing the latest software or hardware. But is Betabound a scam or is it a legit site?
Let me address this question right away so we can move forward and discuss the other aspects of this site. No, Betabound is not a scam. It is a legit product testing site that will pay you for testing software or hardware.
This Betabound review will reveal all the details about the site so you can determine if this site is worth joining or not.
What is Betabound and what does it offer?
Betabound used to be called OnlineBeta. But ever since the name change, they have also improved a lot about their site. It is owned by a company called Centercode.
What this site offers is a chance for you to participate in beta testing of tech products like certain programs and even hardware.
Now, to understand how well you can earn from this site, we have to take a closer look at the earning opportunities it offers. So, here's how you can earn from Betabound.
Option 1 – Testing projects
As you can probably tell, the main earning opportunity Betabound offers is testing projects. This is where you get to test out tech products.
When you join the site, don't expect to join a testing project right away. There's an exact process on how to start it.
The first thing you need to do is set up your test platform profiles. Think of these as the basis for which tests Betabound will send your way.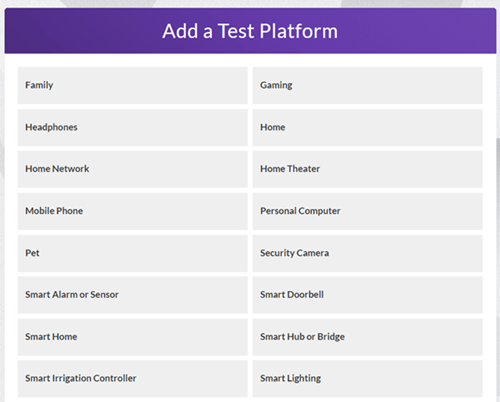 You first have to add a test platform profile. When you do that, you will be asked to select a category. There are plenty of technology categories you can choose from and you will be able to create a profile for all of them if you want.
But, I suggest you refrain from doing that. It is only recommended you make a test platform profile of a technology you already own. For example, you can create a profile for gaming.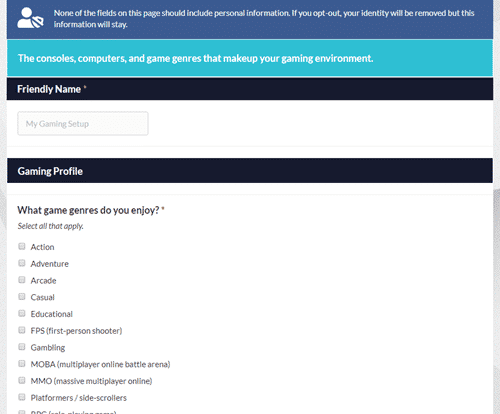 When you choose gaming, you will be redirected to a profiling survey page. You will have to answer all the questions to build your profile. The information you've provided on this profile will be used by Betabound to qualify you for testing programs.
So, it is important to be very honest when answering these questions. Don't just choose answers you think will increase your chances of getting chosen. You might get chosen but you won't be able to complete the test if you're not truthful about the information you've provided.
For example, you might have chosen Virtual Reality as the genre of games you usually play. But in truth, you don't have the gadgets to do that.
So, even if you get invited to participate in beta testing for a virtual reality game, you won't have any way of completing it because you don't have the tech to do it.
That's why, you need to be honest when answering these profile questions because the information you've provided will dictate whether you will be successful or not when doing your product tests.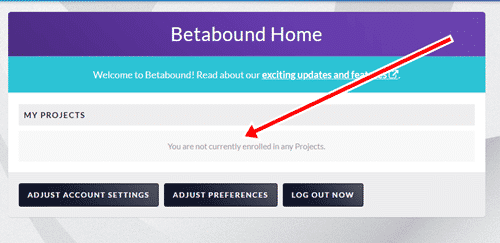 Once you've finished setting up your test platform profile, all you have to do is wait for an opportunity to participate. You will know if there are opportunities available because they will email you an invite.
You can also see these testing opportunities when you log in to their site (refer to photo above). It will be listed under Available Opportunities.
But in general, you just need to be aware that it can take some patience to find projects you can participate in on Betabound.
Every project you participate in will have a set of instructions you need to follow. It will also tell you what you will get out of it once you complete it. So, make sure to read the instructions carefully and follow them down to the letter.
Once you've completed the test, you will have to submit your work for verification. As soon as your work is verified, you will receive the reward promised (I will discuss the rewards later).
Option 2 – Ambassador Program
The Ambassador Program is a special opt-in group you can join to earn rewards. All you have to do is help recruit new testers for specific opportunities. It's like the referral program you usually find on survey and GPT sites.
You have to reach out in your area or network, or to your friends, family, and colleagues and let them know about the testing opportunity. You'll be rewarded directly based on how many qualified candidates you find who actively join and participate in that test.
You will receive instructions on how to invite people once you join the Ambassador Program. When there's a new Ambassador opportunity available, you'll receive an email notification (you'll receive these for as long as you're registered as an Ambassador).
An Ambassador Brief will be posted in the Ambassador Project that provides specific details on the opportunity. So, make sure to check your email regularly.
How do you get paid?
The beauty of Betabound is, unlike survey and GPT sites, you don't actually have to reach a certain threshold to redeem your rewards. Once you complete a testing program, you will immediately get paid.
As for your compensation, it will either be in cash (paid via check or PayPal), merchandise, or e-vouchers. This will all depend on the company hosting the test. So, there's really no fixed reward system on Betabound.
Usually, the reward you will get will be the software or hardware they will ask you to test. But from time to time, there will be cash rewards and even e-vouchers.
I do like the fact that you don't have to reach a threshold to receive your earnings. This is a faster and more convenient way of getting your rewards.
If you are interested in sites that will also allow you to receive your rewards easily, I suggest you check out the fastest paying sites.
How much money can you make?
As stated above, there's no guarantee that you will get paid cash for every test you complete. So, you can't really get a rough estimate of the amount of money you can earn from this site.
However, in my experience, when a test is very complicated or it takes a long time to complete, you will usually be paid a significant amount.
The only factor you can control to increase your chances of earning from Betabound is your profile.
You need to make sure you complete your user profile as well as the test platform profiles so you will have a higher chance of receiving testing opportunities.
Overall, I would say that Betabound doesn't have high earning potential because you won't get invited to participate in test programs regularly. Plus, there's no guarantee you will earn cash for every test you complete.
That being said, if you manage to complete a test though, the rewards are quite significant. So, you just need to be extra patient to receive the payoff.
Can you use it on mobile?
The nature of Betabound's earning opportunities aren't really fit for mobile devices unless you will be asked to test a mobile app or game. However, you will still be able to access their website from a mobile device.
You just have to use a mobile web browser. The good thing is, their site is mobile-friendly so you will be able to read all the content without having to zoom in. This will help you get to testing opportunities quicker.
As for the work that you need to do, most of it will be done on a computer, unless, as mentioned above, if you are asked to test mobile apps and games.
Who can join Betabound?
One good thing about Betabound is it is available globally. That means you will be able to sign up as a member of the site regardless of where you live.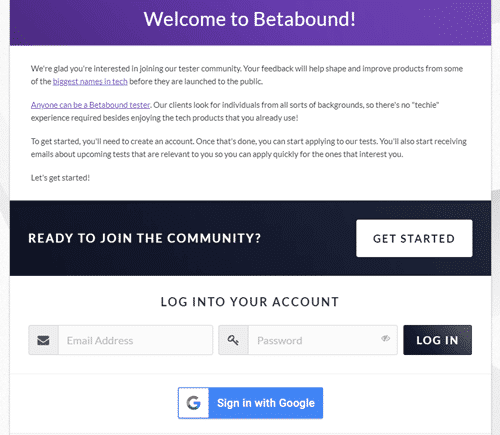 Their sign-up process is also very simple. You can simply fill out their sign-up form or you can log in to their dashboard using your Google account.
Once you do any of the two registration options though, you will still need to verify your account. So, make sure to check your email inbox for the verification link.
Can you get support?
Betabound also provides decent support for its members. It has a contact form you can use to send in your inquiry in case you need to talk to their support team.
They don't have an FAQ page but they do have a blog that discusses most of the important topics. You can also pick up a lot of tips by reading some of their posts.
And just to add, some of their blog posts are also informative and useful. Overall, I would say that they have a good support system in place for their members.
Final Verdict
Betabound is a legit product testing site that does pay you for participating in their testing programs and becoming an ambassador of the site. It has a couple of good things to offer plus a couple of drawbacks as well.
Let me end this review by summarizing its pros and cons so you can get a better overview of what the site is about and so that you can decide if this site is worth joining or not.

Pros:
No payout threshold
Available globally

Cons:
Limited earning opportunities offered
No fixed reward system
Betabound is a good site to join if you are into tech products and if you like to test out new programs and gadgets. That is the real value that this site offers. You just need to be extra patient with it because earning opportunities are quite limited.
If you are purely looking for a way to earn extra cash, there are better sites that will allow you to do that since Betabound doesn't guarantee you will always earn rewards. For a list of these sites, I suggest you check out the top survey sites in your country.
The sites on this list will allow you to earn on a regular basis since they all have good earning potential and several earning opportunities available at any given time. Plus, you will also be able to find a site you can join regardless of where you live.
If you have any comments, questions, or have any experiences with Betabound yourself, I would love to hear from you in a comment below.