There's an app called Bitcoin Blast that claims you can earn Bitcoin by simply playing games. So, if you are looking to earn Bitcoins, you might be think whether this app is a viable option or not. But before you download and install it, I would recommended you do your due diligence first.
And the first question that comes to mind is whether this app is legit or a scam you need to stay away from. It's important to clear this up right away, so let me answer this question first. Yes, it is a legit app that will let you earn Bitcoins.
However, we can't really tell from that piece of information if it is really an app worth using or not if you want to earn Bitcoins. This is where this review comes in.
This Bitcoin Blast app review will reveal the full details of what the app has to offer so you will know exactly what to expect and can figure out if it is worth using or not to earn Bitcoins.
What is Bitcoin Blast and what does it offer?
At its core, Bitcoin Blast is a Get-Paid-To (GPT) app that will reward you for playing. It is owned by Bling Financial, an app developer that designs mobile games that will reward you with Bitcoins.
Now, in order to understand how the app works, we have to take a closer look at the earning opportunity it offers. This will also give you an idea of how well you can earn from it.
I have made a video that gives you an inside look and show exactly how to earn from Bitcoin Blast. You can also read all the details below the video:
The earning opportunity – Play the game
Earning rewards from Bitcoin Blast is really simple. It's a matching game, so you just have to play. If you are a fan of matching games, then you will like playing this mobile game.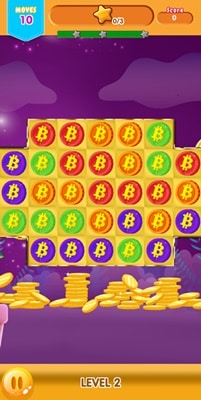 The idea is, you just have to draw a line to at least 3 coins of the same color to score. The more coins of the same color included in your line, the more points you will earn. Each level has a certain goal you need to meet to progress to the next level.
Sometimes, you will just have to earn enough stars to progress to the next level. Other times, you will need to complete some sort of mission. The objective will vary depending on the level. Of course, as the level increases, the difficulty also increases (but not by a lot, the game is still relatively easy to play).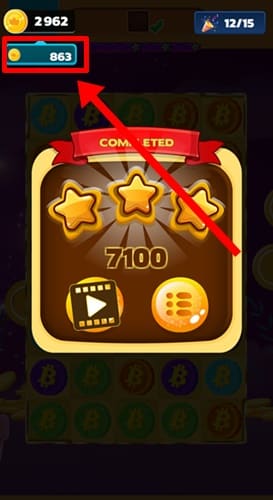 When you complete a level, you will earn a certain number of Bling points (refer to the photo above). This will be your reward for playing and what you will use to redeem Bitcoins (I will explain later how the redemption process works).
Every time you complete a level, it will consume 1 Party Power (which is the energy used to play the game). You can only have a maximum of 15 Party Power and it will recharge after a certain amount of time (they don't say how long it takes to earn back 1 Party Power).
So, if you run out of Party Power, you just have to close the game and do something else. Or you can watch ads to regain some Party Power so you can continue playing. But you can only do this a few times (at least that was the case during my testing).
Recommended: Check Out the Best Ways To Earn Money Playing Games Online
How do you get paid?
As explained above, for every level you complete, you will earn a certain number of Bling points. You can then exchange the points you've earned for Bitcoins via a Bitcoin wallet.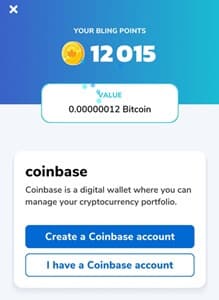 In Bitcoin Blast's case, you need to use Coinbase as your Bitcoin wallet. So, before you start earning from this app, I would recommend you create a Coinbase account first.
To cashout, the minimum Bling points you need to earn will be 7,400. When you cashout, Bitcoin Blast will immediately display the equivalent Bitcoin you will receive for the number of points you've earned. So, you'll know exactly how much you will get when you redeem your points.
This is the only payment method they offer. So, if you are not interested in earning Bitcoins, then this app is not for you.
However, if you are looking for more ways to earn Bitcoin, I would recommend you also check out the top sites that pay in Bitcoins.
How much money can you make?
If you go to their app page on Google Pay, you will immediately see the disclaimer saying "It takes a long time to earn enough Bling Points to cash out for a meaningful amount of Bitcoin. Most users earn an amount that is only worth a fraction of one cent (USD)."
So, right off the bat, Bitcoin Blast says you won't really earn a lot from this app. The rewards are simply too low.
That's actually pretty smart of them to be so transparent and it is something I really appreciate. That way, they can properly manage the user's expectation so no one joins thinking the app is a really efficient way to earn Bitcoins.
I'm actually a bit surprised about this. You seldom find apps that are so honest about what they have to offer. So, that's a huge plus, in my book.
When I was testing the app, I was actually able to reach the threshold quite easily. It only took me 6 levels to earn the minimum required points to cashout. And that took about 30 minutes. Granted the amount I earned was really low, it was still a nice surprise that I was able to reach the threshold easily.
That being said, earning Bitcoins isn't really the strong side of this app. The real value Bitcoin Blast offers is that it provides a way for you to be productive (since you can earn even just a little bit) even when you are just trying to pass the time, which, in my opinion, is really the purpose of the app.
Can you use it on a desktop?
Bitcoin Blast is a mobile-only platform. That means you really need to use a mobile device to play it.
As for the app, it is available for both Android and iOS devices.
One thing to note about Bitcoin Blast is, it is quite spammy, in my opinion. You will have to watch a video ad every time you finish a level, which can get quite annoying since the ads aren't that short. You'll have to wait for the ad to finish before you can proceed to the next level.
Plus, you'll have to close a few pop-up pages. And once in a while you are even redirected to the app store where you are encouraged to download other apps. But apart from that, using the app is fairly easy to use.
But the ads are what will allow you to earn, as they, of course, also need to make money somehow. If not, we would not be able to earn by using it. So that is just something you have to accept if you want to earn with Bitcoin Blast.
Who can join Bitcoin Blast?
Bitcoin Blast doesn't really have any geographic restrictions in terms of who can use it, which is good because you can install it on your device regardless of where you live.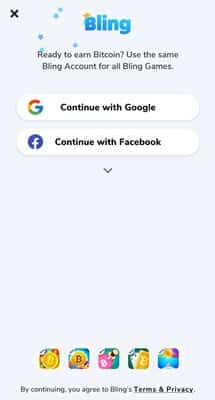 To register, you first have to download and install the app. Once it is installed, you can actually immediately play. However, I would recommend you connect your Google or Facebook account to the app first before you play.
The reason for this is, if you play immediately, you won't actually earn any Bling points. And if you've already cleared several levels, you can't go back to those levels to earn points. You will essentially be missing out on a lot of Bling points.
So, you have to connect your Google or Facebook account first before you start playing. To do that, just press the coin icon on the upper left-hand corner. This will then lead you to the page where you can connect your account (refer to the photo above).
Once you've done that, you can start playing and earn Bling points.
Can you get support?
When I was testing the app, I barely had any questions in mind. It was fairly easy to understand how the app works. But if you encounter any issues or if you have questions, you can open the app and press the gear icon in the upper right-hand corner.
Then, press Help Center to get to their FAQ page. You can check if you can find the answers you are looking for in their FAQ page.
If you can't find the answer on their FAQ page, you can contact their support team by emailing them at support@blingfi.com. That is the only way to get in touch with their support team since their app doesn't have a contact form you can use.
Overall, I would say they do offer decent support for their members since they provide a way for you to communicate with their support team.
Final Verdict
Bitcoin Blast is a legit GPT app that will reward you for simply playing. It has a couple of good features but it also has a few drawbacks you need to consider.
Here's a summary of its pros and cons to give you a better overview of what the app has to offer so you can decide if it is worth your time or not.

Pros:
Offers a fun way to earn rewards
Relatively low payout threshold
Available globally

Cons:
Limited earning opportunities offered
Low rewards
The app is a bit spammy
If your goal is to earn a lot of Bitcoins, Bitcoin Blast is the wrong app to do it through. You won't really earn a lot from it and they even say it on their app page on Google Play.
It's really just a good app to use to pass the time if you like playing and then it can be great to earn a bit at the same time even though it will not be a lot. You can just think of the Bitcoins you've earned as a bonus.
But if you are really just looking to earn extra cash online, I would instead suggest you check out the top survey and GPT sites in your country. The sites on this list all have good earning potential and they offer good rewards so you won't have to invest a lot of time to earn a decent amount.
If you have any comments, questions, or have any experiences with Bitcoin Blast yourself, I would love to hear from you in a comment below.